We hope you love the products we recommend. Just so you know, Fishing Command may earn an affiliate commission from the links on this page, at no extra cost to you
The Quantum Cabo PTSE spinning reel is a mid-price, heavy-duty saltwater model designed for tackling a larger class of fish.
It may sit on the fringe of its market segment, but it's one heck of a popular reel.
Should Quantum dedicate more time and money to promotion, the Cabo would grace considerably more spin reel arsenals.
Because of its under-the-radar profile, it'll probably remain an outlier. Even so, it is celebrated by dedicated anglers who look outside the obvious brand choices to find the best value for money.
Let's check out the Cabo PTSE in detail. 
The Cabo is worth considering if strength and power are key criteria for your next reel purchase.
Quantum Cabo PTSE Review
The Cabo wears its purpose on its sleeve. It's quite heavy by modern standards and has exceptional line capacities and remarkable drag strengths you're unlikely ever to require.
Sizes include 40, 50, 60, 80, 100, and 120. It's a range designed to cover heavy inshore work, surf, rock, pier, and pretty heavy-duty work near and offshore.
8 bearings, including the clutch, deliver excellent support and smooth cranking. The anti-reverse has no play and provides suitable assistance come strike time.
This complement of bearings is responsible for delivering an extended peak performance life if well maintained.
These aren't the fastest reels, with retrieve rates better aligned with heavy cranking over speedy topwater retrieve demands.
This puts a little dent in the Cabo's versatility, but it's by no means a deal breaker. What it lacks in speed, it makes up for in power and capacity.
Sizes 40 through to 60 will suit the land-based angler wanting a go-to allrounder that can handle a much larger class of fish.
The 40 and 50 would make great surf models as they remain light enough yet hold 270 and 325 yards of 30-pound braid and pack 30 pounds of max drag,
Should a surf angler keep a spool of 12-pound mono, and a spool of 30-pound braid, you're covering everything from panfish to prize drum and striper. 
These reel sizes offer the greatest versatility.
The weight jump to 60 is significant. It's a heavy reel at 24.2 ounces. You're targeting big fish with 45 pounds of max drag and 320 yards of 50-pound braid on the spool.
It's a useful rock, breakwater, and near-shore sports fishing reel that fits best to a rod rated for heavy work.
I'd use it for live baiting for big fish. Despite its weight and bulk, casting is still effective, allowing rock and surf anglers to cast heavy baits a reasonable distance.
It's a good reel for set baits – get it out there, stick it in your rod holder, and wait for the drag to scream. 
I'd not like to hold it all day, particularly if it's connected to a long, heavy composite rod.
Should a prize tarpon, striper, grouper, or drum take your live bait, you have an excellent chance of success.
With its high rigidity, the all-metal body allows you to lay into powerful fish confidently. And you're backed by exceptional drag strength and plenty of fishing lines.
The role of the 80 size seems less clear. Its specs are very similar to that of the 60. I would suggest it's ideal for dedicated mono anglers, of which there are still many.
Holding 300 yards of 20-pound mono, you can attack all the targets of the 60, but with ample mono, backed by 45 pounds of max drag.
The 100 and 120 sizes are also closely aligned in terms of specs. With only 4 ounces difference in weight, I'm not sure why you would opt for the 100, given its lesser capacities.
Having said that, the 120 is a heck of a bulky reel. If you didn't require the extreme capacities of the 120, I guess the 100 might seem a better option – particularly if you wanted to balance it up to a specific rod.
The 100 and 120 hold 480 yards of 65-pound braid and 400 yards of 100-pound, respectively.
Only 5 pounds of drag separate them at 60 and 65 pounds. The clear difference is line capacity, but you're targeting monsters either way.
These reels are awesome for jigging, bottom bouncing, and trolling.
The casting manners are certainly workable, but the former applications are those for which both big guns are most suited.
In these big Cabos, you have an affordable option for targeting tuna, GTs, wahoo, sharks, and massive grouper. They're big fish reels – the biggest.
Let's look closely at those Cabo features that provide the backbone for accomplishing heavy-duty saltwater fishing. 
But first, let's address the newer features of the 100/120.
>>Check Latest Price on Amazon<<
Cabo 100/120 Unique Features
The original 80 size model ran into handle problems when anglers customized the reel with a larger handle – they broke under load.
Given their mega-fish application, any weakness present would undoubtedly show up – it did. Hence, the later models, 40 through 80, had their handle stem beefed up significantly.
The handles of the smaller Cabo models remain fixed. But the 100/120 have removable handles, making them ideal for custom handles, and easier maintenance.
Interestingly, Quantum also beefed up the handle threads relative to reel size. Again, strength benefits are clearly apparent.
There's also a screw on the rear of the reel providing a water drainage port, inspection point, and a handy location to regrease the gears without disassembling the body.
It's a well-considered greasing point, as its proximity to the gears ensures grease gets exactly where it's required.
Main Features
The Quantum Cabo has a fine list of big fish features. Let's check out the more significant inclusions and how they rate.
SCR Alloy Body and Side Cover
SCR is an alloy developed by marine engineers for marine engines to mitigate the wear caused by heat, torque, and pressure.
The Cabo's rigidity and strength are very apparent under heavy loads. The body can deal with the pressures that the drag system will impart.
While it's an alloy lighter than steel, SCR hasn't really lightened the load. The Cabo reel series remains somewhat heavier than its contemporaries.
This strength and rigidity allow the gears to remain meshed, in sync, and deliver all the power to the fight.
Moreover, the absence of unwanted gear movements decreases wear. This ensures the reel will work at peak performance for much longer.
Rotor Materials
You will notice the massive jump in reel weights from the 50 to the 60. That's because the 40 and 50 have carbon rotors.
The 60 upwards have SCR rotors. While this adds considerably to the overall weight, strength, rigidity, and endurance are enhanced.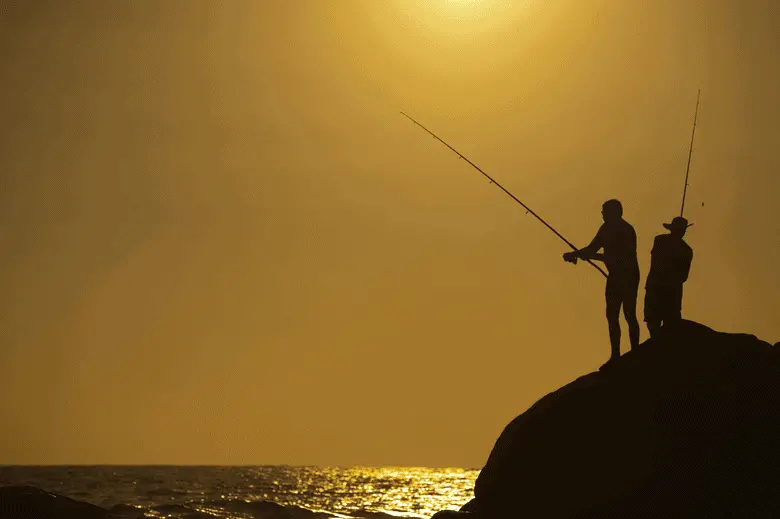 Bearings
There are 8 bearings, with the sealed Koyo clutch bearing pulling the most focus. The continuous anti-reverse performs as promised, with no back play.
Its performance over several years is what we'd all like to know. Without the luxury of time to make a definitive assessment, we can say that the bearings are of high quality.
Despite some marketing material suggesting the bearings are ceramic, they're stainless.
They're good quality, shielded, and likely to endure should you keep a scheduled maintenance routine.
The crank is smooth, particularly under load. While the bearings are responsible for much of the seamless action, it's the gear design that delivers the effortless crank.
Super-hard PT gears
While 'rumors' suggest a machined main gear, a rougher surface suggests it was likely cast. The rougher finish has little impact on the smoothness and performs well under load.
A two-part system sees the shaft pressed together with the big main gear. The oscillation gear is machined into the stainless shaft.
In the interest of weight reduction, many reels have alloy gears. 
Despite their benefits, they do not offer the same strength as stainless steel.
Forged or cast is a matter of marketing integrity – why has forged slipped into some advertising?
In terms of the load capacity, forged versus cast is neither here nor there. It's a smooth crank, and there's strength to burn.
TiMag Titanium Bail System
The bail arm is a narrow gauge that doesn't inspire confidence on first look. However, it handles the rigors of heavy-duty fishing and returns into shape should you bang it out of shape.
There's a magnet that holds the bail open for casting, mitigating a disastrous abrupt close causing tangles or gear loss.
It's a unique system, but I'll remain curious about the durability of the magnet when exposed to saltwater, sand, and dust. Keep it clean.
SaltGuard 2.0
Part of Cabo's saltwater credentials is SaltGuard 2.0. The multi-layer paint protection is a quality finish, but nothing will replace the need for diligent cleaning. 
Sealed Magnum CSC Drag
As discussed in the review, the drag strengths are phenomenal. The system is also smooth, reliable, and predictable.
However, we see Quantum talking of ceramic where there isn't any. The multi-disc CSC drag system is a 5 or 7-washer (depending on reel size) carbon fiber construction supported by stainless washers.
The result is a drag system with a performance comparable to the most expensive spin reels from the biggest brands.
Main Features at a Glance
SCR alloy body and side cover
SCR alloy rotor (size 60 up)
8 PT bearings
Sealed CSC Drag
Sealed Koyo Clutch
TiMag titanium magnetic bail system
LMS with ball bearing line roller
SaltGuard 2.0
Carbon fiber rotor on 40 and 50 models
Super-hard stainless gears
Pros
Exceptional drag power
Capacious spools across the range
Sealed drag system
Strengthened handles
Big fish capable
Cons
Heavy by modern standards
Confusing marketing
>>Check Latest Price on Amazon<<
Quantum Cabo Size Chart
| | | | | | | | |
| --- | --- | --- | --- | --- | --- | --- | --- |
| Model | Mono Cap (yds/lb) | Braid Cap (yds/lb) | Bearings | Max Drag (lbs) | Gear ratio | Line Retrieve (in) | Weight (oz) |
| 40 | 230/10 | 270/30 | 7+1 | 30 | 5.3:1 | 32 | 13.4 |
| 50 | 225/12 | 325/30 | 7+1 | 35 | 5.3:1 | 34 | 13.8 |
| 60 | 300/14 | 320/50 | 7+1 | 45 | 4.9:1 | 35 | 24.2 |
| 80 | 300/20 | 380/65 | 7+1 | 50 | 4.9:1 | 38 | 24.9 |
| 100 | 430/20 | 480/65 | 7+1 | 60 | 4.4:1 | 40 | 32.6 |
| 120 | 530/20 | 400/100 | 7+1 | 65 | 4.4:1 | 42 | 33 |
Alternatives
The Shimano Spheros offers all of the power with superior sealing.
Last update on 2023-09-20 / Affiliate links / Images from Amazon Product Advertising API
The Stradic doesn't have quite the same power. However, it has a better crank, is faster, and has greater versatility – for a few more dollars.
Last update on 2023-09-20 / Affiliate links / Images from Amazon Product Advertising API
But the latest Saragosa model offers the best alternative, equal to and better than the Cabo in several key criteria.
Is the Quantum Cabo Sealed
The Quantum Cabo is not completely sealed. However, the clutch and drag system is sealed. A seal under the bearing protects the handle opening from water ingress. While not perfect, it's something.
It's not advisable to dunk the Cabo, and you should always remove any water that does make its way in.
While not waterproof, the Cabo is capable of handling rain and spray. Remember that you should always monitor for water ingress. Water will get in if you fish in heavy rain and sea spray. 
Quantum Cabo Verdict
If you're looking for significant power and offshore big fish capability in a reel that will endure, the Cabo is a value seekers option.
At this price point, the Cabo is difficult to fault and compares very favorably to the big brands, with their often inflated price tags.
See Also
Top 5 Recommended Quantum Fishing Reels
Quantum Smoke S3 Inshore Spinning Reel Review
Quantum Smoke S3 Baitcasting Reel Review