We hope you love the products we recommend. Just so you know, Fishing Command may earn an affiliate commission from the links on this page, at no extra cost to you
The Okuma Avenger spinning reel series takes the entry-level spinning reel experience to new levels of endurance and versatility.
While I don't usually weigh in on web-based reviews, the Avenger seems to have a lot of support from a broad cross-section of the angling market.
With 11 sizes and an accessible price tag, Okuma has managed to cover many fishing applications and just about every fishing budget. It's no wonder it's popular.
It has a list of handy features, a slick design, and a smooth powerful crank. It is also predictable and reliable – I discovered this with a surf session using the 4000.
Spinning reel quality can be a little unstable at the sub $100 border. However, the Avenger raises its head well above its entry-level price tag.
If I had to give it an honest marketing tag I'd say, "It's the only reel series the weekend angler will ever need."
 Let's unpack that.
Okuma Avenger Spinning Reel Series Review
The Avenger is well below the price of most of my spinning reels. Nonetheless, I enjoyed casting hard baits at stripers on a quiet waveless, windless beach.
The reel performed admirably – most new reels will. But I was conscious that this 4000 cost less than $50. And this made it pretty impressive.
It was a joy to cast, the crank was powerful and consistent under load., as was the oil-felt drag.
I was spooled with a 10-pound braid, and fishing leader free. I was fortunate to strike gold, and the fish were on.
I hooked an 8-pound striper that was particularly angry, and the reel handled it perfectly.
All of these features got a big tick of approval. Again, this is under 50 dollars.
I'm assuming that if you're casting the big 14000, you may get some flex and some heat should you hook a big Tuna – That would be a great test.
Drag is powerful. and 6 stainless bearings offer great support for rotating parts, so you can expect a well-maintained Avenger to last indefinitely.
There's no sealing to speak of, so saltwater will cause issues if ingress goes unchecked.
The Cyclonic Flow Rotor is designed to increase airflow, making drying times faster. It might be OK for dampness, but it won't have any impact on rain. Keep it dry.
The dedicated anti-reverse felt very solid – I'd be careful to keep this bearing dry and free of grit also.
Spool capacities are generous enough for the average angler with the 4000 holding 185 yards of 12-pound mono.
Ratios are pretty standard at 5, and 4.8. For some reason the 6000 drifts into the slower ranks at a hard cranking 4.5.
Retrieve rates aren't spectacular and don't hot up until the 8 to 14000. It was remiss of me not to check speed-cranking metal slices with the 4000. I expect some hard work to generate appropriate speeds.
Ultimately, the Avenger series' broad appeal is justified and deserved.
I would argue the majority of weekend anglers, and more advanced ones, will be more than satisfied.
The Avenger is a joy to cast and crank over a wide range of fishing applications. With such accessible pricing and a lifetime limited only by maintenance, there's no need to spend more.
Highly recommended for shortlisting if you're looking for a budget-driven spinning reel
>>Check Latest Price on Amazon<<
Key Features of The Okuma Avenger Reel
Let's take a closer look at the key features of the Okuma Avenger.
Japanese Multi-disc, Oiled Felt Drag
I still stand by my thoughts that carbon washers should have replaced oiled felt across the board. I'm not sure why this old design remains.
However, straight out of the box, quality Japanese oiled felt drag always feels very smooth.
They remain reliable and predictable for some time before dirt, water ingress, and general wear force replacement. 
6BB + 1RB
This is a pretty standard contingent of bearings at this price point. It's difficult to judge their performance over time.
Out of the box, the reel has a very smooth crank, with little if any significant noise emanating from the crankcase.
It's worth noting that Okuma goes for better-quality bearings, unlike some brands that go dirt cheap, pushing quantity for clicks.
Quick-Set anti-reverse Roller Bearing
Zero complaints about the great hook setting. With testing undertaken on a day when fish were abundant, we were all impressed by the absence of back play – it appears to be a solid bearing.
The big test is over time. Weaknesses in an anti-reverse will show up after dirt muck and water make their way in, as they invariably do with hard-played reels.
Keep it clean, and avoid impacts, and the roller bearing should endure.
Precision Machine Cut Brass Pinion Gear
We didn't dismantle the Avenger for a close and personal look at the components. It's not something we tend to do with entry-level reels.
A machine-cut brass pinion is very cool to see at this price point. The nesh was tight, the gears remained synced under load, and we cranked with confidence.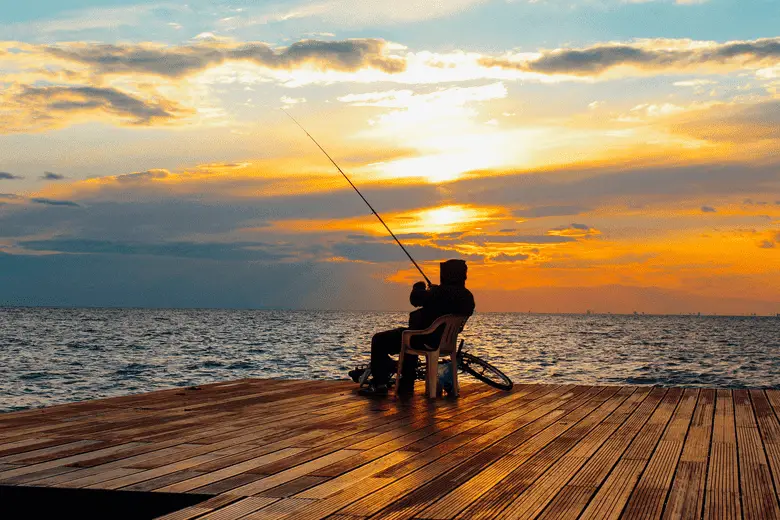 There's a feeling of security with brass pinions when the battle load punches through the capacity of the reel.
A brass pinion will have your back, keeping things in motion. Strength and durability are great features of brass pinions.
Corrosion Resistant Graphite Body and Rotor
Externally, you're not going to see anything rust up on the body and rotor. However, you will need to pay attention to screws, particularly around the bail mechanism.
Corrosion mitigation is up to you, especially on entry-level reels. The absolute best method for delaying corrosion is to clean it with a damp rag and dry it after every session.
This simple process can add years to the working life of a spinning reel, especially cheaper models.
CFR: Cyclonic Flow Rotor technology
The rotor is designed to increase airflow and increase drying times should the reel become wet.
It's an interesting idea, but will it make any difference? We argued this for a while in an unscientific way, and our conclusion was the benefit would be at best negligible.
I must add that this is an assumption. We weren't sure about how to undertake rigorous testing.
Perhaps it is a little gimmicky? Not very Okuma. Perhaps it was designed by accident? I.e., the rotor just happened to generate a little more wind, so they labeled it as a feature.
Whatever the case, clean and dry your Avenger after every session without exception. Don't rely on a windy rotor.
Precision Elliptical Gearing System
For those less familiar with mechanical engineering, the bottom line of Elliptical gearing is friction reduction.
Friction is the enemy of any spinning reel and the angler who is using it. Any reduction mechanism is great for accuracy, precision, and endurance.
The Avenger is smooth, especially considering the price point. I couldn't say if it's especially smooth relative to competitors based on this technology.
>>Check Latest Price on Amazon<<
Models Available
| | | | | |
| --- | --- | --- | --- | --- |
| Model | Ratio | Retrieve cm | Drag kg | Weight gm |
| 500A | 5.0:1 | 175 | 3 | 0.15/145, 0.20/80, 0.25/50 |
| 1000A | 5.0:1 | 195 | 3 | 0.15/250, 0.20/140, 0.25/90 |
| 2500 | 5.0:1 | 224 | 7 | 0.20/230, 0.25/150, 0.30/105 |
| 3000 | 5.0:1 | 220 | 7 | 0.20/265, 0.25/170, 0.30/115 |
| 4000 | 5.0:1 | 283 | 8 | 0.25/260, 0.30/180, 0.35/135 |
| 6000 | 4.5:1 | 400 | 15 | 0.30/275, 0.35/200, 0.40/155 |
| 8000 | 4.8:1 | 572 | 16 | 0.40/210, 0.45/165, 0.50/135 |
| 10000 | 4.8:1 | 557 | 16 | 0.40/255, 0.45/200, 0.50/165 |
| 14000 | 4.8:1 | 600 | 16 | 0.40/370, 0.45/290, 0.50/230 |
| 3000LE | 5.0:1 | 220 | 7 | 0.20/265, 0.25/170, 0.30/115 |
| 4000LE | 5.0:1 | 283 | 8 | 0.25/260, 0.30/180, 0.35/135 |
Avenger ABF Spinning Reel
For those who frequently set baits, the ABFB series is the Shimano style baitrunner, that incorporates a second micro drag system ideal for allowing fish to run after taking your set baits.
Available in 500, 1000, 3000, 4000, 6000 and 8000. The specs are almost the same as the standard Avenger with only a few minor differences.
The rigid metal handle with TPS knob and aluminum anodized spool is the most notable.
>>Check Latest Price on Amazon<<
Okuma Avenger Alternatives
The Shimano Sedona Reel is a great alternative and highly recommended, and one of my favorite entry-level fishing reel series.
Shimano Sedona 6000 FI, Spinning Fishing Reel, SE6000FI
With its updated design and cold forged HAGANE gears, the Shimano Sedona spinning reel offers a number of significant performance upgrades at an affordable value
Incorporates Shimano's flagship HAGANE gearing that provides long-lasting, strong, and durable performance and smoothness giving anglers the strength for both inshore and offshore action
Features double-anodized machine-cut spools for increased line capacity while keeping the body compact
Equipped with a Propulsion Line Management System that provides longer casting distances while preventing backlashes and wind knots from forming
Last update on 2023-09-18 / Affiliate links / Images from Amazon Product Advertising API
If you're looking for a smaller reel, the Okuma Ceymar is an excellent entry-level spinning reel, again one of my budget-friendly favorites.
Last update on 2023-09-18 / Affiliate links / Images from Amazon Product Advertising API
The Ceymar also offers a Baitrunner-style (Shimano), option. Known as the Ceymar Baitfeeder, it's another great option for fishing set baits.
Last update on 2023-09-18 / Affiliate links / Images from Amazon Product Advertising API
Frequently Asked Questions
Are Okuma Fishing Reels Any Good?
Okuma creates solid reels across the range. With a focus on entry to mid-level pricing, Okuma is known for delivering on reliability and quality.
Are Okuma Reels Made in China?
Okuma reels are manufactured in Taiwan and China
Who Should Use the Okuma Avenger?
The Okiuma Avenger has a very broad appeal. It has an entry-level price but performs well above its budget price point.

It is a good choice for anglers looking for great value, rather than the cheapest spinning reel, or reels that are way too expensive.

The beginners and experienced anglers will both love this spinning reel series.