We hope you love the products we recommend. Just so you know, Fishing Command may earn an affiliate commission from the links on this page, at no extra cost to you
The Quantum Smoke S3 PT Baitcasting reel is Quantum's flagship reel for casting fans. 
This continues Quantum's strategy of making performance reels as competitive as reels at higher price points.
The Quantum Smoke S3 sits firmly in the lower portion of the mid-price bracket. It's not the cheapest, but its price remains accessible to most casting fans.
Its price tag makes it one of the best value baitcasters available.
For me, quantum has always been a surprise package. It's a brand that all anglers should keep on their radar.
The Quantum Smoke S3 PT Baitcasting reel is an inshore all-rounder, versatile and robust.
For those who place a premium on getting the perfect gear ratio, the S3 is a must-see. 
Let's check it out.
Quantum Smoke S3 PT Baitcasting Reel Review
There are many reasons why the versatile S3 is popular among bass anglers, including tournament pros.
Whatever fish you chase around the inshore traps, the S3 delivers palmable power, with smooth, effortless cranking, especially under load.
With improved casting dynamics, the Quantum Smoke S3 is a great option for land-based or afloat. 
For those casting from the banks, advanced breaking allows you to load up your casts for exceptional distance without being overly concerned about overrun.
However, it's important to note that effortless casting is a feature of this reel. It doesn't require you much effort to extract distance.
The S3 has the versatility to cover various techniques and baits. While you can easily fish mono and natural baits, the reel is designed for braids and lure casting.
Having said that, one of the great features of the S3 is the oversized spool – a premium feature of the new model.
While excellent for all anglers, it allows mono anglers to spool up with a heavier class line. 
Generous mono capacity isn't really a feature of your average low-profile baitcaster.
The spool will hold 150 yards of 14-pound mono and an astonishing 210 yards of 30-pound. Given 25 pounds max drag, this indicates that the S3 is built to handle trophy fish.
The crank is particularly smooth with a total of 11 bearings, including the clutch bearing. This level of bearing support should deliver a much longer peak working life.
Weighing only 6.9 ounces, it's light enough to cast repeatedly over long sessions without fatigue. Balanced with an appropriate rod, it becomes an extension of your arm.
The Quantum S3 is built in one size and is available for lefties and righties. However, each of the 4 reels in the series has a different gear ratio.
This is a cool concept, and anglers can refine their reel selection to their preferred techniques. However, I'm unsure about the value of having a 7.3 and 8.1. We'll talk more about that later.
I'm a big fan of the external micro-adjust ACS 4.0 cast control brake. 
While you shouldn't require too much adjustment during a session, it still beats lifting the side cover to access internal adjustments.
The gull wing side clover lifts easily, providing easy access for fast spool changes. I like that it remains well connected to the reel – no chance of dropping it in the water.
Overall the S3 is a lightweight yet powerful performance baitcaster ideal for targeting a broad range of fish species and sizes.
However, it doesn't hide the fact it's designed for wrestling a larger class of fish. I like it for chasing trophy bass, cats, walleye, and spillway monsters in the fresh.
In the saltwater, I'd target big drum, striper, and mangrove snapper.
The S3 is a classy reel offering outstanding value for money. It offers more for your hard-earned dollar than most similarly priced competitors.
>>Check Latest Price on Amazon<<
Main Features
Most will agree the Quantum S3 Smoke has an impressive feature list. Let's check out the standout features in a little more detail.
Saltguard Protection
People often ask if the Quantum S3 is a saltwater reel. I tell people all reels are saltwater reels; it's all about how you take care of them.
The S3 has Quantum's Saltguard coating, PT anti-corrosion bearings, Quantum CSC Ceramic-Carbon Drag System, alloy frame, spool, and handle, as well as a host of other protections.
This is a saltwater reel in every way. It should be noted that all of these protections are only as good as your care and maintenance routine.
Gull Wing Side Cover
The side cover on the S3 is a godsend for many. The gull wing design is easy for the clumsiest hands to operate, even when it's cold and your fingers are numb.
The cover remains connected to the reel when it's open, mitigating the very common issue of dropping side plates.
I appreciate that it makes for rapid spool changes. 
It's not that often we're in a hurry to change spools, but the fact it's so easy encourages me to change when I should.
It seems like a small thing, but how many of us have lost side plates to the water? Be honest now.
It's easy to do and common when we've changed lures and need to reset our brakes for casting efficiency.
I've always been critical of side plates that separate from the reel. Surely it can be avoided, regardless of conflicting design imperatives. 
Well done Quantum.
Micro-Adjust ACS 4.0 Cast Control
This, along with the oversized spool, is one of the more significant features of this model. 
It would be interesting to ascertain if the system came as a result of the new spool design.
The centrifugal system is engaged throughout the entirety of the cast. Adjusting is easy and fast, as the dial is external.
This will be very handy during the first few sessions, as there'll be a little more experimentation when casting.
It's probably wise to be a little more conservative with your settings until you get the feel. But with more conservative settings, you may feel casting distance is not all that's promised.
It won't take long to get the hang of it, and you'll capitalize on the S3's distance and accuracy potential. 
Remember, extracting all the casting potential from a reel is up to you; the S3 gives you all you need.
Obviously, the casting dynamics will vary significantly between casting 15-pound mono and 30-pound braid. Experiment as much as you can, especially with different rod power ratings.
Despite the S3 being more about bigger fish and heavier rigs, Micro-adjust ensures it still performs admirably fishing lighter line classes. 
11 Anti-Corrosion Bearings (Including clutch)
I'm still perplexed by the relationship between bearing count to the price tag. By the time you have 11+ bearings in a Daiwa or Shimano, you're paying big money for top-shelf reels.
The converse of this is manufacturers such as Quantum, KastKing, and others, who seem to fill the reels full of bearings, yet avoid the breathtaking price tags.
Is it exclusive pricing on the big brands? Or do the value-driven manufacturers source cheaper bearings?
I should investigate this, but the bottom line is that, regardless of how, the S3 has a 10+1 count, 2PTS, 3PTAC, 5BB, and 1RB.
And according to Quantum, extensive testing has been carried out on all of them to assess their performance after heavy exposure to saltwater.
We're left to assume the chosen bearings make the grade regarding reliability and endurance.
Given the internal nature of the bearings, if they're seeing a lot of salt ingress, you're going to have some problems to solve.
Keep your S3 out of the saltwater – don't submerge it, practice regular care and maintenance and they'll likely endure.
They deliver a very smooth, consistent crank that provides you with loads of confidence while under serious loads.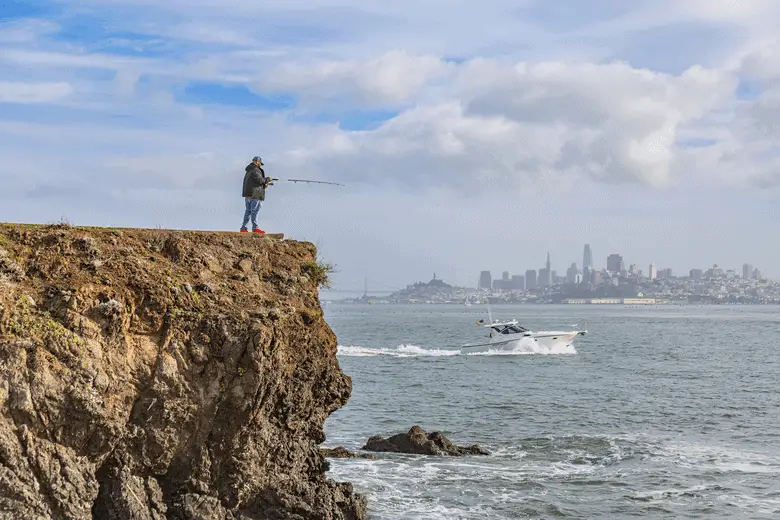 PT Power Handle
Modern anglers are becoming more particular about handles. That's why there's an ever-growing market boom in items such as custom handles.
The Quantum S3's power handle is 5 millimeters longer than the previous model, and the EVA knobs are oversized.
I'm not sure that 5mm makes a heck of a difference, even for the most particular anglers. Nonetheless, the S3 is ergonomic and a joy to crank.
Zero Friction Design
The pinion gear is held in place by two ball bearings eliminating the common issue of friction with the spool shaft.
The absence of friction ensures anglers can extract prodigious distances, so long as rigs and rods are balanced.
Oversized Spool
Fitting a 35.5mm spool into a 100-size frame took some engineering. While there are several benefits, including casting dynamics and line pick-up, the big bonus is line capacity.
The S3 holds 210 yards of 30-pound braid and 150 yards of 14-pound mono. Coupled with the 25 pounds of drag, this feature gives the S3 serious versatility.
It also broadcasts the intentions of the designers – clearly, the reel was built to tackle a larger class of fish.
Rarely would you consider a baitcaster a go-to reel for a little bottom bouncing in deep water.
With the Quantum Smoke S3's line capacity, you can cast a mile, fish the depths, and wrestle trophy fish from anywhere.
Ceramic-Carbon Drag System
Each reel in the series has a max drag of 25 pounds. While not record-breaking, this is still a huge amount of drag for a reel of this size.
The combination of carbon and ceramic washers has worked well for Quantum and performs beautifully and predictably under the stress of blistering runs of big fish.
Fortunately, the reel's frame handles this load and stopping power without flinching.
Aluminum X-Frame
The alloy frame offers excellent strength and rigidity. It's a compact little tank that can face the punishment the drag and line capacity suggests it's up for.
It's impressive that quantum has managed to get such strength into a compact low profile baitcaster.
Gear Ratios
This is one of the more interesting aspects of the reel series, with each of the reels being the same size yet offering different ratios/retrieve speeds.
Anglers have a ratio choice of 5.1:1 (23 inches), 6.1:1(27 inches), 7.3:1 (32 inches), and 8.1:1 (36 inches).
This allows you to refine your reel selection perfectly for the intended fishing technique. 
With a big fish reel such as this, I'd always go for the general purpose 6.1 – literally every technique is covered.
However, crankers would benefit from 5.1, and those who flip and pitch on the drift would benefit from speed.
I will always question the benefits of the 8.1 and how it's a more significant benefit than the 7.3. Is there a compromise to achieve such speed?
One thing I do enjoy about speed is it's great when a fish darts straight at the boat.
Taking up the slack quickly is important for getting the pressure back on.
Pros
Outstanding line capacity
The smooth powerful drag system
Excellent casting distance and accuracy
Refined casting adjustment
Protective paintwork
Lightweight
Big fish capable
Versatile
Outstanding value for money
Cons
Not ideal for lighter fishing
>>Check Latest Price on Amazon<<
Key Features at a Glance
PT Power Handle
Zero Friction Design
Gull Wing Side Cover
Saltguard Protection
Aluminum X-Frame
Continuous Anti-Reverse clutch
10+1 PT Anti-Corrosion Bearings (2PTS, 3PTAC, 5BB, 1RB)
Ceramic-Carbon Drag System
Oversized Spool Technology
Micro-Adjust ACS 4.0
PT Gear Design
PT Thumb bar Design
Alternatives
The ABU Garcia Revo SX is made out of the same mold as the S3. But you will sacrifice a few yards of line capacity. 
Abu Garcia Revo SX Low Profile Baitcast Reel, Size LP (1430427), 9 Stainless Steel Ball Bearings + 1 DuraClutch Roller Bearing, Strong and Lightweight
PREMIUM CONSTRUCTION: The Abu Garcia Revo SX Baitcast Reel is made from an X2-Craftic alloy frame and C6 carbon sideplates. The Infini II spool design allows for extended castability and extreme loads. It's strong and lightweight at 7.8 oz.
RECOVERY RATE: Recover 27" | 69cm of line for every turn of the crank. Gear ratio of 6.6:1. Made with a D2 Gear Design and Duragear brass gear for a more efficient system and extended durability.
INFINI BRAKE SYSTEM gives almost limitless adjustability, allowing you to handle any fishing situation. The Ti coated line guide reduces friction and improves durability. The lube port allows you to easily lubricate your fishing reel.
DRAG SPECS: Carbon Fiber Star Drag, Max: 24lb | 10.8kg. The Power Stack Carbon Matrix drag system provides extreme drag pressures combined with unparalleled smoothness. Mono Capacity yd/lb: 175/10 145/12 100/15. Braid Capacity 190/20 140/30 100/50.
Last update on 2023-12-07 / Affiliate links / Images from Amazon Product Advertising API
But you will save a few dollars too.
For a few more dollars, you can get the LEW'S Fishing Tournament Pro Speed Spool LFS. 
Lew's Tournament Pro LFS Speed Spool 6.8:1 Right Hand Baitcast Reel
LEW'S TOURNAMENT PRO SPEED SPOOL: Baitcast reel features a one-piece aluminum frame with lightweight carbon side plates and a machined, double anodized aluminum 20-hole drilled U-shape 34mm spool
ZERO REVERSE: Premium 11-bearing system with stainless steel double-shielded ball bearings and Zero Reverse one-way clutch bearing
SPEED GEARS: High strength solid brass Speed Gears, cut on precision Hamai CNC machines
P2 SUPER PINION: The P2 Super Pinion bearing supported pinion gear provides precise alignment and solid stability, resulting in for a smoother operation and extended gear life
Last update on 2023-12-07 / Affiliate links / Images from Amazon Product Advertising API
This is an awesome reel, but it will cost you a few more dollars and has less line capacity.
Any of these reels are worthy alternatives to the Quantum Smoke S3.
Frequently Asked Questions
Are Quantum Baitcasting Reels Any Good?
Quantum's flagship reels deliver excellent value, performance, and endurance. They're definitely worth considering, especially if your budget sits at the 100/200-dollar mark. 
How Do You Adjust a Quantum Baitcaster? 
The brakes on the Quantum S3 are easily adjusted using the external numbered dial on the reel's side plate.
Who Owns Quantum Fishing?
Quantum is owned by Zebco. Zebco is owned by Rather Outdoors.
Final Thoughts on the Quantum Smoke S3 PT Baitcasting
If you're a trophy fish hunter, a baitcaster fan, and a stickler for outstanding value. You're going to find the Quantum Smoke S3 baitcasting reel impossible to beat.
Innovation meets performance, meets durability, in a tight, compact package that will impress the most discerning angler.
If you're also looking for a spinning reel you can read my review of the Quantum Smoke S3 Inshore Spinning Reel
And here is an article of my 5 Best Quantum Fishing Reels