We hope you love the products we recommend. Just so you know, Fishing Command may earn an affiliate commission from the links on this page, at no extra cost to you
As most Shimano spin fans know by now, the Shimano Vanford is the replacement for the Stradic Ci4. 
In spite of the name change, it is a high-performing and feature-rich inshore spinning reel that continues the Stradic tradition.
Today I'm creating a buyer's guide review of the Shimano Vanford, so those not up to speed can get out and get a new Vanford with confidence.
Yes, you can tell by my tone that I'm already a fan. That's because the Vanford has maintained the Ci4 pedigree, and made improvements.
Let's take a closer look at the Vanford. This should be of special interest to finesse anglers looking for a high-performance inshore reel at a reasonable price point.
Shimano Vanford Review
The new Shimano Vanford is an inshore-focused series available in sizes 1000 through to 5000. 
The Ci4 body has been retained but is now claimed to be 2 and a half times more rigid.
I'm not sure I can feel that – the Stradic was already rigid, and I never really put it to any test that would get it bent.
It is lighter, however, and feels lighter. This will appeal to the relentless casters seeking longer sessions with less fatigue.
Spool capacities are commensurate with application – not huge, but more than enough for the locations most anglers will poke it.
The drag is smooth, predictable, and reliable, as you would expect. And there's more than enough stopping power when the rare trophy fish forces your hand.
Casting manners are outstanding. It's reels like this that relegate the baitcaster as the ultimate in distance and accuracy.
I say that because it's easier for the average angler to achieve distance and accuracy with the Vanford, than with even the most forgiving baitcaster.
However, it's prudent to note that I don't feel there have been any ground-breaking casting improvements over the Stradic. The Stradic was already awesome.
If I had to put money on it, I'd say the Vanford is slightly better. However, the improvement is negligible.
I will go into its key features later. But the interesting thing about the Vanford is not its great list of flagship features but the complete package.
Some will argue it's good because it has this or that. But I feel its class and performance are a result of the whole ensemble.
It's a beautifully balanced reel that's perfectly fit for purpose. It's difficult to articulate why it's special – there's no standout feature.
The whole reel is the standout feature – it's a feel thing. Granted, such an observation is a little subjective, but you genuinely notice something different when you fish the Vanford.
Several times I've heard anglers let out an audible "wow" with their first cast and retrieve. They sounded surprised – I was the same.
We're left with descriptions such as "it's so smooth…it's so well balanced," and "wow, it's so easy…"
These descriptions, while accurate, fail to do it justice. There's something unique about the Vanford that defies an easy description or reason.
I've dispensed with a scientific appraisal of the Vanford, opting for something more tangible. It's a brilliant finesse inshore reel and an absolute joy to fish.
The reel feels crisp and responsive, and the lightweight rotor delivers such immediacy at start-up.
My criticisms are twofold. Firstly, I've never liked the shiny plastic cowling on the rear. For me, it's like putting a bumper sticker on a Rolls Royce – it cheapens it a little.
My other is that the 4000 and 5000 sizes seem a little out of place. Their application is a little less well-defined for me.
Where the 1000, 2500, and 3000 have a clear purpose, I'm not sure where I'd deploy the 4 or 5. 
I think other reels might be better for applications where a 4000 or 5000 spinning reel is commonly used.
If looking for a 4000 or 5000, I'd consider a much wider range of spin options. The Vanford is less of a standout in this lower mid-size spin reel market segment.
The Vanford has delivered subtle improvements on its predecessor – but they're improvements, and the reel costs no more than its predecessor.
Bottom line, if you loved the Stradic Ci4, getting a Vanford is a no-brainer – you'll love it.
>>Check Latest Price on Amazon<<
Shimano Vanford Features
While it's the whole Vanford package that makes it stand out, here are the key Shimano features that give it a high-performance status.
Long Stroke Spool
The casting manners of the Vanford are outstanding. Interestingly, they were before when it was the Stradic. 
I would argue there's been a slight improvement that Stradic fans will notice.
Whatever the case, the long stroke spool reduces friction and delivers a more consistent line lay. If you want accuracy and distance, the Vanford delivers.
Corrosion Resistance
The Shimano Vanford is ideal for both saltwater and fresh. Ci4 rotor and frame construction deliver excellent corrosion prevention.
With the addition of the X-Protect design, the internals are protected from casual water ingress such as spray, splashing, and rain.
X-Protect has the added advantage of water ingress mitigation without compromising the lightness of the crank due to sealing around shafts.
The IPX8 water-resistant line roller and roller clutch compliments an already well-protected reel. 
Keeping water out of the clutch ensures it will retain its out-of-the-box performance for much longer when fished in harsh conditions.
Micromodule II
Everyone who cranks a Vanford will comment on the lightweight feel of the crank – it really is so easy.
It's smooth and quiet yet has phenomenal strength under load. 
There's no unwanted movement at all, and the mesh is perfectly sound, which not only benefits power but wear and reel longevity.
MGL Rotor
The lightweight MGL design is quite distinct. The crispness of the crank, the immediacy of the start-up, and the balanced feel, even under heavy load, are standout features.
When a Vanford angler talks about the responsiveness of the Vanford, they're probably feeling the impact of the MGL Rotor design.
S-ARB (Bearings)
Each Shimano Vanford has 7 + 1 S-ARB bearings. They're corrosion-resistant and shielded to keep out salt dirt and other reel-wrecking particles.
Ideally, we don't want these elements inside, to begin with. However, when it inevitably happens, there's an added level of security.
The support of 7 bearings not only increases the lightness and smoothness of the crank but also distributes load for a more powerful crank and less wear for longer working life.
Silent Drive
Silent drive is the tightening of tolerances between critical moving parts such as the main gear, worm drive, shaft, etc, to increase smoothness and reduce noise.
The benefits are the reduction of movement for better power conversion and, most importantly, the reduction in wear.
Removing excess movement is one of the best methods for ensuring internals will last longer under constant use and demanding loads.
The Shimano Vanford might not be classed as a workhorse. 
However, it's built to be a go-to finesse reel that can handle plenty of hard work, heavy loads, and heavy-handed anglers.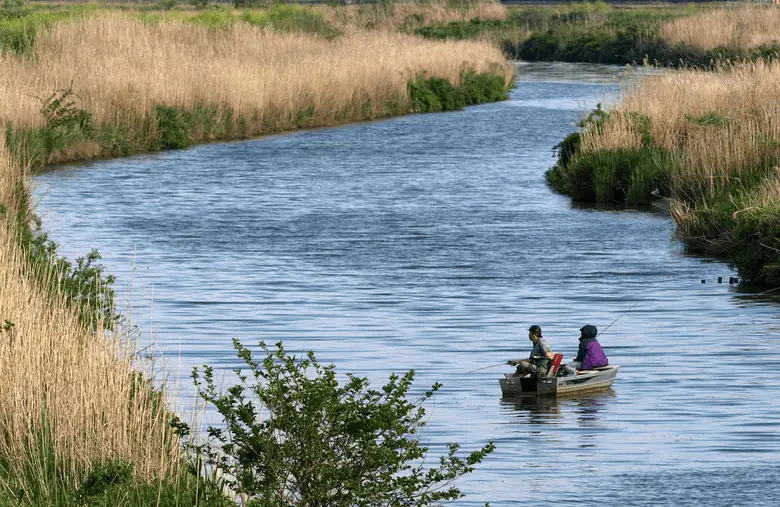 Ci4 Frame and Rotor
Purists will argue that the composite feel can't compete with lightweight alloys. While I tend to agree, it's not comparing apples with apples.
Finesse-style reels made from advanced lightweight alloys are ridiculously expensive. 
The Shimano Vanford, while not at all cheap, remains accessible to the average angler.
With Ci4 you get outstanding rigidity, strength, and a fantastic lightweight feel, in a genuine finesse package without having to mortgage the house.
The crisp performance and speedy start-up are significant features of the Vanford and thanks, in part, to Ci4.
Shimano Vanford Size Chart
| | | | | | | |
| --- | --- | --- | --- | --- | --- | --- |
| Model | Drag Kg | Ratio | Retrieve (cm) | Mono kg/m | Braid lb/yds | Weight |
| 1000 | 3 | 5.5 | 64 | 1/250 | 10-95 | 155g |
| 2500 | 9 | 6.0 | 89 | 3/180 | 10-150 | 180g |
| 3000 | 9 | 6.0 | 89 | 4/150 | 10-200 | 180g |
| 4000 | 11 | 6.2 | 101 | 6/160 | 15-230 | 215 |
| 5000 | 11 | 6.2 | 101 | 6/200 | 20-260 | 220 |
Features at a Glance
Shimano Ci4+
G Free
Hagane Body
7+1 Ball bearings
X-Ship
Hagane Gearing
Micromodule II
AR-C Spool
Long Stroke Spool
Liner Roller & Clutch IPX8 Rated
X-Protect
Pros and Cons
Pros
Excellent Rigidity
Lightweight
Excellent Ergonomics
Brilliant Casting Manners
Strong
Excellent Finesse Credentials
Cons
Plastic Silver Cowling on the Rear
>>Check Latest Price on Amazon<<
 Alternatives
There are several suitable options for those looking for Vanford alternatives. I've selected 3 that are comparable in price, performance, and in applications.
The PENN Clash II is a strong competitor. For those with a desire for a full metal body, the Penn Clash has you covered. 
Last update on 2023-12-06 / Affiliate links / Images from Amazon Product Advertising API
There's also an extra bearing for greater support and a heavy-duty bail wire.
I like the Penn Clash 2 for the angler that does a lot of finesse work in tough locations. 
If you're trekking through mangroves, climbing rock walls, or generally hard on your fishing gear, the PENN Clash will be hard to pass up.
This is PENN's lightest reel (still, I think) and manages to maintain the muscle strength PENN is famous for while introducing serious finesse credentials.
The Clash is an example of where I'd take the sizes 4000 and 5000 over the Vanford. It's more robust for locations such as rock walls, break walls and the surf.
The Daiwa Tierra LT is an excellent lightweight finesse reel, and you'll save a little cash too.
Team Daiwa Spinning Reel, Tierra 4000 with Spare Aluminum Spool
Spinning reel with heavy action in freshwater and medium-heavy action in saltwater.
Specifications: Gear Ratio - 4.9:1; Line Per Crank - 33.9"; Weight - 13.1oz; Line Capacity - 10/300, 12/260, 14/210; Drag Max - 13.2
Ball Bearings - 5; Corrosion Resistant Ball Bearings - 2; Roller Bearings - 1
Last update on 2023-12-06 / Affiliate links / Images from Amazon Product Advertising API
There isn't a 1000 size available in the Tierra line, but the 2000 is ideal for finesse and offers an extra couple of kilograms of drag.
For those looking for a little extra spool capacity, the Tierra spools are a little deeper, holding more line. A good choice for mono and fluoro anglers.
Frequently Asked Questions
Is the Shimano Vanford a Saltwater Reel?
The Shimano Vanford is exceptionally well equipped for handling the salt. Its corrosion resistance is outstanding.
When did the Shimano Vanford Come Out?
The Shimano Vanford is aFortunately, the ridiculous reverse switch that some manufacturers still include is absent from the Vanford. relatively new release, having its debut back in 2020. It was very well received and is enjoying popularity with finesse anglers.
Does the Shimano Vanford Have Anti-reverse?
The Shimano Vanford has excellent anti-reverse without a hint of any back play. 

Fortunately, the ridiculous reverse switch that is still included by some manufacturers is absent from the Shimano Vanford.
How Much Does a Shimano Vanford Weigh?
The Shimano Vanford is designed to be a compact and lightweight reel. The 1000 weighs in at a tiny 155 grams.

The 2500 and 3000 weigh only 180 grams. The 4000 is 215 grams, and the 5000 is only 5 grams heavier at 220 grams.

Interestingly, the Shimano Vanford feels even lighter than the figures suggest. 

Strapped to an appropriate graphite rod, with a lightweight rig, the entire outfit will feel like an extension of your arm.

This is the perfect reel for finesse applications where a light rig delivers benefits for long sessions of relentless casting.