For me, and many others, Bass Pro is a fantastic shop chain bursting at the seams with all my favorite things.
It stocks everything for fishing, boating, camping, shooting, and hunting, and there are outlets across North America.
There's something poetic about its origins, having begun in an 8-foot space in the back of a liquor store. That's right; Johnny Morris began Bass Pro in the back of his dad's liquor shop in Spring Filed, Missouri.
Neither Johnny nor his dad could have predicted that by 2023 they would be serving 200 million customers annually and have a 500,000 sq ft retail outlet in one of the largest pyramids in the world.
Let's check out the Bass Pro Pyramid.
Where is the Biggest Bass Pro Shop in the World Located?
The biggest Bass Pro shop in the world is in Memphis, Tennessee, by the banks of the iconic Mississippi River. 
And the craziest thing is that it's located inside a massive pyramid.
Given that the Pyramid reaches 321 feet, you won't need directions once you hit Memphis – it kind of stands out.
Why you'd locate a fishing tackle shop inside a Pyramid is a little difficult to get your head around, but there is a reason that we'll investigate later.
If you're a Memphis local, you're as familiar with the Pyramid as you are with Elvis's Graceland.
Interestingly, if you've never been to Memphis or Tennessee, you may not even know it exists.
According to Memphis locals, Tennesseans, and thousands of interstate visitors, a trip to the pyramid is just as important as a trip to Graceland.
How Big Is The Memphis Pyramid?
The pyramid is enormous, in anybody's language – particularly for a themed retail space. There are 535,000 square feet inside, and it stands 321 feet on the Memphis skyline.
But you'd be mistaken for calling it a mere retail space. It's more of a vast commercial center containing themed outdoor lifestyle entertainment zones.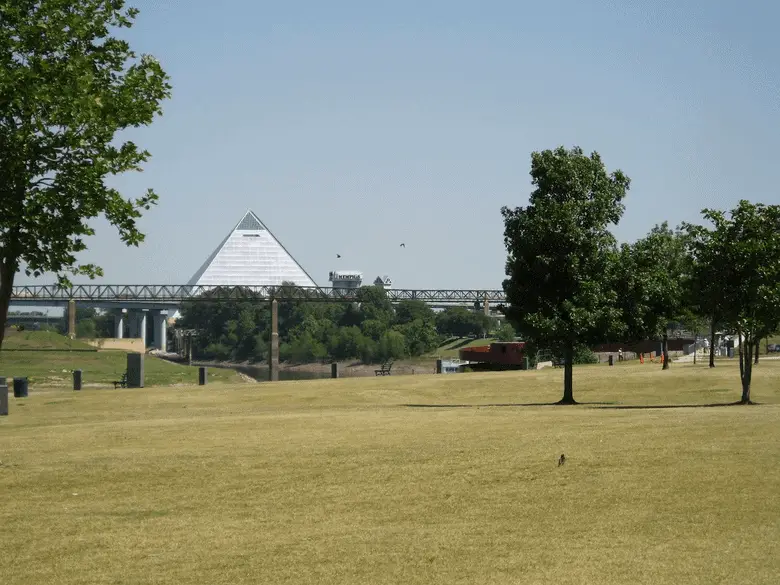 There's a hotel, a 28-story free-standing elevator, the largest in the US. There's a hotel, a manmade swamp, a shooting range, and an archery range.
If that's not enough, there's a bowling alley, restaurants, bait, and tackle shops, and a grand observation deck at the top of the pyramid.
And 600,000 gallons of water features and ten aquariums ensure you remember why the pyramid exists – it's about fishing and hunting.
So yeah, it's big. Depending on how it's measured, it's included in the top ten largest pyramids on earth. 
Albeit a little younger than the famous wonders of Egypt.
Why Did They Build the Pyramid in Memphis?
That's a fair question, and I promised I'd answer it. As it happens, Egypt has an ancient city called Memphis.
Apparently, that's all the motivation one needs to build a massive pyramid thousands of miles from their traditional home.
Memphis sought a significant landmark that could grow in fame and attract tourists, much like New York's Empire State Building, the Statue of Liberty, or the St Louis famous arch.
The original plan was for three pyramids, like the famous Giza trio. Ultimately, it became only one.
When completed, it would be two-thirds the size of the largest Giza pyramid, the alleged final resting place of Pharaoh Khufu.
In true American fashion, it wasn't just a landmark but a massive, themed retail space dedicated to celebrating outdoor lifestyles.
Is The Bass Pro Pyramid Cursed?
Many iconic constructions throughout history have had their share of controversy, myth, and urban legend.
The pyramid, unique and obscure as it is, would only be complete with its own intriguing history.
Stories of death during construction certainly added a hint of darkness and suspicion. A gunfight in a nearby bar resulted in two shooting victims becoming attached to the pyramid.
But the most intriguing was the crystal skull secreted in a metal box on the ceiling beams of the pyramid.
As it happens, it was placed there by Hard Rock Café founder Isaac Tigrett. It was placed during construction and is, apparently, one of several items planted in a similar manner – all of which remain mysteriously hidden.
Officials thought it best to remove the skull, to which Tigrett warned, "You don't have any idea what you have done…The cosmic balance of the earth may have been disrupted."
Serious or otherwise, the implied curse ensured the pyramid had early teething problems, not the least of which were backed-up sewers that put a smelly dampener on the grand opening.
Unseasonal rains spelled significant delays for construction. And worse still, anchor retailers and proposed amenity arrangements fell through.
Despite the delays, the pyramid opened in 1991. While the curse seemed broken, apparently it was only kept at bay. 
In 2004, the pyramid closed and would remain closed for a decade.
It sat vacant for this period, with locals calling it the tomb of doom. Of course, this exacerbated the curse myths.
Visiting the Bass Pro Pyramid
You can visit the pyramid to stock up on bait and terminal tackle. But that would be like going to Disneyland to buy a packet of skittles.
Anglers, hunters, and campers can go for some of the most rewarding retail therapy that exists.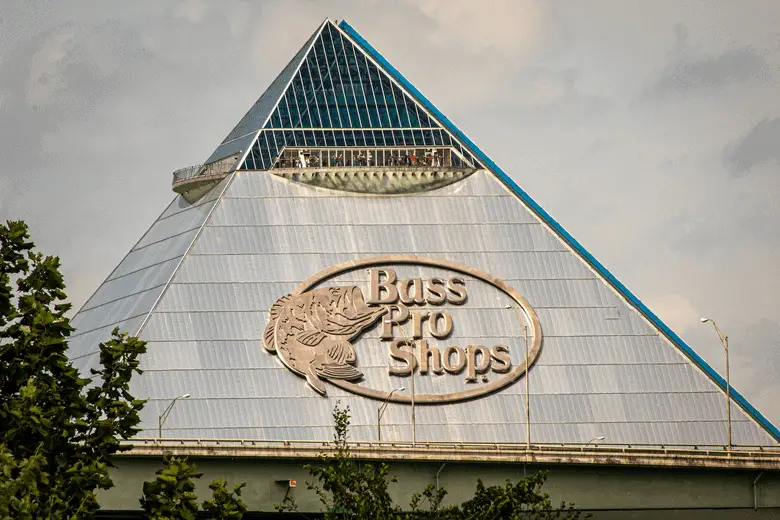 But at the very least, you can make a day of it. Why not explore the ten aquariums, and stroll the indoor swamp, followed by a trip to the bowling alley?
Relax by the many water features before a ride up the elevator to enjoy uninterrupted views of the great Mississippi on the observation deck with its Grand Canyon theme.
The restaurant provides outstanding meals, and once you've fed yourselves, why not feed the fish in the aquarium?
The swamp has an alligator and 36 fish species, some of which are your favorite targets on the water – should you go fishing?
Can You Fish at the Bass Pro Pyramid?
Unfortunately, you can't go fishing in the pyramid, enticing as it is. Nevertheless, you'll be inspired to fish, and you will definitely be inspired to buy lots of fishing gear.
There's nothing like seeing a huge bass or sturgeon swim past your feet in a pool so clear you can see their name badges.
Take a look around you. All the eye candy you see is designed to do one thing, part you from your cash. 
But if you're having fun, why not? And there's more to do than you can fit in 24 hours. 
Given there are hours of fun to be had. Why not stay overnight? I can't say I know of any tackle shops with their own hotel attached.
Can you Stay at the Bass Pro Shops Big Cypress Lodge?
The 103-room lodge is open to the public and makes the perfect location for fishing and hunting fans to spend time in Memphis.
The Big Cyprus Lodge has balcony rooms with 24/7 views of the complex. You can wind down with your favorite beverage staring into the swamp, contemplating tomorrow's purchases.
While connecting retail and accommodation certainly isn't new, there's nothing like this, where you're sleeping in the store where you're shopping.
Tariffs are pretty reasonable.
So if you're thinking of stocking up on fishing gear or looking for boating and camping gear, why not make a weekend of it and sleep where you'll shop in a themed anglers' playground?
Frequently Asked Questions
How Big Is the Bass Pro Shop Aquarium?
There are 10 aquariums in the bass pro shop of various sizes.
Where Is the Original Bass Pro Shop Located?
The original Bass Pro Shop is located in Springfield, Missouri.
Where Is the Oldest Bass Pro Shop Located?
The oldest Bass Pro Shop is located in Springfield, Missouri.
How Many Bass Pro Shops Are There in The World?
There are 177 Bass Pro Shops across North America.
Who Is Bass Pro Owned By?
John Morris is the founder and CEO of Bass Pro.