We hope you love the products we recommend. Just so you know, Fishing Command may earn an affiliate commission from the links on this page, at no extra cost to you
Relative to other freshwater fish, trout have small soft mouths. 
You may also need to adapt your bait presentation depending on where you're hunting.
Add to this a changeable and parochial temperament, and you'll wonder why we target trout at all.
Yep, while chasing trout can be tricky, it's not half as complicated as it often sounds on paper. Most importantly, they're delicious and awesome to fish.
Choosing the right hook size for trout is very important.
We can use many effective rigs and techniques, but hook type and size are critical elements of the trout equation.
If you want to attract, hook, and land trout, use the appropriate hook size. Let's check trout hook size in detail.
Note that this guide doesn't include fly fishing for trout. Hooks for making flies require their own in-depth guide.
What Size Hooks Should I Use for Trout Fishing?
The best size hook size for trout fishing is a size 8 to 14 single hook. If you're in doubt, you won't go wrong using a size 12 as default. 
It'll work well with most baits and all fish sizes.
Treble hooks sized 10 to 14 will do the trick if you're casting lures. Given multiple hooks, I tend to go as small as practical for the best lure presentation.
So…. you're all sorted and ready to chase trout with your size 12. If only it were that simple. 
There are several things to consider before we select the perfect hook size.
If we are using natural bait or power bait, we need to consider the hook type. 
Should we use circle hooks, J hooks, octopus hooks, long shank, or short shank? Should we go barbless?
And what about gauge? Is it better to use thin wire hooks or strong thick gauge hooks? Interestingly, hook type can impact your hook size decision.
At this point in my trout hook guide, there are more questions than answers. 
Don't worry; I'm not a fan of complicated fishing rigs and rigging decisions at all. The punchline is coming. 
Guide For Selecting Hooks for Trout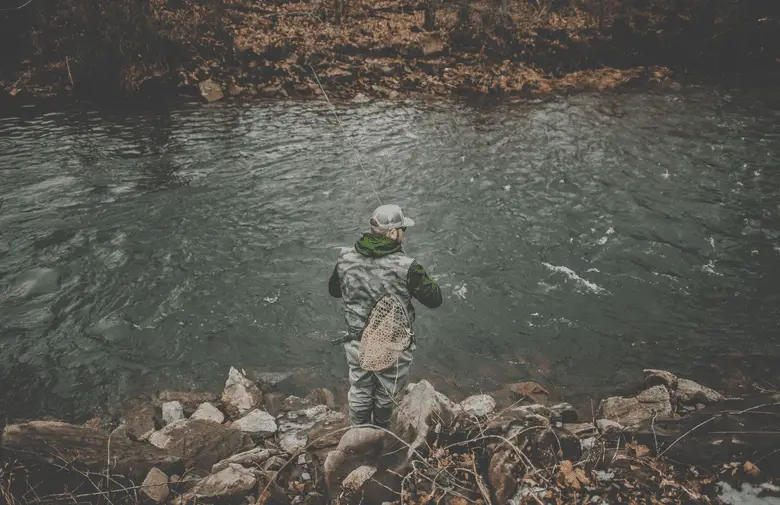 Presentation
Presentation is everything. Whether using lures, live baits, or cut baits, your hook plays a big role in ensuring a bait looks natural in the water.
Trout are pretty cautious. They have a 6th sense when it comes to assessing dinner. If it doesn't look local, they might not eat it.
Bait Holding
The hook must also hold the bait effectively. A size 14 short shank hook will catch large fish, but it must first hold your bait.
When your hook is too small, bait can fall off in the current, or fish can take it from the hook while avoiding the pointy bit.
The opposite is putting a tiny piece of corn on a size 8 hook. Your presentation is all hook – not so tasty for a cautious trout.
Lures
If you intend to cast lures, a specific trout lure will often have appropriate size treble hooks to ensure secure hooking.
I use plenty of different hard bodies. They're not all intended for trout, so the hooks may need to be changed.
In general, I'll be selecting smaller treble hooks, so I won't have to worry about compromising the lure's swimming action.
Let's break this down into a simple process for deciding on hook size.
Where am I going to fish? Is it a new spot or a regular one? What are the geography/conditions?
What species of trout am I targeting?
What size trout are likely? Will I target trophies?
What bait(s) will I be using?
Am I going to use a particular rig/technique?
Will I be releasing them or keeping them?
Once I have firm answers to these questions, hook selection is pretty easy. Here's an example of how I'll answer these questions to determine a hook.
I'm targeting a river I've fished before. I'm wading from the bank. It's a very quiet location but gets heavily fished. There's plenty of cover, structure shallows, and deep pools. There's a gentle current.
I know this spot holds rainbow trout. I've caught quite a few.
From what I've heard and from my own experience, fish caught here are just legal in terms of size. Monsters are rare.
I've got some great worms, but they're pretty big, and I don't want to cut them.
I'm fishing finesse. 4-pound line with just enough weight from a tiny split shot sitting just above the eye of the hook.
I want to release these fish.
Having planned my approach, I've decided on a size 12 long shank, and I'll knock the barb down with my pliers.
I love long shanks for worms; I thread the worm up and past the eye of my hook. Only the sharp end protrudes from the worm.
I like to stock up on Gamakatsu trout worm size 12 hooks. They're not a traditional straight long shank; they're shaped – check them out here. They're awesome.
Last update on 2023-09-24 / Affiliate links / Images from Amazon Product Advertising API
A lot of anglers will use tiny size 14 short shanks and cut the worms. 
This is effective – I do it myself. But I'd rather miss some smaller fish and try to attract something a little larger with a full worm. A size 12 will hold it nicely.
Most importantly, I find it fast and easy to remove long shank hooks, and they're rarely swallowed. This gives a young rainbow trout a great chance of surviving the fight.
The size 12 is small enough for juvenile rainbows. But it's also better placed to handle something bigger should I be so lucky to hook one.
I follow this simple process every time, and it's a great way to start your session confidently. I can always change it if it's not working.
Here's a useful chart for selecting appropriate hook sizes for the bait you intend to use.
Trout Hook Size Guide
| | |
| --- | --- |
| Bait | Hook Size |
| Powerbait | 8 to 12 |
| Worms | 8 to 14 |
| Corn | 10 to 12 |
| Salmon eggs | 10 to 12 |
| Plastic Bead | 10 to 12 |
| Spawn sac | 6 to 8 |
See Also: What is the Best Hook Size For Bass
Best Hook Size When Trout Fishing with Salmon Eggs & Corn
The best hook size when trout fishing with salmon eggs & corn is Gamakatsu, but size 12 single eggs hooks.
Last update on 2023-09-24 / Affiliate links / Images from Amazon Product Advertising API
I find them small enough without having to cope with tiny 8s.
Corn is great for ponds and these hooks are perfect for a couple of kernels and they're super sharp.
They're called Egg Hooks, so you can assume they're perfect for casting salmon eggs. I also like the gauge of these hooks. 
You feel confident when you hook something of size, even though your hook is tiny.
Best Hook Size for Bobber Floats for Trout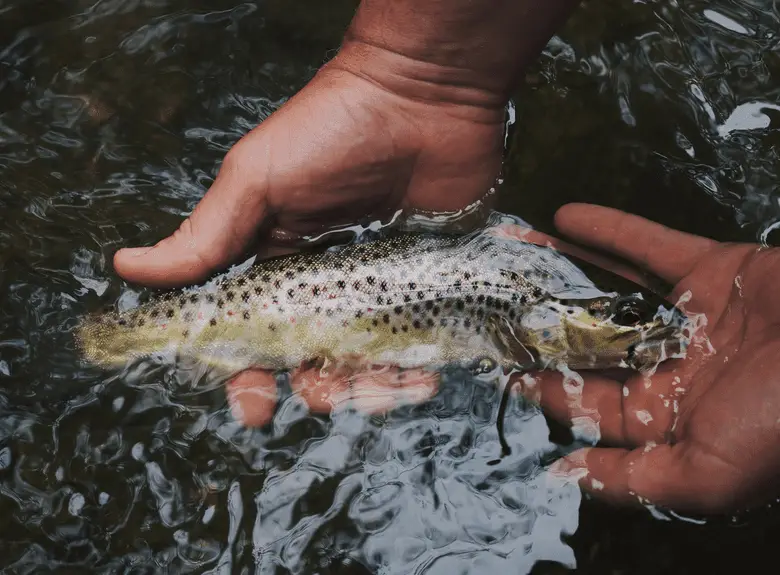 One of my favorite types of trout fishing is using bobbers. It's a great approach when the waters are shallow and moving quickly.
I cast upstream and let it move along and into the strike zone. I use this technique when I'm hunting for bigger fish.
I'll use J-style baitholder hooks. If I get massive worms, I'll use a size 8, hoping to hook a trophy trout.
I like the baitholder style when the waters move, and there are plenty of snags, cover, and structure. 
I hold on to more worms this way.
Best Hook Size When Trout Fishing with PowerBait
When using PowerBait, you can always shape your bait to your preferred hook size, wrapping it completely in the bait.
If I'm ever using PowerBait, it's usually because I'm hedging my bets and couldn't get any natural baits.
So my default hook in this case will be a size 10 or 12, which is ideal for PowerBait and a wide range of trout sizes.
Barbless vs Barbed Hooks: Which Should You Choose?
If you intend to release your fish, the best thing you can do for its survival is to fish with barbless hooks.
Fishing barbless hooks also teaches you great lessons in keeping the pressure on during a fight. 
If you let your line go slack, you give your trout a big chance of escaping.
You can buy barbless straight off the shelf or close the barb with your pliers – even file it off.
If you intend to keep your trout for the table, go with barbed hooks. You want every advantage you can get.
You can still use barbed hooks if you wish to release a trout, but remember to take great care; barbs are savage on soft trout mouths.
What Size Treble Hook Should You Use for Trout?
I only ever use treble hooks if I'm fishing lures. I love minnow-style hardbodies. So traditional and so effective.
Fortunately, lures come with treble hooks that are appropriately sized for maximizing the action of the lure.
I will often change the factory trebles over to barbless. 
As I said before, trebles are savage on soft mouths and can do a lot of damage trying to remove them. With barbless, it's easy.
Simply match the factory size with your new barbless.
If you have a hookless lure and want to place new trebles on it, err on caution and go smaller for the best action.
Choose between 10 and 14. Carry a stock of both, and you'll be fine for every lure suitable for trout.
Choose between 10 and 14. Carry a stock of both, and you'll be fine for every lure suitable for trout.
What Size Hook to Use When Using Octopus Hooks for Trout?
Octopus hooks are particularly popular with trout anglers using PowerBait and salmon eggs. 
They're good for cut worms, but I prefer longer shanks for worms.
Size 8 to 12 is popular, and most prefer those with baitholder barbs. I like these hooks for bigger fish, so I'm more likely to go for the 8s.
What Size Hook Should You Use When Using Circle Hooks for Trout?
I'll rarely use circle hooks for trout. Since circle hooks gained popularity across all types of fishing, many anglers swear by them for trout.
Circle hooks are designed so the fish will invariably hook itself in the side of the mouth. They avoid swallowing the hook, there's less damage done in the fight, and the hooks are easily removed.
They're a good hook for set baits, as you're likely to get a hook-up even though you might be late to your bouncing rod, missing the appropriate strike moment.
A lot of trout anglers using circle hooks go for a mid-size number. 10. 12 is a go-to for many, but you're unlikely to see the tiny 14s out in force.
If you're the type of angler that sets a number of rods, perhaps using a variety of baits, then a circle hook might be good for you.
However, for fish safety, I still find a barbless hook on the end of a rod is the best for fish health and longevity.
Verdict
If you have a tackle box full of 10s and 12s, you can't really go wrong, wherever you are, whatever trout you're targeting.
For those who wish to hook and land trophy trout, I recommend fitting a size 8 and using bigger baits.
If you find yourself chasing rainbow and brook trout from stocks, you're probably better placed to go small – 12 to 14, using smaller baits.
Just remember. Presentation is everything, and the hook you use will impact your session, which can mean the difference between a dull day and a session to remember.