We hope you love the products we recommend. Just so you know, Fishing Command may earn an affiliate commission from the links on this page, at no extra cost to you
The famous Shimano Stella SW is the pinnacle of spinning reels. It's loaded with all of Shimano's flagship technologies and billed as the best there is. 
The Stella is designed for the most serious saltwater anglers chasing the most serious of fish.
Thanks to its astronomical price point, Stella doesn't sit on the radar of many anglers. 
Nevertheless, for those heavily invested in spin reel fishing and with a budget set aside for it, they're a must.
But are they as good as they could be? And can you get a similar performance for half the price? 
This debate will rage on. 
But there's no denying – if you chase monster fish, you want the best monster tamer, and the Shimano Stella fits this bill.
What is The Shimano Stella SW? – A Review
In short, the Stella is Shimano's flagship spinning reel. Shimano is a premium reel and fishing gear manufacturer. 
So, as you might expect, its top-of-the-top shelf offering is truly something special.
The Shimano Stella is a dream to fish. Feel, performance, endurance, engineering, capacities, and phenomenal strength have earned it a place among the best.
This is the spin reel you want when you're chasing monsters like bluefin, yellowfin, marlin, sailfish, dogtooth, etc.
Jigging, casting, and trolling are all specialties of the Stella, and they're designed to handle the toughest locations and conditions. 
The surf, ocean rocks, and the blue water are Stella's domain. And it's engineered to survive the rigors of such locations, not just the freight trains that live there.
Stella reels are the ultimate combination of profound strength and refined precision. Yes, they're that good. But claims of "best" gets a little more subjective.
Arguments will rage over whether or not it's the best there is. 
Plenty of anglers will take sides with its rival, the Daiwa Saltiga – equally potent, if not quite the household name of Stella.
The Stella is an ultra-high performance spinning reel. And you'd think such an item is easy to review – simply lay out a list of praise.
In truth, it's far more complicated than that. When you put yourself out there as the best there is, with a price tag to match, there will be commensurate levels of scrutiny.
Shimano could be accused of trying to increase margins by cutting some corners with the latest Stella.
Fans and critics alike will argue, and perhaps rightly, that there should be no compromise or corners cut at this price.
Arguing the finer points of its design and engineering will be irrelevant to many anglers. It remains a formidable weapon, whatever cost-saving tweaks have been made.
Whether it's an easy bluefish from the beach, tuna from the ocean rocks, or marlin from beyond the shelf, the Stella is an outstanding spinning reel for any angler who demands the best.
Is it value for money? This is a tougher question to answer if only for the reason that value is subjective.
Bottom line, if spending 1000 dollars or more on a reel doesn't hurt your household budget, you've no reason not to get a Stella because it'll likely be the best reel you've ever fished.
The most compelling feature is that you get the strength and capacity of traditional reels with the long casting benefits of spin.
The Stella is an awesome reel. It's a brilliant investment for those anglers who frequent the ocean rocks and offshore fishing grounds.
Pros and Cons
Pros
Phenomenal performance across all key criteria
Outstanding sealing and corrosion resistance
Huge bearing count
Capacious spools
Smooth powerful drag systems
Cons
Extremely expensive
No sizes under 4000
>>Check Latest Price on Amazon<<
Main Features of the Shimano Stella SW
Ball Bearings: 13+1 SA-RB Bearings
The SA-RB bearings are quality bearings designed to ward off corrosion. As a result, there is little chance of saltwater ingress becoming a problem.
The feature is the number of bearings. Everything that turns and moves has the support of the SA-RB bearings, which has 2 distinct and positive consequences.
Firstly, the bearings support moving and turning parts keeping gears, pinions, handles, etc, perfectly located and moving at peak freedom. 
The result is rigidity, strength, and significant minimization of play.
Secondly, with all critical moving parts supported by bearings, wear is reduced significantly. 
Considering 6 to 9 bearings is a high count for most spinning reels, 13 + 1 is a huge number. The comprehensive support delivers peak operational longevity.
Hagane Gear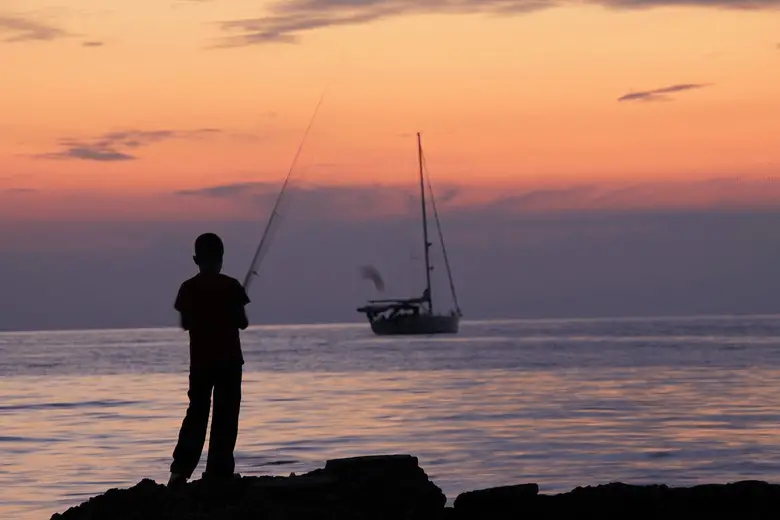 The Hagane gear is responsible for the smooth and lightweight crank. 
The cold-forged gears have tolerances measurable in microns, ensuring all power is transferred to the business end of a fishy battle.
Hard and very tough, the Hagane gears are at the heart of the Stella's strength. 
The gears are the main contributor to Stella's incredible cranking ease while under significant load.
Hagane Body
While the gears support incredible cranking strength, none of it is sustainable without the rigidity of the alloy body.
Flex is more or less eliminated. This ensures that the gears, main shaft, and pinion maintain integrity. All gears operate at peak with nothing, lost to flex and twist.
Again the benefits to wear are significant. 
The removal of play keeps loads where they're designed to be, increasing operational longevity and endurance.
Silent Drive
In many ways, Silent Drive is an umbrella term for exacting tolerances. 
The drive gear, worm shaft, and worm shaft gear have had gaps eliminated, removing any chance of play.
With no unwanted slop or movement, the running gear operates with far less sound. 
However, the biggest benefit is a far smoother crank, regardless of load.
Infinity Drive
Infinity Drive ensures the pinion gear inner does not make contact with the main shaft. 
With bushing supporting the main shaft, resistance is reduced.
Resistance is further reduced with the addition of a skid coating. The result of reducing resistance (friction) is significantly increased power.
Heatsink Drag
While the ingress of impurities is a great drag killer, it's the heat of extended blistering runs that destroys drag washers.
With excessive heat, drag washers will expand and sag. This will cause a huge loss in drag power and performance. 
The Heatsink Panel reduces thermal sagging by as much as 50%.
In addition, an insulation sheet prevents heat transfer to the spool by as much as 30%.
Rigid Support Drag
Rigid support drag increases stability and reduces wobble. It does this by supporting the spool at two points of the main shaft, including the bearing inside.
Anglers will notice a uniform rotation, particularly when the spool rotates at breakneck speed under serious load.
X-Protect
X-Protect is a system that contributes to the Stella's IPX8 water-resistant performance. 
An IPX8 designation means that a device can withstand continuous immersion in water.
X-Protect is composed of a labyrinth design coated with a hydrophobic finish. 
Water is repelled, without sacrificing rotation freedom, as can often happen with a seal on a shaft.
E.I. Surface Treatment
The SW in Stella SW stands for saltwater. The E. I surface treatment combined with other water-repelling and corrosion-resistant technologies, makes the Stella perfect for saltwater fishing.
It's simply a proprietary surface treatment designed to inhibit corrosion. It's features such as this that increase the working life of a Shimano Stella SW.
X-Shield
X-Shield is at the heart of the Stella's exceptional sealing. Gaskets, seals, and O rings are placed in 12 critical locations to keep the water away from critical components.
X-Shield delivers a dependable, high level of water resistance; however, anglers shouldn't take this to mean that the Stella is completely waterproof.
While it has market-leading sealing, corrosion resistance, and water repulsion, you shouldn't consider the Stella completely waterproof.
X-Ship
It's the X-Ship that gives Stella its phenomenal stability under extreme loads. The pion gear has bearing support at both ends. 
This allows precision alignment between the pion gear and the main gear to be maintained under heavy loads.
While friction reduction has added benefits translating to better casting, there are also major gains in wear reduction.
One-Piece-Bail
The one-piece bail enhances line management by reducing friction. Gaps from joins are removed, allowing the line to fall straight to the line roller.
AR-C Aluminum Spool
The AR-C spool design is a standard inclusion across many Shimano spinning reels. 
Line management is enhanced by reducing friction thanks to the angled spool lip.
The lip angle reduces friction but also reduces the size of loops peeling from the spool. 
The result is great casting distance and accuracy with either mono or braid.
>>Check Latest Price on Amazon<<
Features and Specifications at a Glance
| | | | | | | |
| --- | --- | --- | --- | --- | --- | --- |
| Model | Drag | Ratio | Weight | Mono | Braid | Retrieve |
| 4000XG | 11kg | 6.2.1 | 355g | 240yds/8lb | 230yds/15lb | 101cm |
| 5000HG | 13kg | 5.7.1 | 420g | 240yds/10lb | 245yds/20lb | 97cm |
| 5000XG | 13kg | 6.2.1 | 420g | 240yds/10lb | 245yds/20lb | 105cm |
| 6000 | 13kg | 4.6.1 | 425g | 265yds/12lb | 290yds/30lb | 83cm |
| 6000 | 13kg | 5.7.1 | 425g | 265yds/12lb | 290yds/30lb | 103cm |
| 6000 | 13kg | 6.2:1 | 425g | 265yds/12lb | 290yds/30lb | 112cm |
| 8000 | 25Kg | 4.9:1 | 625g | 300yds/15lb | 340yds/40lb | 94cm |
| 8000 | 25Kg | 5.6:1 | 625g | 300yds/15lb | 340yds/40lb | 107cm |
| 10000 | 25Kg | 4.9.1 | 670g | 500yds/12lb | 360yds/50lb | 102cm |
| 14000 | 25Kg | 6.2.1 | 675g | 555yds/12lb | 400yds/50lb | 134cm |
| 18000 | 28kg | 5.7.1 | 875g | 415ds/20lb | 600yds/50lb | 129cm |
| 20000 | 28kg | 4.4.1 | 885g | 460yds/20lb | 490yds/65lb | 104cm |
| 30000 | 25Kg | 4.4.1 | 975g | 370yds/40lb | 900yds/65lb | 131cm |
Ball Bearings: 13+1 SA-RB Bearings
Hagane Gear and body
Infinity Drive
Silent Drive
Heatsink
Rigid support
X-tough
X-Protect
E.I. Surface Treatment
X-Shield
X-Ship
One-Piece-Bail
AR-C Aluminum Spool
Shimano Stella SW Alternatives
There are very limited dollar-for-dollar alternatives to the Stella.
Daiwa's flagship Saltiga is an obvious alternative. 
Last update on 2023-12-07 / Affiliate links / Images from Amazon Product Advertising API
It has all the features, capacities, refinement, and strength of the Stella.
It's also designed to be deployed against the same monster-fish targets as the Stella and cope with the worst of conditions.
Comparing the two is difficult, and you can end up splitting hairs. Given the choice of either, I'm not sure which way I'd jump.
Contrary to what many believe, I think, generally speaking, Daiwa has edged ahead of Shimano. 
If you'd like to save a few dollars and think out of the box a little, the Okuma Makaira Spinning Reel is a great option.
Last update on 2023-12-07 / Affiliate links / Images from Amazon Product Advertising API
Okuma is doing great work, and they've pulled out all the stops to beat Daiwa and Shimano from their lofty pedestals. 
The Makaira spinning reels are a fantastic option with all the fishing capabilities of their Japanese contemporaries.
Verdict – Is the Stella SW Worth It?
This question is asked frequently and is very difficult to answer objectively. Is the Stella SW the best spinning reel available?
Arguably and objectively yes, especially if you remove price from the consideration. 
When you do consider the painful price, however, "worth it" becomes highly subjective.
If a $1000 plus outlay for a fishing reel doesn't hurt the budget in any way, the Stella is most definitely worth it.
Even with minor criticisms considered, owning a Stella will only enhance your spin reel arsenal.
If you chase big, hard-fighting fish, there are few reels so well-credentialed for tackling the biggest fish in the toughest conditions.
On the other hand, if you're going to miss a mortgage payment for a Stella, no, it's not worth it.
You can pay half the price and get a reel that's capable of targeting the same fish, albeit without the same level of strength and refinement.
I don't know anybody who'd say no to a Stella. However, I know quite a number, for whom the budget will simply never allow. 
It's a brilliant reel for those who can afford one. 
If you need to convince your significant other that you need one, tell them it's an investment – you won't be lying.