We hope you love the products we recommend. Just so you know, Fishing Command may earn an affiliate commission from the links on this page, at no extra cost to you
I don't have a huge reel arsenal, and I'm pretty careful about how much I spend on fishing gear. 
In which case, I won't just go out and purchase an Exist or Stella, just to throw money at a problem.
It's important to remember that you can buy reels that perform as well as top models for half the price.
The Shimano Saragosa SW is one such reel. 
After a lot of research, I've added the Saragosa to my arsenal, a 14,000 for casting pig poppers and stickbaits from the ocean rocks. It's also for live baiting.
Let's check out the Shimano Saragosa specs. This is one of the rare times that I suggest you should just go out and get one
Yes, they're that good. They are a brilliant spinning reel for heavy saltwater work, offering excellent value for money.
Shimano Saragosa SW Review
The Saragosa is an upper mid-priced heavy-duty spinning reel designed for chasing a larger class of fish in the toughest of conditions. 
While this description is attached to many spinning reels, the Saragosa is actually true to it.
Below you can see my Saragosa reel, which has been one of my most reliable fishing reels.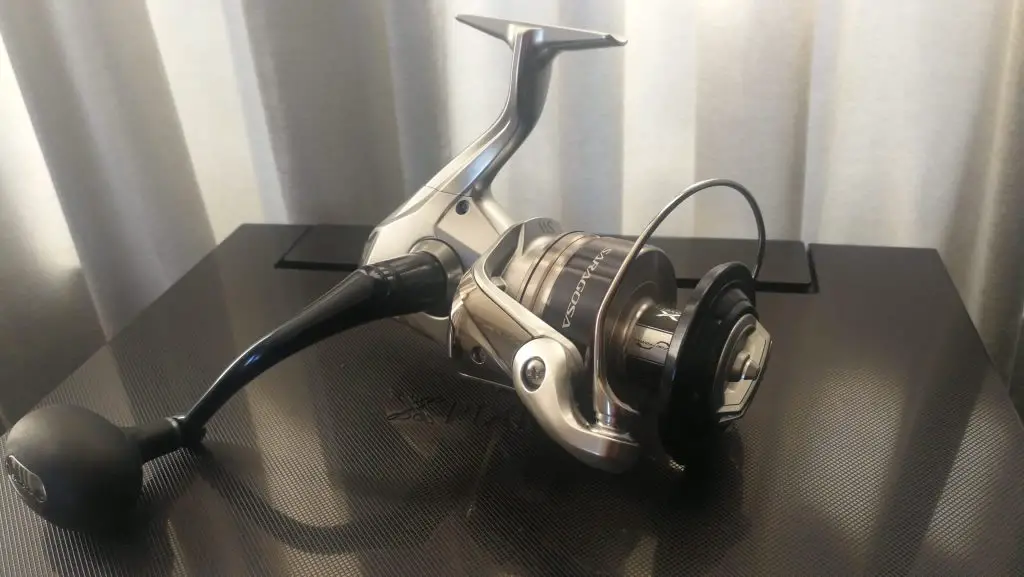 Capacious spools and heavy drag systems are obvious hallmarks. The substantial handle and knob also broadcast the reel's intended purpose.
Sizes start at 5000, going through to 25000. Reel speeds are mostly crank-focused for heavy work, with the 14,000 upping the speed for greater lure flexibility.
You will notice when looking at the specs, that even the slower ratios of 4.4 still have substantial retrieve rates.
Bearing counts are between 5 and 6 + 1. By contemporary standards, this may seem a little light-on, and yes, it is.
However, the bearing quality is good, and the crank is supremely smooth. 
Critical rotating components are well-supported offering gear integrity under extreme loads and a longer working life.
The 5000 spool will hold 245 yards of 20-pound braid. The 25,000 holds a whopping 630 yards of 65.
Add to this 10 and 15kg of drag respectively, and you have a reel designed for chasing large and aggressive fish.
Sealing is impressive, even at this price point, offering Shimano's X-shield and X-Protect to keep the nasties out.
Rigidity is also impressive. You feel confident to add plenty of drag to arrest hard runs, even under the heaviest of loads.
The rigid support, cross carbon drag system is one of the best out there. 
Wound off, initial runs are smooth and consistent. Wound on, and under the pressure of severe head shakes, the drag responds appropriately, adding plenty of confidence to a tough battle.
The Saragosa is a brilliant offshore workhorse. Poke it at big tuna and other such freight trains, as well as the heavy folk from the bottom like cod and grouper.
The Saragosa is an awesome surf fishing reel, with the 5000 an awesome option for drum, and bluefish.
I think it's the ocean rocks where it truly excels, offering rockhoppers on a budget serious power and capacity to chase monsters from the toughest locations in fishing.
The Saragosa isn't cheap, but depending on the model, you will get change out of 4 and 5 hundred dollars.
When comparing the Stella and the Saragosa, particularly the latest Stella, I find it very difficult to justify the additional cost for what, in practical terms, amounts to 6 or 7 more bearings.
Let's look a little closer at the Saragosa SW key features.
Key Shimano Saragosa Features at a Glance
SA-RB bearings: 5+1 (5000, 6000, 8000, 10000, 14000) 6+1 (18000, 20000, 25000)
AR-C spool
Hybrid Hagane Body
One-piece bail
Manual bail close system
Infinity Drive
X-Protect – Upgraded IPX8 Line Roller System
X-Protect
A waterproof cross carbon drag system
Hagane Gears
X-Ship Gearing
>>Check Latest Price on Amazon<<
Shimano Saragosa SW Key Features
SA-RB bearings
I'm not sure why there is a bearing difference between the reels and why the 18, 20, and 25 are deserving of the extra support while the other sizes are not.
Nonetheless, the SA-RB bearings are smooth and durable, with the extra shield working to keep out larger grains of reel-wrecking grit.
The crank is smooth, quiet, and lightweight, for which some credit goes to the bearings, but most of it pertains to gear mesh and configuration.
The shaft seal also gets a tip of the hat, as it seals nicely without impacting the freedom of rotation.
AR-C Spool
The spool sizes are generous, with the AR-C lip configuration ensuring excellent casting manners. 
So long as you're tossing a balanced rig on an appropriately balanced rod, then expect excellent distance.
The AR-C spool is proven and does reduce friction. Those casting braids will notice the distance the most.
Hybrid Hagane Body
When you're chasing heavy belligerent fish, reel flex is a nightmare, diverting power away from the business end and causing wear and even damage to the gears.
The Hagane is simply alloy/magnesium and a fancy name for marketing purposes. However, you will find exceptional levels of rigidity without the reel being too heavy.
While Shimano states the reel is light and compact, It's not really. Perhaps relative to heavy reels of old of the same capacity, sure.
What I like is that you can crank up the power on the drag to arrest strong, heavy fish and know that the body won't give out under the load.
This is one of the more impressive features of the Shimano Saragosa. The hybrid body connects beautifully due to screw placements and flanging.
This is top-shelf rigidity, a necessity for mega-fish, and the main reason the Saragosa is being classed as a genuine big fish weapon.
While impact resistance is advertised as a feature, it's not something I'm going to test. I remain hopeful, as the reason I have lost my last two reels is through impact on rocks.
Fortunately, Shimano has moved the female end of the screw assembly to the metal side. 
This will increase the reel's life, particularly for those who frequently remove the side plate for internal cleaning and greasing.
One-piece Bail
I'm yet to understand the benefits of this. I have to assume this is a more costly component, at least more costly than a jointed bail. 
Why do it? I'd rather have an extra bearing or two.
However, what I do like is the removal of the auto bail assembly. This is a system that's traditionally open to failure, requiring more maintenance than other components.
And I'm yet to understand people's aversion to flipping a bail wire manually? It's not that hard…and saves you from loop knots, rare as they may be.
The best thing about this bail arm is that it's really tough!. I dropped one in the shop, and I dropped it heavily onto the bail arm. 
Plenty of embarrassment, but not a scratch on the arm. Excellent news for the rock angler.
Infinity Drive
A silly name invented by the marketing department. It's a feature that should be there anyway. 
In short, it's a support bushing separating the pinion and main shaft. 
The result is a smoother, quieter, better-supported crank. Yes, a good feature, but why give it a nonsensical name? 
I have far more interest in the manual bail.
Waterproof Cross Carbon Drag System
The Shimano Saragosa drag system is top class. 
The cross carbon drag provides more refined settings and, being sealed, ensures the system operates at peak for longer without breakdown and maintenance.
Water is a drag killer, it makes a mess of lubricants, not to mention the addition of grit. I wouldn't dunk my Saragosa if it was avoidable. 
But its waterproofing appears to work as promised.
Hagane Gears
The cold-forged gears with brass pinion go to the heart of the saragosa's endurance, strength, and reliability, not to mention cranking power.
This is a particularly solid gearbox, designed not just to tackle aggressive big fish, but to back up session after session.
The gearbox and body ensure the Shimano Saragosa is a great investment. 
There are quite a lot of affordable reels that will hold up against the ocean's toughest, but a significantly smaller number that will do it consistently, session after session over years of hard fishing.
X-Protect
X-protect manages to provide excellent protection from saltwater and dirt/sand ingress. 
There is a whole suite of seal protections, some identical to those found in the Stella.
Gaskets, O rings, and seals prevent water ingress in the most common places, protecting the body, and the clutch and surrounds while ensuring rotation is not impacted by tight seal fits.
The Saragosa is not designed to be dunked; it's by no means waterproof. However, at this price point, sealing doesn't get any better.
This is a genuine tough conditions saltwater reel, built to handle the spray mist and splashing that's inevitable while working the surf, or fishing the ocean rocks.
There's attention to detail in the Saragosa. Even the screws that retain the clutch cover have dedicated O rings to prevent water from seeping in through. 
The Shimano Saragosa is a well-sealed spinning reel.
Pros and Cons
Pros
Outstanding build
Excellent Endurance
Strong and Powerful
Great size selection
Great speed options and ratios
Brilliant for Hard Fighting Fish
Excellent Sealing
Cons
Objectively none
Could include a few more bearings
>>Check Latest Price on Amazon<<
What Are The Different Sizes of the Saragosa?
Here are the different sizes of the Shimano Saragosa:
| | | | | | |
| --- | --- | --- | --- | --- | --- |
| Model | Drag (kg) | Ratio | Braid (lb/yds) | Weight (g) | Retrieve (cm) |
| 5000 | 10 | 6.2 | 20/245 | 450 | 105 |
| 6000 | 10 | 5.7 | 30/295 | 455 | 103 |
| 8000 | 16 | 5.6 | 40/340 | 675 | 107 |
| 10000 | 15 | 4.9 | 50/360 | 690 | 102 |
| 14000 | 15 | 6.2 | 50/400 | 900 | 134 |
| 18000 | 22 | 5.7 | 50/600 | 917 | 129 |
| 20000 | 22 | 4.4 | 65/490 | 935 | 104 |
| 25000 | 20 | 4.4 | 65/630 | 960 | 113 |
Alternatives
There are a few alternatives to the Shimano Saragosa at this price point. However, of the reels listed below, I'd still put the Saragossa out on top, and by a pretty reasonable margin.
From Daiwa, I like the BG, the BG MQ, and the Saltist. If I had to choose from those, I'd choose the BG as the best all-around value for money – they're great reels.
Last update on 2023-12-07 / Affiliate links / Images from Amazon Product Advertising API
From PENN, I think the slammer IV 5000 size rates are a consideration, and the Quantum Cabo rates highly for the budget-conscious.
Last update on 2023-12-07 / Affiliate links / Images from Amazon Product Advertising API
Interestingly, the Shimano Saragosa SW still comes out on top of these reels. To get any better features and performance, you're going to have to spend quite a bit more cash.
The Shimano Saragosa is the best value hands down.
Frequently Asked Questions
Are Saragosa Reels Good Quality?
The Saragosa has few, if any, competitors at this price point in terms of quality
Is the Shimano Saragosa Fully Sealed?
The Shimano Saragosa is fully sealed and sealed well. Keep in mind the drag system is waterproof, NOT the entire reel. 

While sealed, it shouldn't be dunked or submerged. However, I expect it would handle this without too much fuss.
Is the Saragosa Fully Waterproof?
No. While the drag system is waterproof, the reel is not. Avoid submerging and dunking.
How Much Line Capacity Does the Saragosa Have?
The 25,000 holds 630 yards of 65 pounds. All the spools are generous; check the full specs above.
How Much Drag Does a Saragosa Have?
The 5000 has 10 kg, with the 20000having 22 kilos. Check the specs above for the full list of drag capacities.