We hope you love the products we recommend. Just so you know, Fishing Command may earn an affiliate commission from the links on this page, at no extra cost to you
If you regularly use natural set baits, a Baitrunner spinning reel delivers a more effective way to hook fish.
A Baitrunner reel uses two drag systems. The first is usually set to free-spool, allowing the fish to take a bait without resistance.
Once you're confident the fish has secured the bait, you flick over to the front drag system and set the hooks. 
The pre-set front drag takes over the fighting duties.
Most reel manufacturers have a Baitrunner-style spinning reel in their line-up. The concept is the same, but the name differs between brands.
The name "Baitrunner" is the Shimano trademark. And one of their more popular Baitrunner models is the Baitrunner D.
In this article, we'll take a closer look at the Baitrunner D, its inclusions, applications, and, most importantly, its performance.
Shimano Baitrunner D Review
The Shimano Baitrunner D is designed for chasing a larger class of fish inshore, in the surf, from the rocks, and outside the heads. 
I like it for piers, rock walls and break walls too.
There are three sizes in the series, 4000, 6000, 8000, and 12000. It offers good value for its price, sitting at the lower end of the mid-price range.
With solid reel basics and a reasonable list of practical features, there's enough performance to satisfy even the most discerning spin reel fans.
I prefer a full metal body, but the graphite shell and rotor have surprising rigidity and also help to keep down the weight.
The ARC spool, a Shimano standard, delivers great casting distance from a balanced rig. 
Varispeed oscillation supports trouble-free casting as the line lay is always consistent and uniform.
The Shimano Baitrunner D isn't a reel to cast rapidly because it's designed for set baits instead of relentless lure casting, so line issues are unlikely.
Having said that, the D is a versatile reel. The twin drag baitrunner feature is smooth, reliable, and predictable. 
The transition from rear to front drag is fast and easy, and the ergonomics of the lever system are pretty sound. However, beginners will require a bit of adjustment time to get used to the feel.
The Dartainium II drag washers are noticeable at start-up. When you flick from rear to front, the transition is pretty seamless.
It's like the front drag is already awake – it doesn't have to clear its throat before laying on smooth resistance.
The bearings, though few, are double-sealed and corrosion-resistant stainless. The drag system is sealed, delivering extra protection when things get wet.
But don't start dunking your Shimano D.
It's brilliant for saltwater and treated for corrosion. However, water ingress is nearly assured if submerged or subjected to high-pressure water such as hoses or strong spray.
Many big fish anglers will enjoy the ergonomics of the egg-shaped oversize knob. It has a great feel and is built for cranking heavy fish.
I like the 4000 for chasing mangrove reds with fresh shrimp or small live mullet. 
The 6000 is a great all-rounder for the surf, light rock work, and a great option if using live baits for drum.
The 8000 is a go-to surf and rock reel with decent offshore sports capability. I also like it for those using huge cut baits for chasing spillway monsters.
The 12000 has 25 pounds of drag and holds 310yds of 65-pound braid. The sky's the limit here – sharks, tuna, and other tackle-busting freight trains. 
Be aware that larger sharks and tuna could make short work of the modest line capacity.
I think it's a great option for river monsters like sturgeon, where a large set bait could produce trophy-sized fish.
Overall the Shimano Baitrunner D delivers reliable performance, durability, and versatility. 
The D is a must for spin reel fans looking for value who focus on live baiting for a larger class of fish, saltwater, or fresh.
Let's look closely at the features of the Shimano D Baitrunner series.
>>Check Latest Price on Amazon<<
Main Features of The Shimano Baitrunner D
Shimano Shielded ARB 3+1 Ball-bearing System
Shimano usually has quality bearings. These guys are double-shielded and corrosion-resistant.
I have to admit that 3 bearings is a pretty disappointing number. 
While the cranking is smooth and light, bearings reduce friction, consequently reducing wear and prolonging the working life.
I prefer to see greater bearing support than inclusions such as the one-piece bail arm.
Graphite Rotor Frame and Side Plate
Baitrunner reels are already heavier than your average spinning reel. The different components add weight to the reel.
While my preference will always be for a full metal body, I think there's a strong argument for keeping this reel graphite.
Firstly, the rigidity of the Shimano Baitrunner D can handle the large fish it's designed to catch. 
Secondly, weight savings were required to ensure the reel wasn't too heavy.
While lightweight alloys could have been used, it would have put the D into a much higher price segment.
Propulsion Fishing Line Management System
While the title sounds fancy, it's more or less a spool lip design. The bottom line, according to Shimano, is that cast distance is increased.
This is difficult to test. 
A scientific style study would be required to verify these claims – comparing the old lip design versus the new ones.
We didn't go down that rabbit hole, but it's a claim we didn't need to verify. We just wanted to see if the cast was long and smooth.
It did. With a balanced rig, you can cast a heavy live bait (12000) at a good distance relative to any other reel of a similar size.
Varispeed Oscillation
Varispeed Oscillation employs two specially shaped dedicated gears that control how the fishing line is laid onto the spool.
Without going into the technicalities, the result is a consistent and uniform line lay. 
Over a day of use, we found the line lay remained consistent regardless of crank speed and load.
We'd be curious to see its performance when the reel was low on line. Our test model was filled with a new braid to its optimum position below the spool lip.
The benefits of an even line lay cannot be overstated. A consistently well-packed spool delivers better casting distance and better overall line management.
With the addition of Power Roller III to reduce line twist, mono anglers will be impressed with line performance.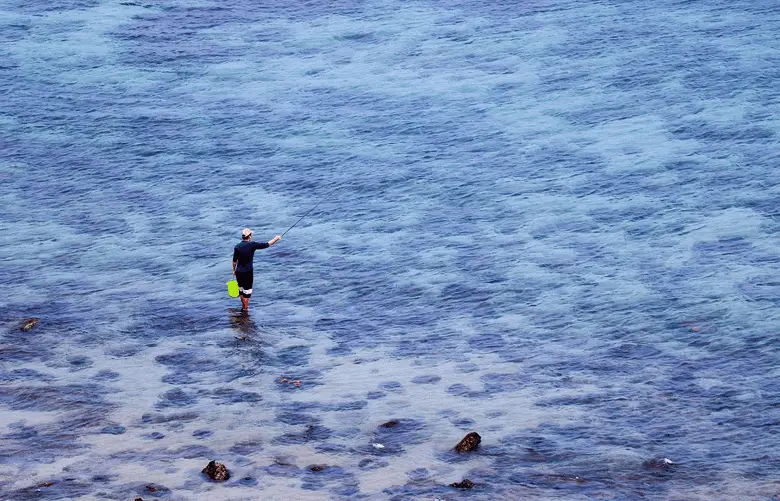 Waterproof Drag System & Dartainium II Washers
If anything on the reel is to be sealed, I always like to see the drag sealed to some degree.
It's important to note that "waterproof" means different things to different manufacturers. "Waterproof" means water cannot get in at all. 
But this is rarely the case with waterproof claims of many reel manufacturers.
There are grades of waterproof, and there's no indication of what grade the D drag sits in, as there's no independent assessment.
Look at it like this. 
It would be unwise to submerge your Shimano D. However, you can expect that in normal situations, heavy rain, and splashing, your drag will remain free from water ingress.
The drag capacities are more than enough, with each model in the series well-equipped to battle large fish.
The Dartainium washers (more fancy names) are included for smooth drag start-up, which it definitely is.
Of course, we didn't have multiple sessions of use up our sleeves to test durability over several months of hard fish runs with it cranked up to high.
I would speculate that the drag system is built to handle a lot of heavy runs over time, with minimal maintenance. 
Let's call it gut feel.
Aluminum Handle
This is a great inclusion; It's lightweight and corrosion-resistant. The best thing about the handle is the ergonomic knob.
It feels great to crank, sitting in your hand as if encouraging you to lay into a large belligerent fish.
Floating Shaft
Like most internal design upgrades, the focus is on friction reduction for a smoother, lighter crank and a significant reduction in wear.
The floating shaft limits the friction where the spool drive shaft meets the pinion. 
Surface area contact has been reduced, and bearings have been added on either end of the shaft.
The result is a surprisingly lightweight crank. 
While it does not have the same feel as high-end reels, it's still a pleasure to wind, and you can expect a longer working life from your D.
Fluidrive II Gearing
Further friction reduction has been achieved via highly polished gear surfaces. Again, the name sounds fancy for a pretty simple concept – marketing!
However, any process that assists in reducing wear and lightens the cranking load benefits the angler.
One-piece bail wire
I like the concept of the one-piece bail wire. It's interesting to see it on the Shimano D, as it's usually reserved for reels attracting much higher price tags.
However, the one-piece bail solves a problem I've never really encountered: line getting caught, fowled, or damaged in a bail arm join.
Yes, I'm sure it happens, and it may have been an issue for you. But in my opinion, that would be down to poor bail arm design.
I think this inclusion would add considerable expense to a reel, and I feel that at this price point, the money could have been better spent on more sealing or extra bearings.
Even two extra bearings would be of benefit if for nothing else than the reduction of wear and increased life expectancy.
Features at a Glance
3 + 1 Shielded ARB Ball-bearings
Graphite frame, side plate, and rotor
Propulsion Fishing Line Management System
Power Roller III
Varispeed Oscillation
Waterproof drag
Dartainium II washers
Classy Aluminum handle
Dyna-Balance
Floating Shaft
Fluidrive II Gearing
One-piece bail wire
Pros and Cons
Pros
Great for live baiting
Nice reel for using mono
Solid yet lightweight crank
Value for money
The reliable and predictable drag system
Strong and capable
Cons
Only 3 + 1 bearings
Only a moderate retrieval speed
>>Check Latest Price on Amazon<<
Shimano Baitrunner D Size Chart
| | | | | | | |
| --- | --- | --- | --- | --- | --- | --- |
| Model | Drag (LB) | Braid (LB/YDS) | Mono (LB/YDS) | Retrieve (Inch) | Ratio | Weight (OZ) |
| 4000 | 15 | 40/145 | 12/160 | 28 | 4.8:1 | 13.5 |
| 6000 | 20 | 65/130 | 16/170 | 35 | 4.8:1 | 20.1 |
| 8000 | 20 | 65/180 | 20/195 | 36 | 4.8:1 | 21.7 |
| 12000 | 25 | 80/230 | 20/265 | 37 | 4.4:1 | 30 |
What Is the Difference Between the Shimano Baitrunner D and Oc?
The Shimano Baitrunner D is the premium model of the two reels. The differences are limited, making me question the need for both.
The Shimano D has better-quality bearings, gear construction materials, and a one-piece bail.
Other than that, there's little difference.
It all comes down to your budget. You'll find the key performance specs are the same; ultimately, the difference will be in longevity and performance over time.
Alternatives
For a great value alternative, check out the Fierce live Liner range, you may save a few dollars over the Shimano.
Last update on 2023-12-06 / Affiliate links / Images from Amazon Product Advertising API
For a similar quality and price, try and get your hands on a Daiwa Free Swimmer.  They may cost a little more, but the quality is there, and they're a beautiful reel.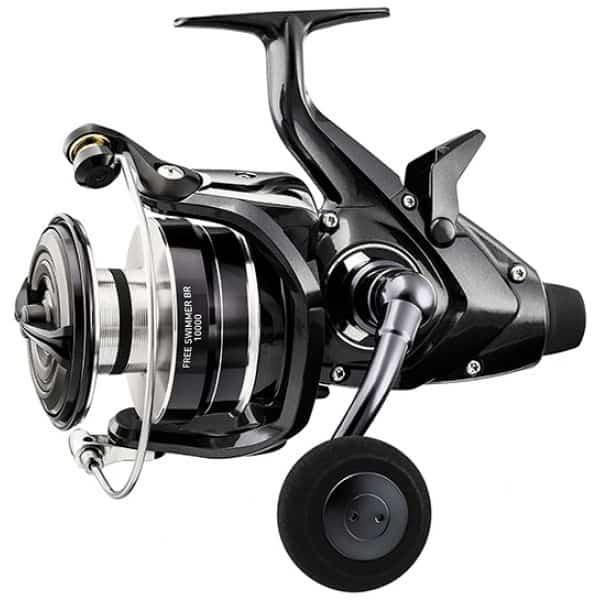 The Verdict
For set bait and live bait anglers, a Baitrunner is a must-have in the reel arsenal. 
The Shimano D Baitrunner offers performance and long work life at a reasonably accessible price point.
It's not the prettiest reel, but there are genuine hook-up advantages to fishing the Baitrunner system.
While there are some strong competitors to the D series, it's hard to surpass Shimano's quality at this price point.
If you've never used a Baitrunner before, now's a great time to upgrade the arsenal and start setting big live baits for big fish – The Shimano D is definitely up to it.