We hope you love the products we recommend. Just so you know, Fishing Command may earn an affiliate commission from the links on this page, at no extra cost to you
The Shakespeare Ugly Stik is a brand name most anglers will know pretty well. 
It's a spinning rod that's been with us for decades and represented in countless rod arsenals around the globe.
The reason it has been such a trusted brand is likely due to its early years as opposed to its current reputation of being cheap but useful.
The Shakespeare Ugly Stik GX 2 might not be top shelf, but it's a great "get the job done" fishing rod with plenty of options in the series to cover your applications.
Let's take a close look at the Ugly Stik GX 2. If you're looking for a hard-wearing workhorse at an accessible price point, read on.
There's a good rod here for you.
Shakespeare Ugly Stik GX2 Spinning Rod Review
These days, the Ugly Stik range sits at the entry-level price point. I loved my Ugly Stik when I bought it, and I still use it to this day, if very infrequently, and only for certain fishing applications.
I think the brand has suffered damage owing to its availability at Walmart and similar retailers.
Its retail image, and the fact it belongs to corporate fishing juggernaut, Pure Fishing, has diminished much of the gloss it had in the early years.
In many respects, however, this has been great news for the average angler on a budget. 
It's also great news for those anglers who still enjoy the benefits of composite rod blanks.
The Ugly Stik is a robust performer, and suitable for a very broad range of anglers and fishing applications.
There's plenty of value in the Ugly Stik GX2. 
And if you're looking for a rod that's going to last for years while delivering reliable performance, the Shakespeare Ugly Stik GX2 has you covered.
>>Check Latest Price on Amazon<<
The Ugly Stik GX2 Series is Vast
The important thing to note is that the GX2 series is huge. There are 22 models from which to select in the spinning range alone.
For the finesse anglers, there are 3 ultra-light options 4' 6", 4' 8", and 7". There are 3 light models for the finesse anglers wanting a little more backbone 5', 5'6", and 6'. 
For those wanting a more general purpose inshore option there are 6 popular medium power rods at 5'6", 5'10", 6', 6'6", 7', and 9'. 
The 7 and 9 are popular for those fishing banks and need plenty of grunt for distance casting.
It's worth noting that there are 3 travel rod configurations, 2 medium and one light. The lightweight is a 3-piece, and the 2 medium travel rods are both 4-piece.
It's a great inclusion, and especially useful for those who travel by public transport, motorbike or bicycle.
They're also a great option for those who like to leave fishing gear in the car, ready for deployment should you pass a likely body of water whilst en route somewhere.
There are 3 medium heavy options at 6', 6'6", and 7'. 
For those chasing a heavier class of fish, there's a 4'9" and 6' which are great for saltwater kayak and boat applications, both in and outside the heads.
Despite the name, the Ugly Stik GX2 are fine-looking rods. 
The EVA handles deliver comfort, feel and durability, with the rubber butt stopper adding some handy shock/impact resistance.
Anglers will note the signature solid, clear glass rod tip. While there might be some compromise with sensitivity, it makes up for with durability. 
If you break an Ugly Stick GX2 rod tip, it's likely you've done something wrong.
The thing I find most perplexing is why the GX2 is classed as a freshwater rod. Yes, the 4 feet ultralights have ice fishing written all over them. 
But the 9' medium has pretty good credentials for several light to medium surf applications.
There are a bunch of rods in this series that are perfect for saltwater applications. I would advise you to ignore the freshwater categorization. 
The Shakespeare Ugly Stik GX2 is ideal for saltwater and freshwater.
For my money, it's the 9-foot medium with its 4 to 20 lb line rating and 1/8 to 3/4 lure rating that works for me.
Yes, it's long. But it's this length that gives me plenty of fishing versatility at a rock-bottom price point. 
A 9' rod is particularly handy from the banks, and many anglers on tight budgets are going to be land-based.
I like it for light-to-light/medium surf targets. It's also great for a similar target on rock walls and breakwaters.
There's enough power and leverage in this model that you have plenty of support should a fish of size take your bait.
Fish all the GX2 range with mono or braid. They're also ideal for a range of lure types, smaller live baits, and flesh baits.
The Ugly Stik GX2 is a fantastic option for those anglers on the tightest of budgets. 
It will allow you to catch the same fish in as many numbers, as equivalent rods that cost 10 times more.
Is the ShakespeareUgly Stik GX2 Unbreakable?
No, the Ugly Stik GX2 is not unbreakable . Everything can be broken. The frequent use of "unbreakable" is an exaggeration and marketing to highlight the fact they're a strong rod.
While it's not unbreakable, the GX2 is most definitely robust. You are highly unlikely to break a GX2 with normal use.
The GX2 is like any rod, if you load it up beyond its capacity, you risk breakage. 
If you're not careful with storage, transport, and things like car doors, trunk lids and tailgates, you can break them.
The Ugly Stik is frequently broken when we decide to show our fishing buddies just how "unbreakable" it is. 
We bend it beyond its capacity and snap it. I've seen this happen quite a few times.
An Ugly Stik GXT2 will last indefinitely if you look after it. That's why they're such good value. 
You can enjoy countless years of fine fishing at a reasonable price.
>>Check Latest Price on Amazon<<
Ugly Stik GX2 Main Features
Ugly Tech Blank
The Ugly Tech blank is composite graphite and fiberglass. While this makes them a little heavier and less sensitive, the blank is the main reason these rods are so robust.
The signature solid glass tip is particularly strong, great for people like me who snap rod tips all the time.
The one-piece rods are great. The joins/ferules of the 2 pieces aren't bad but can be prone to movement. 
The lower join on the 3 and 4 piece is subject to movement if you don't take care to secure the rod to the butt.
The feel of the rod is better than you might imagine in a get-it-done style rod. Casting is good, as the support is under load. Every blank in the range has a fast action.
Ugly Tuff Guides
While adding weight, the Ugly Tuff stainless inert-free guides are very durable.
Firstly, the chance of popping inserts is eliminated because there aren't any. 
Losing and breaking inserts is the most common issue with line guides, and it's very frustrating.
I like the GX2 guides for those anglers who are rough on gear. You get all the durability, as well as low friction and reliable casting performance.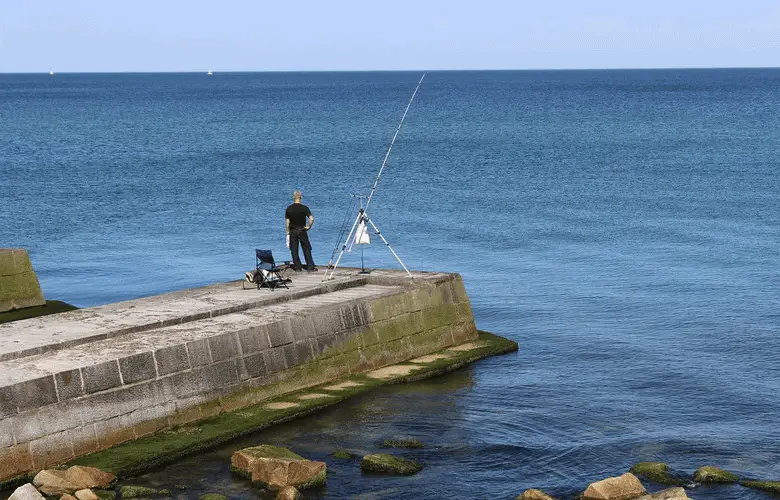 EVA Grips
The EVA grips are full-length and have the right combination of cushion and firmness. 
The front grip (in front of the reel) is a little softer, yet has no impact on performance and fishing comfort.
The GX2 is a comfortable rod to hold. While there's nothing particularly special transferred through the grip, the average angler will enjoy the feel.
7-Year Warranty
This is a significant warranty in anybody's language, especially for a fishing rod. 
One would argue that Shakespeare is particularly confident with the GX2 – and they'd be right because it's extremely robust.
The cynic in me, however, is more inclined to think that few anglers will follow up a warranty on a fifty-dollar rod from Walmart years after they purchased it.
The ugly stik can take advantage of the assurance a 7-year warranty delivers without having to respond to many claims.
Pros and Cons
Pros
Very affordable
Durable
Excellent range
Great looks
7 year warranty
Cons
No frills
Power ratings is a little inconsistent relative to competitors
Fast action blanks only
>>Check Latest Price on Amazon<<
Ugly Stik Gx2 Available Sizes
| | | | | | |
| --- | --- | --- | --- | --- | --- |
| Model | Length | Power | Pieces | Line Weight | Lure Weight |
| USSP461UL | 4'6″ | ULTRA LIGHT | 1 | 2-6LB | 1/32-1/4 |
| USSP481UL | 4'8″ | ULTRA LIGHT | 1 | 2-6LB | 1/32-1/4 |
| USSP501UL | 5′ | ULTRA LIGHT | 1 | 2-6LB | 1/32-1/4 |
| USSP502UL | 5′ | ULTRA LIGHT | 2 | 2-6LB | 1/32-1/4 |
| USSP561M | 5'6″ | MEDIUM | 1 | 6-15LB | 1/8-5/8 |
| USSP562L | 5'6″ | LIGHT | 2 | 4-10LB | 1/8-1/2 |
| USSP5101M | 5'10" | MEDIUM | 1 | 6-15LB | 1/8-5/8 |
| USSP5102M | 5'10" | MEDIUM | 2 | 6-15LB | 1/8-5/8 |
| USSP602M | 6′ | MEDIUM | 2 | 6-15LB | 1/8-5/8 |
| USSP602L | 6′ | LIGHT | 2 | 4-10LB | 1/8-1/2 |
| USSP601MH | 6′ | MEDIUM HEAVY | 1 | 8-20LB | 1/4-3/4 |
| USSP702M | 7′ | MEDIUM | 2 | 6-15LB | 1/8-5/8 |
| USSP902M | 9′ | MEDIUM | 2 | 4-20LB | 1/8-3/4 |
| USSP491H | 4'9″ | HEAVY | 1 | 8-20LB | 1/4-3/4 |
| USSP601H | 6′ | HEAVY | 1 | 8-20LB | 3/8-1 |
| USSP661MH | 6'6″ | MEDIUM HEAVY | 1 | 8-20LB | 1/4-3/4 |
| USSP701MH | 7′ | MEDIUM HEAVY | 1 | 8-20LB | 1/4-3/4 |
| USSP503L | 5′ | LIGHT | 3 | 4-10LB | 1/16-3/8 |
| USSP604M | 6′ | MEDIUM | 4 | 6-15LB | 1/8-5/8 |
| USSP664M | 6'6″ | MEDIUM | 4 | 6-15LB | 1/8-5/8 |
| USSP702UL | 7' | ULTRA LIGHT | 2 | 2-6LB | 1/32-1/4 |
| USSP701M | 7' | MEDIUM | 1 | 6-15LB | 1/8-5/8 |
Shakespeare Ugly Stik Gx2 Alternatives
I like the Daiwa Beefstick for heavier and longer alternatives. It's a much better rod in general, with the long surf models costing little more than the GX2.
Last update on 2023-12-07 / Affiliate links / Images from Amazon Product Advertising API
For those on the tightest of budgets looking for a get-the-job-done rod that's of equivalent performance to the GX2,the Berkley Cherrywood HD Spin Rod is ideal.
Berkley 5'6" Cherrywood HD Spinning Rod, Spinning Rod, 2-6lb Line Rating, Light Rod Power, Fast Action, 1/16-1/4 oz. Lure Rating, Red
BERKLEY CHERRYWOOD HD 5'6" SPINNING ROD, FAST ACTION: The Cherrywood HD series with old school cork handles and remarkable feel make this rod one of a kind. Cork retains heat and is warmer to the touch on those cold mornings out on the water.
2-6LB LINE RATING, LIGHT POWER: Lure rating of 1/16-1/4 oz. Designed for increased reactivity that'll help get the job done.
HYBRID DESIGN CONSTRUCTION: Provides unmatched sensitivity with the security of blank through handle construction. Lightweight design gives you a level of responsiveness that you've never felt before.
5 DURABLE GUIDES: Stainless Steel guides with inserts give this rod added strength and control when in action and a smoother cast every time.
Last update on 2023-12-07 / Affiliate links / Images from Amazon Product Advertising API
Although it lacks the depth of model options the GX2 provides, it covers a wide range of applications for US anglers.
Where Can I Buy the Shakespeare Ugly Stik GX2?
Here are some places where you can purchase a Shakespeare Ugly Stik GX2:
Frequently Asked Questions
What Is a Good Reel for The Ugly Stik GX2?
It will depend on the rod size and power, but a good option is any entry-level reel from Shimano, Daiwa, and Okuma.

For those looking for value and a reasonable level of performance and features. I'd look at the Okuma Ceymar range.

There's a wide range of options at affordable prices, and you'll get better performance than entry-level models.
How Much Weight Can the Ugly Stik Gx2 Handle?
This is a very difficult, if not impossible question to answer accurately without scientific testing.

When selecting a rod, you should look to the line and power ratings for an indication of what size fish they're suitable for.

As a rule of thumb, the more power the rod has, the bigger the fish the rod is capable of handling.
Does Ugly Stik Have a Lifetime Warranty?
The Ugly Stik GX2 has a 7-year warranty. This is a phenomenal warranty, and better than most brands will offer, even on their top-shelf models.

I tend to think the 7-year warranty is a marketing ploy as much as anything. Nonetheless, it's a good offer.
Where Is the Ugly Stik Fishing Rod Made?
The Ugly Stik components are manufactured in many different countries and assembled in China.
Verdict
While the Ugly Stik GX2 is a no-frills, entry-level fishing rod, it's very hard to fault or criticize.
Fishing is for everybody, and the GX2 delivers performance, longevity, and great fishing fun that everybody can afford.
When treated with a little care, a GX2 is capable of lasting a fishing lifetime, catching as many fish as the top-shelf wallet killer fishing rods.
If you fish on the tightest budget, and you want to fish a multitude of techniques and applications, you can't go wrong with a selection of rods from the Ugly Stik GX2 range.