We hope you love the products we recommend. Just so you know, Fishing Command may earn an affiliate commission from the links on this page, at no extra cost to you
Penn Slammer IV has a long list of superlatives: saltwater beast, ultimate workhorse, pushing the limits, built to last, etc. 
I'll share my take on the Slammer IV.
The Slammer IV is an incredibly versatile series, competent across all sizes, fit for purpose, and fairly priced.
The Slammer has a brand reputation to uphold and lives up to it.
While the changes from the last series aren't earth-shattering, this will be a popular reel series that enhances the Slammer pedigree.
Let's check it out in more detail.
Penn Slammer IV Review
My Penn reels are getting old and are due for replacement. A test drive with the Penn Slammer IV has all but convinced me of a replacement.
For my money, the best thing in the new series is adding the 2500 size – it's a very powerful reel.
I'm disappointed it doesn't have the Dura-Drag upgrade, but 20 pounds of HT 100 is a fine consolation. This is a reel made for wrestling monster fish.
The 2500 size would be my choice, and I've no doubt I won't be alone. It's an excellent inshore choice, including surf, rock wall, heavy freshwater targets, and even a few targets outside the heads.
Enough about the 2500 size – no doubt I've already convinced a few of you. 
But I don't want this review to be about the 2500 alone. The Slammer III was a quality reel, so Penn hasn't reinvented the wheel here.
One of the most significant changes to the Penn Slammer IV was the redesign of the spool. The spool upgrade is a major overhaul compared to the Penn Slammer III.
There are 8 sizes, 2500 through to 10500. High-speed models are available in four sizes: 2500, 4500, 6500, and 8500.
To give you an indication of speed, the 6500 standard has a ratio/retrieve of 5.6/43", with the HS model 6.2 and 48".
Notable features include:
IPX6-rated sealing on the drag and body.
8 + 1 sealed stainless bearings.
Dura-Drag in sizes 3500 and up.
The body, rotor, and side plate are all alloy (except the 2500, which has a graphite rotor). 
The all-metal construction certainly adds to the weight, but its strength and rigidity are key features of the Slammer.
One of my favorite features is the handle and knob. It's an extension from the last series, made for cranking hard.
>>Check Latest Price on Amazon<<
Upgrades to The Penn Slammer III
Regarding what's new for this series, anglers will note that the Penn Slammer IV is noticeably smoother than the Penn Slammer III.
The internals, brass CNC gear, and pinion are identical to the III, so I can't figure out where the noticeable smoother feel comes from.
The knurling on the spool arbor (braid ready) is now wider, providing more grip for those packing all-braid. 
Most of us use mono backing, so it's not really a big deal.
You'll see screw holes in the spool under the lowest line marker. It's a result of anchoring the line holder and clicker assembly. 
I'm concerned that this is a point of potential water ingress. It's not ideal.
However, the extra sealed bearing to support the Dura-Drag system has required an internal spool redesign.
The benefit is simplifying the assembly, offering better water ingress mitigation, and shoring up the IPX6 performance. It would appear there's also a weight advantage.
The Dura-Drag system felt great on the 4500. It wasn't easy to make a direct comparison without a Penn Slammer III on hand.
But it's definitely a very smooth take-off, and I felt there was a distinct improvement in drag hesitation. I could feel this difference between the 2500 and the 4500, limited as testing was.
IPX6 is a carry-over from the series III. For those unfamiliar with the IPX system, it's an independent waterproofing rating.
IPX6 means the reel is completely sealed from heavy splashing, rain, and waves. It can even handle a serious dunking, so long as it doesn't remain submerged for a long time.
It's also dustproof, keeping reel-wrecking grit from entering and infecting lubricants, destroying critical components.
Penn notes that the drag system sealing has been improved in series IV. This is thanks to the spool redesign and simplification.
The IPX6 body and drag sealing make the Slammer an ideal reel for those who fish from kayaks, jet skies, or stand-up paddle boards.
Depending on your size selection, the Penn Slammer IV spinning reel covers applications from inshore freshwater to blue water and everything in between.
Its most notable features are its power, rigidity, spool capacities, and astonishing drag strength.
Strong gears and sealing are other notable features, making the Penn Slammer IV great for regular fishing in tough conditions against big aggressive targets.
Key Features of the Penn Slammer Series IV
IPX6
IPX6 sealing protects the body and the drag system. It's a continuation from the series III, with drag sealing improved thanks to the spool redesign.
IPX6 protects from dust ingress and delivers full waterproofing. This prevents ingress if the reel is dunked/completely submerged for a short period.
CNC Gears
The main gear and pinion are machined brass. They are incredibly strong, delivering a perfect mesh for a buttery smooth crank.
Thanks to the bearing assist, you'll feel the benefits, loaded or unloaded, for years after purchase under heavy usage.
Full Metal Body, Side Plate and Rotor
It's important to note that the 2500 has a graphite rotor. This appears to be a choice based on weight reduction.
For all the others, everything is alloy. It's strong and rigid and offers anglers the security that their investment will last and cope under the weight of big battles with big fish.
Importantly, it's the rigidity that keeps all the internals operating in perfect mesh without unwanted movement or slop.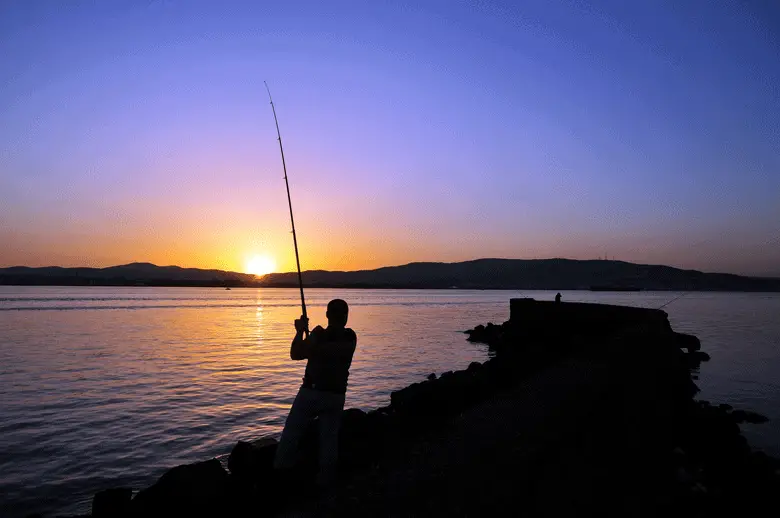 Dura-Drag
Dura-Drag has been used on Penn game reels for over a decade. Its appearance in spinning reels is only recent.
HT 100 drag, Penn's classic drag system, has always been smooth, predictable, and reliable. Dura-Drag takes endurance and longevity to the next level.
Dura-Drag isn't a drag design change; it's a materials improvement developed in line with materials used in racing car gearboxes.
While very smooth on start-up, anglers will also note an absence of drag hesitation. The materials are also more resistant to contaminants.
Controlled testing demonstrated that Dura-Drag can handle 30 hours of heavy drag pressure while maintaining its out-of-the-box performance..
Ultimately, Dura-Drag offers much-improved drag performance and longevity.
8 + 1 Bearings
The Penn Slammer IV has a particularly smooth crank. That's thanks to machined gears and excellent construction. Of course, the bearings support this adding to the smooth feel.
Importantly, the bearings support moving and rotating components, significantly reducing friction, therefore wear.
The additional bearing (since series III) is located in the spool assembly supporting the drag system.
You will notice a smoother, more consistent, and predictable drag system with an improved range of settings.
Drag Capacity
Drag capacities are phenomenal, starting at 20 pounds of HT 100 in the 2500. 
It's Dura-Drag for the rest of the sizes. 
With 20 pounds from 3500 to the 4500, 40 pounds in the 5500 to the 6500, 50 pounds in the 75 to 8500, and a whopping 60 pounds in the 10500, making it suitable for game species.
Hydrophobic Line Roller Bearing
Another carryover from the Penn Slammer III is the line roller which reduces friction between line and bail, with the added benefit of significant corrosion resistance.
This location is a classic spot for corrosion, as it collects plenty of salt as you wind in your line. 
While the hydrophobic bearing reduces water ingress and delays corrosion, it's still a place that requires regular cleaning.
Key Features at a Glance
Improved IPX6-rated body and spool design with additional seals
CNC Gear Technology
Brass main and pinion gear
8+1 Sealed Stainless Steel Ball Bearings
Additional bearing support for the spool
Hydrophobic line roller bearing
Reduced rotor weight
Sealed Slammer drag system
Dura-Drag carbon fiber washers (sizes 3500-10500)
HT-100 carbon fiber drag washers size 2500 only
Full Metal Body, side plate and rotor (sizes 3500-10500)
Full Metal Body and side plate, with graphite rotor size 2500 only
Machined aluminum power knob and spare EVA knob across the range, excluding 2500 size, which has the EVA knob
Automatic bail trip sizes 2500-5500
Manual bail trip sizes 6500-10500
>>Check Latest Price on Amazon<<
Size Comparison of Penn Slammer IV Models 
| | | | | | | |
| --- | --- | --- | --- | --- | --- | --- |
| Size | BRAID CAPACITY YD/LB | MONO CAPACITY Y / LB | GEAR RATIO | RECOVERY RATE | MAX DRAG | WEIGHT |
| 2500 | 240/10 220/15 160/20 | 255/6 175/8 140/10 | 6.2:1 | 33″ | 84CM | 20LB | 9.0KG | 11 OZ |
| 2500HS | 240/10 220/15 160/20 | 255/6 175/8 140/10 | 7.0:1 | 39″ | 99CM | 20LB | 9.0KG | 11 OZ |
| 3500 | 310/10 270/15 220/20 | 360/6 285/8 220/10 | 6.2:1 | 37″ | 94CM | 30LB | 13.6KG | 13.9 OZ |
| 4500 | 390/15 320/20 250/30 | 425/8 320/10 235/12 | 6.2:1 | 40″ | 102CM | 30LB | 13.6KG | 15 OZ |
| 4500HS | 390/15 320/20 250/30 | 425/8 320/10 235/12 | 7.0:1 | 48″ | 117CM | 30LB | 13.6KG | 15 OZ |
| 5500 | 500/20 380/30 335/40 | 430/10 330/12 230/15 | 5.6:1 | 39″ | 99CM | 40LB | 18.1KG | 22.2 OZ |
| 6500 | 485/30 410/40 335/50 | 390/12 345/15 205/20 | 5.6:1 | 42″ | 107CM | 40LB | 18.1KG | 24.2 OZ |
| 6500HS | 485/30 410/40 335/50 | 390/12 345/15 205/20 | 6.2:1 | 48″ | 122CM | 40LB | 18.1KG | 24.2 OZ |
| 7500 | 530/40 440/50 400/65 | 490/15 330/20 220/30 | 4.7:1 | 38″ | 97CM | 50LB | 22.6KG | 28.7 OZ |
| 8500 | 730/40 600/50 555/65 | 455/20 310/30 260/40 | 4.7:1 | 42″ | 107CM | 50LB | 22.6KG | 30.7 OZ |
| 8500HS | 730/40 600/50 555/65 | 455/20 310/30 260/40 | 5.3:1 | 50″ | 127CM | 50LB | 22.6KG | 30.7 OZ |
| 10500 | 845/50 780/65 540/80 | 435/30 360/40 255/50 | 4.2:1 | 43″ | 109 CM | 60LB | 27.2KG | 42.9 OZ |
What is the Difference Between Penn Slammer 3 and 4?
Here are the main upgrades and changes to the Penn Slammer 4 
Aesthetic changes on the spool. Improved Aesthetics on the alloy knob.
Lightning of the rotor
Spool internals. Spool redesign, including the addition of a sealed bearing to support the drag system. Improvement in drag sealing
Addition of a 2500 size to the series 
Alternatives
The first alternative has to be the Penn Slammer IV DX. It'll cost you considerably more than the standard Slammer, as there are a few upgrades.
Firstly, the spool has two extra bearings to support the drag system. The standard Slammer has just one extra bearing.
The big difference is the main and pinion gears are machined stainless steel. This feature alone will appeal to some, but not all.
Looking at other brands, the Shimano Stradic FL is a great alternative covering the smaller sizes to 5000.
For reels that cover the full-size range, it's hard to go past the Daiwa Saltist MQ, which adds a level of precision to the mix.
For the larger sizes, I like the Shimano Saragosa as an alternative to the Slammer IV. 
It's beautifully made, perhaps missing some bells and whistles featured in the Slammer.
Frequently Asked Questions
Is the Penn Slammer Iv Fully Sealed?
The Penn Slammer IV has IPX6-rated sealing on the drag and body.
What Rod to Pair with Penn Slammer Iv?
There are countless rod options because the reels cover most fishing applications. 

But I like Penn Slammer Rods for the boat and Daiwa Sensor for the surf and rocks. I like the Daiwa Saltist Hyper for land-based and boat.
How Much Drag Does a Penn Slammer Iv Have?
The Penn Slammer IV drag starts at 20 pounds for the 2500 through to a massive 60 pounds for the 10500.
Is Penn Slammer Iv Braid Ready?
Yes, the Penn Slammer 4 is braid-ready, but we still recommend using either mono backing or tape.