We hope you love the products we recommend. Just so you know, Fishing Command may earn an affiliate commission from the links on this page, at no extra cost to you
I'm a big fan of the battalion surf rod series. And while I don't think the new Battalion II is for everyone, a large contingent of dedicated surf anglers love it.
Why am I calling it new? The 'new' Battalion has been with us since 2020. It's already a prized weapon for many anglers around the world.
So, my apologies for the somewhat delayed appraisal. Surf specialist that I am, it's odd that I hadn't put it through its paces and shared my findings.
I blame graphite. I've been dripping with it for the last couple of years, relegating my composite surf gear to the rack.
I'm now a firm believer in the lightweight power and thin blanks of graphite. But the Battalion II has rekindled my fondness for composite surf blanks.
Let's check out the Penn Battalion II.
Penn Battalion Surf Spinning Rod Review
This is a fantastic surf rod series from Penn. With a quality construction, you can rely on it to last a lifetime; this is exceptional value for money,
The Battalion has a familiar sleek modern aesthetic – awesome to look at. Despite contemporary appearances, there's a touch of old school in the 2020 Battalion.
And that's thanks to the incredibly robust composite blank.
Obviously, it's heavier than 100% carbon rods. And that's a bit of a drag for some anglers. I agree; holding a 21-ounce 12-footer strapped with an 8000-spin reel invites fatigue.
That's probably my only gripe. And it's not even a fair gripe. It's composite – It can't have properties it was never designed to have.
Your tradeoff for enduring extra weight rewards you with exceptional strength and power. It instills confidence.
You also get durability. It's designed to handle regular hard and heavy use on the beach and the rocks, surviving almighty tussles with monsters.
Importantly, it's robust enough for anglers like me who are very rough on their gear. 
My rods are often damaged in transit, in my truck, and as I hike from one location to the next.
The Penn Battalion II Surf Spinning Rod will absorb the knocks.
The series model range is surf intuitive. There are 7 models, medium-light to heavy, 8' feet to 12'. You're covered for all but the extremes.
My experience is working with the 12′ heavy under interesting conditions. I tested this in Australia.
I selected the 12' heavy as I was told we would be live baiting for Mulloway – an iconic Aussie fish that grows beyond 80 pounds. 
Think big black drum – it's kind of the same.
Turns out, we would be chasing whiting. I was beyond overpowered. Seeing a silver lining here, I decided this would be a good test for sensitivity.
I re-spooled my 8000 Daiwa with 12-pound mono. I had to weight-up a bit to reach my casting target.
It was tricky casting worms into onshore winds with an outfit more suited to hammerheads. But I found the sweet spot – brilliant.
With the weight, a moderate surf, and a heavy weight attached, I was blown away at the sensitivity of this beast.
We caught a lot of big whiting. I didn't even notice the weight of my rig, and the hefty Battalion had all the sensitivity I needed.
An hour before packing up, my friend Patrick jagged a nine-inch mullet in the gill rakers. I swapped out my number 2 long shank for a 6/0 and cast it out. 
I wanted a mulloway.
Fortunately, I didn't have to cast far. It was a big bait for such a light line. Again, despite an inappropriate rig and tough conditions, the casting was brilliant.
25 minutes later, my drag was screaming. Patrick saw it early. It's a mulloway, for sure. By the pressure on the line – it was big. 
I became uncomfortable and conscious of my 12-pound line.
Eventually – after what seemed like forever, 15 pounds of mulloway was landed successfully. The Battalion performed beautifully.
Immediately the Penn Battalion II 12' heavy surf rod was awarded 5 stars for versatility. 
Faultless performance with rigs less than optimized demonstrates outstanding utility.
The Penn Battalion II is an excellent surf and rock rod at this price point. 
It's a suitable option for anglers new to surf fishing, to the weather-beaten, highly experienced surf casting legends.
Let's check out the features.
>>Check Latest Price on Amazon<<
Main Features of The Penn Battalion II
Here's a concise list of the features and inclusions that make the Penn Battalion II surf spinning rod worthy of your hard-earned fishing dollar.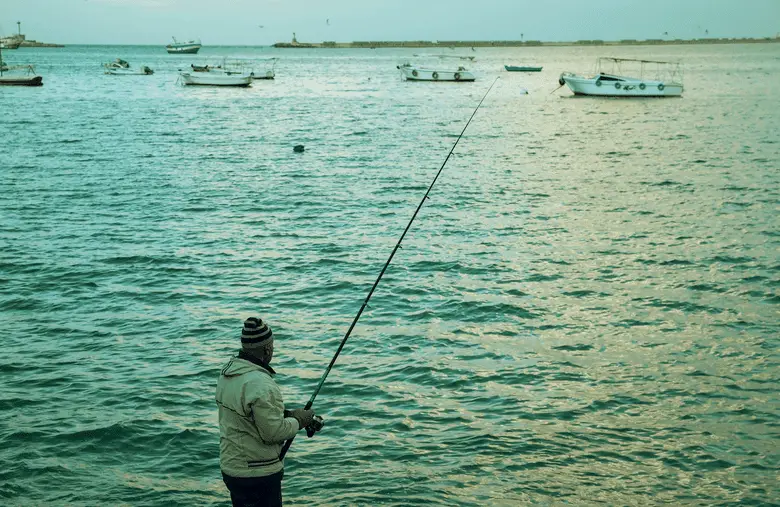 Versatility
This is the key feature of the Penn Battalion. It's a great option for surf and rock anglers looking to handle everything that swims with one rod.
Model Variety
This is a very sensible lineup from Penn. Of the 7 models, I found a perfect surf application for all of them and plenty of valuable crossovers.
My cynical side accused Penn of a ploy to make me buy them all. But I do like a well-considered lineup. It demonstrates deep application insight and tailoring to customer demand.
While I love the heavy 12-foot option, the 8-foot medium light is an excellent inclusion.
Frequently I hit a gentle surf in light winds knowing I'll be casting close to shore. I'll be chasing a smaller class of fish in mind.
I certainly don't need massive length and buckets of power.
But I like to know that my medium-light 8-foot rod can back me up when my small whiting turns into 10 pounds of black drum. 
You get this in the Penn Battalion II.
Composite Blank
I was in the back end of my 40s before I started using full graphite for surf and rock fishing applications. I love the lightweight feel, sensitivity, and responsiveness of graphite.
But the composite gives little away in these critical features while adding tremendous strength from tip to butt.
You feel supreme confidence laying into monsters when you're rigged with heavy gear. With strong lines, you feel invincible. But there are further composite advantages beyond the fish fight.
A composite gives you the strength and power to launch big live baits a huge distance.
Casting live baits too big for a high-performance graphite rod has caused plenty of anglers grief, including me. It's a leading cause of rod snap; this is experience talking here.
Another leading cause of rod snaps is lifting. Surf anglers and rock anglers inevitably find themselves lifting deadweights.
Pulling a large fish onto a rock shelf or dragging it from the shore break is another classic rod-busting situation.
The battalion composite blank may add a little weight to your session, but its strength more than makes up for it.
Shrink Tube Handle
This feature was an upgrade from the Penn Battalion I. It looks fantastic, and the feel is great, especially when you have wet slimy hands.
My only query here is durability. My EVA grips quickly gather a lot of nicks, dints, cuts, and burrs from sitting in my PVC rod holder.
I'm unsure how much of this punishment the shrink tube will take before the grip degrades. 
Keen to get your feedback here.
Fuji Alconite Guides and Fuji Reel Seat
The Fuji guides are the most significant upgrade on the Penn Battalion II. They're light, strong, and suitable for both braids and mono.
The ubiquitous Fuji Alconite is an industry-standard at this price point. They're reasonably durable. However, impacts can crack inserts.
The Fuji reel seat is also an industry standard at this price point – and either side of this price point too.
Again, a solid standard. It has a vice-like grip on your spinning reel with no twist or slop. It transfers plenty of feel from the rod tip to your hand.
I have over-tightened these before and left the reel in place for some time. It can take some effort to release it.
Penn Battalion II Key Features at a Glance
Fuji Alconite Guides
Fuji Reel Seat
Composite Blank
Shrink Tube Handle
7 model series
>>Check Latest Price on Amazon<<
Penn Battalion II Size Chart
| | | | |
| --- | --- | --- | --- |
| Length ' | Power | Action | Rating |
| 8 | Medium | Moderate Fast | 12-20LB |
| 9 | Medium Light | Moderate Fast | 8-15BL |
| 9 | Medium | Moderate Fast | 12-20LB |
| 10 | Medium | Moderate Fast | 12-20LB |
| 10 | Medium Heavy | Moderate Fast | 15-30LB |
| 11 | Medium Heavy | Moderate Fast | 15-30LB |
| 12 | Medium Heavy | Moderate Fast | 20-40LB |
Pros and Cons
Pros
Excellent size range
Surf specific
Outstanding strength
Composite blank
Fuji hardware
Cons
A little heavier being a graphite composite.
Alternatives
The most comparable rod to Battalion II is the Shimano SpeedMaster Surf Rod range. Many anglers would even prefer the handle design/length/shape of the SpeedMaster.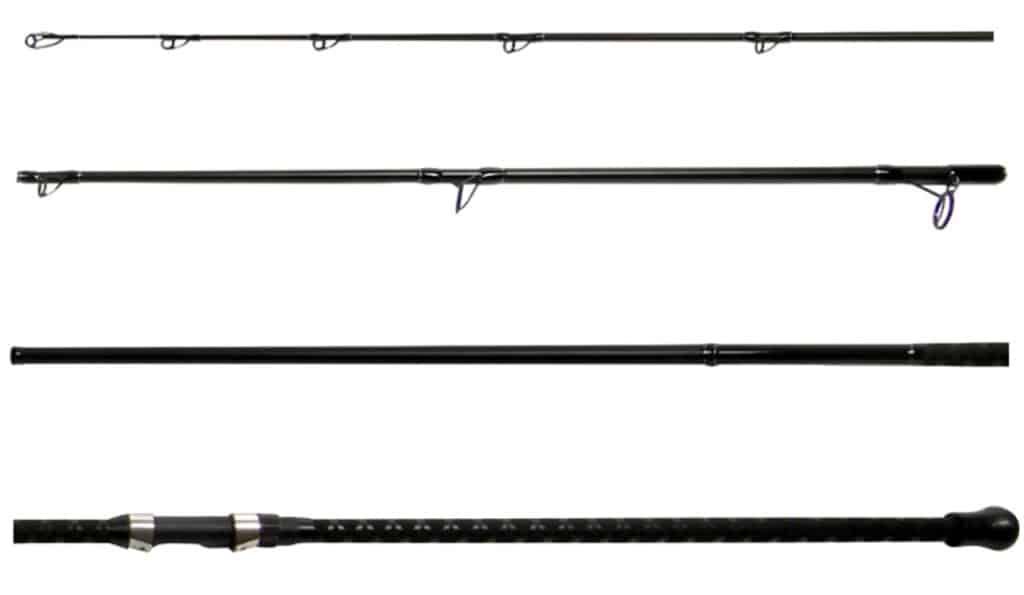 It's a strong and durable composite decked out with Fuji hardware. The series offers similarly sized models to the Penn range.
The price is comparable if a touch more than the Battalion. But this is to be expected – it's a Shimano thing.
The Speedmaster series lacks an 8-foot medium light, which can be very handy for casting the gutters and holes near your feet.
A smaller surf-specific rod is vital to a surf angler's arsenal. We often don't need a 12-foot monster rod to chase a smaller class of fish 25 feet from where we're standing.
A dedicated surf 8-footer must also have the backbone to handle something bigger. How often have you been chasing whiting, only to have a huge striper or drum steal your bait?
Shimano offers a 9-foot medium and a nice rod, but adding the medium light model would make for a more complete series.
The K-frame guides from Fuji have Alconite inserts, and the handle is shrink tube, just like the Battalion II.
The SpeedMaster has outstanding casting manners – especially length. Rigged appropriately, you can get some serious distance, making it great for casting big stickbaits, poppers, and metal slices.
The Battalion II and SpeedMaster surf rod ranges are outstanding for those new to surf fishing. While heavy, they're high-performance and very forgiving.
Yes, they appeal to the most experienced surf anglers among us, but they're a wise rod choice for those learning the ropes from the sand and rocks.
Final Notes on the Penn Battalion II
I love the Penn Battalion II because it is a sure bet – you can't go wrong. And this is what we all want with our hard-earned fishing dollars.
At this price point, it's suitable for all skill levels and will perform predictably, reliably, and consistently.
The upgrade from Series 1 was far from a radical change. But did enough to encourage diehard Penn fans to consider an upgrade.
Nice rod, Penn. 
Recommended.