We hope you love the products we recommend. Just so you know, Fishing Command may earn an affiliate commission from the links on this page, at no extra cost to you
The Okuma Cedros is a heavy-duty saltwater spinning reel series providing surf and offshore fishing at an affordable price point.
The six size series covers the lion's share of big blue water spinning techniques and fishing styles, including land-based options for those chasing a larger class of inshore species.
The most notable feature of the Cedros is its accessible pricing. But don't be fooled by the low price, the Cedros offers serious performance and durability.
Often the word "affordable" is taken as a negative when it comes to fishing reels – particularly big fish spinning reels.
Many anglers associate "affordable" with underperformance, dubious construction, and reliability.
If there's a brand you can trust to combat this doubt, it's Okuma. 
With Okuma, "affordable" never means 'cheap'. On the contrary, Okuma nearly always represents exceptional value for money.
Let's review the Okuma Cedros and find out why. Firstly, I'll address the commonly asked question – does Okuma make good fishing reels?
Does Okuma Make Good Fishing Reels?
This is a question I often get from anglers seeking better value for their hard-earned money.
They've always used the big brands, and have become a little tired of paying big-brand premiums.
They've also tried the budget-driven, entry-level brands and they're not satisfied with performance and durability. "So what about Okuma," they ask.
Firstly, Okuma is not a fringe brand. They've been around since 1986 and carved out a well-deserved reputation alongside the biggest names in fishing.
In my books, Okuma is a big brand – at least now they are. And they've built a loyal following by designing and building excellent reels that don't carry 'designer prices'.
I'll reiterate an example I often use to illustrate premium brand pricing to help you see what I mean.
I can get outstanding running shoes for $100. Why would I pay $3000 dollars for shoes of the same performance because it carries the name of a particular star athlete?
In many respects, fishing is no different. Yes, a Shimano Stella is a high-performance reel in anybody's language.
However, a portion of the Stella pricing is badge-driven. Such pricing traditions appear to be outside Okuma's pricing charter. 
My opinion is that Okuma is the most honest brand in terms of pricing relative to the performance..
This is the reason Okuma is a trusted brand for me. I have 4 Okuma reels, 3 spin, and a conventional reel. Three of them are over 10 years old and in great condition.
All these reels were highly affordable and performed as promised. This is why I rate Okuma. I firmly believe Okuma makes good fishing reels.
Let's look at Okuma's mission statement.
"OKUMA FISHING delivers quality and affordable fishing rods such as fly rods, float rods, spinning rods; fishing reels including spinning, baitcast, trolling, and fly reels. They are all made with advanced materials with dynamic designs."
Okuma is built on affordable pricing – but also quality. Once you've used Okuma, you'll no doubt find they're true to their mission statement.
Yes, other brands carry similar promises. However, in my experience, Okuma is a brand consistent with their promise. With Okuma, you consistently get what you pay for – and it's a good thing.
Interestingly, when Okuma ventured into high-end reels with the Makaira series, it beat the biggest brands with superior performance and quality for a smaller price tag.
Put Okuma on your list. You deserve some good old-fashioned fair pricing and value for money.
Let's check out the Okuma Cedros Spinning Reel.
Okuma Cedros Saltwater Spinning Reel Review
The Okuma Cedros Spinning reel series was released as a budget reel for anglers who love saltwater fishing.
The 8000, 10,000, and 14,000 were well prepared to take on big fish like Mahi-mahi, Tuna, and sailfish.
Of course, these sizes are not limited to blue water action but are also ideal for surf and rock adventures, where land-based game targets are sought.
The addition of the 4000, 5000, and 6000 made this a complete big fish series. 
The smaller three offer lighter, more convenient options for surf work, offshore, and near-shore sports targets.
When we're chasing monsters on spin gear, we need to be confident in several key areas. Gear strength is paramount, as is body rigidity.
Drags must be powerful, predictable, and reliable, and it's also handy if we can refine the settings to be more suitable for specific techniques and species behavior.
Gear ratio and retrieve rates should be neutral/fast. We need cranking power, yet enough speed to cater for metal slices, stick baits, and other fast retrieves.
We also need spool capacity. 
As most of you are aware, the school of 15-pound Tuna you're chasing may hold something more substantial, where you must have line capacity to back up your drag.
The Cedros have these core criteria covered. And strong basics are the backbone of a performance reel.
The three smaller reels have a huge drag capacity of 15kg. The three big ones offer 20kg. This is the sort of power you need for big monster fish.
The Dual Force Drag System has washers above and below the spool for a more balanced application of force. It feels great. Smooth, powerful, and predictable. Excellent stopping power.
Spool capacities are such that braid would be recommended for big fish. But there's enough backup for mono anglers if you drop a test weight and crank up the drag.
The body is Okuma's proprietary LITECAST® construction. Under heavy loads, there's no twist or flex – gears and internals stay meshed and the power remains focused.
The high-density gearing is coated for corrosion resistance, and the pinion gear is machined brass – arguably, the only material strong enough and durable enough for heavy-duty spin.
There are 6HPB + 1RB corrosion-resistant stainless steel bearings. This is very important for saltwater fishing.
It is certainly a smooth crank, with no slop or excess movement anywhere – and that includes the Dual anti-reverse, which feels awesome when hook setting.
The machined aluminum, screw-in handle arm is a classy touch. But the addition of the round knob gives you a reel built for heavy, hard cranking. It feels fantastic.
We chose the 10,000 and 14,000 for our test session. 
We cast for 90 minutes of pure joy and insane action before a retreating sun forced us to leave a still, unusually, active school.
A school of bluefin with an average size of 12 to 15 pounds (Yes modest) and they were ravenous and relentless.
We had the 10,000 and the 14,000 for testing, but somewhere in the confusion, only the 10,000 got a run.
It performed beautifully. We parked up some distance from the activity, casting poppers to the extent of our casting ability.
On a day of mixed blessings, we were still able to rate the Cedros as totally worthy of hardcore blue water adventures. More details are below.
>>Check Latest Price on Amazon<<
Main Features of Okuma Cedros Spinning Reels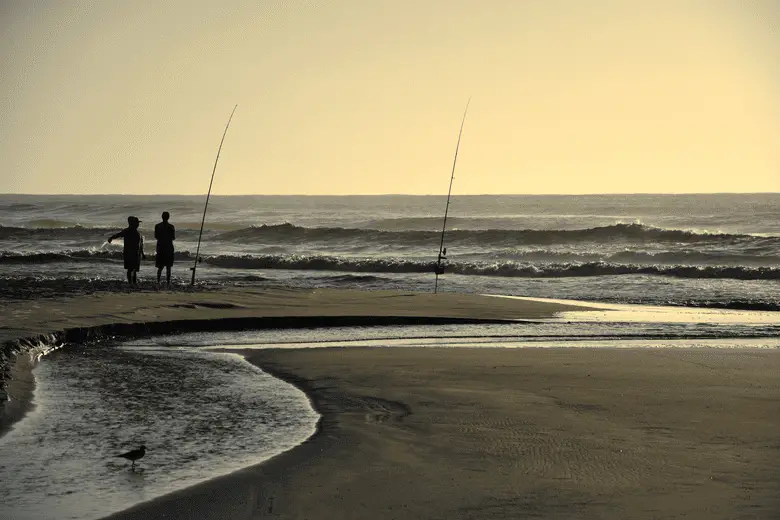 DFD: Precision Dual Force Drag system.
The Dual Force Drag worked to a good standard – smooth, powerful, and balanced. While we were all overpowered with 20-kilo braid, Pat took the time to spool on some 12-pound mono.
This put the drag and the spool capacity through its paces. The Cedros drag proved its ability, even with the odds stacked against it.
The drag setting was easy enough by feel. However, I didn't get a sense that drag settings were as highly refined as advertised.
I'm still not so sure why felt washers are used. 
The Hydro Block system will keep water out for the most part. However, I feel regular maintenance will be required if used heavily and in wet conditions.
I've not owned a dual system drag, and I'm not sure if this adds to the maintenance demands. Obviously, it does to some degree.
Gearing Stabilization Design
I'm not quite sure what that means, I had to do a little research and it kinda left me none the wiser.
By and large, internals felt very stable under load. And it's great to see brass pinion gear which is essential in these environments.
Dual anti-reverse: Quick-Set and ratchet system
We had plenty of hookups, and the anti-reverse was faultless. Only one strike failed to turn into a hook-up.
That had nothing to do with the anti-reverse and plenty to do with my friend's careless knot-tying. 
Keep the water out, and I expect the anti-reverse to handle the knocks and endure.
Manual Bail Trip
I'm a fan of the manual bail trip. It does away with a nasty spring that's always prone to corrosion.
I've never felt that tripping a bail with your hand was any inconvenience. Corrosion, on the other hand, certainly is.
6HPB + 1RB Corrosion Resistant Stainless Steel Bearings
As I mentioned earlier, the Cedros feels particularly smooth. 
With many cheap brands offering eight, nine, or more bearings I actually feel better that the Cedros only has 6.
While bearings help deliver a smooth crank, the critical aspect is reduced friction, therefore reduced wear.
I anticipate there's longevity in its bones – even under heavy, regular use.
Machined Aluminum, Screw-in Handle Arm
The screw-in handle offers another level of water ingress protection. But it's also lightweight and ergonomically shaped for fast and heavy cranking.
With the addition of the round knob, it's an inspiration for laying hard into big powerful fish. While some anglers aren't fans of the round knob, I think it adds to the great feel of the Cedros.
Gear Ratios
The gear ratios of 5.8 and 5.4 are perfect for spin reels of this design. The 8000 has a retrieval of 104cm, 10,000, 112cm, and the 14,000, 16cm.
The 4000 has a rate of 90cm, 5000, 95cm, and the 6000, 101cm.
The retrieval rates are ideal for these reels, making the Cedros particularly versatile. The speeds offer more than enough support for anglers cranking fast lures. 
This is very important when you're saltwater fishing as it's all about long and accurate casts.
Features at a Glance
DFD: Precision Dual Force Drag system
Multi-disc drag adjustment for more precise settings
Rigid and corrosion-resistant LITECAST® construction
CRC: Corrosion-resistant coating process
6HPB + 1RB corrosion-resistant stainless steel bearings
Dual anti-reverse: Quick-Set and ratchet system
Manual bail trip function for ultimate reliability
HDGII: Corrosion-resistant, High-density gearing
Precision machine cut brass pinion gear
Machined aluminum, 2-tone anodized spool
Machined aluminum, screw-in handle arm
>>Check Latest Price on Amazon<<
Size Chart
| | | |
| --- | --- | --- |
| Model | Drag | Weight grams |
| 4000 | 15kg | 380 |
| 5000 | 15kg | 397 |
| 6000 | 15kg | 405 |
| 8000 | 20kg | 624 |
| 10,000 | 20kg | 643 |
| 14,000 | 20kg | 646 |
Alternative Brands to the Okuma Cedros
A great alternative to the Okuma Cedros is the Daiwa BG. Unfortunately, the BG stops at 8000. But it would be great if they added a couple more sizes.
Daiwa BG8000 BG Saltwater Spinning Reel, 8000, 5.3: 1 Gear Ratio, 6+1 Bearings, 53.30" Retrieve Rate, 33 lb Max Drag, Black/gold
Black Anodized Machined Aluminum Housing ("Hard Bodyz" Body & Side Cover), Over-sized Digigear (Digigear System)
Solid Screw-In Handle, Air Rotor, Dynamic Cut Aluminum ABS Spool
Braided Line Ready Spool, Waterproof Drag System, Carbon ATD, Line Per Handle Turn: 53.3"
Manual Return Bail (4500 and Larger), 6BB+1RB, Gear Ratio: 5.6:1, Drag Max:33
Last update on 2023-09-20 / Affiliate links / Images from Amazon Product Advertising API
The Daiwa BG and the Cedros are very close in terms of specifications and performance. 
Adding the Gomexus handle to the Daiwa BG, makes it almost identical to the Cedros.
GOMEXUS Power Handle Compatible with Daiwa BG 3500 4000 Plug-and-Play Reel Handle
📋【Color】Black【Handle Length】 2.56 inch/65mm;【Knob diameter】1.5inch/38mm;【Knob bearings】Japanese NMB;
【No Drilling】It only takes 10 senconds to install.Your BG doesn't need complex drilling anymore.
【Round Knob】Round knob give you comfortable grip,your hands won't be painful.Less pain😫,better grip💪!
【More Torque】Gomexus handle is designed longer than stock handle,which provide more torque to fight.Once using,you will easily win the battle with big fish.
Last update on 2023-09-20 / Affiliate links / Images from Amazon Product Advertising API
I think the Daiwa BG is slightly more robust, but it's definitely heavier. As far as drag capacity goes, the Cedro beats the Daiwa.
Above the 8000, look at the Penn Battle 3. However, the specs are lower than those of the Cedros.
Interestingly, there aren't any 10 -14,000 spin reels in this price range that compete with the Okuma Cedros.
Frequently Asked Questions
What Country Are Okuma Reels From?
Okuma is a Taiwanese company. Their reels are manufactured in Taiwan and China.
Is Okuma Cedros Fully Sealed?
No, the Okuma Cedros is not fully sealed. The drag system is protected by the Hydro Block system but is not fully waterproof.
Is Okuma Better than Shimano?
That's a very difficult question to answer accurately. Many anglers would simply say yes, Shimano is better.

In my opinion, that would require some very serious and detailed justification. Shimano is certainly a more popular, well-known, high-end brand.

Without several pages and some serious research and scientific comparisons, I wouldn't like to say one brand is better than the other. I like and own them both.

Shimano has a much bigger range across all products. But they're also a much bigger company with a much bigger market share.

My thoughts are that both companies sell excellent fishing reels and are worthy of shortlisting for your next reel purchase.