All states require adult anglers to have an appropriate fishing license. Fortunately, there are exemptions for teens and children, but license age exemptions vary from state to state.
If you frequently cross borders to fish, which many of us do, it can become a minefield ensuring you and your kids comply with local regulations.
Take a look at any fish and wildlife site, and you'll find lists of license exemptions and caveats we need to understand to get the appropriate license. 
Getting your head around these things can be a little tricky.
This article provides a one-stop guide for fishing license age requirements across all states. 
How old do you have to be to get a fishing license? 
At What Age Do You Need a Fishing License?
By and large, if you're 16 years old, you will need a fishing license. Some states are a little more generous, such as Indiana, where you don't need a license until you're 18.
In other states, such as Arizona, you must be licensed once you've reached 10 years. For Utah, it's 12 years; for Tennessee, it's 13 years.
These age limits are for residents of the state. If you are a visitor to the state, there are likely differing requirements. More on that later.
Table of Minimum Age By State
The following table provides a comprehensive list of the age requirements for having a license to fish. These age requirements are specific to residents of each state.
Fishing Licence Age Requirements by State – (State/Age)
Alabama 16
Alaska 18
Arizona 10
Arkansas 16
California 16
Colorado 16
Connecticut 16
Delaware 16
Florida 16
Georgia 16
Hawaii N/A
Idaho 14
Illinois 16
Indiana 18
Iowa 16
Kansas 16
Kentucky 12
Louisiana 16
Maine 16
Michigan 17
Maryland 16
Massachusetts 15
Minnesota 16
Mississippi 16
Montana 12
Nebraska 16
Nevada 12
New Hampshire 16
New Jersey 16
New Mexico 12
New York 16
North Carolina 16
North Dakota 16
Ohio 16
Oklahoma 16
Oregon 12
Pennsylvania 16
Rhode Island 16
S/Carolina 16
S / Dakota 16
Tennessee 13
Texas 17
Utah 12
Vermont 15
Virginia 16
Wisconsin 16
Washington 15
W / Virginia 15
Wyoming 14
Missouri 16
*NOTE: Hawaii has no license requirement for recreational saltwater fishing
What Age Can You Be without Needing a Fishing License?
If you are in a state that requires a fishing license at 17 years old, such as Texas, you can fish without a license up until the day before you turn 17.
Once we hit our teens, we will often look older than we are. It's always wise to carry proof of age so that if regulators stop you, you can prove you don't require a license.
Knowing local licensing requirements for particular fish species, bag limits, and other restrictions and regulations is important.
Even though you are under the age required for a general recreational fishing license, it doesn't mean you're exempt from all regulations.
You still must adhere to bag limits, obtain local licenses for targeting particular species and conform to seasonal restrictions.
What Are the Age Requirements for Residents vs Non-Residents?
Some states will not differentiate age requirements between locals and interstate visitors. If locals need a license at 16 years of age, visitors will also need a license at 16.
However, some states differentiate between the age requirements of locals and visitors.
For example, where locals don't need a license until age 16, visitors to the state could be required to have a license from age 12 or 15.
It's always a must to check the fishing license regulations of any state you intend to fish in before you travel. It's best to avoid mistakes that could be costly.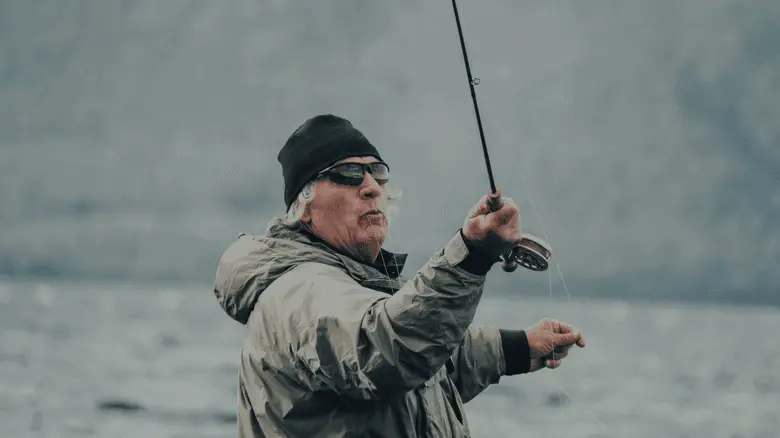 More often than not, if you're a visitor to a state, you will likely pay more for a fishing license of any kind.
Authorities will argue visitors aren't paying more; they'll say locals pay less. 
Regardless of the clever wordplay, expect to pay a little extra for a visitor's fishing license.
To make things a little trickier, states define 'resident' differently. 
For example, if you've been visiting Pennsylvania for a minimum of 30 days, you're considered a resident and therefore entitled to the license fee for Pennsylvania locals.
So, after spending 30 days in Pennsylvania, you can get a local license instead of a more expensive visitor license.
In contrast, you would need to be visiting Texas for 6 months. Only after 6 months will you be entitled to Texan's local license fees.
Of course, if you have just relocated permanently to a new state, you're immediately entitled to local rates for fishing licenses.
Most of us will be visiting interstate for only a short time. It's a good idea to get online and secure your visitor's fishing license before you go.
While you're getting your license, it's a good idea to research local regulations. They'll be listed on the site where you're getting your license.
If you have guests from interstate who you wish to take fishing, their fishing license requirements will likely differ from yours. Make sure you check before you wet a line – penalties can be steep.
Exceptions for US Military Personnel
Military families are frequently deployed interstate for various periods. 
Military families on active duty outside their home state are usually considered residents of the state where they're deployed.
If this is the case, the kids in the family are subject to the fishing license age requirements of that particular state. 
Usually, they're entitled to the local fees and age requirements for fishing licenses.
What Age Groups Don't Require a Fishing License?
Throughout all states, there will be fishing license exemptions for juniors and seniors/retirees.
The problem is that little is standard across the country, and each state will define "junior" and "senior" differently.
We tend to think of juniors as under 18 or 16 and seniors as 65 and over. If only it were that simple.
For junior requirements, you can refer to the list above.
But it's probably best to forget terms such as junior, senior, and retiree and instead look at the specific age requirements.
For example, you might expect most states to exempt those over 65 from requiring licenses. Some do, but many don't. Some will require you to get the license, but it's free.
The only way to be sure is to visit the government fisheries and wildlife sites of your state or the state you intend to visit and read the regulations carefully.
Below is a list of state fishing license fee exemptions for seniors.
States that Allow Seniors to Fish for Free
Alabama: Over 64 – No fishing license required
Alaska: Over 59 – Free fishing permit
Connecticut: Over 64 – free fishing permit
Delaware: Over 64 – no fishing license required
Florida: Over 64 – no fishing license required
Georgia: Over 64 – free fishing permit
Iowa: Over 64 – free fishing permit for low-income seniors
Massachusetts: Over 69 – free fishing permit – over 59 – free saltwater fishing permit
Missouri: Over 64 – free fishing permit
New Mexico: Over 69 – free fishing permit
Rhode Island: Over 64 – free fishing permit
Vermont: Over 69 – free fishing permit
Virginia: Over 64 – free saltwater fishing permit
Wyoming: Over 64 – free fishing permit for Wyoming residents of 30 years
As you can see, it's all state-specific, with rules and definitions varying. The bottom line is that you need to check with your local authority.
Very few states are license-free for seniors, but plenty offer fishing permits and licenses at no cost to you.
While this is not the case in every state, seniors will nearly always get licenses for significantly reduced fees.
There are discounted packages for seniors, including hunting and fresh and saltwater fishing for a lifetime at mere pocket change.
Checking with the local authority is important because changes and new programs, incentives, and discounts are added.
Frequently Asked Questions
At What Age Do You No Longer Need a Fishing License in Oklahoma?
Anyone born before Jan. 1, 1923, does not require a fishing license in Oklahoma. But they must carry proof of age, such as a driver's license.
Do Kids Need a Fishing License in Michigan?
Kids in Michigan can fish license-free until the day before their 17th birthday. Once 17, a fishing license is required.  
Does a 13-Year-Old Need a Fishing License in NY?
A 13-year-old can fish in New York without a fishing license. A license is required once you have turned 16 years of age.
Do Kids Need a Fishing License in Main?
From the day you turn 16, you will need a fishing license in Main. All kids under 16 can fish without a license.
Can Kids Fish for Free in Connecticut?
Once you have turned 16, Connecticut kids will be required to pay for a fishing license. Up until this age, fishing is free for kids.
Can Kids Fish in Ca?
Kids can fish license-free in California until they turn 16 years of age. Once 16, they will need an annual license at the cost of $54.
What Age Needs a Fishing License in Michigan?
Michigan kids can fish license-free until they turn 17, from which point they'll require a fishing license.
Final Notes on Fishing Licenses and Age Regulations
Everybody will agree that fishing licenses are a hassle. They can also be pretty expensive for many of us.
It can be tough for less internet-savvy anglers to find the right information and get licenses online.
However, so long as the money we spend on licenses is invested in the resource we love, there is a bright side to fishing licenses.
If my kids and their kids can enjoy fishing in abundance through the revenue of fishing licenses, then I'll grumble a little less each time my license renewal is due.