Finding great fishing locations that produce lots of fish has always been a critical part of the hunt.
We all know our favorite locations intimately.
In the not-so-distant past, we relied on tips and insights from others. This was a time that great fishing spots were kept secret.
While this is still the case, the ease at which we can find productive fishing locations has changed radically.
Google Maps was a revelation. Punch in a search, and we can see bodies of water we never knew existed and the roads to get there.
But now, to make things even easier, we have interactive fishing maps like FISHBRAIN and TAKE ME FISHING. With this resource, now there are no excuses.
This is an invaluable resource for traveling anglers. And it's especially good for those chasing the legendary trout.
Let's check out the interactive map scene to see how we can find the best trout fishing available in the US.
How To Use The "Trout Fishing Near Me" Interactive Map?
Using the map is simple. Firstly, the map will likely identify your area – yes, scary but true.
If you wish to search elsewhere, simply key in the area you want to explore. With that entered, a drop-down menu will appear, revealing locations.
You'll see a host of icons over particular areas on the map. You'll see blue icons that represent bodies of water. You'll also see other icons, such as boat ramps and other facilities.
Click on the water icon to reveal catches for that area. They're dated and include catch numbers, photos, and species so you can assess if this is a likely trout fishing location.
You'll see a host of fish catches. For example, there will be a history of bass catches, 65, in the last 6 months. Brown trout catches, 50. And Rainbow trout catches – 300 in the last 12 months.
Clearly, rainbow trout fans will do well to check out this particular body of water. You can continue pressing the icons to identify facilities such as boat ramps or license vendors.
It's great to see the photos uploaded by users. It gives a great visual of the potential of the area.
Yep, it's that easy. Let's check out how the interactive map works.
How Does The "Trout Fishing Near Me" Interactive Map Work?
As the tech-savvy will have guessed – yes, it's an algorithm. The algorithm searches for information provided by all anglers who log their catches.
This information is compiled into an interactive map, accessible by a user-friendly digital interface – the website/interactive map.
You will notice that some fisheries are loaded with information about catch histories and species information.
You will also notice that other locations have very little or no information, with a prompt asking you to be the first person to log a catch – or no catch.
It's always an interesting exercise to search for an area you know well and have fished often.
You can learn things about your favorite spots you never knew. But it's also a great way to gauge the depth of information displayed at any location.
For example, you might check out a very popular spot. It has huge lists of trout catches, including multiple species.
It would stand to reason that this location seems very productive because there are a lot of successful entries.
You might check out another spot. However, this one is quite remote and sees very few anglers.
Because of this, there is limited information about local species and the numbers you're likely to catch.
That doesn't mean this is a bad or unproductive location. It simply means there isn't much information about the area.
In some ways, I like this. It means there are still places to be explored and discovered. There are still secrets and places that only a few lucky anglers might know.
How To Find Local Trout Fishing Spots Using Google Maps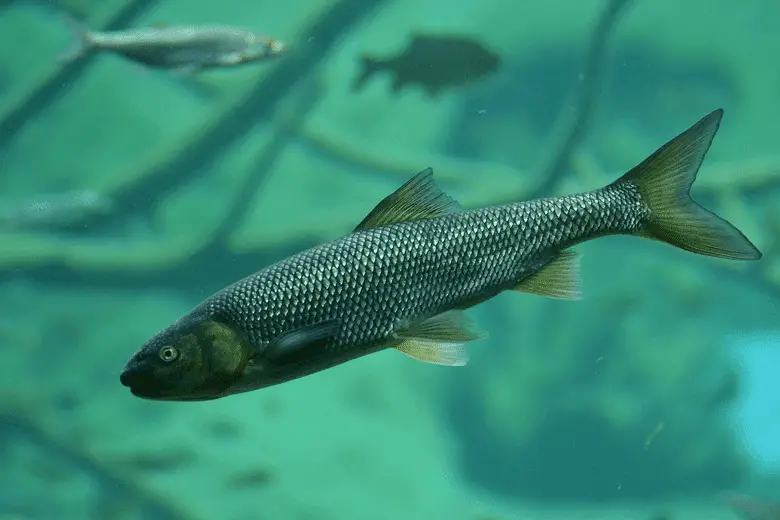 When you've found a likely location, it's often a great idea to punch the location into google maps. 
You can bring up the satellite view, topography view, or map view with google maps.
There's also a lot of information about the general area, with relevant information that's not just fishing-based, such as tourist information, accommodation, reviews, and other points of interest.
With all this data, you can have an incredible amount of information before you go to a spot you've never even heard of before.
I like google maps when fishing in more remote locations. A satellite view will often reveal many unsealed roads leading to the water's edge that isn't marked or listed.
The satellite view will often show these access roads, giving you an indication of access, the type of access, and what you might need to use, such as 4WD only.
When you use the trout fishing interactive map with google maps, you can pick up a lifetime of relevant information in just 20 minutes of research. More trout, more often!
Here's a cool video to show you how you can use google maps.
What is the Best Place to Fish for Trout in the US?
The USA is blessed with an abundance of trout fishing opportunities. You can fish rivers, lakes, and streams, land-based or afloat.
Whether you fly fish or use your favorite finesse spin rig, there's a trout fishing location near you that produces browns, rainbows, steelheads, brooks, and cutthroats.
Here is a list of 5 of the best the US offers. Read about them here then you can put them in a "trout fishing near me" search. 
Lake Taneycomo (Missouri)
Lake Taneycomo is famous in Missouri and beyond. It's a water adventure wonderland and a famous trout fishing destination.
The locals will tell you about drifting salmon eggs and angel worms for brilliant results. Interestingly, parts of the waterway are reserved for lure fishing.
Ensuring Lake Taneycomo is truly world-class is the fly fishing opportunity. While a great natural habitat, Lake Taneycomo is stocked annually with over a million browns and rainbows 10" to 12".
There are great camping and RV parks. There are plenty of well-located and well-maintained marinas and boat ramps.
For those looking to stay a while, plenty of accommodation will suit your budget, from bare basics to 5-star. City convenience is available at Branson and Table Rock.
Lake Taneycomo has often been described as one, if not THE best trout fishery in the United States. 
White River (Arkansas)
White River has an international reputation as a trout and fly hot spot. One of the great attractions is that trophy fish are available all year round.
A trip to the Arkansas Ozarks is a gateway to the Phenomenal White River. Yet there is a portion of the White River passing through the South West of Missouri.
The river is 722 miles long, offering countless opportunities for fishing. With 7 major tributaries to explore and 8 dams, there's something for every angler and waterside adventurer.
Variety is the order of the day on the White. The system holds browns, rainbows, brook, and cutthroats. If you need a break from the trout, you will also find catfish, bass, and sunfish.
There are plenty of options for camping, RVs, and accommodation up and down the river, east and west. Whatever your budget, there's somewhere to stay.
Locals will tell you it's worth hanging around for a while to maximize your opportunity for PBs and trophies. 
Why not, the scenery is stunning – the fishing even better. 
Frying Pan River (Colorado)
If you're seeking a trout catch of a lifetime, head to west-central Colorado and the Frying Pan River.
At around 14 miles, the river is not exactly the longest. But the lower portion doesn't freeze over in winter, meaning 15-pound monsters are possible all year round.
Of course, Colorado is famous for its rivers and breathtaking riverside scenery, and the Frying Pan is no exception.
Being only small, you might end up with some crowds come peak season. But that's no problem here.
Use an interactive map to explore the rivers and less explored tributaries around the same locations as the Frying Pan.
Camp, hike, or take in the hospitality of the many lodging options in the area. One of the benefits of staying local is getting local knowledge.
Every fishery has tips and tricks necessary to get the best results. Staying local gives you the best opportunity to learn how the locals do it.
Nestled in a trout fishing mecca, you're sure to find a willing guide to show you how to get the best out of the Frying Pan.   
Pyramid Lake (Nevada)
Here's one for the cutthroat fans seeking PBs and monster trout. Fancy a Cutthroat punching through 20 pounds?
Pyramid lake is a remnant of a massive inland sea that once covered most of Nevada before humans.
With 188 square miles of lake to explore, you'll no doubt be mesmerized by the pyramid islands – the feature for which the lake takes its name.
The trout are endemic, wily, and extremely big. You don't get to 20 pounds without learning a thing or two about survival.
This is where the world record was landed, an extraordinary cutthroat trout of 41 pounds. Thanks to the local indigenous conservation efforts, you'll have a chance to break that record.
Pyramid lake is accessed from nearby Reno and nearby Salt Lake City. It's a lure-only fishery, and there are restrictions to be aware of, such as fishing barbless hooks.
You won't need a state fishing license, as licenses to fish the Pyramid must be obtained from the local custodians.
Trout fishing runs from October 1st through to June 30th. If you wish to fish it all year round, switch targets to perch.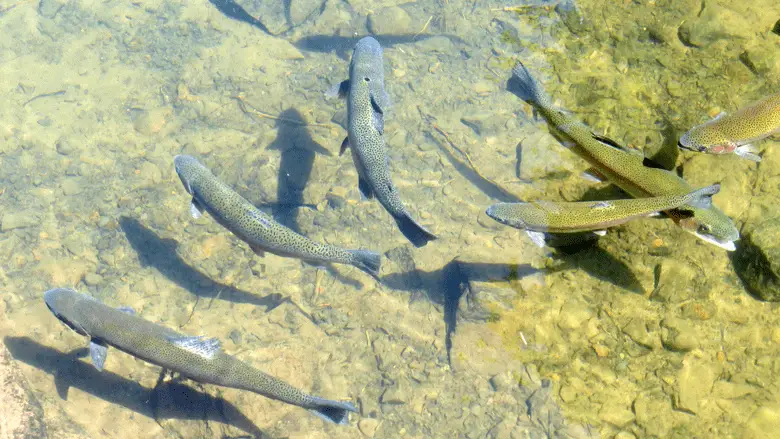 Provo River (Utah)
The Provo River provides 80 miles of outstanding trout fishing. One of the brilliant things about the Provo is that it is so easy to access the water.
There are 3 distinct parts to the Provo. The upper, lower, and the mid-section. You'll find the Provo referred to in this way in most publications, maps, and discussions with locals.
The middle section is close to town and is very popular for day-trippers. A tailwater fishery, water temperature and flows remain constant and predictable, which is great for year-round trout fishing.
The Upper Provo is more changeable due to seasonal influence and has a level of private property to navigate.
Fish the upper sections for brook trout and cutthroat; fish lower, and you'll find browns and rainbow trout.
This area has beautiful national forest lands, ideal for the fishing wanderer to hike and camp.
The Lower Provo is popular with water adventurers, so they can become busy. 
But the fishing can be brilliant owing to the abundance of trout food in the form of blue-winged olive, mayfly, and dun hatches.
Dry fly fishing is a frequent practice here, with locals taking catches of 20 +inch trout taken for granted.
The lower Provo is also a tailwater, delivering predictable flows and temperatures, making it an awesome option for year-round trout fishing.
Final Notes on Trout Fishing Near Me
The 5 locations mentioned above can never do justice to the abundance of trout fishing available in the US.
These are world-class trout fisheries, but they barely scratch the surface relative to what's on offer.
If you're looking for trout, whether you're a seasoned expert or a complete novice, check out "trout fishing near me."
It's a sure path to finding a trout location that suits your travel restraints, budgets, and wildest trout fishing dreams.