We hope you love the products we recommend. Just so you know, Fishing Command may earn an affiliate commission from the links on this page, at no extra cost to you
When I see a new Fenwick Eagle fishing rod on a merchandising rack, I think of my grandfathers.
Both guys, now fishing eternally in that great river in the sky, would immediately be drawn to Eagle's aesthetics.
Fenwick has arranged a classy marriage between modern fishing demands and the classic fishing rod styling of a bygone era.
The color palate, handles and overall styling have hit the retro mark without the slightest hint of clunkiness.
But does it work? Will you "catch fish you'd only dreamed of before…" as the marketing boffins suggest?
Let's just say you'll catch fish.
And if you select the right rod for your application and rig it correctly, you'll catch them with great pleasure and on a modest budget.
Let's now review the Fenwick Eagle Spinning Rod
A Little Fenwick History
Fenwick has a long and celebrated fishing history. With over 50 years of fishing rod development, their quality and brand are very well known in the US.
Decades ago, Fenwick was brave enough to experiment with blank materials.
It was their innovation and preparedness to risk new ideas that have brought us to the modern age of graphite and composite fishing rods.
Fenwick, like other well-established fishing brands, has moved easily into the age of fishing specialization.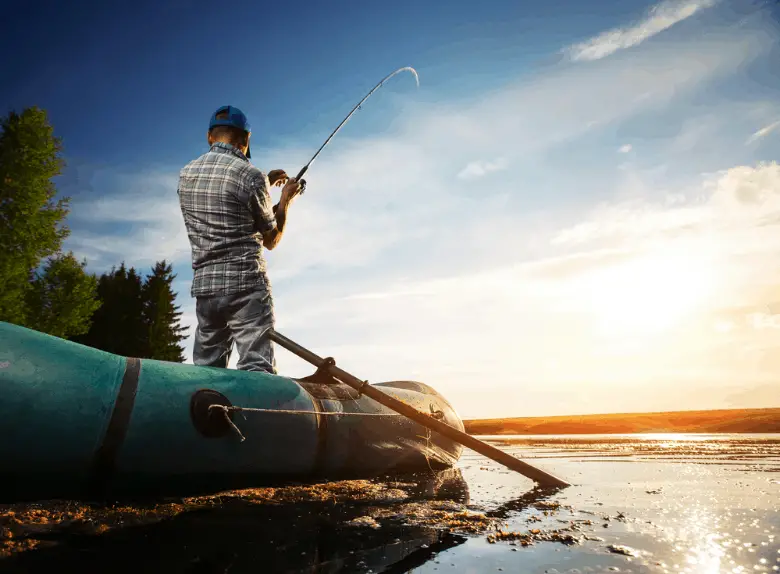 There's a rod for everything. If you want to catch walleye on Sunday, wearing nothing but a grey sweater and a pink tutu, there's no doubt a rod designed for it.
In my opinion, it's got to the point where a lot of these 'specialized designs' are shelf-filling marketing tactics.
However, there's an honesty about Fenwick that delivers brand confidence. And this confidence is only bolstered by their ability to recover from mistakes.
The Eagle's predecessor the GT had some issues, namely rod tips. Fenwick pushed the envelope of responsiveness and sensitivity and compromised durability and strength.
I can't blame a company for trying. In fact, I applaud it. Especially if they take the hit on the chin and go back to the drawing board in order to service loyal customers.
I've not experienced a tip problem with the new Eagle. My research uncovered a couple of tip complaints but I am always very skeptical of tip complaints, especially when they are very few and far between.
I've got a fishing buddy that can break rod tips on game rods just by looking at them. It's a sensitive part of a fishing rod and is usually broken with a lack of care.
All in all, I feel the Eagle is testament to a very solid American fishing rod brand. I'd buy one. And my grandfathers would buy several between them.
Fenwick Eagle Spinning Rod
Price Point
I defy anyone to argue the price. Yes, there are cheaper rods that likely compare in performance. But around the $60 to $80 mark is an interesting price point in fishing rods.
Often we'll find that we're comparing small and inconsequential features over a $20 price difference.
I know many anglers fish on the tightest of budgets and 20 bucks matters. But I tend to think if this rod suits your tastes and application, then a brand at this price point is worthy of the punt.
My personal opinion is that all considered, performance, durability potential, and aesthetics, you are getting plenty of fishing rod for your hard-earned dollar.
The Eagle will appeal to a broad representation of the angling fraternity, especially the price-conscious looking for a distinctive rod with admirable performance.
The look. Aesthetics, Cosmetics
While the color doesn't appeal to me, this is by no way a criticism, nor a deal-breaker.
On the contrary, the colors are very distinctive which is a great marketing/brand recognition approach. The colors no doubt appeal to countless anglers.
The retro look is definitely born of a combination of the stainless guides, color selection, and burled cork handle.
As I said in the intro, this combination would be a huge winner with my grandparents. But that's not to say that it won't appeal to a younger angler.
I don't have any science or data to back this up, but I tend to feel younger anglers are not all about the modern sports style rod aesthetic.
In my experience, dedicated younger anglers have a real appreciation for fishing bloodlines. They have an appreciation of many things retro and a desire to stand apart from their fishing buddies.
The Eagle offers all of this while looking like a deadly serious modern fishing rod. The Eagle looks like a premium fishing rod that would attract a much higher price.
The Burled Cork Handle
Well, it certainly looks like the real McCoy. I'm always suspicious of cork handles on accessibly priced fishing rods.
But Fenwick appears to have gone the extra yard here and delivered a cork handle that will last.
Of course, cork doesn't compare to EVA in durability. But with care, they will last and it appears the Fenwick cork handles will last well too.
Cork often gets a bad wrap from the 'clean nuts'. Yes, it's harder to hide the filth with cork.
However, the trade-off is an incomparably better feel to EVA. My cork handles are pretty dirty, but they still look pretty good.
The attention to detail in the cork layout demonstrates pride in the construction. The cork handle designs really pull focus, and I doubt Fenwick would deliberately draw attention to a feature that may fail.
I'm a fan of cork for most inshore applications. Eva just doesn't have the same feel or sensitivity in comparison.
Experienced anglers love the direct feedback a cork handle offers. They're a pleasure to grip.
The tapers on the handles offer an ergonomic advantage for repetitious casting. The fit in your hand promotes a natural grip.
It might just be me, but I tend to read the vibrations better while gripping in perfect comfort
Fenwick Stainless Guides
The Eagle is decked out in stainless guides with stainless inserts. I'd be very curious to hear if these were aesthetics driven inclusions, or if performance, costs imperative and durability swayed the design team.
Perhaps it was a combination of these considerations. A premium style titanium/ceramic guide would have been fantastic on these blanks.
However, an affordable rod would quickly jump up a bracket or three to an inspirational price point.
The stainless guides are light enough and certainly win big points for durability. They tend not to break, and bends are pretty easily rectified, something you can't do with Titanium.
Stainless corrosion performance is obviously better than aluminum oxide. So long as you clean the guides after each saltwater session, these guides will last.
Durability is a reasonable trade-off for price, lightness, and sensitivity of titanium and ceramic. Heat dissipation is a common criticism of stainless.
Of course, this is true in a comparative sense when your running mate is ceramic.
However, I don't believe it's likely to be an issue on the Eagle even though thin guides were chosen for weight reduction.
If you were tempted to fish the medium-heavy models offshore, you might find yourself with a heat issue should you hook-up big.
On the same token, those fishing super light with whatever class of rod, might find heat an issue in any rod class. This is a very small criticism.
Heat issues, if ever experienced, will be rare.
Rod Actions and Power. The Range
The Eagle range is extensive. There are 20 models ranging from 5'6" to 8'. Power ranges from ultra-light to medium-heavy and everything in between. Actions include moderate, moderate-fast, and fast.
All I can say is that you will have to feel them before you purchase. One of my great frustrations in rod and reel manufacturing is the lack of consistency (standards) in weights and measures.
Where power is concerned, one brand's light-moderate is another brand's moderate-heavy. Likewise, with action, one brand's fast might be another's moderate fast.
I would suggest that the Eagles are on the heavier side of the measure. If you're pedantic about the action and power you really should feel it first.
A big plus with the Eagle range is the huge number of models. As I mentioned earlier, Fenwick has really embraced the specialty thing.
Their range covers the vast majority of inshore applications, from spinning up delicate trout to casting larger minnows at monster class largemouth.
The range plus price point allows anglers to purchase multiple Eagles for fishing consistency right across their preferred applications. I really like this feature.
Casting
Casting is long, accurate, and consistent – just so long as you are. The rod won't do it all for you. You have to rig according to spec or you will encounter issues.
Having said that, the Eagles are pretty versatile. An experienced angler will no doubt be able to push the limits of their Eagle with very little or acceptable losses in performance.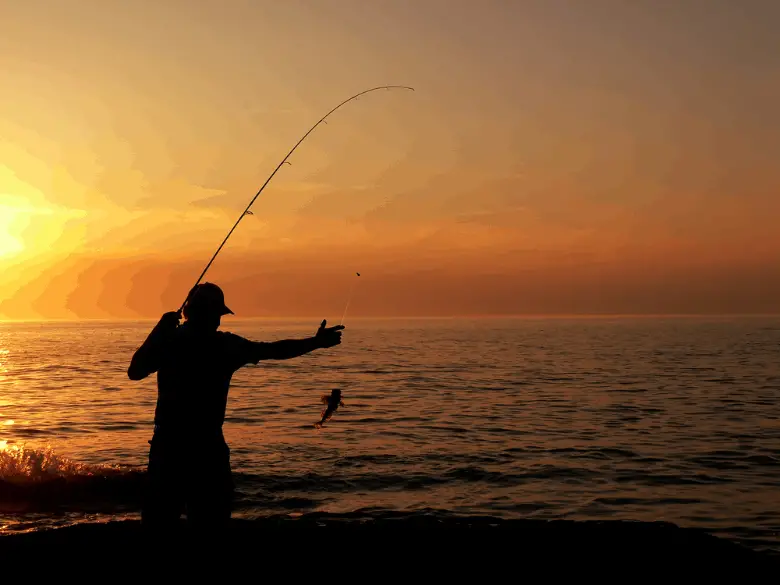 It's a pretty forgiving rod that's easy to use. The medium-light to medium-heavy models would make for versatile inshore allrounders.
However, anglers should be aware that a sensitive rod tip is a feature of Fenwick rods. Sensitivity in a rod tip will always come at the expense of strength and durability.
If you're planning on casting weights outside the specifications of the rod, you will run the danger of snapping a tip during a casting mishap, or even just casting normally.
I really like a sensitive tip when fishing inshore, whether fishing flesh baits or lures. Sensitivity delivers feel and feedback, a performance feature to be treasured.
Take caution if you're sending bigger than recommended packages out into the target zone.
Gentle casting will probably be fine, but loading up and casting to the opposite bank might cause a tip to fail. Just be reasonable. I know that's vague…but hopefully, you know what I mean.
Friction is the biggest killer of casting distance. While the guides don't have SiC inserts, you'll still find line peels through them smoothly
Fenwick Eagle Fishing Rod Warranty
The Eagle has a 5-year warranty. 5 years is a pretty serious warranty for fishing rods at this price point.
This indicates that Fenwick is pretty confident their manufacturer and inspection processes are top class.
I've not used Fenwick's support before so cannot comment. They have a fast track program promoting a fast return to the water should your claim be accepted.
Like most warranties, the cover is limited to manufacturing faults, be it in materials or workmanship.
Be aware, one of the more common claims for any fishing rod is a result of a broken rod tip or snapped rod.
Here I generally side with the manufacturer about being suspicious of claims. Try as I may, I can't recall anybody snapping a rod or rod tip while under normal use.
However, I have witnessed plenty of snapped rods and rod tips.
My favorite is when my fishing buddy gets a new flick stick, pulls it from the packaging and immediately bends the rod to display its strength. Invariably he snaps the tip off.
Slamming them in tailgates and car doors is another favorite.
The next is when anglers try to lift fish that are way too heavy or jerk hard at snags in a vain attempt to retrieve their fouled lures.
Of course, there's loading up with a huge lure or bait, and trying to cast across the Atlantic.
This is how graphite rods snap. It would be extremely rare that a rod, used correctly, will snap.
I have witnessed quite a few anglers break their rods via mishap yet try to make a claim citing faulty manufacturing.
Rod manufacturers are pretty hip to this, so it's probably best to not waste your time. The reason I say this, is that most rod failures are due to mishap.
Rod tips on the Eagle are advertised as sensitive, so be aware that if you mistreat it an ensuing break might not attract the sympathies of the manufacturer.
I would argue that one of the main reasons for the new Eagle is that the GT DID have problems with the rod tip.
It would be unlikely that Fenwick would make the same mistake again.
Durability – Will it Last?
This question is impossible to answer definitively now. It's a new model and therefore durability and life expectancy can only be speculated.
It would seem a fair bet that despite having cork handles the Eagle range might well be a keeper. Of course, this is up to you, however.
It appears Fenwick has done the work to produce a rod that will endure, but they can't manufacture it for every angler's approach to rod care. The 5 year warranty is a pretty good indication of the confidence they have in the Eagle series.
At this price point, I'd say it's an odds on bet for lasting value.
The Fenwick Eagle Spinning Rod Review Conclusion
The Fenwick Eagle range offers budget-conscious anglers choice, performance, and unique styling with a retro flavor.
With 20 models from which to choose it's highly likely that several of your inshore applications will be covered by an Eagle.
The highlights are the sensitive tip and the burled cork handle, which is beautifully shaped, ergonomic, and great looking. The overall aesthetic is very appealing. There's a robust warranty protecting consumers from faults at manufacture.
It's certainly not the cheapest rod, but it offers a heck of a lot more than many of the budget-driven models.
Don't get me wrong here, the Eagle doesn't quite fit into the budget category. It sits at the front end of the mid-priced range of fishing rods yet will suit all those anglers who are thoughtful with their fishing gear budgets.
The Eagle spin rod is a welcome addition to the Fenwick stables, particularly following the GT. It's not difficult to see the Eagle remaining popular for quite some time, not just with Fenwick's loyal fans, but all anglers who appreciate performance and style at a fair price.
For those looking for an inshore spin rod, be it for specialized finesse purposes or a general-purpose go-to every day rod, the Fenwick Eagle has its hand up high, and it's definitely worthy of your consideration.
If you like this Fenwick Eagle Spinning Rod Review, share with someone you know using the icons below.