The best trout fishing in the USA is some of the best trout fishing you'll find in the world. Trout fishing is one thing, but the scenery is some of the most spectacular on Earth.
While it might be in our backyard, thousands of trout fans from around the world seek out these destinations for the fishing experience of a lifetime.
Some places are seasonal, others are year-round. Some are isolated, and some are a short journey from major centers.
Whatever trout experience you desire, lake, stream, a babbling brook, or winding river, it's here.
Let's take a closer look at the best trout fishing in the USA.
The Best Trout Fishing in the USA
The following 9 locations offer some of the best trout fishing experiences in the US. 
We can't cover all of them, and there will be plenty you'll think should be here that don't get a mention.
Are they the best? We certainly think they're deserving of a listing here, and we'd love your contribution and feedback, including your favorite trout locations.
The list below is in no particular order. Why not take some time off and try them all? There's enough here for a lifetime – you'll have to try them all.
1. White River (Arkansas/Missouri)
The White River has quite a reputation. One of its best attributes is that there are multiple water types encouraging different types of trout fishing techniques and approaches.
I like this location for those who are new to trout and fly fishing. There's an abundance of detailed information about each location.
You can be well informed about how, when, and where to catch your quarry before you leave home. 
Guides are plentiful, for those looking to get a deep understanding via local knowledge.
It's a mecca for big browns and rainbows, but also offers a range of other fish species, and for those who like to hedge their bets when on a fishing holiday.
The White River has been touted by experts "…as the best series of tailwater trout fisheries in the United States."
2. The South Fork Flathead River (Montana)
The South Fork Flathead River offers a very special experience for experienced trout anglers.
Situated in the Bob Marshall Wilderness, a vast, seemingly endless area of pure isolation. Dirt road gets you in, then river access is via foot or horseback.
There are good, established tracks, but some navigation skills will be necessary. Get some up-to-date local info and a map.
This location remains pristine because of its isolation and the strict regulations that have been put in place to keep it pristine.
You'll still find bull trout here. Yes, that's how isolated it is. You should ALWAYS consider the bull trout fully protected. Check regulations before you fish.
Come well prepared. Do your research. There's no going back if you forgot your favorite dry fly options.
The South Fork Flathead River is one of America's best locations for chasing big, wild cutthroats.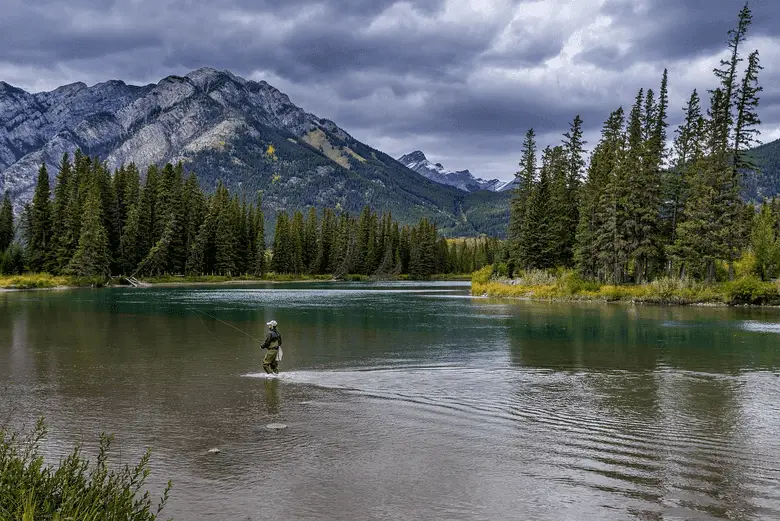 3. Pyramid Lakes (Nevada)
The Pyramid gets its name from the pyramid-like geological island formations in the lake. 
This is a first-nations country, and they have a different name for it, Kooyooe Panunadu.
Access is 35 miles north of Reno, and is a reservation, home to the (Kooyooe Tukadu). You won't need a state permit to fish the lake, all licenses are acquired from the local custodians.
Fishing the Pyramid is easy, with kayak boat and land-based options available. The local fishing laws are very fair and sensible.
You can catch a fabulous feed, keeping plenty for later. However, there are strict size and bag limits.
The local laws have allowed the cutthroat to grow to ridiculous sizes. You'll hear plenty of stories of 20-pound trophies. And they're not 'fishing stories.'
More importantly, you can expect a better-than-fair chance you'll get to battle a cutthroat 10 to 15 pounds.
We get big fish from great resource management. Despite the popularity of Pyramid, it offers fantastic year-round fishing.
Pyramid is a big-trout hotspot. If records are your thing, the Pyramid is a must-visit. This will also appeal to trout hunters with an interest in US geography and geology.
4. Lower Deschutes River (Oregon)
The Lower Deschutes River is a fly angler's haven with native trout and wild steelhead. This is canyon country and the vistas are breathtaking.
The Lower Deschutes is a destination for fly anglers seeking the rare Redband rainbow trout. A genetically pure rainbow famous worldwide for its fighting prowess and tenacity.
Most of the summer is ideal for chasing this rare target. It's a predatory fish that will respond aggressively to any number of techniques.
Again, a well-managed resource ensures the survival of the Redband rainbows, as all fish over 13 inches must be released.
As fall approaches, you'll be able to get into the steelhead action as they progress upriver. Again, the technique is up to your imagination.
Locals will often recommend a guided fishing experience through the Deschutes. 
Each location along the hundred miles of opportunity has its own nuanced personality, for which local knowledge can mean the difference between a slow hunt and a bonanza.
5. The South Holston (Tennessee)
Dedicated trout anglers in the southeast are very familiar with South Holston. It's hailed as one of the best trout fisheries in the region.
There are 15 miles of river between South Holston Dam and Boone Lake where it's estimated to hold about 8,500 fish per mile. Better still the vast majority of fish are wild browns.
Regulations are keeping populations very healthy, and catch and release is very popular right along the river and all of its hotspots.
Be sure to check local regulations, but you can certainly catch a great feed with browns and rainbows 16-22 inches.
Being a tailwater, water temps remain constant through the seasons. This makes South Holston a year-round location for excellent trout fishing.
Be aware that water releases are common, so get local information about what's proposed during your stay. It's a must for safety.
6. Yellowstone River (Montana)
Yellowstone is one of the longest undammed rivers in the US. With breathtaking scenery in variable geography, 
Yellowstone offers some of the best trout fishing to be found anywhere in the world.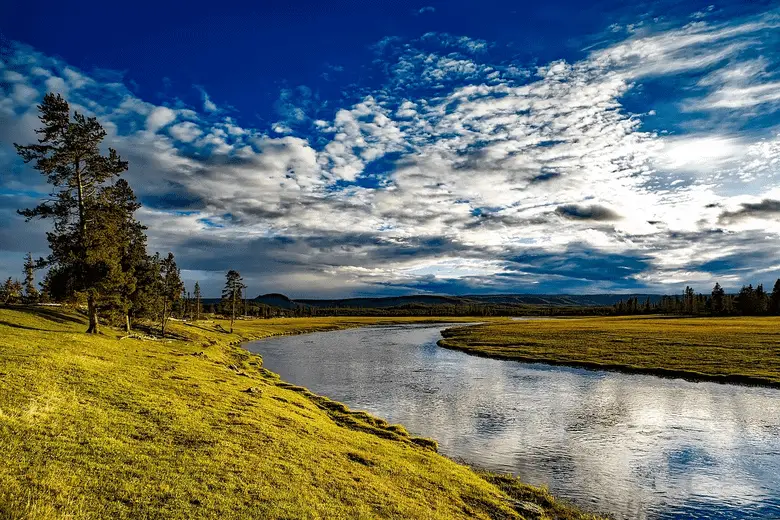 There's trout to be found from its origins in Yellowstone national park to the Missouri River.
Anglers love the river for access. Parks and Wildlife maintain countless roads that provide an easy path to the water.
Come the summer, and a drop in water levels, fly anglers can hike for miles down the gravel river banks looking for likely fish-holding locations.
Yellowstone is a wonderful location for those trout hunters who like to combine camping with the fishing experience.
The issue with Yellowstone is its length – where does one begin? We recommend that you select a location and do the research.
There is so many fish-filled rivers, and such stunning locations, it can be very easy to get overwhelmed by choice.
Pick an area, target, and work it. You can lose a lot of time searching for the perfect spot. It's pointless – they're all perfect.
You can use a multitude of techniques to hunt for browns, cutthroats, and rainbows. There's a lot of fish, with plenty of trophies amongst them.
7. Clearwater River (Idaho)
If you find yourself at a loose end in July and August, head up to Idaho and the Clearwater River for some awesome fly action.
The water temperatures are perfect and the amount of natural trout food fills the air like a blanket of smoke.
The Clearwater is world famous for steelhead, with the B-run summer run well known across the US. We can forget the "are steelhead trout" argument.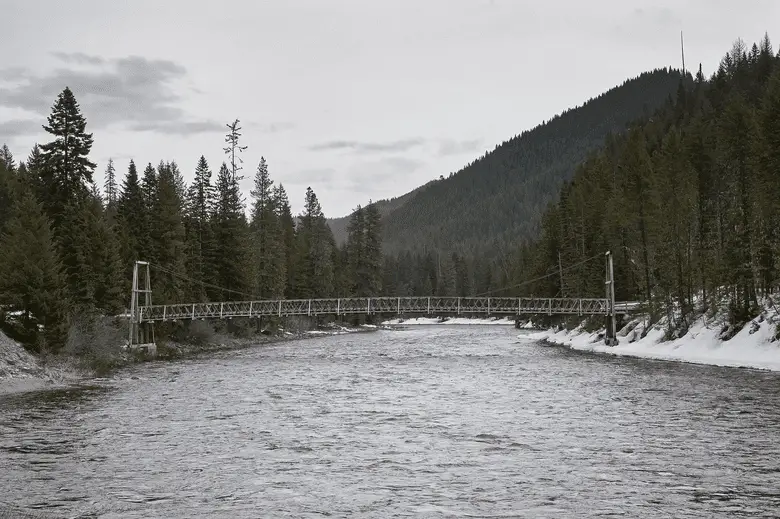 It's irrelevant. Steelhead is one of the best fish we can capture for the table. 
They're easy to prepare and full of goodness, with far less of the modern toxins that are now integral to the food chain.
The clearwater is easily accessed with plenty of accommodation for the traveling angler. 
Some of the best locations to catch anything from smallmouth to trout are beside busy roads. Great for fishing – not the ambiance so much.
Many anglers love the fact that while they're fishing for trout, they can change things up with the chances of getting a bass of a lifetime.
A trip to the Clearwater can see you getting a PB steelhead, cutthroat, and record-breaking bass in the same session – yep, they hang out together.
8. Fryingpan River (Colorado)
A year-round trout mecca, the Fryingpan is one of the best there is. There's a lack of complexity and difficulty here. It's a good location to cut your fly fishing teeth.
It's also a great location for experienced anglers to test their targeting, with browns, rainbows, cutthroat, and brook trout all on offer.
The most popular stretch of the river starts at the town of Basalt running for 14 miles. Just under 10 miles of this is public access.
End of June to September you'll see the air filled with Drakes – flying food. It's also a good sign there will be plenty of competition for the best fishing spot too.
Summer's a busy time, and for those seeking a little more river to themselves, you may be better placed to try winter sessions.
Winter is a great time for the Fryingpan river. If you can handle the cold, there's plenty of fish, and catches can be prolific.
For those seeking beautiful vistas to complement the fishing, fall is the time to immerse yourself in nature's eye candy.
9. Beaver Kill (New York)
The Beaver kill is the most famous trout destination in the US. You could argue that the fishing is not quite as prolific as in its heyday – but what fishery is!
It's known as the birthplace of trout fishing in the US. It's steeped in history and it remains a great location for New Yorkers to chase browns, rainbows, and brookies.
It's an oasis. Beautiful natural habitat takes you away from the madness of crowds concerned only with city affairs.
There are 44 miles of river, and despite its popularity, there's a place for everybody keen to cast a fly.
Beaver Kill was popular from the late 19th century – very popular. It was overfished, over-loved – and suffered over the century.
Fortunately, Beaver kill has been rescued from almost certain death. Fish are stocked, restrictions apply, and a host of laws and dedicated conservationists ensure it remains a destination of choice for trout anglers and nature lovers alike.
America's home of trout fishing is a must-visit for all dedicated trout anglers. Great fish – pristine wilderness.
Frequently Asked Questions
What state has the most wild trout streams?
Pennsylvania is blessed with over 86,000 miles of rivers, streams, and creeks. You could fish it for countless lifetimes, and never fish it all.
What is the biggest trout caught in America?
The biggest trout caught in the US is a 41-pound cutthroat caught on Pyramid Lake in 1925. 

The biggest brown was a 38-pound 7-ounce monster caught in the Arkansas stretch of the famous White River. 

But the biggest trout ever caught in the USA was a rainbow.
What is the biggest rainbow trout caught in the USA?
The biggest rainbow trout (recorded) in the USA is 37 pounds, taken and released in Lake Pend Orielle in 1947.
What is the best time of year to trout fish?
Trout are seasonal in some locations and available all year round in others. If you're mobile and dedicated, there's no reason you can't get spectacular USA trout action at whatever time of year.