We hope you love the products we recommend. Just so you know, Fishing Command may earn an affiliate commission from the links on this page, at no extra cost to you
Surf fishing provides anglers with a huge diversity of fish targets where sizes range from panfish to sharks as big as anything you'll find in the ocean.
Because of this, anglers have an equally huge range of outfits from which to choose.
In this article, the focus will be on the best surf fishing reels for the money.
In order to simplify matters, we'll exclude pier and break wall surf fishing, as well as surf-based game fishing, since these applications should be addressed separately.
This article is purely about the reels we should consider when standing on the sand and casting at the breakers.
I am putting a further qualification on the article also. All 'best' reels listed below are spinning reels. Towards the latter part of the article, I have a clear explanation as to why I made this choice.
Few will argue that there is any location more demanding on fishing reels.
Salt, sand, sand/saltwater slurry, relentless salt spray, and waves, are already trying to destroy your reel before you even cast a bait.
For this reason, I have focused on robust reels only.
What I can say with certainty, is that the 5 reels listed below are brilliant on the beach, and represent great value in their respective price categories. Let's go surf fishing.
Best Surf Fishing Reels
Last update on 2022-02-07 / Affiliate links / Images from Amazon Product Advertising API
Top Surf Fishing Reels
1. Van Staal VR50 – Most Robust and Best Endurance
The Van Staal VR50 is the surf angler's dream reel. Completely sealed at every critical point, the VR can be submerged, buried in sand slurry, dropped, and generally treated appallingly.
If the military were to issue spinning reels to combat personnel, the Van Staal would likely head the pecking order.
Just a quick glance at the VR and you will recognize that it's no ordinary spin reel. The VR50 makes a great choice for the one-reel arsenal.
Weighing in at only 8.9 ounces, the VR50 is particularly light for a reel constructed of stainless, titanium, and aluminum.
Holding long rods and heavy reels is one of the exhausting aspects of surf fishing. The VR is very light considering its construction, and a joy to hold over longer sessions.
There's an enormous 30 pounds of micro-click drag that combines perfectly with a spool capacity of 360 yards of 20-pound braid.
You have all the firepower you need to fight the majority of fish you're likely to encounter in the surf.
I would recommend a second spool you can stack with 10-pound braid. This will give you the capacity to chase a much smaller class of fish without the feeling of overkill.
Casting manners are impeccable, particularly when spooled with braid, as anglers have plenty of distance should the bite be sitting further out in the breakers.
Due to the shaft seal, the crank will feel a little tighter than usual for many anglers used to Japanese and Chinese manufactured reels. This new feel will be forgotten quickly.
The drag is not as smooth as many of its competitors. This is by no means a deal-breaker and can be mitigated (in most instances where practical) by backing off the drag a little during a fight.
Fish big baits, small baits, and all kinds of artificials. Its rapid retrieval rate makes it an ideal choice for hunting the likes of bluefish, which love a fast-paced metal slice.
This is an all-purpose surf master, whether you are chasing whiting in the shallow gutters of 30 pound drum from deep holes.
While expensive, the VR is the purchase of a lifetime. It's a little disappointing that Van Staal was sold to Pure fishing.
Development and reel improvement may be less likely under the fishing mega-corporation. Don't be deterred, however, the VR is built for a lifetime of surf fishing adventure.
Features
Fully machined 6061-T6 waterproof aluminum body
Sealed and waterproof drag system
Spiral-bevel drive gear and pinion
Micro-Click drag tuning
Solid titanium center shaft
Lightest Van Staal design ever
Waterproof Reel
Gear Ratio 6.3:1 (37 inches retrieve)
2. Daiwa BGMQ 3000 – Best Light Surf Reel
The BGMQ is nothing short of brilliant. As I have said many times, this reel represents the best fishing value in terms of performance and endurance for the price.
The BGMQ, and the BG, for that matter, are the reason Daiwa keeps their nose in front in terms of value for money.
I know I harp on about this, and no, I'm not paid by Daiwa, I have no brand loyalties. It's simply a case of credit where credit is due.
I Love the 3000 because of its lightweight features yet powerful capability.
Spooled with 300 meters of 15-pound braid, you can tackle just about anything from palometa, whiting, and pompano to reds, blacks, and blues of considerable size.
There's 10 kilograms of the smoothest, most predictable drag on the market, and a crank supported by 6 (+1) bearings, that's very light.
And at 265 grams, the 3000 delivers fatigue-free fishing over countless hours of heavy sessions holding a rod.
Sealing is quite significant and visible. It's not a reel you should submerge but it does have the capacity to handle the worst of surf fishing if standard precautions are taken.
The long-cast ABS spool delivers outstanding and repeatable distance, and when coupled with a long lightweight rod, will achieve impressive distances if required.
The MQ body has allowed for a larger main gear which is kept to zero movement thanks to its rigidity.
It's the gear and rigid construction that allows anglers to peg their BGMQ 3000 against a class of fish that would kill other reels of the same size and spec.
Retrieve rates are impressive, which makes it ideal for casting stick baits and metal slices and cranking at pace.
It's well suited to fishing mono as well as braid, however, better cast distances will be achieved with braid.
At 3000 size, it's a small reel.
While it punches well above its weight in terms of fish class, an angler might find it difficult to make a balanced rig should the wind, and seas require heavy lead.
Grappling sinkers and other heavy weights will impact the ability to fish small and light.
Heavy lateral sweeps require heavy lead to keep your baits in the strike zone, and a 3000 reel will have its limitations when heavy rigs are required.
Nonetheless, the Daiwa BGMQ is nothing short of brilliant for the surf, with the 3000 size more of an all-rounder than a lightweight specialist.
Features
Ultra-tough DigiGear
6+1 stainless bearings
stainless steel drive gear and pinion gears
Automatic Tournament Drag (ATD) 10kg
Optimized speed
Monocoque (MQ) frame
Lightweight, strong aluminum
20-40% larger gears
Superb water resistance
Monocoque body provides more torques and excellent rigidity
3. Shimano Stella 20,000 – Best Surf Reel For Huge Fish
Chasing massive sharks from the surf is only gaining in popularity. With this reel, the average angler will be able to catch the largest creatures in the ocean without spending tens of thousands of dollars on equipment.
The Stella 20K is the pinnacle of spin reels. They don't get any better than this, only different.
Last update on 2022-02-07 / Affiliate links / Images from Amazon Product Advertising API
With a 20K Stella strapped to an XX heavy rod, you can tackle a class of fish usually reserved for the specialist game angler.
Yes, the Stella isn't cheap. But it's a precision kit built to handle the toughest the ocean can deliver in the toughest of fishing environments.
Depending on the rod you use, the 20K with its AR-C Aluminum Spool, will cast a big bait a long distance.
While a surf ski or board might be handy to get the bait into deeper waters, it will often not be necessary as the biggest of sharks will patrol frighteningly close to the shore break, particularly in the evenings.
The 20K packs a whopping 60 pounds of drag. It's smooth, predictable, and the ultimate in reliability.
At 4.4:1 the Stella is set for power mode, making it ideal for long, drawn-out battles with sharks and other large ocean-dwelling critters.
With 400 yards of 80-pound braid packed onto your spool, little stands between you and the catch of a lifetime.
13+1 SA-RB Bearings support Hagane gears Infinity Drive and Silent Drive.
The drag is supported by Heatsink, rigid support, and X-tough technologies, ensuring you have all the backup you need to wrestle monsters.
X-Protect, E.I. Surface Treatment, and X-Shield technologies keep the elements at bay, your Stella is built for a lifetime of the toughest fishing imaginable.
At 885 grams, this isn't a light reel, and while you can cast it all day long, casting huge weights over and over can bring on fatigue.
Those live-baiting or using big dead baits are more likely to sit rods in a rod holder, but if you're casting massive stick baits, poppers, and the like, the 20K can become a handful.
From the ocean rocks, the 20k is an astonishingly good reel for casting big stick baits and heavy soft plastics.
It has the power to wrestle GT's and other such freight trains less likely encountered on the beach.
The 20K Stella is one of the best surf fishing reels out there, particularly for live and dead baits.
The added benefit is you will also have a rock fishing powerhouse capable of targeting bluefin with poppers.
Much has been written about the Stella, and yes, the high end price is a little controversial.
But if you truly seek surf dwelling game, without all the game gear, the Stella 20K is an excellent option.
4. Daiwa Saltist MQ 4000 – Editor's Choice
The Daiwa Saltist MQ is my favorite surf fishing reel by quite a margin. I am just about to purchase a 4000 in the next couple of weeks to upgrade my surf and general-purpose gear.
At 10.2 ounces, the 4000 is probably a little heavier than some of its competitors, but it isn't especially heavy.
Considering its robust construction, the Saltist MQ is still pretty light, and a joy to cast all day.
While not a large reel by any stretch, a touch over 26 pounds of drag combines perfectly with 300 meters of PE 2 to wrestle trophy drum from deep into the breakers.
Importantly, the refined feel ensures those chasing a smaller class of panfish will never feel overpowered.
A second spool packed with PE1.2 or 1.5 will deliver tremendous joy chasing whiting, pompano, palometa and more.
The monocoque body has allowed for larger gears, and outstanding rigidity, so all the crank torque is delivered to the business end of a fish fight.
Importantly, the drag system is waterproof and the main shaft is mag sealed.
Given the body is all alloy and the bearings stainless, your Saltist is well protected from the ravages of sand and saltwater.
The Daiwa famous air rotor is by construction corrosion-free, even as inevitable character lines and scars develop over time.
It's also very important to note that the Saltist is NOT a Van Staal. While sporting serious water ingress protection, it's not waterproof, a common misunderstanding anglers have with MagSeal technology.
MagSeal offers ingress mitigation, it is not completely waterproof like the Van Staal.
While MagSeal does an impressive job of keeping the garbage out, you should not submerge your Saltist, or let it fall into a sandy slurry.
My one criticism with Daiwa is that MagSeal oil is proprietary and not available to the general fishing public. You can't replace the MagSeal oil with any other lube other than MagSeal lube.
This means any serious cleaning or repair must be carried out by a certified Daiwa technician.
While the price of such a service is acceptable, often the time it takes from sending to return is outrageous.
With that little qualification, it still wouldn't deter me from getting a Saltist for a second.
They are well protected and will last a lifetime if treated with respect in the worst fishing conditions.
I like the 4000 over the 3000 because it has that little bit of extra grunt to handle tough surf conditions, so long as it's matched with an appropriate rod.
The crank is incredibly light, and there's not a micron of movement in anti-reverse or gear mesh.
The absence of unwanted movement is so much more than perfect torque transfer, it also ensures a massive reduction in internal wear and tear, making the Saltist a keeper you can cast at monsters for decades.
Cast lures and live baits live and dead on mono or braids. The retrieve speed is ideal for those looking to spin metal slices through the breakers.
At this price point, surf fishing doesn't get any better than with the Daiwa Saltist MQ.
Moreover, the 4000 size is ideal for fishing comfort and the broadest range of surf targets, conditions.
Features
Monocoque (MQ) Aluminum Body
Zaion Air Rotor
Air Bail
Magsealed Main Shaft
Tough DigiGear
Waterproof Advanced Tournament Drag (ATD)
Aluminum Round Handle Knob
6+1 Bearings
5. Quantum Cabo – Best on a Budget
At this price point, the Cabo is not what you would call incredibly cheap. But as I said in the intro, surf fishing requires a high standard of durability and construction quality.
The Cabo offers this in droves and is a very popular choice around the world for surf anglers looking for value and performance.
SaltGuard 2.0 is a multi-layer corrosion coating that provides protection to an already saltwater tolerant alloy body and side plate.
The ceramic drag system is sealed, as is the clutch, ensuring sand, salt, and water can not get in and destroy the mechanism – this is a must for surf fishing spinning reels.
Drag powers are impressive with the 40 punching 30 pounds and the 60 packing a whopping 45 pounds.
There are 8 stainless bearings supporting ultra-hardened gears, with the all-alloy frame providing plenty of rigidity to keep everything in mesh.
At 347 grams the 40 is pretty heavy relative to others on the market. It's still not a huge load to carry, but those looking for less weight to mitigate the strain of long rods may be deterred.
Spool capacities aren't a wow factor by any means but they're more than adequate, and will hold more than enough PE2 and up to tackle a hefty class of surf dwellers.
My only criticism is that a fast retrieve model is not offered in the range.
Casting lures that require a fast retrieve is important for the surf, and the Cabo is a little on the slow side, requiring a pretty frantic crank to bring a metal slice to peak action.
It's a small criticism, however, and nothing an adjustment in cranking pace won't cover.
The Cabo is capable of tackling pretty big fish, with the 40 more than capable of dishing it out to tarpon and drum.
Those looking for a surf fishing reel specifically for big fish will be well served by the 60.
Decent spool capacity and phenomenal drag pressure make it a great weapon for trophy fish, and a smaller class of shark.
If you're wanting only one reel to cover everything small to huge, and your budget is on the slim size, the 60 with a spare spool for rigging light is a pretty good option.
The 60 is not too big, and spooled with 15 pound mono, it won't feel like overkill on smaller species.
The nickel-titanium bail and magnetic bail trip mechanism are guaranteed for life.
That's a big call, as bail trips are often the place where corrosion starts, causing troubles.
The bail arm is excellent – great line management and awesome for impacts as it returns to its original shape following impact.
While the Cabo isn't cheap, it is at least accessible for those looking for a spin reel that's serious about standing up to a surfside torcher.
Features
8 stainless steel bearing system (7 + 1)
SRC Aluminum Body
SRC Aluminum side place
Sealed Magnum clutch
SaltGuard 2.0 Corrosion protection by Quantum
Stainless and ceramic drag system – Sealed Magnum CSC carbon fiber
Titanium bail
Ultra-hard PT gear system
What Type of Reel is Best for Surf Fishing?
The best reel for surf fishing is the spinning reel. I'm confident I would be joined by countless surf anglers in total agreement.
There's a surf fishing spinning reel to handle the smallest of panfish to the largest of sharks.
And as listed above, there are plenty of spin reels with durability, and construction quality to handle the often harsh conditions.
More than anything, the argument for spin is based on the ease of use thanks to easy casting.
Wind loops and casting mishaps are diminished to almost eradicated when you spin as opposed to traditional reels.
The Australian option of the side cast reel, rare as hen's teeth in the US, has a lot of advantages.
The side cast reel is basic, can handle appalling treatment, and can be stripped down, cleaned, and redeployed in moments while on the beach.
They're powerful reels and are responsible for unbreakable casting records. However, line twist can be a nightmare, they're heavy, and ratios are 1.0:1.
There's plenty of nostalgia attached to the Alvey side cast, and they remain very popular in Australia. However, for most people, the spin reel is a lot easier to use.
Can I Use a Conventional Reel for Surf Fishing?
You can most definitely use a conventional reel for surf fishing, and their strength makes them brilliant for tackling large fish.
In the hands of an angler with great overhead reel (conventional reel) casting skills, casting distances can be excellent.
However, even the best of conventional masters will encounter backlash.
And the problem with backlash on the beach is that you've often loaded up with all of your might to throw it a country mile, making any instance of backlash a devastating bird's nest.
For the average angler, a spin reel is a no-brainer. Most anglers will be far more proficient at getting distance and accuracy with a spin reel than they will a conventional reel.
In the last 30 years, I've never recommended a conventional reel for the surf to anybody. Spin does it better, with far less fuss for most anglers.
Having said all of that, we all like to be the complete angler, and part of being the complete angler is mastering the different types of reels.
I strongly advise that every surf angler borrow a mate's overhead reel and try it out, getting some practice in the surf. You may find you fall in love with it, and never look back.
There are plenty of conventional reels with excellent surf credentials. However, I say again, the majority of anglers will extract far better performance from a spin reel.
And this is the reason I've listed spinning reels only.
How Much Should Surf Fishing Reels Weigh?
If you predominantly set your outfit in a rod holder, such as PVC pipe drilled into the sand, then the weight of the reel is irrelevant.
However, if you hold your rod for a long session, then the weight really matters in the surf.
Often, we're holding a rod 12 feet and longer, and often it will be a composite rod.
A 12 to 15-ounce reel on a 15-foot rod of any make gets pretty tiring on your back, shoulder, and arms.
Now I'm 50, I'm starting to rethink using my preferred composite rod, and heavy PENN spin reels. This heavy stuff actually does cause fatigue.
All the reels listed above are well within the acceptable weight range. Indeed, they're far better than acceptable.
When mounted to a carbon rod, they're an absolute joy to hold on to for the longest of sessions.
There's no specific number or weight I can quote for every reel size. The rule of thumb is to fish a reel as light as you can afford in whichever size reel you need.
Reels tend to get more expensive the lighter they get.
There's no such thing as too light, only undersized, or underpowered for the application.
And what about too heavy? Well, that's up to you. My pop fished a block of led and a steel bar for all of his surf fishing life – He never complained once.
What Is The Best Reel Size For Surf Fishing?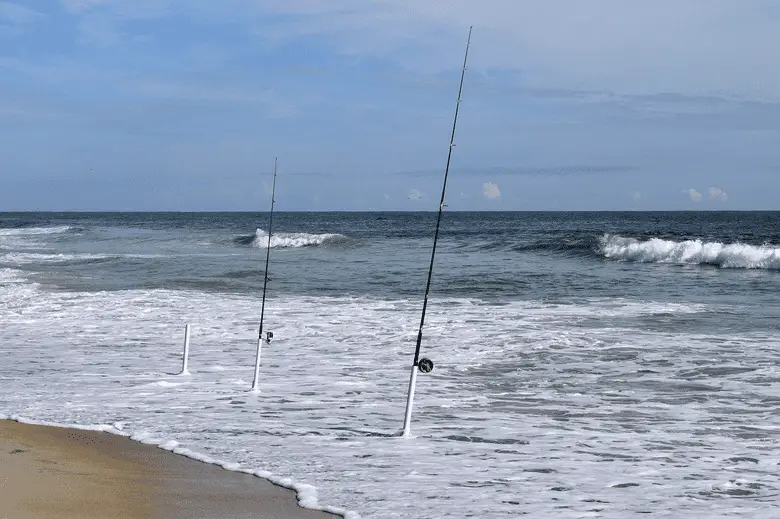 On days of light wind and surf, when I'm chasing whiting, and other such table fish, I'll fish as small as 2500.
However, good light surf fishing is excellent with a 3000 size and will cover a huge number of fish and fish sizes.
For general-purpose, I like 4000 and 5000., and for many anglers, you'll never need another size surf reel for everything you target.
These reels are so powerful, a good angler will land trophy drum and stripers.
For large fish, casting big lures and live baits it's everything from 6000 to 12000.
If you are targeting sharks and monsters with massive dead baits, 12000 and above is where you should begin.
What Rod Should I Pair My Surf Fishing Reel With?
Rod lengths will start at 9 feet, with the common sizes 10 to 12 feet. You will see anglers with rods to 15 feet, but these are less common these days – at least in my experience.
Power starts at light medium and carries through to XX heavy, stopping at every power rating on the way. The rod you select will depend on the reel you select, or vice versa.
Generally, a surf angler will start off with a specific surf application in mind and devise an outfit from this.
For example, if you want to chase panfish, such as whiting, pompano, and the like, a light 9 feet light-medium rod with a 3000 strapped to it would be a great start.
That outfit would be capable of a lot more than these fish, however, and also be great for stripers, drum, and blues, of the size most anglers regularly encounter.
With the BGMQ 3000 listed above, you have plenty left in the tank should a prize fish take your bait.
Frequently Asked Questions
Is a 6000 Reel Good for Surf Fishing?
Yes. Better suited for chasing a larger class of fish, or for when conditions aren't ideal, and extra lead is required.
Is a 4000 Reel Good for Surf Fishing?
A 4000 is my preferred all-rounder surf spin reel.
Is a 3000 Reel Good for Surf Fishing?
A 3000 is an excellent surf reel for smaller to medium fish. They can be too light should conditions require heavy lead.

The reels I prefer to use most in the surf are the 3000 and the 4000. I only use bigger ones when I'm targeting big fish specifically.
Is 200 Yards of Line Enough for Surf Fishing?
By and large, you'll have few troubles with 200 yards, as more often than not you'll be fishing close to shore. 

However, if you hook up big and it needs to run, you'll be in trouble. Particularly if you've already cast out 60 yards of your spools capacity.

If you're fishing a little lighter, and you can't put the brakes on with loads of drag, you're better with 300 yards of line.
What Gear Ratio Is Needed for Surf Fishing Spinning Reels?
I like my general-purpose reels, 3000 to 5000 with speeds above 6. This way I can crank metal slices at pace without too much effort.

Beyond that, there's no great value in focusing on gear ratios. For the most part, big reels like the big Stella listed above will have power-based ratios under 5 for battling heavy fish.