One hundred dollars and under sits firmly in the entry-level spinning reel category.
Despite lacking the best features (lightweight construction and sealing) there are still plenty of manufacturers offering a great spinning reel experience at this price range.
Zero to 100 dollars is a huge category. To refine things a little, we'll put a low price sealing of 50 bucks.
With a level of certainty, I can say that relative to price point, the reels listed below are a must for consideration if you're searching for the best spinning reel under 100 dollars.
Let's check out today's featured spinning reels making the shortlist.
Best Budget Spinning Reels Under $100
There are plenty of reels that could make this list. However, it's impossible to make room for all of them.
In many respects, the reels listed below cover the majority of fishing applications familiar to the average keen angler.
While there are big, offshore style spinning reels in the $100 category, I question their efficacy when pegged against marlin and dogtooth.
Here are the best spinning reels under $100 For 2021:
What To Expect When You Buy a $100 Spinning Reel
Hopefully, you get what you pay for. It's also nice to think that when you part with 100 bucks, you'll get a decent spin reel.
While this price point can offer a great fishing experience, you need to be realistic about quality and performance.
Here's what you can expect when you purchase an entry-level reel at this price point
Not as LightWeight
Lightweight alloys with exceptional strength and rigidity are reserved for high-end spinning reels.
You will find many reels in the $100 category are made from synthetics or heavier cast metals.
Owing to lightweight reels' popularity, manufacturers are substituting heavier internal parts, such as pinions and main gears, for aluminum.
It is still unclear whether strength has been compromised, although it certainly has in some reels. However, some fishing reel manufacturers do have hardy alloy internals.
Fewer Big Reels Sizes
If you're looking for quality spinning reel sizes 8000 and above, you're going to find this price point pretty tough.
Yes, some manufacturers make cheap, supposedly heavy-duty reels for offshore angling.
However, fish like tuna will make very short work of an understrength spinning reel. Having said that, you can find cheaper large reels that will 'do the job'.
However, longevity will be significantly reduced should you encounter several big battles under tough conditions.
Heartbreak is also possible as a trophy fish is lost to felt drags or a twisting body that causes gears to lock.
Sealing is Rare, But Its Inclusion Is Increasing
Manufacturers are adding rudimentary sealing at this price point. Check the specs, and you'll find some reels that have sealed bearings.
This is a basic step up from no seals, but a step-up, nonetheless.
Increasingly, drag systems are getting sealed. Several at this price point will offer completely waterproof drag systems.
This is a bonus, particularly as oil felt drags are the standard at entry-level. Oil felt drag fares poorly when subject to water ingress.
Just be aware that the absence of any sealing is pretty common and more or less the standard in this category of spinning reel.
Bearing Count
It's not that long ago that bearing counts in entry-level reels was considerably low. 3 or 4 bearings at this price was a big deal.
This number is not uncommon these days; however, manufacturers have increased bearing counts in many budget reel series.
And quite significantly. It's not uncommon to see reel counts of 6,7, and more for under $100.
Just be aware. Bearings will add to the cost of manufacture. I'm always cautious of an entry-level spinning reel with a multitude of (8 or 9) bearings.
One could question their quality and question what corners were cut to add such a significant bearing count.
More Plastics and Synthetics
Quality metals, particularly high-end forged alloys, brass, and stainless, are particularly costly.
Manufacturing costs are kept low via the inclusion of plastics and synthetic components.
The result is that longevity is compromised.
Plastic parts wear and fail much earlier than quality metal components. Cheap metal components don't do much better.
While high-end spinning reels still utilize some plastic, entry-level reels have quite a variety.
Top 5 Best Spinning Reels Under $100
The following list contains key details about the 5 reels that have made today's 'best' list.
Compare and contrast features, so you can identify the reel, or reels, that will best cover your applications.
1. Pflueger President XT – People's Choice Award
The President XT is a very popular reel model in the US for all styles of inshore fishing.
The inclusion list is pretty impressive, with a sealed drag system and 9 (+1) bearings receiving top billing.

The 2000, the smallest in the series, doesn't get the huge bearing count for some reason.
There are 3 fewer in the 2000 but the crank is still light and smooth. At this price pointy, 7 bearings are still pretty impressive.
Contrary to my concerns about big bearing counts and suspect quality, it would appear the President delivers reasonable longevity.
Longevity, however, is subject to each angler's care and treatment.
Drag strength and spool capacities are modest but more than adequate. They have also managed to keep the weight down with the inclusion of an alloy pinion and main gear.
The inclusions list offers anglers a taste of the top shelf without the onerous price tag.
Keep water from the oil felt drag is a great feature. One can fish the rainy days; without the concern your drag washers will turn to soup.
The 3000 makes an awesome bass spinning reel, with the 6.2 ratio neutral enough to handle many lure techniques.
The 4000 delivers reasonable access to the surf on lighter days, so long as you keep the sand out and wash it down following a session.
Pros
Phenomenal bearing count for this price-point
Sealed drag system
Lightweight construction
Cons
Modest power levels
Slow crank in small sizes
>>Check Price on Tackle Direct<<
2. ABU Garcia Revo X – Author's Pick for Finesse Lure Anglers
It's compact, light, and has impeccable casting manners. The 6 (+1) bearings combine with stainless internals, and slow oscillation to deliver a lightweight, smooth, and efficient crank.
I like the 6.2 ratio. It's fast enough for flipping and pitching from a moving vessel and steady enough for crankers to work their lipless without heavy adjustment.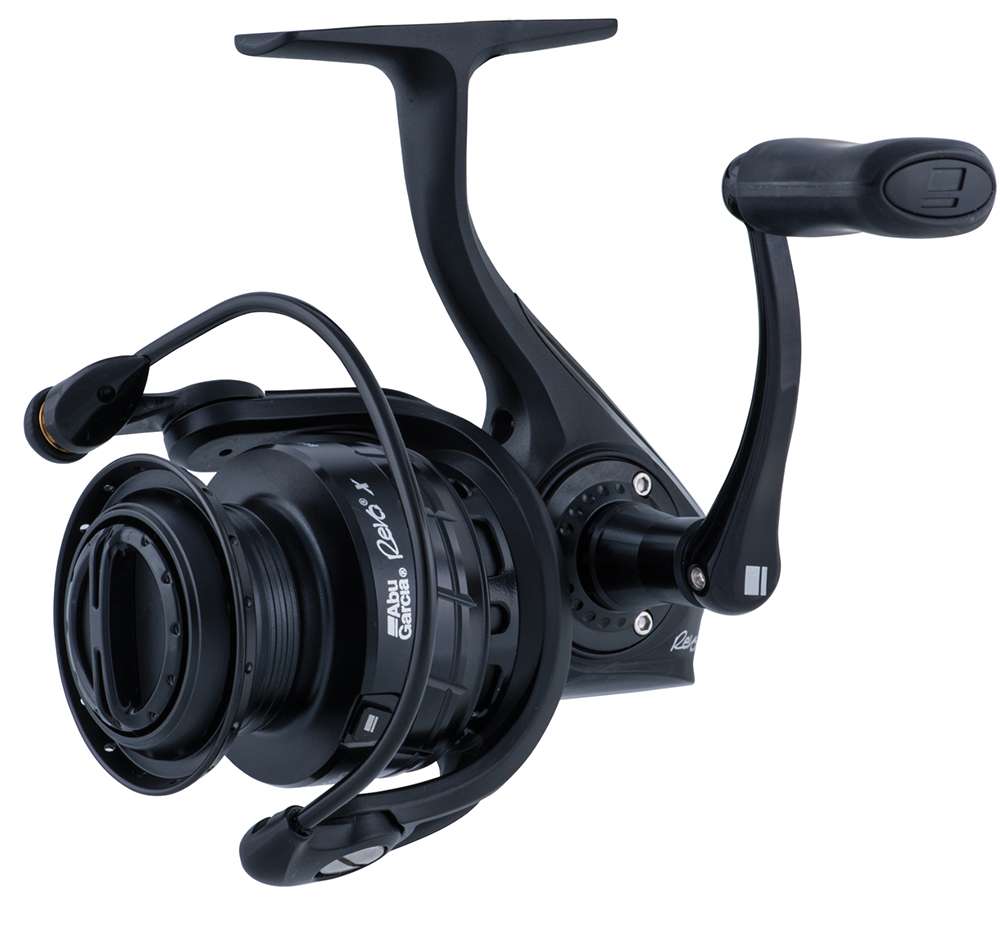 The Revo X package is all about lightweight, stealthy attack fishing.
Casting is really sold up in the marketing hype which can be a little off-putting, but it certainly delivers.
Get the right rod and the perfect balance, and you won't want to put it down. Hours of relentless casting is the order of the day, fatigue-free.
The smaller reels, the 1000 and the 2000 have a generous max drag that was not carried up to the larger models for some reason.
For this reason, I tend to gravitate to the small models for precision finesse work.
I'm a big fan of a chunky bail arm, and the Revo X has a substantial one. It's an X-factor thing.
I've never actually bent or broken a bail arm. Nonetheless, I'm compelled toward reels with fat bail arms. I'm sure I'm not the only one.
It's a little disappointing that there's no sealing, but it's by no means a deal-breaker. There's plenty of synthetics and stainless to mitigate any corrosion issues.
The carbon/oil felt washer drag hybrid is a curiosity for me. I've heard the rationale, but I still don't understand.
Clearly carbon washers do everything better from hook-up to loading, to durability. Nonetheless, it's smooth, predictable, and reliable. Keep it dry.
I like the Revo X 1000 or 2000 reel for year-round bass sports work.
On a less aggressive note, the Revo X is a brilliant spooled with mono and rigged with a worm for catching dinner from a nearby jetty.
Pros
Beautiful lightweight and smooth crank
Powerful smaller reels (1000 and 2000)
Stainless internals
Cons
Larger models a little light on for drag
No sealing
>>Check Price on Tackle Direct<<
 3. Daiwa Exceler LT – Best Inshore Allrounder Series
Daiwa always has a look and feel of class. For the smaller models, I'd be tossing up with the ABU.
But the 3000 and the 4000 are impressive reels, allowing anglers to target a larger class of fish in tricker conditions.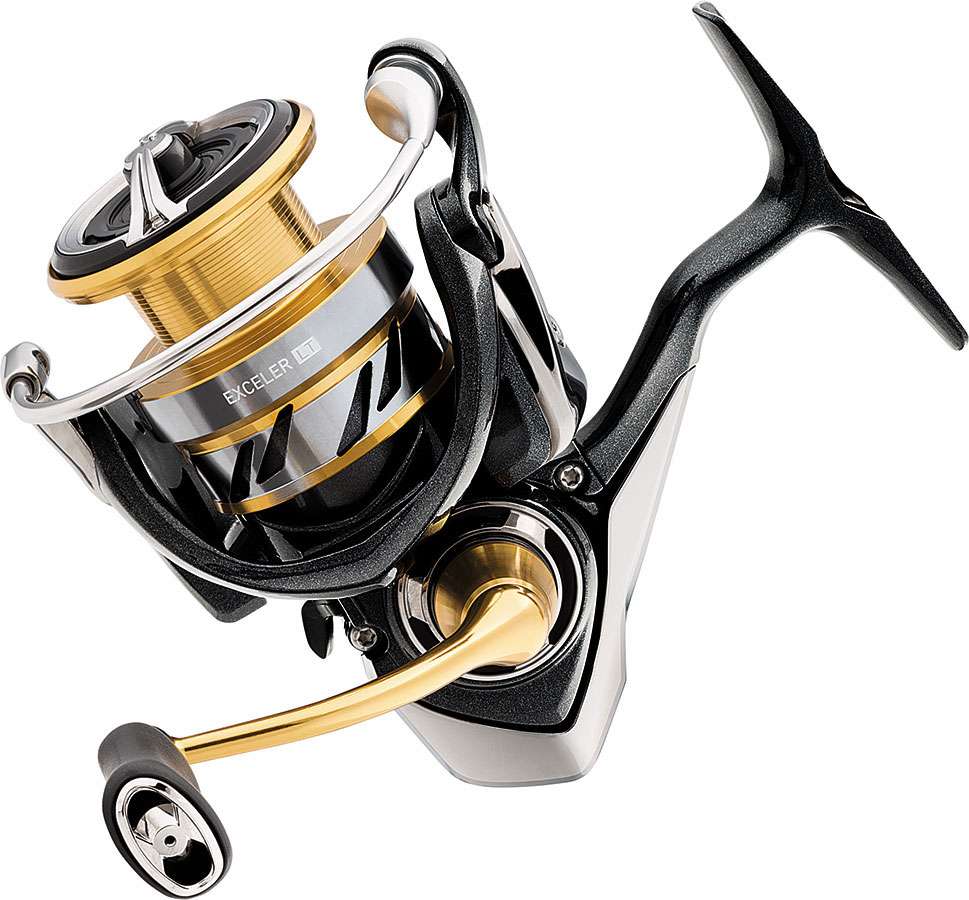 Most inshore anglers aren't looking for big drag and spool capacities. But there are anglers, like me, who like to use smaller reels in various locations.
We appreciate the extra capacity should something larger than the targeted fish happen across my lure.
Casting is a feature of the Daiwa. Straight out of the box, you will notice that there is a neat and uniform line lay. And that's without adding shims.
To me, such neat line packing suggests harmony between the working parts. What's more, the consistent line lay allows for consistent, predictable casting.
The crank is very light, and the gears feel smooth. Five bearings support critical moving parts, ensuring efficient battles and a longer working life.
The Daiwa Exceler reel certainly looks more expensive than it is.
But the top shelf aesthetics are well supported by an equally impressive performance from the very first cast.
While not sealed, I'd still be deploying it in saltwater and wet conditions. The LT body is synthetic, and the threaded handle removes a common water entry point.
I have also found that the ATD is better suited to handling water and dirt ingress (so long as you clean it),
The Exceler 3000 is one of my top choices when it comes to everything inshore, boat and land-based.
It's by no means overkill for small fish, and there's plenty of power there for wrestling something larger.
The 4000 gives me access to decent-size surf dwelling fish. Spooled with 300 yards of 20-pound braid, I have over 26 pounds of drag to subdue something a little larger.
I could cast metal slices at Bluefish all day with the 4000.
If I were chasing trophy bass from difficult, snag-ridden terrain in poor currents and weather, the 4000 reel would also do great.
Pros
Cons
No sealing
Odd gear ratios
>>Check Price on Tackle Direct<<
4. Okuma Ceymar – Best Value Affordable Versatility
The Ceymar fishing reel is a heck of a popular reel. No doubt, the balance of great performance and accessible pricing keeps the Ceymar abreast of the pack leaders. 
Durability is right up there too, which is a big highlight for such an affordable reel. It's a great-looking reel with traditional styling.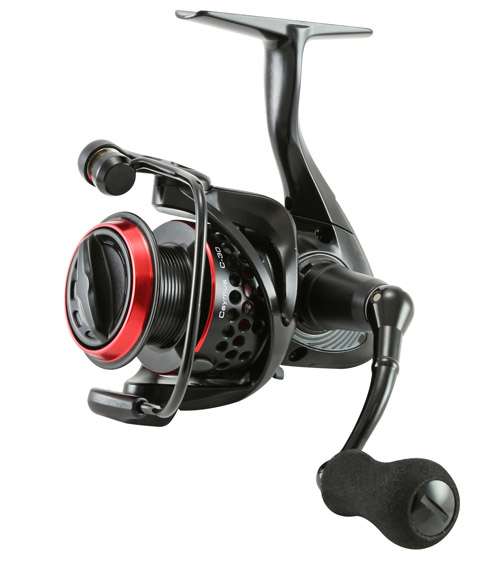 The aggressive spool porting delivers a modern touch that's more about fashion demands than anything performance.
However, Okuma will tell you it's integral to its Cyclonic Flow Rotor system, and maybe it is.
The Cyclonic Flow Rotor is an airflow system designed to dry spool internals faster, mitigating corrosion.
With most serious corrosion forming when the reel is at rest, I'm not convinced by the technology.
This is only slight criticism, however.
The Ceymar's other key features, the Precision Elliptical Gearing System,Even Flow Roller System, andRotor Equalizing System, delivers an efficient, light, and balanced crank.
These systems work in concert to deliver a uniform line-lay, enhancing casting manners and casting consistency.
The multi-disc oil felt drag is dated and should be upgraded. However, out of the box, it is strong and smooth.
While oil-felt drag is proven and reliable, I'm still a little perplexed about its continued appearance in spinning reels.
Even when kept dry and oiled, performance is lost to washer compression quickly relative to carbon washers.
Having said that, it should be noted that the Ceymar multi-disc system is pretty hardy. Keep it dry and oiled, and the fine adjustment should remain for longer.
There are 7 (+1) bearings (6+1 in the 1000 and 2000) supporting rotating parts and removing friction. As well as a smooth, lightweight feel in the crank, the bearing count ensures the Ceymar reel lasts longer.
There's no sealing to speak of, but there is corrosion protection. Keep it as dry as you can, ensuring wet sessions are followed by appropriate maintenance.
There are 10 models to choose from, starting at the finesse 1000, through to the 6500.
The 3000 and 4000 reels have high-speed options. This is handy, as the crank speeds are pretty slow, right across the series.
Spool capacities and drag strength are modest at best. The Ceymar has focused on keeping the weight down over adding copious drag power and spool capacities.
It's a versatile reel series covering a huge number of inshore applications. The 4000 through to 6500 offer access to some surf and rock applications.
The Ceymar has a refined sports feel to it that will be appreciated by experienced, budget-driven anglers. Excellent value fishing reel.
Pros
Quality Build
Nice list of features
Casting
The felt drag system is better than many.
Cons
No sealing
Slower gear ratios
Limited drag strength and spool capacities
>>Check Price on Tackle Direct<<
 5. Shimano Sedona FI – Best Budget Access To Larger Fish
The first look at the Sedona FI reel, and a quick reading of the features, reveals a pretty spartan offering from Shimano.
In the smaller and medium sizes, I.E. less than 6000, I prefer other manufacturers. There are other brands doing the small and medium sizes much better than Shimano in this price-point.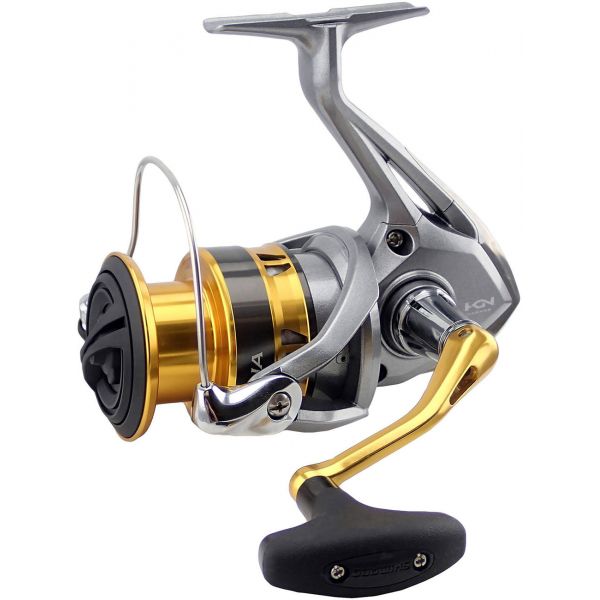 This hasn't always been the case. A decade or so ago, I found Shimano to be a reliable source of entry-level spinning reels.
However, Daiwa are doing it better at present.
However, the Shimano Sedona makes it onto this list because it's ideal for targeting larger species of fish, as well as surf, rock, and offshore use.
As I mentioned earlier in the article, access to larger fish with quality spinning reels is rare in the sub $100 category.
In my opinion, The Sedona FI covers this niche, allowing budget-driven anglers to chase a bigger class of fish.
With 3 bearings, pretty ordinary aesthetics, and some cheap omissions, one might wonder how the Sedona FI makes it on the list.
Firstly, it's important to mention that the drag and spool capacities are adequate for offshore work. That said, it's some critical internals that gives the Sedona its edge.
The Sedona's main drive gear is cold-forged alloy that is very resilient. A quiet crank from the tight mesh delivers reliability and longevity.
Indeed, this is the gear you will find in the top shelf Shimanos. The shielded bearings are also the same as those you will find in the top shelf reel models.
The anti-reverse clutch is also a hand-me-down from its far more expensive stablemates.
Again, quality components within the anti-reverse mechanism deliver a solid feel and genuine longevity.
Importantly, the oil-felt drag washers have been discarded for the far superior carbon washers.
This is almost essential for big fish angling, where battles and long runs generate drag-killing heat.
The 6000 and 8000 will be popular with those looking to cast stick baits, and poppers, as well as those keen on a little jigging.
A highly reliable oscillation system is responsible for delivering a consistently uniform line lay, making casting manners particularly good.
While I like others in the smaller sizes, I would recommend those after bigger fish to have a good look at the Sedona FI 6000 and 8000.
Land-based or outside the heads, the Sedona is very capable.
Moreover, you can fish it pretty hard, and it will continue to back-up, performing equally as well as the time before.
Keep it dry and well maintained, and the Sedona spinning reel will be a worthy budget investment.
Pros
Quality internals in the large sizes
Carbon washers drag system in the large sizes
Great line lay and casting manners
Series offers budget access to a larger class of fish
Cons
No sealing
Very low bearing count
Limited drag strength and spool capacities
>>Check Price on Tackle Direct<<
Frequently Asked Questions
So, What Is The Best Spinning Reel Under $100?
The best spinning reel under $100 is the one you can afford, that covers the bulk of your fishing applications. 

A good rule of thumb is to purchase the best you can afford, having researched all available options.

Of the list above, I like the Revo X 2000. I'd use it for a host of finesse inshore sports work land-based and afloat.

The Daiwa 3000 is my choice for the top inshore reel, and the Sedona 8000 gets the nod for surf, rocks, and outside the heads.
Do You Get Spare Spools at this Price Point?
Hardly ever, likely never. I can't think of any manufacturer that offers spare spools at this price point.
Can I Use My Freshwater Reel In Saltwater?
Yes. Indeed, I am one of those anglers who think the distinction between the two is a little silly. 

Those with less corrosion protection and sealing need a greater level of care and maintenance if used in saltwater. It's that simple. 
Will My Budget Reel Last?
This is a common question and difficult to answer. Pushing cheap reels to their limits without minimal maintenance (cleaning) ensures a short working life. 

Bury it in sand and saltwater and a speedy demise is highly likely.

However, when maintained, used for the purpose as designed, and as part of a balanced arsenal, there's no telling how long a budget reel will last.

My 50 dollar Sienna's are still in service and well over 10 years old. In many respects, longevity is up to you.
What Size Spinning Reel Should I Buy?
For general purpose inshore fishing, you should opt for the all-rounder capacity of a 3000 size. For lighter sports and finesse work, 100 to 2500 are ideal.

For standard surf work, such as casting metal slugs at bluefish, choose a 4000 to 6000. 

For larger surf dwellers like sharks, I'd go 7500 to a game reel. The same applies to the rocks and outside the heads.

However, once you get to sizes 8000 and above, you start making decisions based on the size and power of the fish you are catching relative to your skill levels. 

Big reels for big fish is a sensible starting point.
What's the Best Spinning Reel for Bass?
The best spinning reel for bass is the reel in your hand. However, if you're looking specifically for a Bass spinning reel, the 2500 Daiwa BG is my pic for performance and value.

Of the reels listed above in the 100 dollar category, I like the Daiwa in the 3000 sizes, as it will cover quite a variety of Bass situations.

Keep in mind there are as many preferences for bass fishing as there are bass fishers. My personal belief is that the 3000 from most manufacturers offers excellent coverage.