We hope you love the products we recommend. Just so you know, Fishing Command may earn an affiliate commission from the links on this page, at no extra cost to you
The 50 dollars and below price point presents some great spinning reel options for the strictest fishing budgets.
Mid-price and top-shelf reels have seen massive technological improvements over the last decade, and they've definitely taken top billing in all the marketing hype.
However, it's important to note that manufacturers have NOT neglected the bottom end of entry-level spinning reels.
Over time, even the cheapest models occasionally receive feature hand-me-downs from their more illustrious stablemates.
Moreover, manufacturers have ensured that a selection of their basic entry-level models offers a satisfactory level of reliability, durability, and performance.
They may be cheap, but they're certainly not toys. Well, not all of them.
Most manufacturers, particularly the big names, offer entry-level spinning reels under 50 dollars that deliver a great fishing experience and reasonable access to various fishing applications.
In the following article, we're going to look at the five of the best spinning reels under $50 dollars. Now…Are they the best?
It would be ridiculous of me to state as such, regardless of the title of this article. I haven't used every reel at this price point, so claiming any spinning reel is best would be disingenuous.
However, having fished for more than 40 years, I can state with a degree of certainty that these reels are of good quality and will get the job done.
Let's have a look at the best spinning reels under $50.
Best Spinning Reels Under $50:
The spinning reels listed below are best read as a buyer's guide as opposed to a comprehensive review.
Having read about each reel, you should be able to assess as to whether it should go on your potential-purchase shortlist. Under each reel heading, I'll give a "best for…" subheading.
The spinning reel might not be the best per se; the subheading is more about focusing on a spinning reel or reel series's biggest strength, value, feature, or application.
Here are the best spinning reels under 50 in 2021 :
1. Penn Pursuit III Sizes 2500 and 3000 – Best Budget Inshore All-Rounder
I would have included the entire series but all sizes above 3000 breach the under $50 ceiling. Nonetheless, I had to include the two models available within the 50 price-point.
Because of the high max drag and spool capacities, the Pursuit III provides plenty of scope for inshore fishing.
Given the right target and conditions, I'd even be deploying the 3000 in the surf for several applications.
The Pursuit is a great lightweight spinning reel, with impressive styling. The upgrade to the HT 100 drag system with its carbon fiber washer was a master upgrade move from Penn.
While the oil-felt washers have always been adequate, they don't compare in performance or durability with the carbon fiber washers.
In practical terms, this allows anglers using the 2500 or the 3000 a little more back-up, should a larger fish eat your bait.
Penn's traditionally capacious spools further enhance the fish fighting credentials.
Ideal for boats and kayaks as well as land-based from banks and jetties, the Pursuit will serve you well in fresh and saltwater.
In fact, the 3000 is a great option for Bass hunters, with the neutral gear ratios providing plenty of lure fishing versatility.
4 bearings assist in providing a reasonably light and smooth crank. The anti-reverse feels very solid, but you should take care to avoid impacts, as plastic parts in the anti-reverse mechanism may be compromised.
Durability can be upgraded from OK-ish to better than adequate, depending on your level of care and maintenance.
The bearings are shielded stainless, the body and rotor are synthetic, and the spool is alloy.
This provides a very basic level of protection. Avoid getting it wet. It's not sealed in any way, and the internals will suffer from water ingress, particularly saltwater.
Pros
Smooth and light crank
Stable crank for its price point
HT 100 carbon fiber washers
Cons
Limited to 2 sizes due to price ceiling
Lack of sealing
A little heavy for a small synthetic body
>>Check Price on Tackle Direct<<
2. Shimano Sienna FG – Best No-Frills Spinning Reel for Quality
I still use the first Shimano Sienna I ever bought over 15 years ago. I have 2 in the arsenal currently.
The Sienna is the budget stalwart of the Shimano stables. Its appeal is its simplicity and quality of basics.
The Sienna FG starts at size 500, with the 4000 being the largest of the series.
This inshore spinning reel delivers performance, versatility, and a superb fishing experience. It's never been a feature-laden spinning reel, nor is it going to be at this price point.
Nonetheless, it's a performance-driven reel with enough model options to dominate freshwater fishing, inshore saltwater applications, and some surf scenarios.
While designed to be an inshore only spinning reel, the generous drag capacities and all-around sturdy construction, allow the Sienna to punch well above its weight.
In keeping with the Japanese trend of keeping things as light as possible, the Sienna delivers a very light crank, in a lightweight body.
There are only 3 bearings, supporting fairly rudimentary internals. However, they're good quality relative to price, and they will last long if cared for and kept dry.
Features include Shimano's Line Propulsion System and Supper Stopper. These are just fancy names for the lip design on the spool and the anti-reverse mechanism.
Both features, while wrapped in marketing speak, deliver strong fundamentals. That is, the casting manners are excellent, and the anti-reverse is very solid.
There's a high-speed model in the 2500 size that will appeal to the flippers and pitchers. It's ideal for the kayaker doing light work, casting at banks.
The 4000 offers plenty of sports action casting metal slices and stick baits at bluefish or stripers.
Given the 19 pounds of max drag, you have access to some pretty hefty fish staples.
There's no fancy sealing and corrosion resistance under the synthetic body. Keep it dry and clean to enhance longevity.
If I wanted to deck out my part-time fishing family with quality all-rounder inshore fishing reels, I'd fit them all up with Sienna 3000 spinning reels.
I'd know they were well equipped to catch a litany of fish species, from many locations.
I'd also know they'd have a great fishing experience, and the reels would live to see many family fishing adventures.
Pros
Build quality for the price
Ease of use
Aesthetics
Versatility
Lightweight body and crank
Cons
Lack of sealing
Series versatility would be greatly enhanced with a 5000 and 6000.
Take care with the bail arm. Avoid heavy impacts.
>>Check Price on Tackle Direct<<
3. Penn Wrath – Good Access to Multiple Fishing Applications
I have problems with the Penn Wrath, but I'm prepared to overlook some of them because the series does provide significant access to a broad range of fishing applications.
The series starts at size 2500, going through to the big 8000. This gives anglers genuine rock, offshore, and big fish surf access for under $50.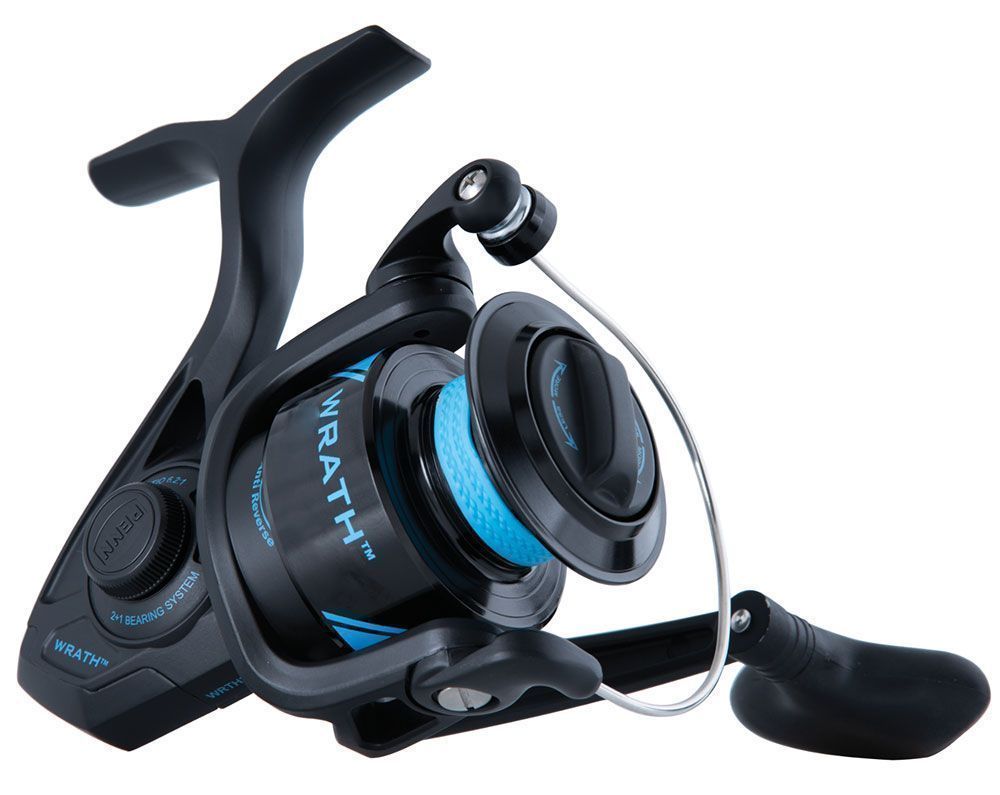 As far as offshore work is concerned, it's rare that serious offshore anglers will select a Wrath.
Fishing offshore is a pretty significant investment, and those who spend the cash are unlikely to skimp on gear by selecting a budget reel.
However, there are good options for back-up that can certainly get the job done, within reason.
I like the larger Wrath models for getting those with budget limitations out fishing the rocks, surf, and piers for a larger class of fish.
The 6000 and 8000 have some genuine big fish credentials. The 8000 offers 25 pounds of max drag and holds 345 yards of 80-pound braid.
While I feel the spinning reel will bend and flex if pushed to its limits, it does nonetheless deliver budget anglers a sporting chance at landing trophy fish.
I'm not a huge fan of the oil-felt drag washers. While reliable enough out of the box, they'll require attention over time, even when shelved for significant periods.
I also feel that in this day and age, providing only 2 bearings is a little light. KastKing and others are providing more bearings for not much more.
In the smaller sizes, other spinning reels do it better. They're lighter and offer a much better performance.
Many of the bottom end reels don't provide a larger class of spinning reels such as a 6000 or 8000.
However, the Wrath covers this, and therefore, you can sink your back into a genuine big fish battle from the surf or rocks with a spinning reel for under 50 bucks.
I'm a big fan of affordable, accessible fishing with serviceable equipment of reasonable quality.
The Wrath gets its look-in because it delivers families on tight budgets access to fit out everybody. For a family of 6 or more, a spinning reel like the Wrath is a fantastic option.
I also like the Wrath series for the youngster looking to put together an arsenal of spinning reels to cover multiple applications.
With limited means, a keen young angler can purchase a 3000, 5000, and 8000 and cover plenty of fishing applications with consistency, very cheaply.
The Wrath isn't without its faults. But you have to remember the Wrath sits between 30 and 50 dollars – that small amount doesn't invite a swathe of features and premium components.
What you do get, which is the most important thing, is access to a huge variety of fishing experiences with not much money at all.
Pros
Simple design
Generous drag and spool capacities
A big size range provides access to a huge variety of fishing applications.
Cons
The oil felt washers could be replaced with carbon
Body strength might not support drag capacities
Penn could do better than 2 bearings, regardless of the accessible price point
Why so heavy for a synthetic body?
>>Check Price on Tackle Direct<<
4. Okuma Ignite A Series – Best Budget Saltwater Kayak Option
As I've stated many times, I'm not a huge fan of oil felt drag systems. It's old-school technology, and every manufacturer should relegate the old-faithful to history.
Yes, the system is quite effective out of the box and does have some level of longevity depending on workload and maintenance.
It's a simple fact, however, that carbon washers do it better for longer, maintenance-free. One of the great issues of felt drags is the mucky mess resulting from water ingress.
The Ignite A series has a fully sealed water-tight drag system. Any sealing at all is rare in budget-driven spinning reels. But fully water-tight is extra rare.
The Ignite A felt drag system is pretty good anyway, performing better than similar systems. I have this system in the Avenger.
I've had it for nearly 10 years, and it still performs brilliantly. And the Avenger system is not even sealed.
Sealing it to water-tight status makes the spinning reel a great option for applications where splashing and dunking are, more or less, inevitable.
This is why I rank the Ignite A as a great budget option for kayak anglers.
It's a rare kayaker who doesn't dunk all their kit, at least occasionally. The sealed drag is also a bonus for fishing in the rain or any location where splashing is likely to occur.
Its corrosion resistance credentials are also good for a budget model. The body and rotor are synthetic. The main gear is brass, and the 5 bearings are stainless.
An added feature is the stainless bail wire, frequently a vulnerable component in cheaper spinning reel models.
Perhaps surprisingly, the brass main gear is machined. Coupled with the 4 supporting bearings, the light and very smooth crank will be apparent from the first turn.
The anti-reverse is solid. You'd have to take the reel apart to assess its durability. I didn't do this.
The elliptical oscillation system delivers a uniform line lay pretty consistently. This, coupled with the smooth light crank will appeal to lure anglers.
A small drawback for the flippers and pitchers is the relatively slow crank speed.
Great for the crankers but those wanting a faster speed with faster pickup will have to adjust their technique.
The size range starts at 1000, going to an 8000. The 8000 pushes over the under $50 limit, but only by a few dollars.
With the extra 5 or so bucks, you'll get plenty of access, with the 8000 providing an outstanding budget surf, rock, and offshore spinning reel, with a great feel.
Just be aware that there is an old 6000 size still available. Snap it up if you can find it. It has been replaced in the latest series by a 5500. Both models are under the 50 mark.
This is a nice budget spinning reel for all-weather fishing. You won't find reliable bearing and body sealing at this price point, but a water-tight felt drag system is fantastic in this category.
Pros
Smooth and light crank
Good for relentless casting
Water-tight drag system.
Cons
Oil felt drag
It would be awesome if they could get the 8000 under 50 bucks
Gear ratios strangely slow, limiting applications where speed is required.
>>Check Price on Tackle Direct<<
5. Okuma Avenger – Best Budget Reel With Lightness of Crank
I have an Avenger. I bought the 2500 Lady Avenger for my daughter because she likes the purple color highlights. In fact, it was her first fishing reel.
Much to her annoyance, dad has stolen it from her, and it is now probably my most frequently used spinning reel.
6 (+1) bearings make a heck of a difference in smooth, light cranking. The handle is a joy to turn, and the anti-reverse is solid as a rock.
I've had the Lady avenger since it first hit the shelves over 8 years ago (going on my daughter's age).
It's still as smooth and solid as day one, with no corrosion and no movement from wear.
This is significant; one, because it's fished the saltwater pretty well exclusively, and two, because it's seen plenty of miles on the water. What's more, it's fished a lot of rainy days.
The size range starts with the diminutive 500 and moves up to a big and very capable 10000.
Just be aware that the 8000 and the 10000 punch through the 50 dollar ceiling of this review. But not by much.
This spinning reel has had nothing but a light clean following most sessions, yet it's retained its great looks and performance.
Casting manners are great. Balanced with the correct rod and rig, you'll get all of the distance you need for close-quarters stuff, with the larger models performing more than adequately in the surf, offshore, and rock applications.
The 5000 is a great surf size and offers 17 pounds of max drag, which is adequate for the likely customers such as bluefish, stripers, and the more common, moderate-sized drum.
It's not sealed in any way; I recommend you be careful not to submerge it, or drop it in the sand. It's a weakness, sure.
However, you are not going to see adequate all-over sealing at this price point.
Whatever you do, don't write them off as a fresh only spinning reel. They're far more capable than that if you take care.
I can't attest to the CFR or Cyclonic Flow Rotor system, which creates a "cyclonic" airflow that's meant to dry out internals faster.
I don't believe mine has it, and I didn't get the test reels wet.
They weren't mine. I have to be honest and suggest it sounds a little gimmicky to me, and I'm not sure I'd include it in its water-resistance/corrosion resistance credentials.
Unfortunately, I wasn't able to open things up for a once-over.
Whatever its water-resistance misgivings, the synthetic body, rotor, and handle will keep corrosion at bay, at least externally.
For my money, the crank's smoothness and lightness are a big winner at this price point.
It's a joy to fish and comes highly recommended for the angler looking for the sort of crank you get in the pricier models.
Pros
A super lightweight spinning reel with a smooth crank
Great stability for a spinning reel at this price point
Excellent size range within the 50 dollar limit
Cons
Drag sealing like its Ignite stablemate would be great. It needs some sealing
I prefer a metal handle
Questions about the efficacy of the CFR system
>>Check Price on Tackle Direct<<
Frequently Asked Questions
Here are a few of the most common questions I'm asked when inexperienced anglers are hunting for the best budget spinning reels under 50.
Are Expensive Reels Worth It?
"You get what you pay for" is a very misleading statement. It's not uncommon to spend good money to buy a product only to be sorely disappointed. 

On the other hand, you may take a punt on a cheap reel, and be pleasantly surprised by the outcome.

Good quality spinning reels that will last are worth the money, whatever the price point. Those that cover your applications and needs are also worth the cash.

My rule of thumb is always to buy the best you can afford based on advice from several sources and research.

There are some cases where you have little choice but to spend the big bucks.

For example, there's not much point in buying a Toyota Corolla if the application is remote 4Wdriving.

Yes, the Corolla is affordable, will get you from A to B in comfort, but you'll be bogged and hung up the moment you head off-road.

The same goes for fishing. There aren't any budget, and few if any mid-priced spinning reels I'd poke at a full-grown dog tooth Tuna. 

For this, it's Saltiga and Stella only, and they are well over the thousand dollar mark.

There are plenty of expensive spinning reels worth their weight in gold for the access and fishing experience. "Worth it", depends entirely on your budget.
How to Know What Reel Size to Buy?
In short, knowing what size spinning reel to buy will be determined, by and large, by the size of the fish you're targeting and the location from where you're targeting them.

Sizes 500 through to 2500 are generally considered small fish reels. They're inshore reels, for lakes, rivers, and estuaries designed, by and large, for panfish.

The 3000 size is a smaller general-purpose spinning reel, giving access to a size that punches through panfish.

From 4000 to 6000, you're targeting a larger class of inshore fish, as well as smaller to moderate fish, offshore, nearshore, from the rocks and the surf. 

These reels, the better ones, are very capable of targeting surprisingly large fish. From 6000 upward, you have the potential for chasing big fish. 

The 20,000s are hefty spinning reels capable of land-based game applications and offshore game fishing, targeting sharks, marlin, and big tuna.

Keep in mind that the reels' size system is a little arbitrary, non-scientific, and very inconsistent across brands.

Take advice from experts. Tell them your fishing intentions.
What Should I Look For When Purchasing A Budget Spinning Reel?
The best thing to look for in a budget spinning reel is solid basics. Do your research. Check for any excess movement in the crank.

Turn the handle; does it move freely, and without any play in the mechanism?

Any form of sealing is good but unlikely at the bottom end of entry-level. A count of 2 to 4 bearings is good for the bottom end of entry-level.

If you see a count of 8 or more bearings for under $50, you have to question where corners have been cut.

Check for an anti-reverse bearing. Avoid spinning reels that don't have one. Check how well the spool sits. Does it move or flex on the shaft?

Avoid synthetic spools. Machined alloy spools are plentiful at this price point. Choose an alloy spool reel always.
Are More Ball Bearings in a Reel Better?
Generally speaking, the more bearings, the more support for moving and rotating parts. 

This delivers a more solid and lighter crank and is a more stable spinning reel. Make sure you understand the bearing count.

For example, 4 + 1 means there are four bearings to assist gears and cranking and 1 anti-reverse bearing.
What is the Best Saltwater Spinning Reel for the Money?
The best saltwater spinning reel for the money is the Daiwa BG. The Daiwa BG is affordable, performance-driven, and very durable. 

It's a highly versatile series, covering an enormous number of fishing applications. 

With the full BG series sitting between the 100 and 140 dollar mark, spin reels don't get any better at this price point. 

The Daiwa BG is my top recommendation for the best saltwater spinning reel for the money.
Verdict – What Would I Buy?
Of the reels listed above, my choices for the best spinning reel under 50 would be the Shimano and both Okuma spinning reels.
I'd take the Sienna for light surf work. It has no sealing, two bearings, and a basic, uncomplicated construction. What's more, it's very cheap.
When I drop it in the sand, I'll take it apart and clean it. If it only lasts me a season. No problem, I spent hardly any money.
It's a non-nonsense spinning reel that doesn't pretend to be anything special. However, it'll catch you fish, delivering a pretty reasonable fishing experience.
For inshore Kayak fishing and rainy days, I like the 3000 Ignite A. The drag sealing and better than average oil felt drag system gets it across the line.
For light work around the banks of rivers and estuaries, the 2500 Avenger is a must-have. I love its smooth and light crank. It's so sturdy, giving you that extra ounce of confidence should you hook something a little larger than expected.
Remember, when you're buying low-end entry-level, don't go expecting loads of sealing and features. Look for solid basics first, and anything else beyond that is a bonus.