The under 200 dollar mark can get you a lot of spinning reels these days. At this price point, you're often benefiting from technology hand-me-downs from more expensive top-shelf models.
It's still pretty tough to get a cheap spinning reel capable of handling big offshore species at this price point.
But a few manufacturers are delivering basic access to offshore big fish applications.
There is now a wide range of spinning reels between sizes 1000 up to 6000 at this price point that will please the most discerning spinning reel fan.
Let's have a look at 5 great spinning reel models offering good value for money and an excellent fishing experience.
Are they the best? Well, that's debatable and for you to determine. What I can say with conviction is that all of these reel brands would find a happy home in my spin arsenal.
Let's go fishing.
5 Best Spinning Reels Under 200
Here's my shortlist of the top five. There are more that could make this list, no doubt. Again, I'm not making a definitive claim that these reels are the only options you have. 
What I'm saying is they're very worthy of your consideration for your next spinning reel purchase.
Here are the best 5 spinning reels under $200 in 2021:
Daiwa BG – Best Saltwater Spinning Reel – Editor's Choice
The Daiwa BG has set the standard at this price point. There are 10 sizes from which to choose starting at 1500, with the 8000 heading the pack.
If given only the BG range from which to choose to build a complete reel arsenal I'd be satisfied. The only thing missing would be a genuine offshore big fish option.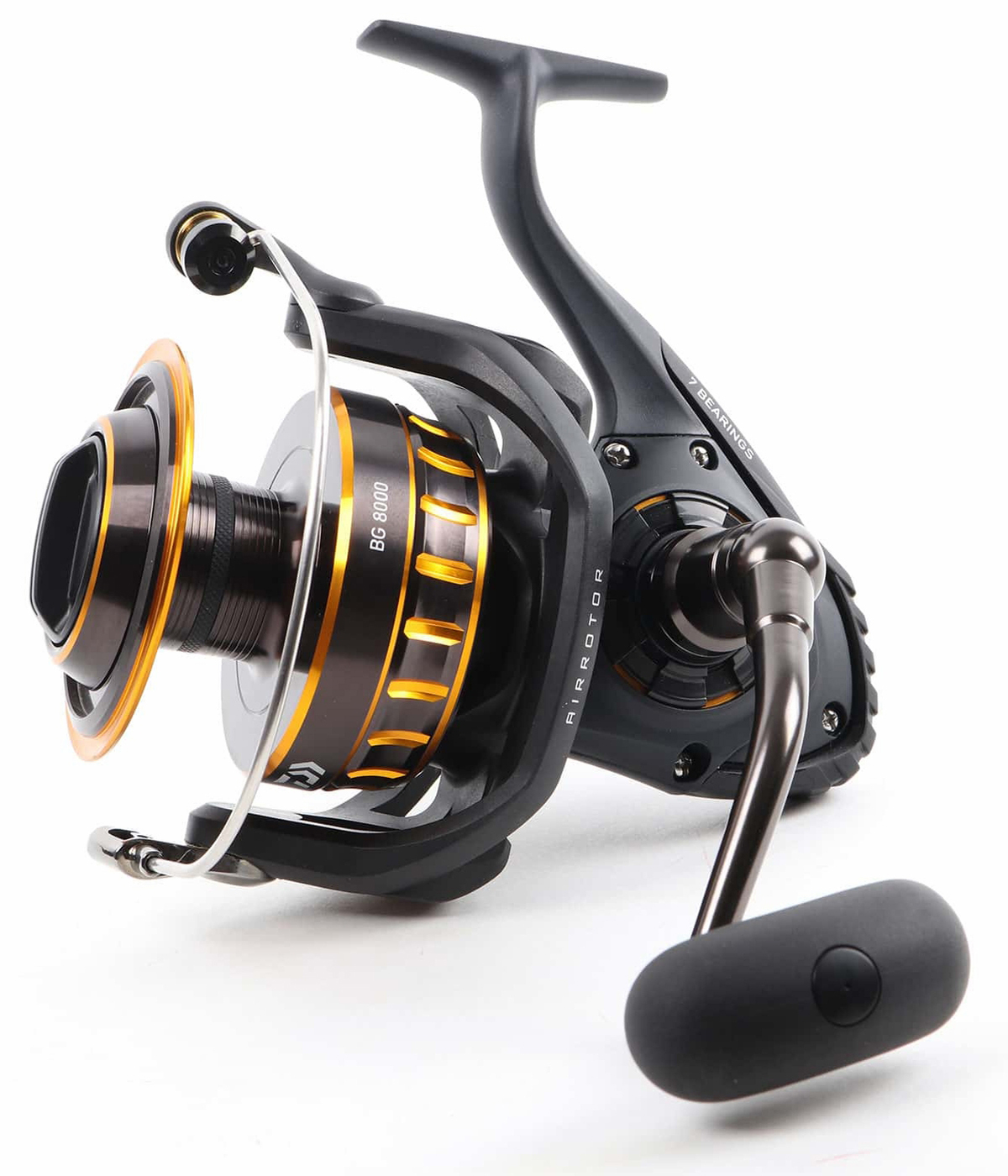 That said, the 8000 is the perfect size for casting poppers at moderate tuna offshore, and GT's from the ocean rocks.
ATD (drag) has carbon washers and is smooth, robust, and predictable. 6 bearings support all the turning parts, assisting the rigid body to keep gears in perfect mesh and sync.
The crank is smooth and light.
The range covers trout from babbling brooks to Spaniards on the troll. Casting manners are outstanding, making it an ideal choice for the surf fishing and rock angler.
The drag is waterproof, and the body aluminum. It's super strong, rigid but also relatively light, even in the large sizes.
In my opinion, no manufacturer is yet to offer the quality and value for money present in the BG model.
What's more, if you look after it with a regular maintenance routine it will last you countless sessions years into the future. Doesn't get better at this affordable price point.
Pros
Quality of build and components
Powerful yet light crank
Versatile range
Generous drag and spool capacities commensurate with overall reel strength
Cons
At this price point, it really can't be faulted
Would like to see larger sizes, even just a 10,000.
>>Check Price on Tackle Direct<<
Features and Specifications
"Hard Bodyz" body and side cover
Infinite Anti-Reverse system
6BB+1
Manual Return Bail (4500 and Larger)
Machined aluminum screw-in handle
Carbon ATD
Waterproof drag system
Digigear system
Braided line ready spool
Dynamic cut aluminum ABS spool
Air rotor
Penn Conflict II – Best Inshore Spinning Reel Under 200
Many anglers are compelled by the stealthy cosmetics of the Penn Conflict II. However, its performance is more than skin deep.
The HT 100 drag system is smooth and durable. It's been a great success story for Penn, and more importantly, its customers.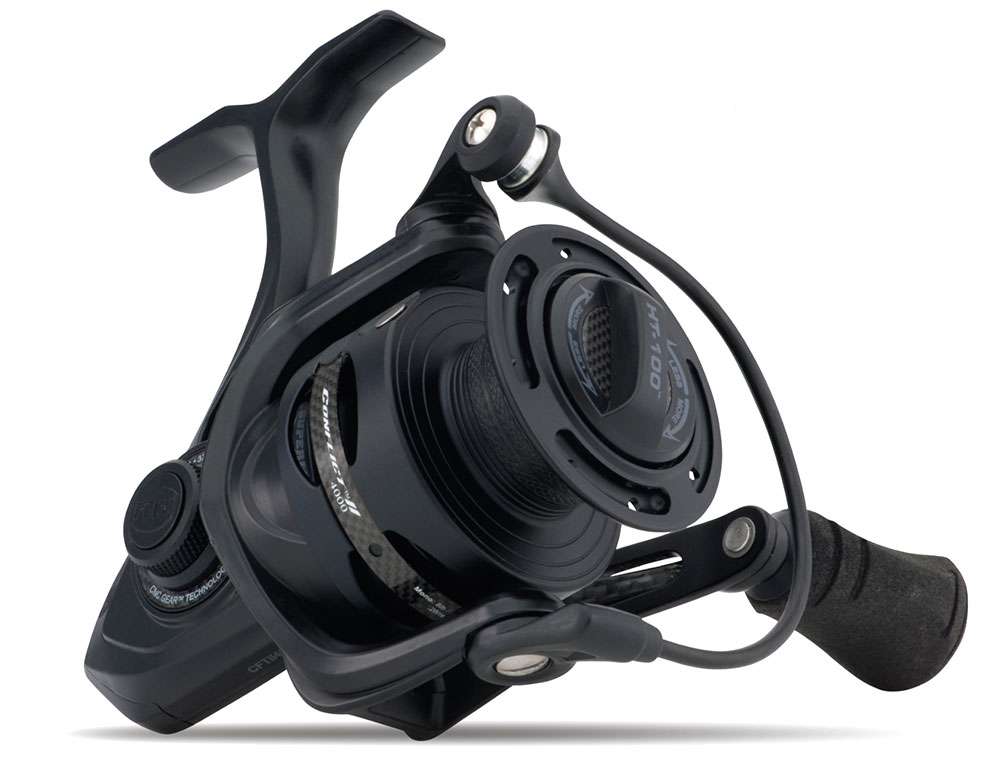 Packed with 7 bearings, plus a dedicated anti-reverse bearing, the crank is light, in keeping with its status as Penn's lightest spinning reel ever.
While not light to the standards of its Japanese competitors, it's still a step up for Penn, traditionally associated with heavier style spinning reels.
I like the Penn Conflict II for everything inshore. It would make a great choice for any angler looking for an inshore go-to.
The 3000 would be an ideal bass fishing reel that would double nicely for tackling a host of estuary species in the salt.
CNC Gear Technology and top-quality stainless steel ball bearings head the billing for strong, reliable, and durable internals.
While I'm not a fan of synthetic bodies (generally speaking), the rigid nature of the RR30 body and rotor allows for excellent protection without adding to the weight.
While there is no sealing at all, the Penn Conflict still has adequate corrosion protection that will see it through many seasons.
Pros
Great stealthy look
Great casting manners
Inshore versatility. Good for saltwater and freshwater
Sturdy internals
Cons
No large reel option
No sealing
>>Check Price on Tackle Direct<<
Features and Specifications
Rigid Resin RR30 body and rotor
CNC Gear technology
7+1 sealed stainless steel ball-bearing system
HT-100 carbon fiber drag washers.
Superline Spool and Line Capacity Rings
Okuma Azores – Best Large Saltwater Spinning Reel For The Money
As I said in the introduction, it can be very hard to find a decent large reel at a cheap price. Especially one that can genuinely handle big fish.
The Azores goes some ways to filling that gap, and at a touch over 100 dollars, that's an affordable option for most anglers.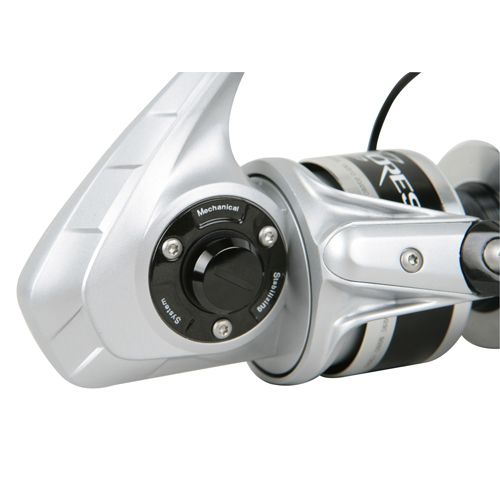 Indeed, it will be hard to find a 14,000 size reel, the biggest of the Azores, at this quality and price point.
While I prefer the BG, the Azores is cheaper and offers significantly more drag power. And it has quite the list of inclusions.
Precision machine-cut brass pinion gear and 6 bearings head the internals list.
The drag is a carbon felt hybrid; however, it's fully sealed, which will increase the duration of its working life without the need for replacement washers.
There's quite a deal of attention to corrosion resistance, which is rare at this price point.
The corrosion-resistant coating process, and the corrosion-resistant high-density gearing, work nicely with the aluminum body and rotor to keep the rust away.
Treated well, the Azores will likely stand up to a heavy fishing routine over many seasons.
Having said that, I would have expected a far better warranty than just one year. Its durability seems great on paper. But I would have expected a better warranty out of Okuma to prove it.
I like the Azores for affordable rock, surf, and offshore fishing. The Mechanical Stabilizing System, oversize pinion, and 6 bearings deliver a surprisingly solid, sturdy, and robust yet lightweight crank.
The Azores inspires a confident crank and holds up well under heavy loads. The 14,000 would be my selection, but I like the 5500 for lighter surf work.
Pros
Good corrosion protection
Aluminum body and Rotor
Powerful drag
Cons
No small reel options
Limited warranty considering its promise
>>Check Price on Tackle Direct<<
Features and Specifications
DFD: Precision Dual Force Drag system
Precision click drag adjustment for more precise settings
Multi-disc, Carbonite, and felt drag washers for DFD
6HPB + 1RB corrosion-resistant stainless steel bearings
Quick-Set anti-reverse roller bearing plus ratchet system
Dual anti-reverse system for maximum security
Azores-40 size only features the Quick-Set anti-reverse function
Precision machine-cut brass pinion gear
CRC: Corrosion-resistant coating process
HDGII: Corrosion-resistant, High-density gearing
ALC: Rigid diecast aluminum body, sideplate, and rotor
MSS: carbon Mechanical Stabilizing System
Machined aluminum, 2-tone anodized spool with LCS lip
Machined aluminum handle arm for added strength
Hydro Block watertight drag seal
Shimano Stradic FL – Top All-Round Inshore Reel
While the larger FL's break the $200 mark, it's only just. And it has to be included here.
This is probably the classiest fishing reel on the list and would not at all be out of place in a much higher price bracket.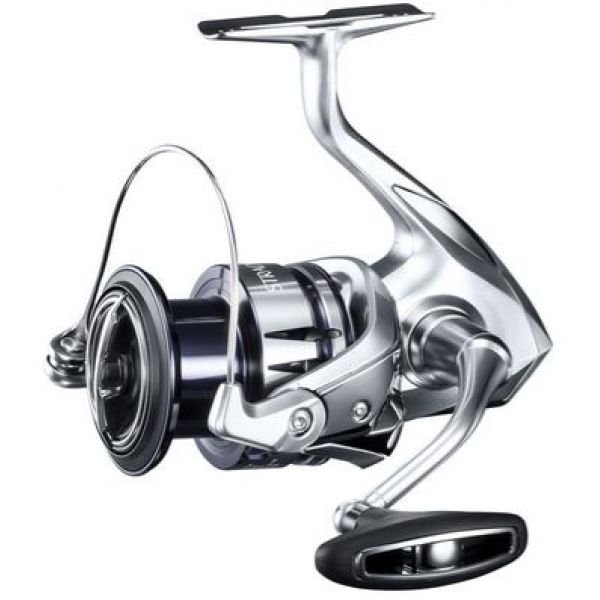 The feel of the FL is superb. Without going into the Shimano jargon, suffice to say that a turn of the handle is enough to convince you of its pedigree.
The Shimano FL will suit anglers with more discerning tastes in spinning reel precision.
However, at this price point, it's accessible to most anglers. This allows your average weekend dangler to experience so quality fishing gear.
The crank is silky smooth, and incredibly light. Although sealed, it doesn't hamper the lightness of the crank.
The sealed drag system is super-smooth and very reliable. The FL is capable of punching well above its considerably lightweight.
You can feel there is power to burn despite its compact size.
Casting manners are excellent. The long-stroke spool facilitates great line lay and line release, and therefore distance and accuracy.
The 6 (+1) stainless bearings are shielded. The drag is waterproof, the body alloy, and the X-Protect system keeps the water out. The FL is highly credentialed for saltwater.
I like the FL as an option for inshore kayak work. When the inevitable dunking occurs, the FL has the wherewithal to cope.
Having said that, the Stradic FL is an inshore master with the 1000 delivering outstanding finesse fishing, and the 5000 providing access to surprisingly large fish.
For my money, the 2500 and 3000 are perfect inshore allrounders that are nigh on impossible to beat in terms of value and performance at this affordable price point.
There's a very good reason that the Stradic FL won the ICAST 2019 Best Saltwater Reel.
Pros
Excellent corrosion and water ingress protection for this price point
Power to weight ratio
Excellent build quality
Superior crank
Casting manners
Cons
>>Check Price on Tackle Direct<<
Features and Specifications
Hagane Gear
Hagane Body
X-Ship
Micro Module II Gear
Long Stroke Spool
Silent Drive
X-Protect
G-Free Body
S A-RB Bearings
Cross Carbon Drag
Quantum Smoke PT – A Finesse Reel You've Never Considered.
You should never let Quantum fall off your radar. To be honest, it's a VERY difficult choice between the Shimano FL and the Quantum Smoke.
This Quantum is a beautiful fishing reel I know most people will buy when they feel it. It will appeal to those looking for a high-performance precision feel in a light and compact package.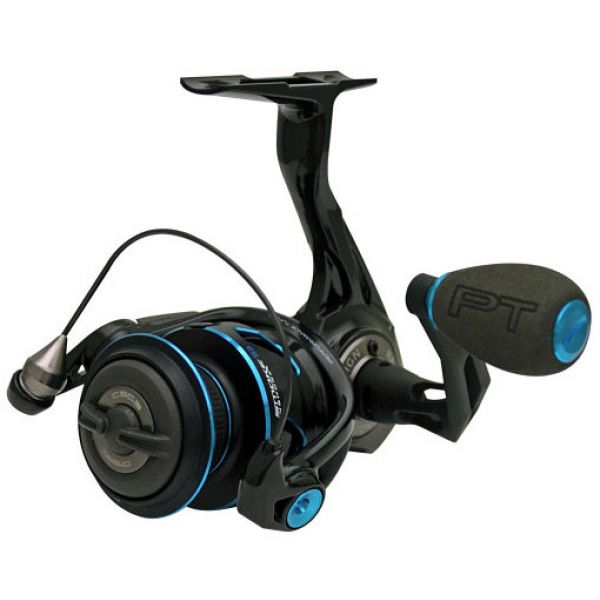 I like it for inshore finesse work. The 2500 and 3000 deliver plenty of power. However, you always feel like you're holding the smallest of reels.
The 5000 is pretty capable of punching up. But while it has a healthy 22 pounds of max drag, the 4000 and 5000 are limited to inshore work.
With more spool capacity, the Quantum Smoke would be a capable light surf fishing reel. But minimum spool capacities make it a little impractical unless you're casting right at your feet.
There are 11 bearings in the Smoke delivering the silkiest and lightest of cranks you can imagine. These stainless, corrosion-resistant bearings support high-strength forged aluminum gears housed in an all-aluminum uni-body construction.
The uni-body delivers excellent rigidity benefits, keeping gears in perfect mesh.
However, it also offers an added level of protection against water ingress, eliminating joins where water often breaches.
Gear ratios are perfect for lure anglers, and this is what the reel is best suited for. For those who like to spool up with the lightest of line and cast ultra-light lures, the Smoke PT is ideal.
Spool capacities are less than generous, so unless you're fishing ultra-light mono, this reel is better suited to using braids.
In many respects, the Smoke is all about the sport. This is apparent in its performance, style, ergonomics, and appearance.
The ceramic-carbon drag system is velvety smooth, consistent, and easy to refine. It's been designed to be used in saltwater, so its corrosion resistance is excellent.
With a reasonable level of care and maintenance, the Smoke will deliver out-of-the-box performance for plenty of seasons.
Don't be fooled by the diminutive size. This is a powerful little saltwater spinning reel specially built for the inshore saltwater sports angler.
Pros
Excellent corrosion and water ingress protection
Body strength and rigidity
The lightness of the crank
11 (+1) bearings
Power to weight ratio
Cons
No large reel options
Small spool capacities
>>Check Price on Tackle Direct<<
Features and Specifications
Continuous Anti-Reverse clutch
11+1 Bearings (11PTAC, 1RB)
Changeable Right or Left Hand Retrieve
One-piece aluminum frame
C4LF Carbon Fiber
Ceramic-Carbon Drag System 2.0
Foot Forward Design
Hot Sauce Lubrication
Line Management System 2.0
Maxcast 2.0
PT Anti-Corrosion Bearings
AS PT Gear Design
Razor Rotor 2.0 Design
Reel Engine Design
Saltguard Protection
SCR Alloy
Super Smooth Oscillation
Titanium Bail
Dura-Lok Clutch
What Makes The Best Saltwater Spinning Reels?
The best saltwater spinning reels are those that protect against water ingress and corrosion.
However, I tend not to differentiate between saltwater and freshwater spinning reels. If it can fish the fresh, it'll fish saltwater just as well.
Regardless of your reel features, you should take equal amounts of care each time you use it, especially when it comes to maintenance and cleaning – regardless of fishing the fresh or saltwater.
Just remember, full sealing can add a significant amount to the purchase price. My minimum level of sealing is a sealed drag system.
Especially if it's an oil felt drag system. But that's the same rule for me whether I fish fresh or salt.
I often fish in the rain, so a modicum of sealing is essential. Keeping the water out of working internals is a good idea, whether it's fresh or saltwater.
Frequently Asked Questions
What Is The Best Cheap Spinning Reel?
In my opinion, the Daiwa BG is by far the best cheap spinning reel series. The only qualification I put here is that "cheap" is in the eye of the beholder. 

One man's cheap is another's man's expensive.
Can You Buy A Good Saltwater Spinning Reel Under $100 Or Even $200?
Yes, you can buy a good spinning reel for under 100 or 200. In many respects, your average angler need not spend any more than this.

The fishing reels listed above are fantastic and offer an awesome fishing experience.

Of the reels listed above, I could create a very handy spin reel arsenal that would cover the majority of my favorite fishing applications.
The Under $200 Wrap-Up
The 200 dollar mark delivers great features and an excellent fishing experience if you do your research. There are great reels at this price point that'll impress the pants off your average angler.
From the list above, I'd get a 6000 Daiwa BG for rock and surf. The 14000 Azure for rock, surf, and offshore.
The Stradic FL 3000 for my inshore allrounder, and the Smoke 2500 for my inshore light sports work. And the Conflict 3000 would be my dedicated bass fishing reel.
If I had the spare cash, I'd also add the Daiwa BG 8000 to my arsenal…Just because.
If I were to pick a winner from this group of cheap reels, I'd have to say it's the BG because of the series size options. Daiwa really is setting the pace in this price category.