We hope you love the products we recommend. Just so you know, Fishing Command may earn an affiliate commission from the links on this page, at no extra cost to you
Abu Garcia has gradually refined its product line, with freshwater fishing applications becoming the dominant focus.
Abue Garcia offers many fishing reel options, covering all price ranges and emphasizing affordable fishing.
The spinning reel range is limited relative to its competitors, and the round baitcaster product line retains a freshwater focus.
Abu Garcia may not be the best place to buy saltwater equipment.
However, if freshwater fishing is your thing, AG offers excellent performance reels at a price point that'll suit your budget, including some expensive, top-shelf gear.
Let's check out 5 of Abu Garcia's best fishing reels.
Zenon Spinning Reel – Best Spinning Reel
The Zenon spin reel from Abu Garcia is the company's flagship model. While some may balk at the price that exceeds $500, it's a lightweight and compact reel designed for the more discerning angler.
It's an inshore reel available in only 2 sizes, a 2500 and a 3000. It seems odd that a 2-reel series would have only these two closely matched sizes.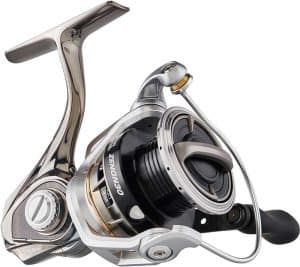 Aside from the spool capacities, the only notable difference between the two reels is a half-ounce.
Some may find that feature compelling, but for me, the half-ounce is irrelevant compared to holding more line of a heavier class.
The 3000 is my preferred option. It holds 180 yards of 10-pound braid, has 11 pounds max drag, and a retrieve rate of 33" with its 6.2:1 ratio.
The 10 + 1 stainless bearings deliver a smooth, reliable crank that's light and responsive. There's zero black play from the anti-reverse.
Its lightweight feel can be attributed to the 1-piece magnesium body. This lightweight feel is also a contributor to the price tag. Nonetheless, it feels incredible in your hand.
I like it for lures and natural baits and would fish it in saltwater, estuaries, and freshwater applications.
It can tackle everything from flounder to mangrove snapper. It's excellent for trout, bass, bluegill, walleye, etc.
Casting manners are particularly good, so I'd happily fish the Zenon from the bank and afloat.
However, it's more a close-quarters fishing reel suited to lightweight sport fishing. I spool it with 6-pound mono using finesse techniques.
Key Features at a Glance
C6 V-Rotor and
Ultra-lightweight Air-Fin Spool
One-piece Magnesium body
AMGearing
Rocket Line Management System
Compact Bent Carbon handle
>>Check Latest Price on Tackle Direct<<
Revo4X Low Profile Reel – Best Affordable Low Profile Baitcaster
The Revo4X LP epitomizes what a modern baitcaster is all about. This is an affordable, performance baitcaster suitable for the lion's share of fresh applications.
This is one of Abud Garcia's most famous reels – it's been incredibly popular. 
The Revo5X has just been released, so now will be a great time to pick up on series 4 bargains.
There are 3 models differentiated by speed. There's a 7.3, 6.5, and 5.4 for the crankers. They are available in left and right-hand retrieve – well done AG!
The fastest reel has a retrieve rate of 30". While this is fine, it's comparatively slower than many competitors.
It will hold 190 yards of 20-pound braid and has an excellent max drag strength of 18 pounds. This is what gives the Revo its versatility.
With a bearing count of 8, you'll love the smooth crank. It performs exceptionally well under load, thanks to the Dragger brass gear.
The bearings and brass gears, coupled with X2-Craftic alloy frame, ensure this reel will last many fishing adventures.
Casting manners are very good, and the magnetic brake system is easy to manage once you've gotten used to it.
Key Features at a Glance
X2-Craftic alloy frame
Duragear brass gear
DuraClutch design
Compact bent handle and star
Carbon Matrix hybrid drag system
D2 Gear Design
MagTrax brake system
Lube port for simple access maintenance
>>Check Latest Price on Amazon<<
Abu Garcia Pro Rocket Ambassadeur 100-Year Anniversary Reel – Best Freshwater Big Fish
If you're an Abu Garcia fan and like chasing massive pike, musky, walleye, and catfish, the Abu Garcia Pro Rocket Ambassadeur Reel is for you.
This Swedish-made model is for those who genuinely treasure their reels. And this is a model built to endure.
It's a 6500 size, has 4 + 1 stainless bearings, and a reliable centrifugal casting brake. The rocket series also has tensioning from both sides of the spool for more refined casting.
The reel looks awesome in all silver, set off by the stainless steel handle. It's a level wind reel ensuring excellent line lay for consistent, dependable casting.
The 5.3 ratio is great for heavy cranking with a retrieve rate of 26". While not quick, you're not going fast with 50 pounds of catfish anyway.
It will hold 220 yards of 50-pound braid, but if I was hunting catfish, I'd spool it with 200 yards of 20-pound mono.
This is an AG enthusiasts reel that if maintained appropriately, will be passed on to your children.
Key features at a Glance
4 stainless steel ball bearings + 1 roller bearing
Carbon Matrix drag
6-pin centrifugal brake
Synchronized level wind
Swedish made
>>Check Latest Price on Amazon<<
Zenon MG-LTX Low Profile Reel – Best High-End Low Profile Baitcaster
The Zenon is Abu Garcia's flagship Low Profile baitcaster. It's a precision reel designed for those who want to fish the best.
It has excellent corrosion protection and is jam-packed full of features, so I'm just as happy to use this reel in the saltwater as I am in the fresh.
The Zenon has 11 bearings including 2 ceramic spool bearings for a finesse feel like no other. Coupled with the Aircraft grade aluminum main gear, the crank is super-light.
Finesse work is much easier, thanks to the IVCB-4 braking system and SLC spool. 
With infinite settings, you can cast the lightest of lures on the lightest of lines, a feature uncommon in baitcasters.
The precision internals are housed in a one-piece X-Mag alloy frame with C6 carbon sideplates.
This is why the reel weighs in at an impossible 4.5 ounces. Strapped to a performance rod of similar pedigree, it's a dream to cast relentlessly over long sessions, free from fatigue.
The recessed reel foot keeps the center of gravity particularly low. Ergonomics are further enhanced, delivering seamless long fishing sessions.
With a ratio of 8.3, I'd expect super-fast cranking. However, the retrieve rate of 31" is slightly slower than its ratio suggests.
The spool holds only 135 yards of 10-pound mono, but it's designed specifically for close-quarters fishing.
The line guide is Ti coated. This reduces friction which mitigates the distance-killing properties of level winds. It also adds working life to your fishing lines.
With a max drag of 11 pounds, you're adequately protected, but trophy fish will require your best efforts.
This is a great feature of the Zenon. It's a precision tool for precision fishing. It's not about bludgeoning the fish to the boat.
It's a dream to cast, with competent anglers able to get lures into difficult places where trophy fish lay in wait.
Given a performance rod, the Zenon is an extension of your arm – it feels like it's part of you.
I could think of nothing better than chasing trout and bass one weekend, followed by a trip to the salt for a kayak session on mangrove snapper. Awesome.
Key Features at a Glance
8 HPCR bearings + 1 roller bearing
2 CeramiLite Spool Bearings
One-piece X-Mag alloy frame
Carbon Matrix drag system
C6 carbon sideplates
IVCB-4 braking system
Infini II spool design
Compact bent carbon handle
Aircraft-grade aluminum main gear
Ti-coated line guide
Recessed reel foot
Lube port
SLC (super lightweight) spool design
>>Check Latest Price on Amazon<<
Zata Low Profile Baitcaster Reel – Best Value Low Profile Baitcaster
The Zata LP Baitcast reel is another popular reel from Abu Garcia. With prices dropping to the lower end of mid-price, the Zata represents outstanding value for those looking for top performance without the high-end price tag.
With 10 + 1 bearings, the Zata is incredibly smooth. Given all the bearing support, you can expect your Zata will perform at peak year after year.
The graphite frame and sideplates are what keep the reel affordable. Without the use of expensive alloys, Abu Garcia can add more features while keeping the price accessible.
The Zata weighs 8.6 ounces, a little heavier than its competitors and twice that of its flagship stablemate, the Zenon.
The weight is not an issue for me and I love the robust feel. And it seems more in keeping with the generous allocation of 20 pounds of Carbon Matrix Drag.
Holding 145 yards of 20-pound braid, you have all the power to tackle muskies and monster trophy bass.
Duragear brass gears offer excellent support for heavy fish battles and will withstand such battles for many years.
The dual centrifugal magnetic brake system, Infini, allows exceptional adjustability, increasing lure and bait options regardless of conditions.
Casting manners are excellent, and as far as baitcasters go, the Zata is easy to learn and master.
Getting used to the brake system may take time and experimentation, especially if you use various lures and baits in contrasting conditions.
The Zata is an excellent value-for-money baitcaster. It's ideal for all skill levels, beginner to expert. I think it's a great reel for the novice graduating to more serious sport fishing.
For even better value, the combo is brilliant. There's a medium heavy and heavy option in 7' and 7'3".
Last update on 2023-12-07 / Affiliate links / Images from Amazon Product Advertising API
The rods are 24-Ton graphite construction – lightweight and balanced. They're ideal for fishing from the bank or afloat and match perfectly with the Zata.
Features at a Glance
REEL
10 stainless steel ball bearings + 1 roller bearing
Graphite frame and sideplates
Carbon Matrix drag
Duragear brass gear
Infini brake system
Compact bent handle and star
Lube port
ROD
24-Ton graphite construction
Custom Winn Dri-Tac rear grip
Texas rigged hook keeper
>>Check Latest Price on Amazon<<
Frequently Asked Questions
Are Abu Garcia Spinning Reels Any Good?
The quality of Abu Garcia spinning reels is reflected in the price. Abu Garcia does have some good-quality spinning reels. 

However, there needs to be more variety, especially for saltwater anglers.
What Country Is Abu Garcia Made In?
Abu Garcia reels are made in China and Korea as well as a few remaining in Sweden. It's model dependent.
Are Abu Garcia Reels Cheaper than Shimano Reels?
On average Abu Garcia is a lot cheaper than Shimano. However, this can be misleading. 

It's always best to compare reels of similar price-point for performance, inclusion, and