It's easy once you know. This little adage definitely applies to identifying baitcaster sizes – sort of.
Even with a good grip on baitcaster sizes and their very loose standards, many people will still need to refer to individual reel specs to ensure they're getting the capacities they need for intended fishing applications.
The purpose of this article is to shed some light on baitcaster reel sizes. 
Most anglers have a pretty good understanding of spinning reel sizes because they're by far the most popular reel type.
Fewer anglers have an understanding of baitcaster sizes. So, let's take a look at baitcaster size basics.
Baitcaster Reel Sizes in Plain English
Low-profile baitcasters range from size 50 through to 400, with 50 being the smallest and 400 the largest. Increments generally follow 50, 70, 100, 200, 300 and 400.
Just to confuse things, some brands will call a 300 a 30 or a 100 a 10.
While this doesn't help the confusion, you can generally work things out by comparing reel sizes with the first digit in mind.
Round baitcasters are similar to spinning reels, using 1000, through to 10,000, and beyond.
Again, there are variations on this theme, depending on the manufacturer. Like all reels, the lower number indicates the smaller reel.
Of course, there are further deviations, such as the ABU Garcia with the Ambassador range offering sizes such as 6600 and 5600.
Why the Lack of Consistent Size Standards?
Specifications within reel sizes vary across brands, sometimes radically. A 100 size reel in one brand may well be the same specs as a 200 reel in another brand.
Specifications also vary within a manufacturer or brand.
For example, a 400 size baitcasters in one Daiwa series may differ significantly from another 400 size Daiwa baitcaster.
When creating a new reel, manufacturers start off with the reel application(s), and therefore reel size(s) in mind.
They try to extract every bit of performance from a reel relative to manufacturing costs.
Generally speaking, manufacturers try to maximize strength and spool capacity while reducing the weight and bulk of each predetermined reel size.
To achieve this, manufacturers must consider gear sizes, materials, drag capacities, waterproofing, and overall balance.Market position/competition is also a factor.
Ultimately it becomes a dance of compromise, which means product specifications will vary to such an extent that rigid industry-wide size standards simply wouldn't work.
With rigid, industry-wide specifications, all 3000 reels would be the same specifications, leaving no room for innovation and variation, seriously limiting design freedom.
In the end, each reel size tends to cover a range of specifications.
In other words, size numbers such as 100 and 300, etc, give a broad indication of reel size and application. Despite the arbitrary numbers, the system actually works pretty well.
Baitcasting Reel Size Chart
| | | | | | |
| --- | --- | --- | --- | --- | --- |
| Reel Size | Weight (oz) | 12 lb Mono Capacity (yds) | Retrieve (Indicative) | Drag (Pounds) | Applications |
| 50 | 5-6.5 | 60-75 | 27" | 7-10 | Light Inshore |
| 70 | 5.5-7 | 80-100 | 30" | 7-10 | Finesse inshore |
| 100 | 6 – 7.5 | 110-130 | 33" | 8-14 | General Purpose inshore |
| 200 | 7-9.5 | 150-220 | 35" | 10-15 | Medium inshore |
| 300 | 8-11 | 240-270 | 35" | 12-18 | Medium-heavy inshore |
| 400 | 10-12+ | 290-345 | 40" | 16-22 | Heavy inshore, nearshore sport |
What Size Baitcasters For What Application?
While it might sound like I'm being trite, the simple truth is small reels for small fish and large reels for larger fish.
Of course, this rule of thumb is more nuanced than this simple explanation. But it's a pretty universal code.
There is quite a bit of application crossover between reel sizes, and anglers have their personal preferences.
For example, some anglers like to fish heavier for landing assurance. Others prefer the sport of fishing lighter.
Geography and conditions also have an impact on reel size selection.
For example, heavy weather, such as wind and rain may prompt an angler to fish a larger reel. Choppy waters might also demand a larger reel.
Some locations with heavy cover, such as reeds and gnarly snags, are also best approached with a little more weight in the reel seat.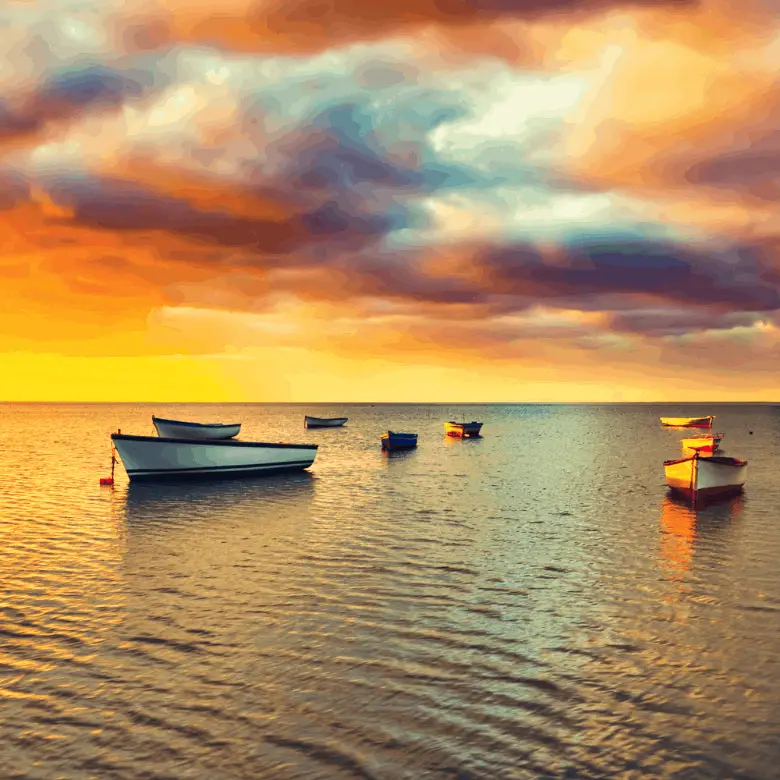 Often, however, we don't need to fish as heavily as we do. The lighter we fish, the better our bait and lure presentation is likely to be.
Most of us will fish a little heavier, counting on the prospect of a prize fish taking a liking to our crankbait. No one wants to be underpowered when a record is on the cards.
Given the welcomed uptake of catch and release, the health of the fish following release is important.
Fishing a little heavier reduces the length of the fight, ensuring the fish is less likely to be exhausted on release, increasing survival chances.
Ultimately, it is your rod that has a big say in the reel size you use. If there was ever a reel that required a balanced rig, it's the baitcaster.
With a spinning reel, you have a reasonable amount of scope for matching the rod to reel outside the manufacturer's recommended parameters before running into trouble.
As the baitcaster requires a more precision cast, even within perfect specs, balancing the rod to reel is critical. An unbalanced baitcaster outfit is a recipe for casting nightmares.
So, while reel size selection is mainly about the fish size you are targeting, there is also a pretty hefty list of rig and application considerations that will determine selection.
Let's have a look at where and when you might deploy particular baitcasting reel sizes.
Small Baitcaster Sizes. Under 100 Size
This reel size covers light inshore and finesse fishing in both saltwater and freshwater.
While primarily used for targeting a small class of fish at close range, the capacities of modern small baitcasters allow for a pretty broad spectrum of targets.
Targets include everything from trout, smallmouth, largemouth, and bluegill to flounder and a smaller class of redfish in the salty stuff.
The focus is on premium presentation with a lighter type of lure and lighter class lines. Max drag power is pretty limited in this class
However, with 10 pounds of stopping power and braid attached, an experienced angler has enough backup and power to tackle a bass your dad would be proud of.
Limitations with this size reel are generally dictated by geography.
Casting small baitcasters with lightweight lines and lures already requires advanced techniques.
Add wind, structure, rain, and wave action, and you have your work cut out for you.
It should be noted that small baitcasters are not the best reel for ultra-light sports applications. In many respects, spinning reels do this better.
Nonetheless, a good casting technique can deliver very satisfying results for the angler with a little more experience.
I like both the Shimano Curado 70 and the Daiwa Steez 700 (even though you'll need to be sitting down when you see the Daiwa price)
The 100 Size Baitcaster
Take a look at the arsenal of any dedicated inshore angler, and you'll be sure to see a selection of 100 size baitcaster reels.
Generally speaking, the 100 is designed for close-quarters fishing. It's a perfect size for drifting in your boat or kayak, pegging whatever lure flipping, pitching, or even trolling.
A 100 size reel is compact and lightweight, which assists fatigue mitigation during relentless rapid-fire casting over long sessions.
The 100, however, is not limited to boat and close-quarters work.
The bank and jetty angler can extract more than enough distance to reach target zones quite some distance from the angler.
Ideal for rivers, estuaries, creeks, ponds land-based or afloat.
Drag will generally max out at around 14 pounds, which is more than enough wrestle for a better class of bass, redfish, and smaller black drum.
While more capable than the smaller reels, you still have access to regular-sized bluegill, flounder, whiting, or trout without coming remotely close to overkill.
Spooled with mono, I have always liked the 100 size for teaching the kids the arts of baitcaster casting. In the hands of an experienced angler, however, the 100 size is incredibly versatile.
When searching for a 100 to boost the reel arsenal, I tend to look for larger spool capacities so I can spool a reasonable amount of mono.
Decent max drag is also a feature, although a secondary desire. I really like to push it against a larger class of fish, extracting all of its potential and versatility.
Interestingly, the 100 size is often the perfect size for one-hand operation.
The smaller sizes (under 100) can be a little awkward for those with larger hands to achieve seamless movement.
Larger reels, with their expanded dimensions, can be a little cumbersome.
The 100 is pretty well always palmable. I.E, it sits neatly in the palm of your hand, which is always a measure of preferred dimensions.
A couple of 100 size reels for you to consider are the Daiwa Tatula and the Daiwa Fuego offering outstanding value, with excellent performance for the price.
The 200 And 300 Size Baitcaster
The reason I have grouped these two sizes together is that there can be a lot of application crossover between these sizes.
Often your decision will be made on a particular reel feature, like drag or gear ratio, or because you're looking for max spool capacity.
Anglers benefit from a huge selection in this reel size. Ultimately, you have all the application access of a 100 size, with added distance and the chance to target pretty substantial fish.
This size category is very popular with lure anglers chasing bigger fish.
While you have all the capacity you need to wrestle large inshore species, you're still keeping the size and weight down.
When you're chasing reds or blacks inshore, there's an expectation you'll be targeting less mature fish.
However, there's a very strong likelihood you'll come across a brag-worthy monster.
The extra drag and spool capacity add the fighting power you need to subdue fish of a size you might not have expected.
A 300 will have up to 18 pounds of max drag, possibly more with some reels. Because of the baitcaster's low center of gravity and natural strength, you stand a great chance of beating any monster.
For example, You might be casting lures from a seaside rock wall for decent-sized stripy or reds when a surprise Tarpon hits your lure. With a 300 strapped to your modest rod, you're at least in with a shot.
Despite the prevalence of braid, there are still many anglers preferring mono or use mono in their line-up. A good reason to use a 300 is the extra spool capacity when using mono.
These days, spin reels of a relative size have far greater max drag capacity. What your baitcaster lacks in max drag, can be backed up by spool capacity.
This can be an advantage when spooled with a lesser amount of mono.
There's a huge number of options in this class that I would include in my kit.
Check out the Shimano Tranx, an excellent option for the 300, if a little pricey.
For the 200, I find it hard to go past the Quantum Smoke HD. Great value for money and excellent versatility.
The 400 Size Baitcaster
The 400 size baitcaster is my preferred size, mostly because of my applications. But there's an ergonomic preference for me due to my club-like hands, making this size a little easier to manage.
I'm a saltwater angler, and I like to chase a larger class of fish. I also prefer to have a modest reel arsenal, using reels that cover many applications instead of having shelves of limited purpose-specific gear.
This is why I gravitate toward the larger 400 low-profile baitcaster.
The 400 size baitcaster is the largest of the low profile range and is usually designed for heavier applications.
Smaller 200 and 300 sizes may be classed as heavy-duty, but it's the 400 that can justify the HD designation.
A 400 reel can tackle just about any fish you'll encounter inshore. Given its spool and drag capacities, you also have access to plenty of near sure applications and a selection of offshore applications as well.
The PENN Squall and Fathom 400 are great examples of low-profile baitcaster potentials. They have a capacity to hold 285 yards of 30-pound braid.
There are over 25 pounds of max drag. Gear ratios are high, so retrieving larger metal slugs or stick baits is easy.
So, I can use the same reel to tackle Dorado or GT's near my favorite reef. I can cast swimbaits at big drum out in the bay.
I can also cast at bluefish in the surf and handle the difficult conditions commonly found surf-side.
This is the sort of reel I'd take to hunt the monsters that lurk in spillways and under bridges.
However, I'd be more than happy to spool with a much lighter line and attack a larger class of bass.
The 400 sizes add significant reach from land-based positions. A competent caster will get a significant distance from a well-balanced rig.
You also have the structural pulling power of the 400 frame to encourage larger, snag-bound predators from their protective hideouts.
While you lose the rapid-fire one-hand operation, the casting efficiencies apparent in most baitcasters are far from diminished.
You still have plenty of casting versatility and variety.
While a little pricey, I think the PENN Squall and Fathom warrant serious consideration, particularly for those wanting a low-profile weapon for chasing a larger class of fish.
The ABU Garcia Revo Beast X is also worth a look and has enjoyed some popularity with those seeking a little more horsepower.
What Size Baitcaster Should You Use for Bass?
In reality, you can point any size baitcaster in the direction of bass. There's a heck of a lot of personal preference that goes into making a baitcaster selection for bass.
Firstly, are you looking for the thrill of landing bigger with smaller. In which case, go for the 50 or 70 for heart-in-your-mouth moments.
Just remember you'll have to consider conditions with such light gear. If the winds up and the cover is heavy, you might have to reconsider.
You're also limited if you're casting from the bank. There's only so far you can get with such a small class of reels.
The 100 size with its all-rounder status is an excellent size for bass. Again, you might find yourself a little underpowered for tough conditions.
And you're better off fishing braid with a 100 size. While effective enough from a land-based position, the 100 is generally a better option from a boat or kayak.
For my money, the 200 is where it's at for chasing bass. You have enough reach from land and a palmable size that's well suited to rapid-fire casting on the drift.
The 200 allows you to fish a little heavier to counteract poor weather and wind.
For really poor conditions, such as wind, gnarly snags, reeds, and lily pads, the 300 gives you a little more stability. It is also a good option if you intend to fish mono.
The 400 size is pretty substantial for chasing bass, and I'd probably never choose such a size specifically for bass.
There are benefits for battling heavy cover and poor weather, and there are also benefits for spooling mono.
However, the only reason I think I'd choose a 400 for bass is if I were deliberately chasing record-size fish from the ugliest of lurks.
What Size Baitcaster Reel Should I Get?
This is a common question, and I've answered it more or less in the last section on bass. The key consideration is your application(s).
For an inshore allrounder with plenty of versatility and forgiveness, a good 200 size covers you for the saltwater and the fresh.
If you're a sports angler and love the lightweight approach, go for the 100, as you still maintain a level of versatility that the smaller reels don't really offer.
For those wanting to cover a larger class of fish and demand access outside the heads and surf-side, the 400 will deliver.
While technically overkill on smaller fish, it will never feel like overkill.
Reel size selection demands its own article; such are the options and choices to be made. If you follow the advice outlined here, however, you're unlikely to go wrong.
Think about where you're fishing, what you're targeting, and the prevailing conditions, and a baitcaster size will reveal itself.
Remember, unless you intend to buy a rod to match your baitcaster, the rod with which you intend to mount your reel will have the final say on your baitcaster size selection.
A balanced baitcaster outfit is critical.
The Baitcaster Size Wrap Up
Understanding baitcaster sizes can be a little tricky to the uninitiated. However, this article and a chat with the pro at your local tackle shop should demystify the peculiarities to a point where confident decisions are possible.
Ultimately, and for most anglers, it's big reels for big fish, and small reels for small fish.
If you formulate from this foundation, you're more than likely to get the baitcaster size that's ideal for your application.
The most important tip is this. If you're matching a reel to an existing rod you wish to use, take it with you, or take note of the specs that are written on the blank, just above the grip. Balance is key.