We hope you love the products we recommend. Just so you know, Fishing Command may earn an affiliate commission from the links on this page, at no extra cost to you
Recently I've managed to use a variety of Abu Garcia rods at different price points for several fishing applications.
The results surprised me a lot. 
Many of their rods are in keeping with the reputation of a fishing manufacturer that has endured over a century of fishing evolution.
ABU Garcia rods are good – and some are outstanding. 
Let's have a look at ABU Garcia Rods. My immediate advice is that they're a brand that all inshore anglers should consider, as some models are precision works of art.
Is Abu Garcia a Good Rod Brand?
For many older anglers, Abu Garcia was always an alternative to Penn and the big Japanese brands. 
I had Abu Garcia rods and reels, including a massive telescopic surf rod.
Their acquisition by Pure Fishing made me cynical about their direction, and I lost touch with much of their gear, apart from some of their high-end reels.
It's been a while since I've seriously considered their rods. 
And it turns out I've been missing out on some phenomenal rods.
Is Abu Garcia a good brand? Yes. If you're in the market for an inshore rod between 7' and 8', you must check out Abu Garcia.
Are Abu Garcia Rods Good Quality
According to my experience, ABU Garcia rods are of good quality for their price. Often, the quality exceeds the asking price.
There is only one area where Abu Garcia needs to improve: quality of choice. 
Over the years, AG has narrowed its focus to inshore, mostly freshwater applications, with the bulk of its offerings covering ultra-light light and medium power.
This has been beneficial, as the performance of many of these rods is exceptional.
What Are The Best Abu Garcia Fishing Rods?
The rods listed below are some of the best on offer from Abu Garcia. I've included several price points, three casting rods, and a spin rod.
Abu Garcia Fantasista X Spinning Fishing Rod
The Fantasista deserves a quality spinning reel strapped to it. A good option is a 2500 compact spin reel loaded with mono or braid.
There are 4 models, medium light through to medium heavy, with lengths varying slightly between 6'10" and 7'6".
The full graphite blank features AG's proprietary Powerlux™ 500 resin technology. The blanks are incredibly light yet powerful and sensitive.
Those a little hard on their gear or accident-prone will appreciate the shatter resistance of the high-tech resin blank.
It features titanium alloy guides with ultra-light Zirconium inserts. 
After testing it, I found the ROCS™ (Robotically Optimized Casting System) ideal for casting my light soft plastics further in the wind.
It also looks fantastic in all black.
>>Check Latest Price on Amazon<<
Abu Garcia Zenon Casting Rods
The Abu Garcia Zenon casting rod is AG's flagship fishing rod series. It's available in 3 sizes and 4 power ratings.
The 7' rods are medium and medium heavy. The 6'9" is medium-light, and the 7'2" is rated as heavy.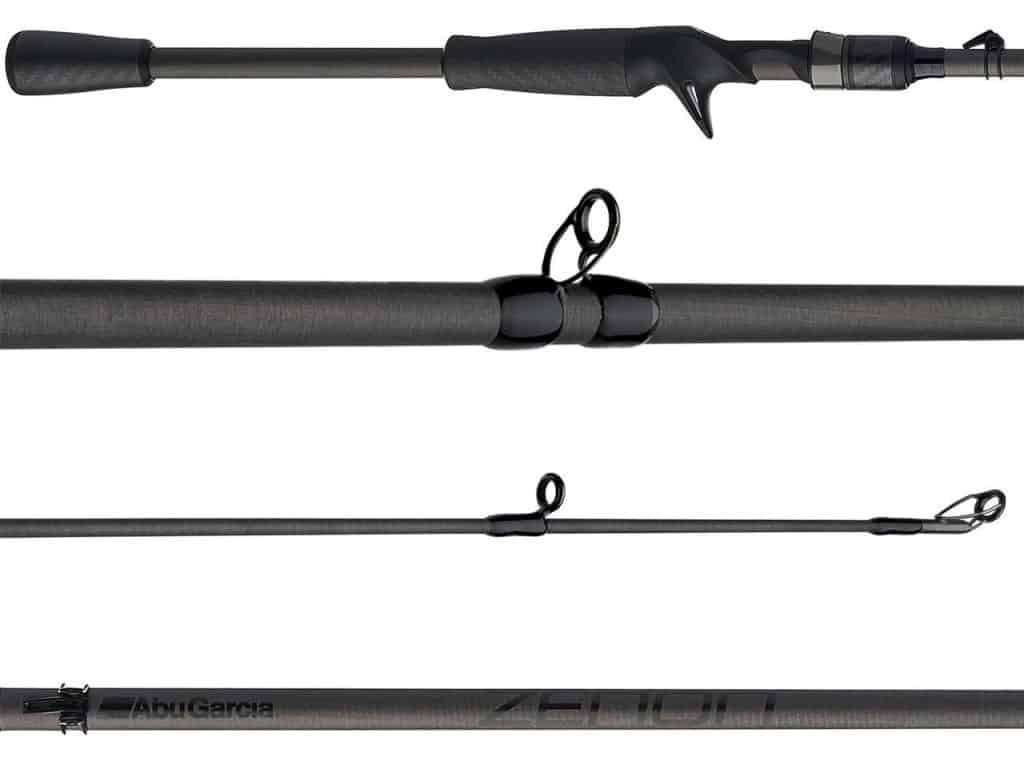 Premium features include Powerlux 1000, Carbon split grip design, ROCS, and titanium alloy guides with ultra-light nitride silicon inserts.
It makes a lot of sense to pair this rod with Abu Garcia's Zenon baitcasting reel.
While this combination will work great together, it does make the rig a bit expensive. I like the medium model, rated 10 to 15 pounds, for casting various smaller hard bodies at wily bass.
This is one of the lightest, most sensitive rods you'll feel and will perform like an extension of your arm when rigged correctly.
The more discerning angler will appreciate this rod's top-shelf performance and quality.
Abu Garcia Virtual Casting Fishing Rod
Just because your budget is strict doesn't mean you must miss out on a reliable, stunning-looking rod and innovative tech.
The Virtual lets you hook up to your rod via Bluetooth, and record catches, location, and weather.
Perhaps a little gimmicky, and one might question the value of the technology, but the kids will love it.
Moreover, it features stainless steel guides with Zirconium inserts on a 30 Ton graphite blank. The high-density EVA grips deliver a great feel and sensitivity.
There are 4 sizes from which to choose, but I like the 7' medium heavy model for casting baits and lures from docks and jetties.
>>Check Latest Price on Amazon<<
Abu Garcia Veritas Casting Fishing Rod
The Veritas label is perhaps the best-known brand in the Abu Garcia rod line. Its all-white color with red accents makes it stand out in a crowd. Nobody is in doubt about the rod you're using.
This is one of AG's most popular casting rods, and it's earned its popularity via good old value for money.
This is a fantastic rod considering the accessible price point. And there's a comprehensive range of power and length options to suit a broad range of applications.
Features include Powerlux 100, the ROCS guide train, titanium alloy guides with ultra-light zirconium inserts, and Closed Cell EVA grips.
There's a model suitable for bass through to medium muskies, pike, and walleye, whether you're fishing afloat or land-based.
>>Check Latest Price on Amazon<<
The Best Abu Garcia Rod and Reels Combos
While I'm not the biggest fan of factory combos, AG has some excellent options I recommend.
These spin and casting combos deliver quality, feel, and performance, impressing the more seasoned angler with a critical eye.
Abu Garcia Revo X LTD Spinning Reel and Fishing Rod Combo
Sporting a 3000-size reel on a 7' medium power rod, you have a line rating of 6 to 12 pounds, providing access to all types of fish.
The Revo has 11 pounds of drag that is supported by a spool that'll hold 140 yards of 10-pound braid.
Designed for freshwater applications, I like it for light salt work in estuaries where it's great for targeting flounder to mangrove snapper – when you're tired of bass and bluegill.
Reel features include 6 stainless steel HPCR bearings + 1 roller bearing, Carbon Matrix hybrid drag system, and AG's IM-C6 body design.
The Rocket Spool Lip Design is supported by slow oscillation for excellent line management and consistent, predictable casting.
The rod features a 24-ton graphite blank fitted with stainless steel guides with zirconium-coated inserts.
This is value for money in a very smart-looking package.
>>Check Latest Price on Amazon<<
Abu Garcia Zata Baitcast Low Profile Reel and Rod Combo
This is a brilliant combo for a young angler graduating from entry-level gear and stepping into more serious angling.
Perfect for fishing land-based or afloat, this is a popular combo for anglers of all skill levels.
Like the spin model above, I like this combo for fresh and inshore saltwater applications.
It's available in 4 sizes, but the standout is the 7'3" heavy power model, with the reel spooled with 145 yards of 25-pound braid.
In the fresh, you've got serious power to chase bigger muskies. In the salt, I'd be hunting big stripers and big drum.
Reel features include 10+1 stainless bearings, graphite frame, sideplates, and a Carbon Matrix drag system with a max drag of 20 pounds.
It's a fantastic-looking rod featuring a 24-Ton graphite blank, custom Winn Dri-Tac rear grip, and a convenient Texas-rigged hook keeper.
>>Check Latest Price on Amazon<<