We hope you love the products we recommend. Just so you know, Fishing Command may earn an affiliate commission from the links on this page, at no extra cost to you
The Abu Garcia Revo SX is now in its fourth generation. Released in 2017, it remains current and has a loyal following.
It has undergone four iterations over the years, allowing ABU Garcia to optimize performance and specifications.
Jam-packed with the latest technology and features, the Revo SX will suit the broadest range of inshore applications at a price that won't hurt the bank balance.
Sitting in the lower half of the mid-range market segment, it will encourage some anglers loyal to Japanese brands to rethink what is the right balance of performance and value.
Let's check out the gen 4 Revo SX in a little more detail.
Abu Garcia Revo SX Review 2023
The Abu Garcia Revo SX is primarily used by freshwater anglers looking for largemouth bass and mega muskies.
But given its alloy frame and other corrosion-resistant components, the Revo will brilliantly serve the saltwater angler.
It's an ideal model, particularly the estuary angler, land-based and afloat, hunting big red and black drum, snapper, and others.
With 24 pounds of drag and a spool that'll hold 140 yards of 30-pound braid, you're well-armed for tackling trophy fish.
The Infini II spool design has enhanced casting and allowed for greater line loads – handy for mono anglers.
Those fishing with lighter gear or hunting a smaller class of fish are also well catered for, as the Infini brake system takes the fear out of fishing light.
The Infini brake system is dual centrifugal/magnetic. While I'm not one for complicated features, this system works well with little to no fuss.
It's not difficult to learn, but it will take a little time and experimentation to get savvy with the settings.
But those casting lighter lures and difficult lures that plane and react to the slightest breeze will enjoy the fine-tuning.
In testing, we managed to back the brakes off altogether and still manage to avoid serious overrun.
In this regard, I like the SX for those new and inexperienced with baitcasters. It's a very forgiving reel, which is necessary for those learning the trade.
Available in two speeds, I prefer the 6.6 for versatility. It's quick, but not so much that working cranks is a chore.
The 7.2 will suit the anglers looking to flip and pitch. Speed's a premium these days, and the 7.2 SX allows the more focused angler to work a target zone in less time.
The X2-Cräftic alloy frame is one-piece, rigid, and reasonably lightweight. Importantly, it keeps the gears protected, working in perfect mesh, transferring all power to the fight.
The Duragear brass gear adds to the weight, but most will agree there's nothing better than reliable strength and durability.
D2 Gear Design was one of the upgrades for gen 4. ABU promises greater efficiency and durability, but I'd need to use it with a gen 3 for direct comparison.
Whatever the case, it's a particularly smooth crank that inspires confidence under load, encouraging you to look for big fish,
When testing cast distance, I hooked a black drum from what seemed like 100 yards away, and the crank was seamless, throughout its belligerent dives for cover.
The gearing feels beautifully meshed, and I've no doubt the 9 corrosion-resistant bearings contribute significantly to the buttery feel.
The 10th bearing is the clutch. ABU's DuraClutch has no back play and works as it should when striking. Time will tell if it's as durable as promised.
During battle, the Abu Garcia Revo SX has your back. The carbon washer Matrix Stack system is smooth, reliable, and predictable throughout the range.
With 24 pounds of pressure, you're turning just about anything toward the boat. 
Again, confidence is a feature – spooled lightly, you still feel in charge even though the fish weight exceeds your line class.
The Abu Garcia Revo SX baitcasting reel looks good, feels great in your hand, and delivers in all key performance criteria. 
At this price point, it's hard to pass up.
>>Check Latest Price on Amazon<<
Main Features of Abu Garcia Revo SX
For this price point, the Revo SX inclusions are quite remarkable. Let's check out some of the key features. 
X2-Cräftic Alloy Frame
The one-piece alloy frame is strong and rigid, keeping the gears meshed and protected. It ensures all power is transferred to the fight while under heavy loads.
The absence of twist prevents poor gear alignment, which can lead to slop, poor power transfer, and damage to gears.
The alloy frame is the foundation of SX corrosion protection. Even in saltwater environments,  the SX frame will endure splash and spray so long as it's cleaned following each session.
While not the lightest reel, the alloy frame does keep weight down. It's far lighter than a steel frame, yet stronger than synthetics.
Infini Brake System
I always return to the cold hard fact that effective casting is up to you, your technique, and your rig.
But there are some braking systems, Infini included, that do assist the angler in mitigating overrun.
I cast heavy and light lures and found the fine-tuning very useful and effective.
It was also pretty easy to use, but I spent some time experimenting and still didn't grasp its potential.
Bottom line, I'd recommend it for those new to baitcasters. With instruction, they'd be casting with little trepidation pretty quickly.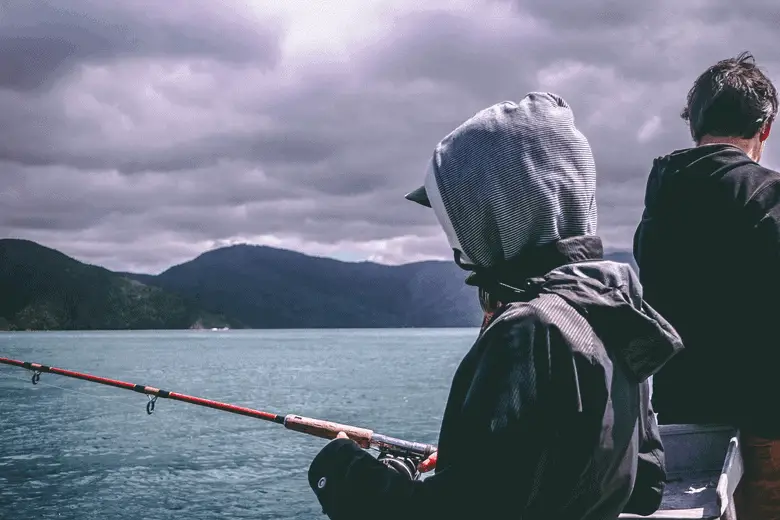 Everslik Coated Pinion Shaft and Pawl
No doubt this coating is responsible for the silky smooth feel. Clearly, friction is reduced – you can feel it.
These coatings have become quite popular with many manufacturers because of the out-of-the-box silky feel they deliver.
ABU promotes wear reduction. However, the coating must eventually wear. 
Does the coating chip leave nasties in your gears, and is slop created as more of the coating wears off or when it wears unevenly?
Infini II  Spool Design
Even with minimal brakes, the Abu Garcia Revo SX isn't the longest-casting baitcaster I've used. 
But in the hands of a confident angler, you can get it out into a distant strike zone.
Importantly, the spool capacities are generous, which the mono fans will undoubtedly appreciate.
Ti Coated Line Guide
The SX has a sturdy level wind, smooth and fluid. It's difficult to assess the efficacy of the Ti coating, but anything that reduces friction is likely of value.
Again, my question with coatings is durability.
Power Stack Carbon Matrix Drag System
The drag is smooth and powerful. At 24 pounds, you're not likely to need it wound up tight. 
It's nice to know you have extreme stopping power should a trophy fish take your lure.
Duragear Brass Gear
While adding to the weight, many of you will agree that any reel designed for a larger class of fish deserves brass or stainless.
Housed in its highly rigid cage, you can expect a great working life from your SX as a go-to everything reel.
Pros and Cons List
Pros
Excellent spool capacities
Great casting manners. Nice reel for beginners to learn baitcasting reels
Smooth and powerful high-capacity drag
Great looks
Ergonomic design
Brass gears for strength and longevity
Affordable quality with lots of tech features
Cons
A little heavy by modern standards
The durability of special coatings is a bit of a mystery
>>Check Latest Price on Amazon<<
Alternatives
For a similar performance and price, I like the LEW'S Fishing Tournament Pro. You get all the power with an added bearing and more gear options.
Lew's TP1SHA Tournament Pro LFS Speed Spool Bait Cast Reel, 7.5:1 120/12, RH, ACB, 120/12 - 31" Black
LEW'S TOURNAMENT PRO SPEED SPOOL: Baitcast reel features a one-piece aluminum frame with lightweight carbon side plates and a machined, double anodized aluminum 20-hole drilled U-shape 34mm spool
ZERO REVERSE: Premium 11-bearing system with stainless steel double-shielded ball bearings and Zero Reverse one-way clutch bearing
SPEED GEARS: High strength solid brass Speed Gears, cut on precision Hamai CNC machines
P2 SUPER PINION: The P2 Super Pinion bearing supported pinion gear provides precise alignment and solid stability, resulting in for a smoother operation and extended gear life
Last update on 2023-12-07 / Affiliate links / Images from Amazon Product Advertising API
Drag capacities are slightly less, about 4 pounds. But such a small difference shouldn't be a deal breaker.
The other reel I like as an alternative to the SX is the Quantum Smoke HD Baitcast Fishing Reel.
Quantum Smoke HD Baitcast Fishing Reel, Size 200 Reel, Left-Hand Retrieve, Continuous Anti-Reverse Clutch, Large EVA Handle Knobs, 6.6:1 Gear Ratio, Black
ULTRA-DURABLE PERFORMANCE: The Quantum Smoke HD size 200 baitcast reel has been quality engineered from top to bottom. So while most of the fishing industry focuses on smaller reels with tiny spools, the Smoke HD is designed with a noticeably oversized 95 mm handle with large EVA padded handle knobs. The strong aluminum frame and gear side cover with a zero friction spool design will keep you fishing for years to come
TROUBLE-FREE USE: The Quantum Smoke HD reel features a right-hand retrieve, aluminum spool, saltguard protection and 7 bearings (6 + Clutch) to take on any fish in any element. The Continuous Anti-Reverse clutch provides immediate hooksets and super smooth performance for any application
SUPERIOR DESIGN: This baitcast reel features a 6.1:1 gear ratio and a 28 IPT (inches per turn) for a smooth and consistent retrieve. The ceramic carbon drag system can hold up to 25-pounds of max drag giving you the ultimate in design and strength to reel in your prized catch
VERSATILE USE: With a mono line capacity of 180/12 yds/lbs and the ability to hold up to 230-yards of 30-pound braided line, this reel offers smooth performance and unrivaled durability. Ideal for targeting medium and heavy species from walleye to bass, catfish, striper and more
Last update on 2023-12-07 / Affiliate links / Images from Amazon Product Advertising API
While there are only 6 bearings, the Smoke is the closest to the SX in terms of power and big fish potential with its 25 pounds max drag and high spool capacity.
Frequently Asked Questions
How Much Line Does a Revo Sx Hold?
The Revo SX holds 140 yards of 30-pound braid and 140 yards of 12-pound mono. This is more than enough for close-quarters fishing.
Is the Abu Garcia Revo Sx Good for Saltwater?
The Abu Garcia Revo SX has excellent anti-corrosion properties and is well-suited to saltwater fishing. 

Like any reel, it should always be cleaned after each session to avoid the onset of corrosion.
Where Is the Abu Garcia Revo Sx Made?
The Abu Garcia is manufactured in China and Korea. But it's not about the location; it's about the company's quality procedures that determine consistency. 
ABU Garcia Revo4 SX Baitcaster Verdict
At this price point, the Abu Garcia Revo is a great option for those wanting access to a larger class of fish from inshore hunting grounds.
It also beats paying the high-end prices of the big brand Japanese manufacturers. The SX offers a performance that will impress the more discerning anglers.