We hope you love the products we recommend. Just so you know, Fishing Command may earn an affiliate commission from the links on this page, at no extra cost to you
The Abu Garcia's Max Pro is one of those reels that makes us wonder why we pay more for our baitcaster reels.
Sitting squarely at an entry-level price point, its performance and fantastic looks far exceed its modest asking price.
With a couple of spools loaded with different line classes, you only need the Max Pro to cover the lion's share of inshore applications.
It's ideal for the angler on a budget, needing one reel to cover all of their inshore applications.
While targeted at price-conscious anglers, its refined, ergonomic feel ensures the most discerning anglers will appreciate it.
Let's take a closer look at the Abu Garcia Max Pro.
Abu Garcia Max Pro Low Profile Baitcasting Reel Review
The Latest Abu Garcia Max Pro has become a very popular reel in the US. Given the competition in this market segment, that's high praise.
The Max Pro highlights the progression of baitcaster technology relative to price point. The features and performance available at accessible prices are now remarkable.
With 15 pounds of max drag and weighing in at a touch over 7 ounces, the Max Pro is a palmable pocket rocket.
Marketed as a freshwater reel, I find this designation limiting. I'd use it regularly in saltwater without concern.
While it lacks the sealing of more expensive models, the graphite and alloy construction, stainless bearings, and brass gears make it well suited for saltwater use – Just clean it, and don't dunk it.
Excellent for close-quarters fishing, it holds 30 lb/120yd braid and 12 lb/120yd mono. You have light and heavy applications easily covered.
With a 7.1 ratio, crankers will find it a little fast yet workable. It's ideal for flipping and pitching and any faster lure work.
There's not a fish cruising the inshore habitats that's not a viable Max Pro target. Don't be worried to up your lure size in the hopes of trophy bass, walleye, drum, or snapper in the salt.
It's an ideal reel land-based or afloat. Casting manners are particularly good, and I recommend it to those new to baitcasters.
It's a great size for kayaks. 7 + 1 stainless bearings deliver excellent support to all critical moving and rotating parts. The crank is silky smooth, especially under load.
While testing can't provide definitive evidence of longevity, we'd speculate the Max Pro is a good investment.
The Mag Trax brake system is easy to master with a session of experimentation. Easy adjustment removes much of the fuss you get with other baitcasting reels.
Casting mid to heavy lures was a breeze once we had it dialed in. Lighter soft plastics were a little challenging in the wind on 10-pound mono, but again, experimenting steered me to a viable comfort zone.
The spool capacity is not huge, but it doesn't need to be. Given the smooth, powerful drag, you can fish a 15-pound braid for more spool capacity.
For those hunting monsters, such as big catfish or muskies, the spool will hold 80 yards of 50-pound braid – hang on tight.
Given the brass gears, you're in with a shot at monster fish should you be taken by surprise. But it's not the reel I'd use to deliberately target such heavyweights.
I think too many battles with trophy fish will make the frame flex, and the internals wear faster.
For my money, the Max Pro is an excellent go-to inshore allrounder for budget-conscious anglers seeking refined yet hardy performance.
It looks fantastic, delivers under pressure, and compliments the joy of fishing. This is what entry-level fishing should look like.
>>Check Latest Price on Amazon<<
Things to Consider Before Buying a Low-Profile Reel
When buying a low-profile baitcaster, my primary considerations are where I'll fish it, how I'll fish it, and for what.
If your application is very specific, like cranks for bass, you can select features that suit this technique, such as slower speeds, robust construction, and modest max drags.
For various targets and applications, we need an all-rounder – we need versatility. We'd seek larger spool capacities and more refined brake systems with finer adjustments.
Stronger drag systems are advisable for tackling heavier fish. We'd also need greater spool capacities with easy, quick change spools for upping or downing line class.
Speeds of 6 to 6.5 are great for versatility. We'd also like a baitcaster that's equally at home casting mono as it is braid.
I always prefer alloy frames and side plates with brass gears and a bearing count of at least 6 plus the clutch.
When looking for an allrounder, we want a reel that will perform well for small targets and wrestling trophies.
For beginners and those new to baitcasters, buying a reel with a forgiving casting system is always better.
By and large, most modern baitcasters have casting manners that are serviceable enough for the beginner. But some are better than others.
Unfortunately, braking systems come down to feel. That which appeals to one angler might be problematic for another.
A wise angler looking to get into baitcasters will first test the differences between easy-casting models and those that require more experience.
Importantly, understand your application and budget before you select a brand. Your perfect baitcaster may well be a brand you hadn't considered.
Features and Benefits of the Abu Garcia Max Pro
7 Stainless Steel Ball Bearings + 1 Roller Bearing
Large stainless bearing compliments are now common in cheaper reels. The crank of the Max Pro is particularly smooth.
The infinite anti-reverse is solid and reliable in assisting anglers in setting the hooks. The question with bearings centers on durability.
For those anglers with regular cleaning and maintenance routines, we predict the bearings will perform at peak for many seasons.
Like any precision tool, without servicing, the durability of the bearings is impossible to determine.
Machined Double Anodized Aluminum Spool
The spool feels balanced and rotates free of vibration. While not the deepest, most extensive spool, it's ideal for close-quarters work, keeping with the reel's design.
Power Disk Drag System
On test, the drag system was smooth, reliable, and predictable. We didn't catch anything brag-worthy to test its limits.
But a 6-pound black drum caught under a bridge while we tested casting light mono lines and soft plastics demonstrated very solid performance.
Again, durability will be the question, but with reliable maintenance, you can expect better than reasonable longevity.
Duragear Brass Gear
This is one of the big selling points for me. I like to see brass gears in entry-level reels. It demonstrates the manufacturer has designed a serious reel for serious work.
Under extreme loads, I expect the frame to fail before the gears. Under normal loads and conditions, this gear will operate at peak for countless sessions.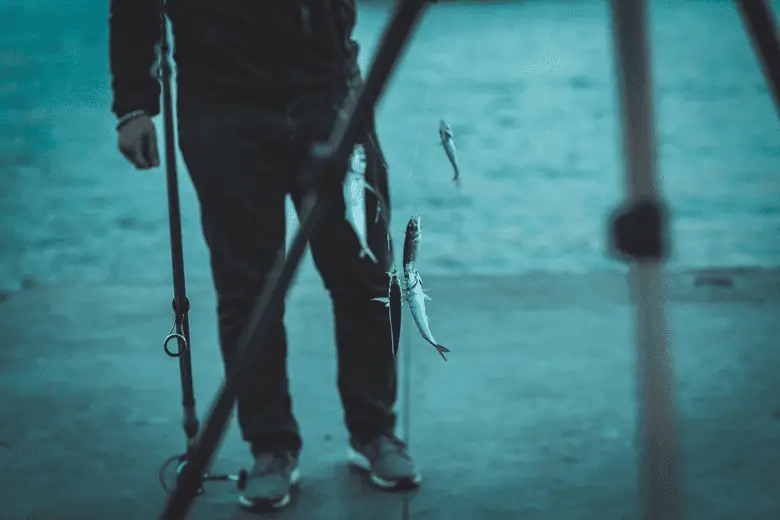 Mag Trax Brake System
The MagTrax system is easy enough to master and refined enough for casting lighter lures. I like the ease of adjustment and the balance of brake-to-thumb action.
It may take a little experimentation to work out rigs and line class for light lure work, but a reliable balance is achievable.
Compact Bent Handle and Star
Cranking and drag adjustments are fluid and will become second nature after a short time. The ergonomics are sound, with nothing clunky compromising smooth handling.
One-Piece Graphite Frame
Great for weight and corrosion resistance, the graphite frame allows ABU Garcia to sell the Max Pro at an accessible price.
While we all prefer alloy, there has to be a compromise somewhere to keep things cheap. Having said that, under normal use, the frame will hold its shape and protect the gears.
A Quick Word on the ABU GARCIA Max Pro Spinning Reel
The ABU GARCIA Max Pro Spinning Reel would be a great reel for those looking to pair a spinning reel with their baitcaster.
Starting at well under 50 bucks, there are 5 sizes from which to choose, covering all inshore and surf applications.
While absent of the bells and whistles we seek in modern spinning reels, the basic performance is commendable – especially at this price.
If you have an enthusiastic young angler in the family, the combo of the Max Pro Baitcaster and the Max Pro spinning reel will make a brilliant gift, likely to inspire a lifetime of fishing passion.
This is an ideal, inexpensive duo that offers genuine performance, durability, and versatility.
There's enough scope in these two reels for a young angler to provide an outstanding fishing education.
>>Check Latest Price on Amazon<<
Frequently Asked Questions
Is the Max Pro a Good Reel?
Yes, the Abu Garcia Max Pro is a good quality reel. At this price point, the Max Pro offers excellent value for money. As stated in the intro, the Max Pro is proof that we don't need to spend big money to get good baitcaster performance.

The Max Pro is an ideal choice for any angler tight on available fishing coin, but still wanting a reliable, versatile inshore baitcaster that's a joy to fish.
What Is the Gear Ratio on A Pro Max?
The Max Pro has a gear ratio of 7.1:1 with a retrieve rate of 28 inches. This is quick enough for those wanting rapid cast/retrieve ratios but not so fast as to hinder the crankers.
How Much Line Can an Abu Garcia Pro Max Hold?
The Max Pro is designed for close-quarters fishing; hence the spool capacities are not huge. Mono capacities are 150/10 120/12 85/17, and braid capacities are 155/20 120/30 80/50.

I like the Max Pro for fishing either line type. However, if you're hunting for something bigger, I'd strongly recommend sticking with your preferred braid.
Is Buying a Pro Max Worth It?
In my opinion, the Max Pro is definitely value for money and, therefore, worthy of your hard-earned money.

While this is just my opinion, I'm not alone. The latest Max Pro is particularly popular. Its previous models also have been very popular.

Performance, durability, and reliability for this price are considered good by any reasonable angler.

The Abu Garcia Max Pro Low Profile Baitcasting Reel is a fine choice, with a performance and feel that will impress.