We hope you love the products we recommend. Just so you know, Fishing Command may earn an affiliate commission from the links on this page, at no extra cost to you
Many of us frequently chase trout in our abundant rivers and streams.
There are many rigs and techniques that are common, unique, or variations on a popular theme.
I'm a fan of simple rigs such as Carolina Rigs and Spinner Rigs. But I also know I have to rig to local conditions for the best results.
The same methods work for rivers and streams, but differences in geography should be considered when rigging for trout.
Let's look at proven trout rigs for rivers and streams.
How Do You Rig for Trout in a River or Stream?
If you know a location well, you'll have a rig in mind before you go. You'll also have your baits and techniques selected.
I mostly use three rigs for trout, with subtle variations, depending on the conditions.
My favorite is a classic spinner rig. The most common rig I'd use would be a Carolina Rig – it's simple and productive.
But I'll also deploy a bobber rig. There are times when a bobber rig is necessary to fish a location.
The Carolina Rig
The Carolina rig is like a default setting for me. I believe it's the rig of choice for countless trout anglers across the states.
The reason it's so popular is that it's easy to tie, very effective in various conditions, and catches fish.
There are several advantages the Carolina rig has over other rigs. The first is that it's great for a variety of baits.
Depending on where you're located, corn or powerBait are very effective bait for all trout species.
The small hooks we use, often around size 6, are perfect for these baits.
At the same time, we can hook a minnow through the moth, thread a worm, or load up maggots and a host of local seasonal bugs the trout might be targeting.
The Carolina rig is also effective in either deep or shallow water. You can select a large target zone casting at shallow points or deep holes without changing rigs.
The Carolina rig is easily adjusted to suit conditions. You may be faced with fast-moving water or slow. There may be wind, or you might have to cast at heavy snag-ridden cover.
Another variable is the casting distance. We may be casting less than 30 feet. We might also find that there's a long cast required to get to the cover on the opposite bank.
Adjusting a Carolina rig is all about understanding the impact of the lead weight and length of the leader.
A good starting point for a leader is about 2 feet in length. I'd adjust down incrementally if casting accuracy and length are required.
I'd only adjust up if I'm using a power bait that I'd like to float at a particular depth of the bottom.
I prefer a sliding sinker, and I'll only use the bare minimum for casting and holding.
If I'm casting upstream, allowing the current to bring the bait past me and downriver, I'll use an impossibly light snicker to avoid getting hooked on the bottom.
I will use the Carolina rig whenever the conditions allow. It's very rare that this rig can't be deployed.
Indeed, that's its strength. It is probably the most versatile trout rig for rivers and streams and is an excellent option for trout anglers of all skill levels.
Land-based or afloat, the Carolina rig is a first-choice rig.
Classic Spinner Rig
The spinner rig is my favorite because I love the sensation of trout striking a well-placed spinner bait.
You can rig a spinner with a leader of a couple of feet, tied to the mainline with a swivel – it's necessary to mitigate line twists.
I prefer to tie a small snap swivel to the end of the mainline and clip on a spinner. Casting accuracy and length are improved, and spinner changes are fast and no-fuss.
The biggest advantage is there's no bait to worry about – cast retrieve, cast retrieve, for as long as your arm can take it.
I like the astonishing accuracy I can achieve with the weighting of a rig like this. I also enjoy fishing high or low in the water column.
If you need to get deep, a lightweight spinner can be difficult to get down in the water column.
At such times a sinker can be added above a swivel, with a leader of a few feet.
I'm not too fond of the weight of the lead, but it's simply there to get the depth I need. Be conservative, and use only as much as you need to keep it in the target zone.
This is a standard method for trolling spinners in deeper rivers. While most sinkers will do the job, always try to use a streamlined sinker shape.
I like to use a spinner rig in conjunction with large set baits. I'll rig a couple of rods with minnows – large ones.
These rods are not likely to see much action, but if they do go off, it'll be a trophy fish on the end.
While I wait (and hope) for my minnow to get monstered, I remain busy casting spinners at every likely target zone within range.
Stream anglers should know that fast-moving water and shallow waters can make spinning tricky.
If you plan to release the fish, it's best to take the barbs off treble hooks. This may also give you a chance to save a foul-hooked spinner.
Bobber Rig
Using a bobber is a very effective trout method for rivers and streams. Interestingly, it wasn't until much later in my fishing career that I was shown you could use a bobber in surprisingly fast-moving waters.
The advantage of a bobber rig is that it allows you to place your bait at a specific position in the water column.
You can fish any bait you like. Even floating PowerBait can be held in position using split shot sinkers.
Bobbers are great when you can't let any part of your rig hit the river or stream bed. When hitting the bottom means a guaranteed snag, use a bobber rig.
You can use this rig, either land-based or afloat. And while using a bobber rig is often driven by conditions on the bottom or keeping it at a particular part of the water column.
I like a bobber rig for fishing large live baits such as minnows. 
I can set a live bait in the perfect depth and wait for a trophy to strike. In the meantime, I can use another rod and rig to try other techniques.
A bobber rig will always be my first choice when I must keep my bait and rig from hitting the bottom. The water should be at least a couple of feet deep.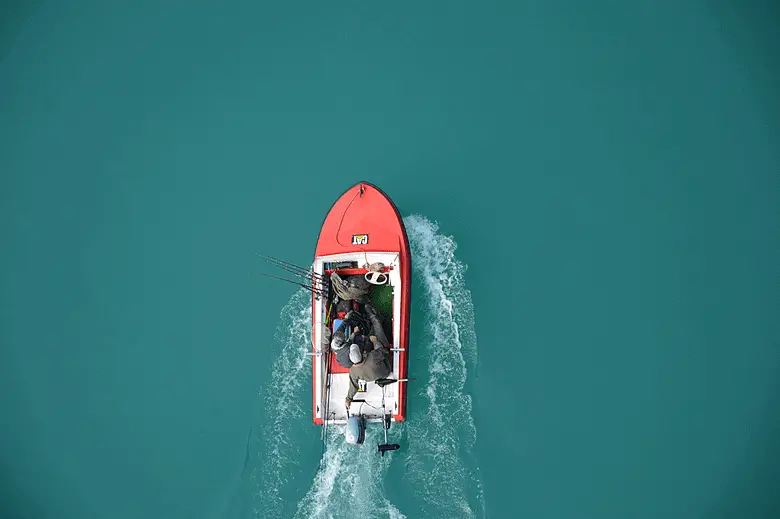 What is the Best Rig for Trout Fishing in Streams?
Streams often present the most significant list of variables in terms of conditions. A rig suitable in one part of the stream is useless 50 yards downstream.
For this reason, there's no definitive best rig for fishing streams.
The best rig for fishing streams is the rig that's suited for the conditions you face that day on that part of the stream.
By and large, one of the three rigs mentioned above is likely to work. However, you have to adapt to the conditions – constantly.
Sure, have a plan before you arrive at the water. But a good angler will adapt technique and approach to deliver the best bait presentation – the key to a successful session.
What is the Best Rig for Trout Fishing in Rivers?
The answer is the same for trout fishing in rivers as in streams. Rig to conditions, be flexible, and have at least a few rig options ready.
However, many rivers are often less of a challenge than streams. Fishing can be easier in many circumstances.
I will nearly always start off with a Carolina rig. I'm not saying it's the best; I just recognize it as easy, proven, and very successful in a broad variety of conditions.
In many respects, you can't go wrong.
How Do You Rig for Trout From Shore?
The three rigs mentioned above are ideal for casting from the bank.
You may need to vary weights and leader lengths, but these three rigs have you covered.
At times, if I see surface activity close to the bank, I will cast an unweighted ball of PowerBait to float on the surface.
I've picked up some monsters using this method at first light when the water is still and clear.
Think critically about your rigs, sure. But it's also essential to experiment. Get creative – try new things.
What Rod and Reel Should You Use For Trout Fishing in Rivers and Streams?
A lightweight 6.6 to 7 feet rod is a great choice for trout fishing in rivers and streams. 
Cork handles are an advantage for sensitivity. I'll strap a 2500 spin reel to it, and I prefer a more performance-based reel.
If I'm seeking bigger fish specifically, I'll use a medium power rod with a powerful 3000-size spinning reel.
I like quality performance gear for trout fishing. The St. Croix Premier Spinning Rod series offers excellent performance and options.
St. Croix Rods Premier Spinning Rod
PREMIUM SCII CARBON CONSTRUCTION: The premium SCII carbon rod combines with the Fortified Resin system (FRS) for unparalleled strength and durability
PREMIUM-GRADE CORK HANDLE: Comfortable handle ensures you maintain a strong grip on your fishing rod
MORE FEATURES: Kigan Master Hand 3D guides with slim, strong aluminum-oxide rings and black frames finish; Fuji DPS reel seat with frosted silver hoods; Kigan hook-keeper; Two coats of Flex-Coat slow cure finish
SPECIFICATIONS: Length – 6'6"; Power – ML; Action – Fast; Pieces – 2; Line Wt. – 4-10 lbs; Lure Wt. – 1/8-1/2 oz; Rod Wt. – 4.4 oz; Handle - 4
Last update on 2023-12-06 / Affiliate links / Images from Amazon Product Advertising API
I like the Shimano Vanford series for a great trout reel. Either the 2500 or the 3000 will sit nicely on the St Croix.
Shimano Fishing Vanford 2500
Gear Ratio : 6.0:1
Power pro Braids :- 10/150, 15/145, 30/100
Mono Line capacity :- 6/200, 8/140, 10/120
Retrieve Per Crank :- 35"
Last update on 2023-12-06 / Affiliate links / Images from Amazon Product Advertising API
For small stream work, consider using the ultra-light St Croix.