We hope you love the products we recommend. Just so you know, Fishing Command may earn an affiliate commission from the links on this page, at no extra cost to you
Forgive me for stating the obvious, but jigging is hard work. Even slow jigging butterflies in the shallows puts a strain on your arms and back.
Fortunately, manufacturers are keenly aware of the rigors of jigging. 
They've realized the potential of alleviating angler fatigue by making jigging rods much lighter.
The Shimano Trevala Jigging Rod is a lower mid-priced shallow water weapon, designed for wrestling large fish.
While not the thinnest or lightest jig rods available, it's a very powerful series, designed to take the load off the angler.
Let's take a closer look at the Shimano Trevala S Rod series.
Shimano Trevala Jigging Rod Review
My first observation is that these types of rods are incredibly popular. It's all about value for money, plain and simple. 
They're a fantastic performer sold at an accessible price point.
Having been around for a while now, you can find great prices with many retailers discounting the range.
We all love power options, and the Shimano Trevala S line certainly delivers, except for those seeking very heavy power.
There are 4 casting models and 5 spin models, with the spin range gaining an extra-light option. 
Power options include light, medium light, medium, and medium-heavy. Jig weights capacity ranges from 75g (extra-light spin) to 168 grams. 
The Shimano Trevala S range was designed specifically for slow jigging shallow blue water with butterfly jigs.
They're ideal for targeting underwater mountains, bombies, reefs, and wrecks, and wherever structure creates shelter for baitfish to congregate.
The C4S blank has a moderate fast action, well suited for the task. 
The blanks are remarkably thin and very light yet have incredible hoop strength for wrestling large, belligerent fish.
Every rod in the series has a length of 6'3" (XL 6'6"). Some anglers prefer shorter rods; however, I feel this is the perfect length for both leverage and convenience.
Having caught 25 pounds of GT on the medium heavy, I was stunned at the power. 
While not the largest of fish, I don't need to explain that 25 pounds of GT fight at 10 times its weight.
I couldn't really speculate about its potential and where I'd draw the line in terms of target size. 
Most modern jigging rods look as if they'd snap the moment you add a jig. But I'm always stunned at the size of fish these impossibly thin, scrawny sticks can subdue.
The power is truly astonishing, and it would seem that the Japanese have mastered the power-to-weight ratio beautifully – and the feel.
Ergonomics are sound, with grip lengths on both cast and spin models suitable for most anglers. 
This is important, as good ergonomics help reduce fatigue, especially when jigging.
While I'm not sure about the extra light and light models, the medium light, medium, and medium-heavy models would make an excellent trio for the dedicated jigger.
It's a cool range for speculating around shallow near-shore reefs and other structures where you could run into just about anything.
Overall, the Shimano Trevala Jigging Rod series delivers great sports jigging at an accessible price point without fatigue cutting your sessions short.
Don't panic if you hook a ridiculously big fish. I get the impression the Shimano Trevala Jigging Rods punch well above their weight.
>>Check Latest Price on Amazon<<
Main Features of the Shimano Trevala S Jigging Rod
C4S Blanks
The C4S blank is by far the most critical feature of the Shimano Trevala S. The main purpose of the blank is to reduce weight while maintaining power.
The blank is the backbone, heart, and soul of every fishing rod, but there's an added demand for the modern jigging rod.
It's all well and good to have impossibly thin diameters to reduce weight and mitigate fatigue. 
But they also must deliver the power required to subdue big fish.
According to Shimano, the high-modulus blank has four outer layers of 90-degree graphite.
It's this construction technique that allows such thin diameters to achieve incredible hoop strength.
It's a feature of the blank that power does not come at the expense of feel and sensitivity. It's important to get a little feedback from your jig. 
Is it swimming as it should?
Sensitivity is also important for assessing if your jig has been taken on the drop – often difficult to feel on less sensitive rods.
All the blanks in this series are in a one-piece configuration. 
Fuji Guides
Quality Fuji guides feature on both the casting and spin models. The Alconite inserts are ideal for using braid but work equally as well if you go with mono.
Importantly, these guides help minimize weight – an important consideration when loading the blank with 9 or more guides for maximum line management benefits, especially friction reduction.
Under normal fish-fighting loads, these guides are outstanding. However, I've lost quite a few of these guides to impact and/or squashing – stepping on them, for example.
Yes, this is an angler error – but it happens, especially on a busy boat. 
It doesn't take much for the insert to crack, or the frame to bend so that the insert falls out. Take extra care of these while in transit and while in storage.
Fuji Reel Seats
Your reel will be gripped like a vice by the Fuji reel seats – as they should. 
Ergonomics are fine, and they transfer plenty of feel from the jig end of the rig to your hand.
Importantly, these reel seats have been selected for their lightweight construction. 
They provide excellent balance to the entire outfit and while nothing particularly special, they get the job done well.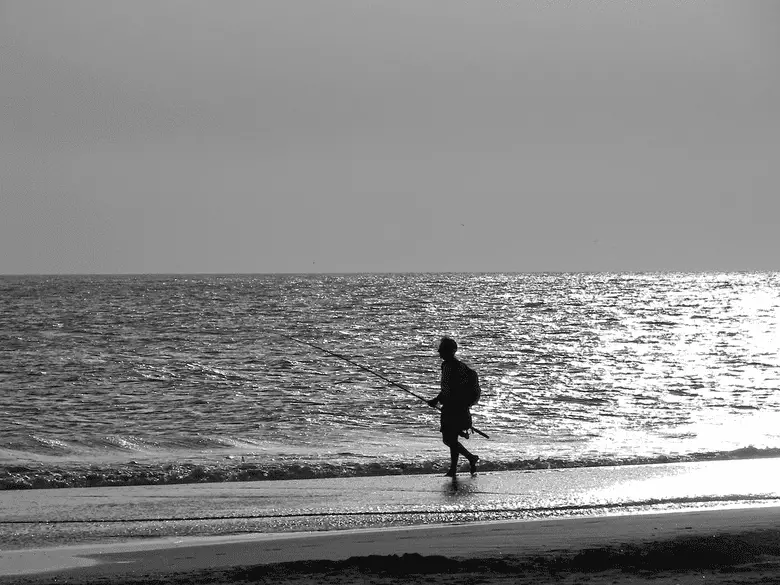 EVA Grips
These grips are excellent for jigging. Not too hard and not too soft, delivering plenty of feel for working a jig and plenty of grip for wrestling a monster.
For the spin models, the rear grip length is 13.3", with the foregrip 1.5". The casting models have a rear grip of 16.8 inches and a foregrip of 1.5".
While I like the grip design on the spin models, my grip preference is the casting rod grip – it just suits my technique.
Pros and Cons
Pros
Lightweight
Ultra-thin diameters
Very powerful
Good jigging ergonomics
Excellent guide arrangement
Cons
Guides can be easily damaged through impact
No heavy power option
>>Check Latest Price on Amazon<<
 Size Chart 
| | | | |
| --- | --- | --- | --- |
| Model Spin & Casting | Length | Line Class | Jig (g) |
| 63L | 6'3" | 30-40 | 90 |
| 63M | 6'3" | 40-60 | 135 |
| 63MH | 6'3" | 50-80 | 168 |
| ML | 6'3" | 40-50 | 110 |
| 66XL Spin only | 6'6" | 20-30 | 75 |
Which Fishing Style Fits Best Using Shimano Trevala Rods?
Trevala rods are jigging rods designed specifically for slow jigging shallow locations with butterfly jigs or any slow-fall and fluttering jig.
While the blank action and rod length tend to influence the types of jigging you can do, I'd expect there is any number of jig types/models that would work well on the Trevala.
Typically, I'd look for shallow structures in the blue water, such as reefs, bombies, or shipwrecks.
For a larger class of fish, focus on locations where deep water drops are very close to the shallow location you're fishing.
The technique is quite simple, allow the jig to drop, imparting its natural action, then retrieve with a variety of patterns, focusing on the most likely places in the water column as shown by your sounder.
Alternative Rod
Looking for an alternative to Shimano Trevala can be a tough job. There are plenty of rod series from which to select, but you'll find yourself going from brand to brand series to series to find the exact power and size you want.
I like the Daiwa Harrier X Jigging Spinning Rods. The main reason is that they're effective slow jigging rods, which should be the main criteria for selecting an alternative to the Trevala.
Last update on 2023-12-07 / Affiliate links / Images from Amazon Product Advertising API
The other thing I like is that they're slightly cheaper depending on the model you get, while the quality is similar, if not quite to the spec of the Shimano.