We hope you love the products we recommend. Just so you know, Fishing Command may earn an affiliate commission from the links on this page, at no extra cost to you
I've always been keenly interested in Shimano's entry-level spinning reels.
While it might not always be the case, I've found them a brilliant option for those on a serious budget, beginners, and casual anglers.
The Shimano Sahara FI Spinning Reel is quality entry-level. When budgets are tight, yet you want a spin reel that will feel great, endure, and provide you with options and versatility,
The Shimano Sahara FI has you covered.
Let's check out the Shimano FI series. People looking for a reel that covers plenty of inshore applications at a reasonable price are likely to find this of interest.
Shimano Sahara FI Spinning Reel Review
I got my hands on a 5000 so I took it straight to the beach. With a drum on my mind, I was sure whiting would be a satisfying backup for the test.
People will tell you this is not really a saltwater reel. And they'd get plenty of support. I disagree. 
But I'm one of those anglers who makes no distinction between saltwater and freshwater reels. I'll use any reel anywhere.
The Shimano Sahara FI has no significant sealing or corrosion resistance technology to speak of. And that's why it will get a freshwater-only designation.
The marketing spiel on the Shimano site oversells it somewhat. "Unparalleled durability at its price point."
While this might be an exaggeration, the synthetic body is surprisingly rigid and it coped well casting hefty baits and wrestling 7-pounders through reasonable surf.
At 10.6 ounces things felt very light when combined with my 11-foot graphite rod. I really enjoyed fishing the combo.
I spooled it with 10-pound mono with hopes that I could test the drag system. 
The drag was stable and smooth, I didn't smoke it, but I was comfortable the carbon washers would cope. 
I've been told the drag washers in the smaller models are oil felt, and the drag is considerably smoother in the littluns.
At 24 pounds of max drag in the 5000, there's more than enough for the type of fish this reel is designed to target.
I like the 6.2 ratio. With 41 inches of pickup, this reel is fast enough to cast metal slices and crank them hard for targets like bluefish.
The casting was impressive. My rig wasn't balanced, and my first cast was pretty thoughtless, but it went a mile. This continued throughout. 
The line lay was pretty uniform. Any issues can be adjusted with the supplied shims.
The spool lip supports reduced friction, which I assume is adding to the length. But the lip is pretty soft. Don't drop it.
There are 6 sizes in the reel series, starting at the finesse 500 and topping out at the 5000. 
In between, there's 1000, 2500, 3000, and 4000. I think the pick of the bunch will be the 3000, covering a wide range of applications.
Features are minimal. But that's to be expected at this price point. Where the reel excels is in the basics. 
It's solid, smooth enough, and of a standard that the more discerning spinning reel angler will enjoy using it.
The clutch is very good in the Shimano Sahara FI, with features usually reserved for reels with a much higher price tag.
If you want a capable reel covering the lion's share of inshore applications, the Shimano Sahara FI is a great budget option. 
>>Check Latest Price on Amazon<<
Main Features of the Shimano FI
G Free Body
The G-Free design is all about moving the reel's center of gravity towards the rod. 
Ultimately, this design helps rod and reel to act as one. Benefits for the angler include better casting and more effortless casting. 
With larger rod and reel outfits, this can reduce fatigue, allowing for longer casting sessions.
Hagane Gear
Hagane gears are at the heart of Shimano's smooth and lightweight crank. Cold forge technology is used to create gear components to exact tolerances. 
This delivers a beautiful mesh, which most anglers will recognize in feel and power transfer.
However, one of the great benefits of tight tolerance is the removal of fractional movements. 
Even the slightest movements between gear teeth increase wear. Over time, gaps between teeth can open, which increases the wear process.
Hagane gears not only deliver smooth power but will also see your reel operating at peak performance for significantly longer.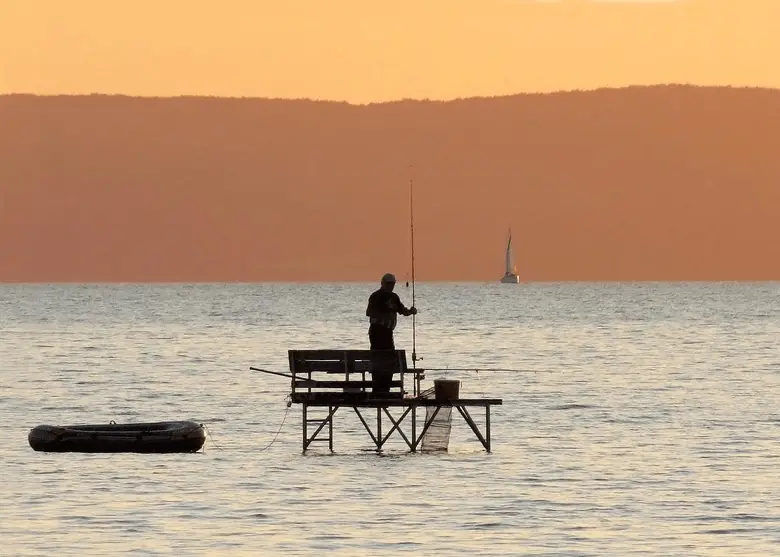 X-Ship Technology
X-Ship places bearings at either end of the pinion gear for added support. 
This support ensures the pinion and main gear keep precise alignment over countless sessions of hard fishing.
X-Ship enhances the reel's capacity to deal with heavy loads. 
Those anglers hooking up big have the confidence to lay into tough fish, knowing they have the support of a reel that can punch well above its weight.
The perfect gear mesh ensures the best transfer of power and also prevents wear.
Friction between the shaft and the gear is significantly reduced. This results in more refined casting manners, allowing anglers to cast lighter with confidence.
Propulsion Line Management System
This feature is a bit of a word salad that's meant to describe the lip design. The lip design works to reduce friction significantly. 
While the design is by no means rocket science, it does work, and the casting manners of the Shimano Sahara FI are particularly good.
The spool lip on the Sahara FI is not hardened. This is a problem for me. 
Over time, it's inevitable (for me at least) that this lip will have contact with something hard. And yes, it will dint, cut, or gash.
The problem is obvious. Your line will suffer badly. Most cuts and nicks can be fixed. 
However, my preference would be to have a hardened lip to avoid the problem in the first place.
Pros and Cons
Pros
Inexpensive
Versatile series
Excellent casting
High rigidity for its price point
Excellent clutch
Cons
>>Check Latest Price on Amazon<<
Shahara Features and Specifications at a Glance
| | | | | | | | |
| --- | --- | --- | --- | --- | --- | --- | --- |
| Size | Mono | Braid | Bearings | Drag | Ratio | Retrieve | Weight |
| 500 | 2/190 | 5/135 | 3+1 | 7 | 5.6:1 | 27 | 6.2 |
| 1000 | 6/110 | 10/95 | 4+1 | 7 | 5.0:1 | 26 | 7.6 |
| 2500 | 8/140 | 10/150 | 4+1 | 20 | 5.0:1 | 29 | 8.8 |
| 3000 | 10/140 | 10/200 | 4+1 | 20 | 6.2:1 | 36 | 8.8 |
| 4000 | 12/160 | 15/280 | 4+1 | 24 | 6.2:1 | 39 | 10.4 |
| 5000 | 10/240 | 20/220 | 4+1 | 24 | 6.2:1 | 41 | 10.6 |
Hagane Gears
X-Ship
G-Free Body
Propulsion Line Management System
Can I use the Shimano Sahara in Saltwater?
Yes, you can use a Shimano Sahara in saltwater. However, the Sahara is not designed for saltwater use. 
It lacks the sealing and extra corrosion protection that helps a spinning reel survive harsh salt environments.
Submerging your Sahara at the beach will likely damage it unless you do a full breakdown, clean and re-lube. 
Even then, it's a bit of a lottery as to how well it will perform after this.
If you are careful and clean it thoroughly after each session, you can expect to get a reasonable working life in salt environments. 
The longevity of the Shimano Sahara, if fished in the saltwater, will, by and large, be determined by you.
For the most part, this is a reel that will appeal to freshwater anglers anyway. I'd use it in salt without hesitation. But that's me. 
Others are more likely a little more conservative with a reel such as this.
Verdict. Is The Shimano Sahara FI Worth It?
If your application is predominantly freshwater, then I'd say the Shimano Sahara FI is most definitely worth it. 
If you fish in saltwater, and you're a bit rough and careless with your reels, then it's questionable.
It will all come down to what $80 means to you in the broader scheme of things. For many anglers, 80 dollars don't cover the fuel or the chum for 1 session on the water. 
Value is relative.
I think the Shimano Sahara FI will suit a number of anglers whose bread and butter fishing revolves around fresh stuff.
Firstly, it's ideal for the beginner. Except for the handle, everything feels great and will assist new anglers to develop skills.
Secondly, this is a great option for casual angler who'd like reasonable quality but wants to spend an amount that reflects their dedication to fishing and the frequency they fish.
This reel will suit if you casually fish a few times a month, and you sometimes go long periods away from fishing.
Thirdly, this will suit the more experienced, dedicated angler who is on a strict budget and looking to pack as much versatility and performance into their fishing dollar.
The Shimano Sahara performs well across key criteria, and those with experience using top-shelf reels won't be disappointed.
The Sahara isn't a feature-laden performance reel – It's not meant to be. 
However, it's a quality entry-level offering from Shimano that will. More than likely, impress the fussiest of spin reel anglers.