We hope you love the products we recommend. Just so you know, Fishing Command may earn an affiliate commission from the links on this page, at no extra cost to you
The best fishing reel brand is the brand that delivers you the most reliable fishing enjoyment and fishing success.
It does this while meeting your particular fishing demands consistently at a price that suits your budget restrictions.
There's something like 50 fishing reel brands on the market. And that's without including fly reels and other specialty reels. That's a lot of choices.
I would happily say unsupported, that probably over half of them would deliver great fishing satisfaction in most key criteria for at least one fishing application or another.
The problem is that the best fishing reel brand and best fishing reel for purpose are vastly different arguments.
This article is about unpacking the fishing reel brand ' best/better than' argument. I want to separate the argument of the best fishing reel brand versus the best fishing reel for purpose.
Reel brand choices are highly subjective. And for most average anglers, reel brand choices are made without significant scientific analysis of comparative data between brands.
I'll highlight some of the reel brands in my kit, and why I chose the reel.
I will also distribute some links to manufacturers throughout the article as well as a selection of manufacturers I believe deliver performance, quality, or value for money, and for whom they are most suited.
First, A Note of Caution. Be Careful What You Read
During my research for this article, I was obliged to see how other sites and authors were addressing the best brand issue. I was not surprised by what I found.
I saw lists of 10 or so highly recognizable brands with strong advocacy for all of them.
There were brief corporate histories and corporate mission statements, with highlighted popular reels from each brand on the lists.
Crucially, there was absolutely no indication as to why a particular reel or reel brand was better than any other.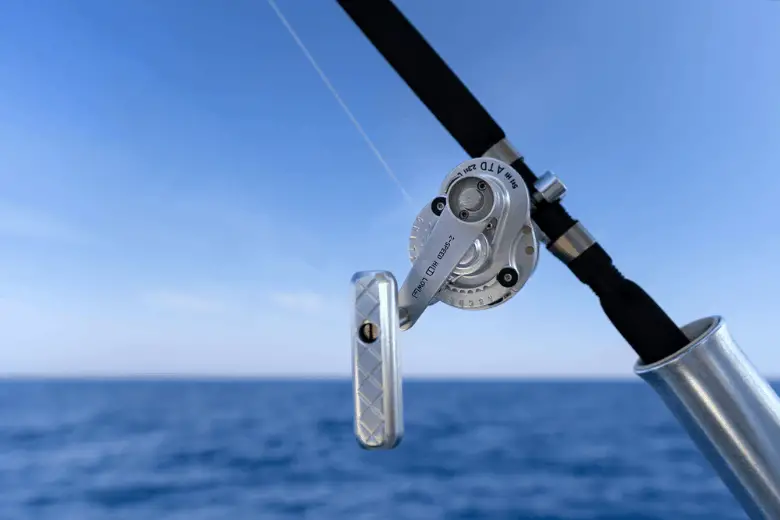 There was no information at all that allowed me to assess why one brand might be any better than the other.
I'm not trying to be critical here. There was a modicum of relevant information in each article.
However, the titles were "the best fishing brands", "the best and most popular fishing brands," etc.
Call me old fashioned, but you should state why they are the best with significant use of comparison, and data to back it up.
"Popular," has a correlation with good, but popular is not a true indicator of best. I would call Van Staal awesome, but I wouldn't say they're popular. Lews is particularly popular, but are they the best of brands?
When you are researching 'best brands' online, just be careful that the articles are not merely written to direct traffic to online retailers.
In this article, I'm actually doing my best to address the 'best brand' argument. My hope is that you will understand where the brand sits as a consideration in a reel purchase.
When it comes to selecting a reel, brand recognition and popularity are but small parts of reel purchase deliberations.
I'm often quoted as saying, the brand loyal angler misses out on plenty of good products.
The Good News About Modern Fishing Reel Brands
In the last few decades, we have seen new fishing reel manufacturers hit the market. We have also seen the rise to prominence of manufacturers who have existed quietly in niche markets.
This is an absolute boon for anglers. There are now plenty of manufacturers covering the full range of fishing applications and price points.
In good old capitalist terms, competition is seeing better products and far more choice for much less cash.
I would argue that quality has also increased. This is largely due to modern manufacturing processes and materials, as well as efficiencies in retailing and distribution.
Now, a precision instrument such as a fishing reel doesn't require the painstaking craftsmanship of the old Mitchell Spin reel or Penn international game reel.
Nor is a retail space required. With the click of a button, a new reel will be at your door in a few days or less.
Innovation and low overheads have allowed for brands such as KastKing and Piscifun to establish a footing in an already highly competitive market, and thrive.
This puts pressure on the more established brands to continually hone performance.
Best Fishing Reel Brand Expectations
Seldom do we purchase a fishing reel without knowing or hearing anything about it.
At the very least we've read the marketing literature, spoken to a friend, and listened to a retailer or expert. Increasingly, because of net access, we read reviews.
Marketing Hype
If a reel doesn't sell, the manufacturer has failed, and these failures can be financially catastrophic.
I'm sure you are aware that all manufacturers spend plenty of cash ensuring each reel is presented to the market in the best possible light.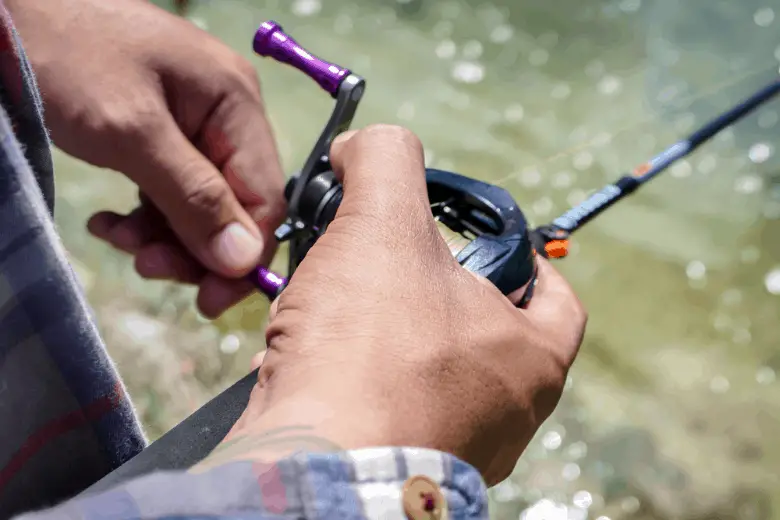 Gifted marketing professionals use carefully chosen language and imagery to appeal directly to their target market.
This language appeals to your emotions. It's a beautiful brand window dressing but often says little about its appropriateness for your application.
A brand will wax lyrical about their product, all brands do. Often, it is their language and imagery that woo us into a purchase.
We've been sold on a brand often without full consideration of practical application and performance comparisons.
Do you recall paying a little extra for one brand over another, even though each reel had the same technical specs and warranty?
More than likely it was brand power that lured you out of that extra $30, it wasn't relative performance.
Bad Reviews
This is probably the most common issue that will turn prospective buyers from a particular brand.
The frequency at which I see, "I'll never buy this brand again," usually because of some unreasonable claim or expectation. This happens frequently with the bottom and top ends of the market.
Budget-conscious anglers will complain that their $25 spin reel didn't last more than a year, breaking just after the warranty ceased.
They subsequently swear off the brand telling others to avoid it.
Clearly, a $25 reel will have a limited life span, and we have no idea of the punishment inflicted by the angler.
In my experience, there are plenty of anglers who are influenced by the negative reviews, forevermore cautious of every reel in a brand's stables.
Reviews are important. However, discounting an entire brand because of a poor review or one or two reels may see you missing out on the most suitable fishing reel for your application.
Most reel brands have had models that disappoint. Generally speaking, it's not a reflection on their full range.
Retailers and Salespeople
A good retailer/expert from your local fishing store can be incredibly valuable. They often have the inside gossip on what a brand is trying to achieve with a particular range of fishing reels.
Is it old tech repackaged? Are the new inclusions worth the new price? Is this reel all marketing hype or is it the real deal?
Has a brand you'd not considered now become better value than the reel brand you were considering?
I have found fishing retailers/experts that know your applications and enjoy your loyalty speak freely.
They will indicate the RIGHT REEL for you as opposed to the brand that has the better mark-up or garners better praise from their suppliers.
It was probably my local expert that encouraged me to leave the brand behind and focus first on application, price, and endurance.
I'm lucky enough to be able to trust the professional advice that I get. In effect, I don't really need to trust a brand. And brand trust is the holy grail of all consumer brands.
Are You Brand Shopping Or Reel Shopping
There's a difference between a brand and a product. It seems obvious to say, yes, but you're not going out to buy Shimano or Penn, you're going to buy a fishing reel for a particular purpose.
So why does brand matter at all?
Defining a brand is not the purpose of this article. And I'll avoid marketing speak and language. Let's just refine it to – a brand is a company's identity in the marketplace.
Brand identity is meant to tell us things without having to think about it.
For example:
Think of Penn: you think of robust construction and American made. Penn International
Think of Shimano: you think of Japanese precision and prestige. Stella
Think of KastKing: you think of highly affordable fishing reels in the USA
Think of Van Staal: you think of extreme fishing and uniquely shaped fishing reels for discerning anglers
A brand identity allows a reel manufacturer to look unique amidst other reel manufacturers.
It's a color, a logo, a design principal, an aesthetic through-line. It also projects a culture aimed at connecting with a certain carefully identified market.
Brands work hard to connect to you. And through their products, secure your trust and, hopefully, loyalty. Their reach is immensely powerful. A couple of great reels can invite a lifetime of customer loyalty.
The brand is about recognition in the marketplace. You are likely to go for a reel whose brand you've heard of.
Brand is about distribution and reach. Again, you're likely to select a reel that is readily available in your country at your local dealer.
Fishing reel brand is a consideration that encompasses far more than drag strength, spool capacities, and gear ratios.
Yet it's drag strength, spool capacities and gear ratios, (along with other features) that really impact our fishing. A brand's logo and history have little to do with the nuts and bolts of catching fish.
Generally speaking, price is a better indication of a reel's pedigree than the brand. I say this with a hint of caution, however, because there are qualifications to this rule of thumb.
For example. There seems to be a brand levy in the price tags of the big names such as Shimano and Daiwa.
A reel with the same specs and inclusions designed for the same applications will invariably be much higher with Shimano and Daiwa than Quantum or Pflueger.
It's like any consumer product. The more recognized, more prestigious brands attract a higher price, even though there are products of identical performance for much cheaper prices.
When you're looking for the perfect reel. Think of…
Your fishing application
Your fishing technique and habits (e.g., are you rough on gear? Do you Clean it?)
Longevity. How long do you need it to last?
Intended frequency of use,
And your budget.
When you've got this nailed down, brand options will become far clearer.
Here's an example.
You would like a reel for your 10-year-old, a beginner who has never fished before. A very basic entry-level Shimano might cost as much as $65.
The same amount of cash will get quite the list of technological inclusions in a Piscifun.
Alternatively, the equivalent Piscifun to the Shimano in terms of inclusions will leave a lot of change for purchasing a rod, tackle box, or tackle.
Ultimately, anglers want a reel fit for price and purpose. They want it to handle the application for which they purchased it and they want it to perform as the manufacturer advertised.
Of course, they want a warranty to back them up should there be a problem.
In my experience, most manufacturers have products that cover these necessities. In terms of brand, it's not so much 'best' or 'better than' as more suited to…
Logos, corporate culture, market presence, and company history does add some weight to a decision, but it's peripheral. We are buying a fishing reel, not shares in a company.
3 Fishing Reel Brands From My Kit
Before I list, I guess it's best to give you my basics. I'm an angler of 40-plus years' experience.
I specialize in surf and rock fishing yet fish any puddle that might hold life.
I have absolutely no brand loyalty, however, I am currently liking everything coming out of Daiwa, including their fishing rods.
1. Okuma Classic Pro XP Level Wind Graphite Trolling Reel
At the time I wanted a reel that I could use to bounce the bottom and troll. Two types of fishing I rarely do.
So I also wanted a reel that would work nicely for chasing a larger class of fish from sea walls and break walls.
It was actually my first Okuma.
It covered everything I needed. The brand wasn't a big consideration, but I was comfortable as my buddy uses an Okuma spin reel in the surf and loves it.
Essentially, it had it all for the right price.
Penn Slammer III
I have a 5500 and a 7500. I've had Slammers for years and they are my every day, got-to reels.
I'm rough on my gear and I don't maintain reels as I should. Not good for a rock and surf specialist.
I bought these when my local pro suggested them to me. He said I would eventually wreck these too, but it would take longer.
It would seem Penn lived up to their reputation. Interestingly, I broke two of them the same way.
Impact on the rocks somehow broke the anti-reverse. But they survived many impacts before that. And I got years from each reel.
Shimano Sienna FG Reel
I've had Shimano Siennas for as long as I can remember. They're super simple, and I still use the first one I bought over two decades ago.
There are some mid-priced Shimanos I have felt overhyped and overpriced. But the Sienna is good honest fishing at unbeatable value.
I have treated mine with contempt, as have the kids. But they are unfailing and always deliver.
There's a complete absence of all the bells and whistles manufacturers jam into reels to win our custom.
In my opinion, they're a strong argument against the usual 13 bearings and a massive price tag. My experience indicates that Shimano is great for entry-level options.
3 Best Fishing Reel Brands I Suggest You Consider
The following reels are brands that represent a great selection in a particular price range or application.
1. ABU Garcia – Great For All Anglers On A Broad Range Of Budgets
ABU Garcia has a great selection of low profile baitcaster reels in the mid-price point. The range is very impressive offering something for nearly every baitcaster fan.
The REVO range is nigh on a household name as it offers anglers the ability to refine their reel choice specifically to a location, lure, and species for the perfect rig.
While some may say the Revo AL-F Low Profile Baitcaster is still a little pricey, I think performance, construction, and materials justify the tag.
Last update on 2021-10-14 / Affiliate links / Images from Amazon Product Advertising API
2 Daiwa – For The Discerning Angler – (Mid/High Budget)
In my opinion, many of Daiwa's mid-price reels offer outstanding performance. The Kix, the Freams, and the phantom Hyper are great reels. But the Daiwa Certate is a brilliant reel and one to aspire to.
Last update on 2021-10-14 / Affiliate links / Images from Amazon Product Advertising API
3. Van Staal – For The Angler Who Sees Fishing As An Extreme Sport (Mid/High Budget)
I've always been of the opinion that if the military issued fishing reels they would issue Van Staal.
These reels really do stand out in a crowd. Their design, with the aggressive porting, always turns heads.
The Van Staal may not be for every angler but they are a genuine weapon in the toughest of conditions against the toughest of fish.
Van Staal VS150 Reel - Silver
Line Capacity: Mono: 340 yards, 12 lb., Braid: 330 yards, 30 lb.
Gear Ratio: 4.25:1
Weight: 12.0 oz.
Frame/Spool: 6061-T6511 Aluminum
Last update on 2021-10-14 / Affiliate links / Images from Amazon Product Advertising API
The Best Reel Manufacturers – Conclusion
There are so many good reels on the market. I have to accept I'll never come close to trying them all.
Competition is rife out there and manufacturers simply can't afford to rest on their laurels. The angler is the great winner here.
Most manufacturers have some great reels in their stables. And most manufacturers have given us reels that didn't quite cut it.
By and large, the 'best brand' argument in modern fishing is more about the fun fishing banter frequently shared between brand loyal anglers.
Can we name a reel brand that is the best of the best? Can we list a top 5, a top 10? How could we remove all subjectivity from such a process? By what metrics can we discriminate?
Brand is personal, with favorites derived from experiences and feelings that are certainly shared but ultimately unique. I could name MY best brand, but it won't necessarily be yours.
In 40 years of fishing, I've never made a warranty claim. Even if I did, I would have made it through the retailer. Which means I can't even assess a brand's customer support.
What I know I can do, however, is review the performance of a fishing reel. I can talk to my fishing buddies whose fishing opinions I know and trust, and I can talk to my local pro.
With this advice and my own experiences I can weigh up the virtues of a fishing reel without brand loyalty, marketing speak, and hype, and the lure of popularity.
I don't need to know the best brand. I need to know the reel that is best suited for the application. I need to know it suits my budget and that there's a warranty if it suffers an early breakdown.
Best brand…? It's subjective. The best reel for you is personal.