The exponential rise and dominance of digital could well have sounded the death knell for the magazine.
It's certainly true that countless newspapers and many magazines have been seriously compromised and even relegated to history by their digital rival.
However, a few key factors have ensured many great publications have not only remained viable but continue to thrive.
Fishing magazines still remain popular with enthusiasts. Fishing publishers have continued to deliver the content and format their loyal customers appreciate.
Instead of submitting to digital dominance, they've used it to their advantage, incorporating the benefits of digital with the traditions of print.
Ultimately, despite the instant gratification of digital, anglers still love a fishing magazine.
And it doesn't look like changing anytime soon. Here are five best fishing magazines worthy of subscription.
5 Best Fishing Magazines Reviewed
Here are the top fishing magazines to choose from
Field and Stream Magazine
Field and Stream need no introduction. Safe to say it's an icon of American print media.
Magnificent photography, educational and engaging articles, as well as invaluable tips and advice, are standard.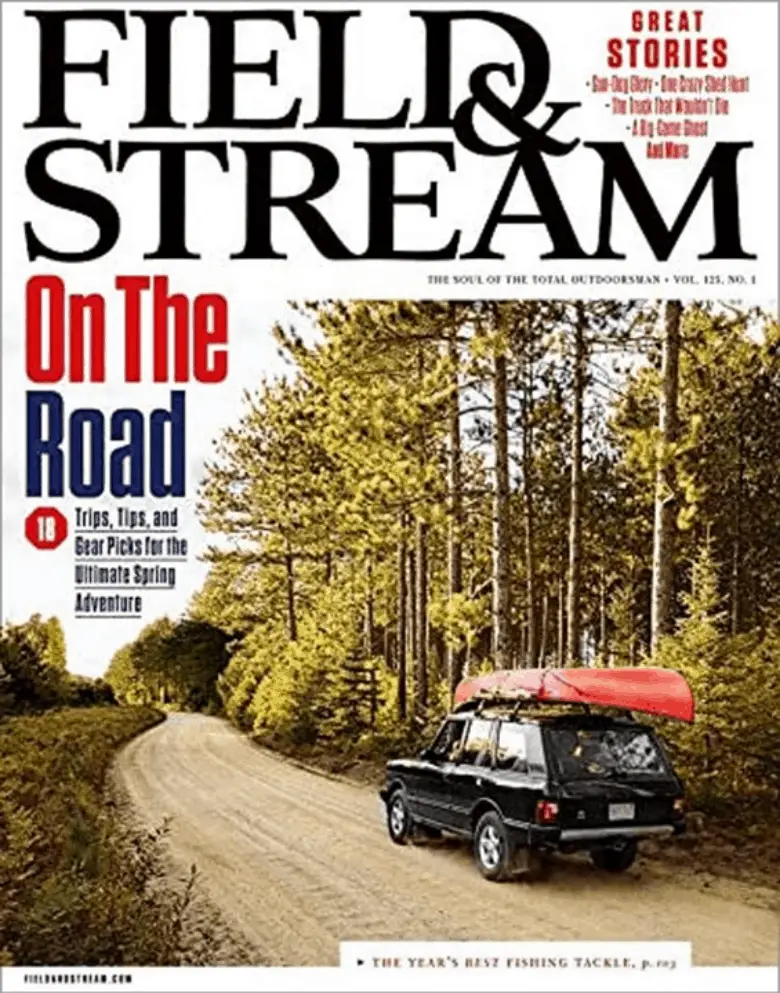 Many Field and Stream fans wouldn't think of purchasing fishing, hunting, or survival kit without first consulting Field and Stream.
Product guides are comprehensive, and their insights are second to none. Field and Stream have endured since the first copies rolled off the press in 1895.
It has survived cut-throat corporate machinations and enjoys a subscribed print readership of over one million fans.
Of course, it wasn't immune to fluctuating financial challenges and recent cuts have seen a reduction to 6 issues per year and a smaller team.
Field and Stream are not strictly all about fishing. The magazine has found the ideal niche covering hunting, fishing, camping, survival techniques in the great outdoors.
Few would argue the synergies shared between subjects, with many anglers equally engaged in the broader topics covered by Field and Stream.
Many an angler is also a hunter, camper, and keenly interested in the skills and techniques of surviving in the wild.
Field and Stream is a one-stop location for the latest on all of these passions. While not strictly a fishing magazine, Field and Stream is a class act.
I'll not be providing a comparative rating for the magazines listed here, but I will say that, in my opinion, Field and Stream set the benchmark.
Bassmaster Magazine
It's difficult to know where to begin with Bassmaster Magazine. In many respects, literally and figuratively, Bassmaster is so much more than a magazine.
First issued in 1968, Bassmaster was the magazine of the B.A.S.S or Bass Anglers Sportsman Society.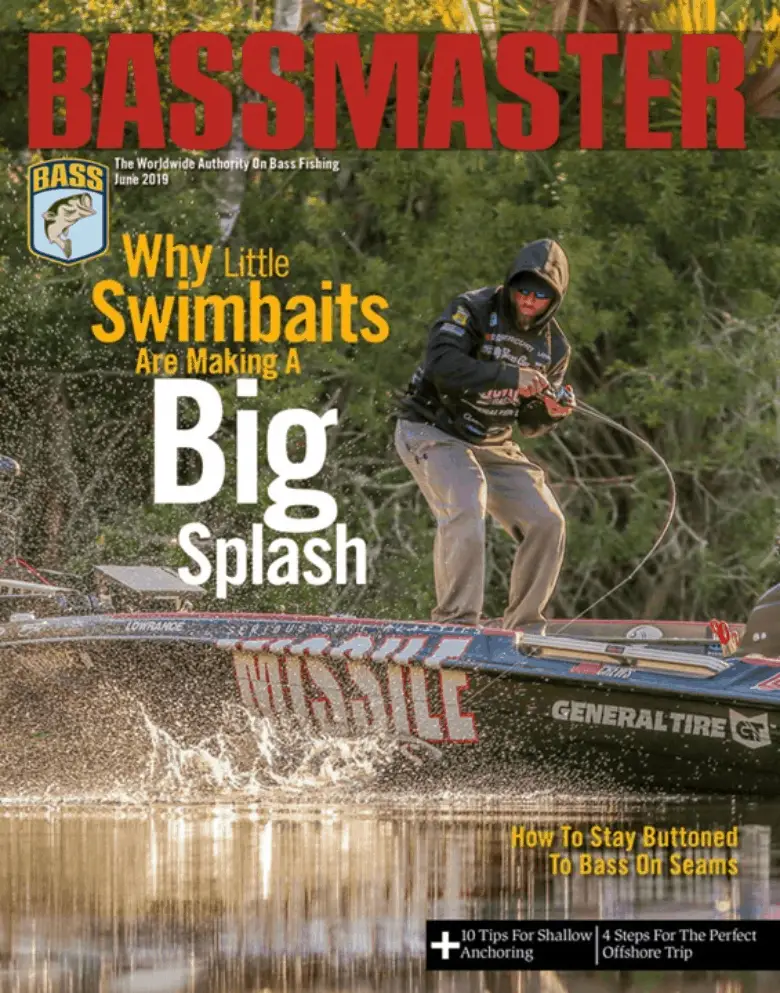 The B.A.S.S story is a phenomenal tale of bass fishing passion. The names behind the Bassmaster magazine quite literally made the sport what it is today.
They are responsible for massive conservation efforts, resource protection, and modern fishing conservation methods.
One could argue that their promotion of catch and release back in the early '70s is the reason bass remains in such prolific numbers across the US.
It's important to note that they are also responsible for turning the humble pastime of bass fishing into the globally recognized sports sensation it is today.
Bassmaster magazine is a powerhouse of bass fishing knowledge. If it's bass, bass related, or even smells of bass, it's covered in Bassmaster.
Bassmaster is read by nigh on 4.5 million readers every month. Once referred to as the bible of fishing by Time magazine, it might only cover bass, but in that regard, it's the hub of all bass knowledge.
Presentation and content are without peer. The magazine is educational, engaging, comprehensive, and fan-focused.
The Bassmaster website is a brilliant companion to the magazine that has never diminished the value of the printed masterpiece.
If its bass, bass products, bass techniques, bass everything, Bassmaster is without argument the best bass magazine on the newsstand.
Salt Water Sportsman Magazine
Salt Water Sportsman Magazine presents the traditional grandeur and prestige of fishing the blue water.
Fantastic stories accompany superb photography of marine life, boats, fishing gear, and awesome scaly battles.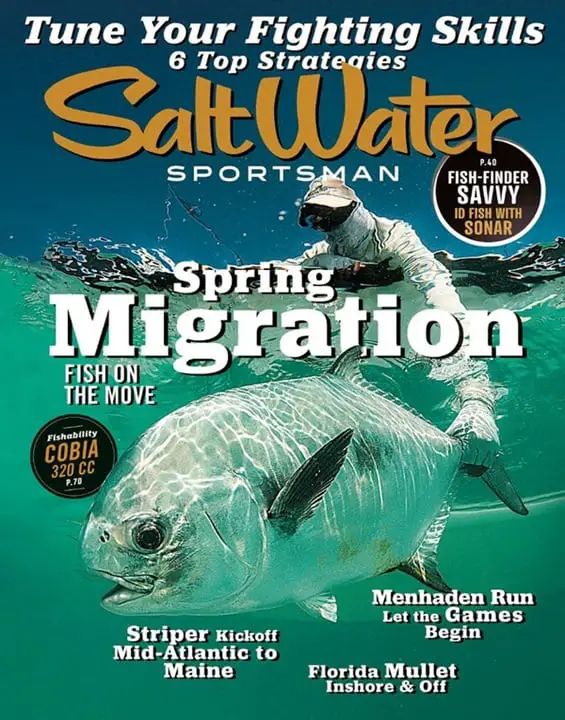 There's something aspirational about Salt Water Sportsman. With the turn of every page, one feels that one's pockets must be bottomless to afford the fishing dream presented between each page.
While clearly a high-end presentation, there's definitely something grounded and inclusive about Salt Water Sportsman.
Expert writers deliver excellent tips, reviews, and articles covering everything from fish boats, boat equipment to the latest trolling lures, game techniques, and exotic fishing locations.
There's an international flavor in the Salt Water Sportsman. Many of our favorite bluewater fish know no borders, nor do their hunters.
Because of this, The Sportsman travels outside the fishing grounds surrounding the US.
The Saltwater Sportsman is another icon US mag enjoying a long history, first published back in 1939.
Despite the dreamy gloss of fishing in heaven, The Salt Water Sportsman remains focused on their mission of helping dedicated anglers catch more fish more often.
Detailed graphics and images accompany detailed instruction, getting to the heart of fishing techniques and strategies.
The companion website allows subscribers to remain current to the minute, following fishing blogs and fishing news in real-time.
From red drum tricks to landing marlin. From fishing boat purchase advice to anchoring skills.
The Salt Water Sportsman delivers comprehensive coverage of everything coastal and blue water fishing.
With 150,000 subscribed monthly readers, clearly the editing team at the Salt Water Sportsman are delivering.
It's important to note that the Sportsman team is responsible for vocal and active conservation initiatives ensuring our fishing resource remains bountiful.
If you fish from a boat and you chase the blue waters toughest fish species, the Salt Water Sportsman is the magazine for you.
Fly Fisherman Magazine
Fly Fisherman magazine is a new-comer compared to the mags listed above.
Commencing publication in 1969, the Fly Fisherman magazine has risen to become the most widely read and distributed fly fishing magazine in the United States.
They have earned a loyal subscriber list of 75,000 fly enthusiasts. That's two times greater distribution than their nearest competitor.
Indeed, American Angler, Fly Fisherman's closet rival, is also a worthy fishing publication.
While readership stats suggest fans are older and more experienced fly anglers, the Fly Fisherman caters for fly anglers of all skills and ages.
While freshwater fly stories tend to dominate, Fly Fisherman caters well to salt fly anglers also.
With over 30% of the readership avid salties, you can expect comprehensive coverage of all that is saltwater fly.
Fly Fisherman is American focused yet drawers its seemingly limitless fly knowledge from international experts as well as locals.
You can expect a superb layout with rich and colorful photography. Stories and editorials are always engaging, with no page space wasted on fluff. In every way, Fly Fisherman magazine is a cover to cover read.
You can expect detailed lessons, tips, and advice with clear instructions frequently supported by great images and diagrams.
Topics include locations that are new and undiscovered. Fly tying tips and techniques. You can expect reviews on the latest equipment from waders to rods and fly line.
You will also get great modern takes on fly fishing traditions, as well as expert advice from experienced fly legends.
The most outstanding feature of the Fly Fisherman is the details contained in each article. The decades of experience are clearly evident in every paragraph.
Fly Fisherman Magazine is passionate about conservation. Of all our fisheries, it's the delicate habitats of our freshwater species that have seemed to cop the brunt of development.
Conservation and restoration are important with environmental news and educational information prominent.
While sometimes criticized about questionable sources for environmental issues, readers will nonetheless understand their drive to ensure the environment that supports their passion remains pristine.
Fly Fisherman Magazine publishes bi-monthly for a total of 6 magazines per annum. The website is a great companion delivering blogs and up-to-date fly fishing news.
The Fly Fisherman magazine is a top-class publication driven by a customer-focused editorial team. If you fish flies, Fly Fisherman magazine is for you.
Fishing Magazines from Abroad
For the avid American fisherman, understanding what anglers are up to abroad will often deliver invaluable insights that can be employed in local hotspots.
Australia is a nation of fishing enthusiasts.
While we share a passion for many of the same species, it's the contrasts that allow us to review our own approach in comparison to successful techniques and strategies from a distant land.
There are several very worthy fishing publications in Australia that Americans would find valuable. Heading the list is Australia's Fishing world Magazine.
Fishing World Magazine
Like America's Fly Fisherman, Fishing World Magazine hit the newsstands back in 1969. It has witnessed and reported on the soft plastic revolution, the rise of land-based game angling, jigging and the sensation of kayak fishing.
Modern Fishing still manages to publish 12 issues per year while keeping the price below 10 bucks per issue. With over 235,000 loyal readers, Fishing World is Australia's Best Fishing Magazine.
With their interactive social media and website, Fishing World reaches half a million avid fans who are actively engaged.
Fishing world covers every type of fishing from sniping the smallest of brook trout to wrestling the oceans biggest marlin and bluefin.
Of course, no stone is left unturned in between. Fresh and salt, surf, rock, boat, river, estuary, and the blue water enjoy comprehensive coverage.
All of the necessary content is there. Knot tying to targeting species, equipment reviews, new lures, skills, techniques, and fishing travel.
Of course, there are great stories with accompanying photography to inspire all readers.
Fishing world targets all ages and all levels of fishing skills. It's educational, entertaining, and engaging for all readers.
The companion website fits hand in glove with the printed version. While you're waiting 4 weeks for each issue, you can remain current via the comprehensive website that's user friendly and easy to navigate.
There's always detailed 'how to' guides in every article, accompanied by excellent photos, graphics, and diagrams.
Few dedicated Aussie anglers haven't read a Fishing World edition. The editing team tries to ensure a balance is maintained, but you will find there is a dominance of saltwater articles over the fresh stuff.
Aussie freshwater anglers are certainly catered for. Fly anglers also get a frequent look in. The consistency of a monthly publication ensures all fishing style types and techniques are covered; however, salt is still king.
Fishing World is a great cover to cover read for US anglers looking for some cross-cultural input to their fishing routine.
Get online and check it out. You might just find monthly fishing news from down under pretty inspirational.
The Best Fish Magazine Wrap Up
Despite the relentless digital march, good fishing magazines have stood their ground and managed to remain relevant.
While many publishers have made adjustments, some radical, they are still subscribed and read because people like magazines.
The five magazines mentioned here are great examples of magazines that have continued to deliver to long-standing fans while quietly wooing new readers.
Insightful publishers have managed to cleverly integrate the digital necessity while keeping ink on paper on the coffee tables of anglers across the world.
While nothing beats the activity, immediacy, color, and movement of the digital experience, there's still nothing quite like flipping through your old stash of Bassmaster while you're waiting for next month's edition.
Take a digital break. Why not try a magazine?