We hope you love the products we recommend. Just so you know, Fishing Command may earn an affiliate commission from the links on this page, at no extra cost to you
Using a crankbait rod for bass fishing is a surefire way to be successful. 
Not only will you achieve the optimal casting distance, but you'll also be able to hook fish effectively, so you don't have to worry about them swimming away.
Being a good angler is all about having the right skills and techniques for various settings. 
However, what many people don't realize, is that without the proper gear, even the most talented angler is going to fall flat.
In this article, I'll tell you all about the best crankbait rods for bass fishing – and I'll let you in on a few tips to help you find the perfect gear to fill your fishing supplies.
Best Crankbait Rods 2023: The Quick Guide
If you're in a hurry, don't feel the need to stick around for the full read – instead, consider this quick guide to fishing with crankbait rods. 
Here are the best crankbait fishing rods on the market today: 
Last update on 2023-12-07 / Affiliate links / Images from Amazon Product Advertising API
What Exactly Is a Crankbait?
If you're new to bass fishing, you might be wondering what exactly a crankbait is – and why you need a special fishing rod just for this kind of technique. 
Simply put, a crankbait is just a kind of plug that is made out of plastic or wood. It is shaped like a fish and usually has two rebel hooks that suspend from the bottom.
Some crankbaits also have a lip attached to the front. This isn't just for show – the lip (also called the bill) helps push the bait down into the water as you reel.
It also adds to the action of the lure and will allow the boat to deflect off cover.
You'll find crankbaits in all kinds of colors, sizes, and shapes. Many are fat and rounded while others have flatter sides. Some vibrate as they move while others wobble.
Ultimately, a good crankbait will be able to hit all sections of the water column, but they are the most effective when you can make them run into something (like the limbs of a tree). 
Another kind of crankbait you might use on bass is what's known as a lipless crankbait. This crankbait will possess many of the same traits as a regular crankbait, but it will sink. 
It is usually flat-sided and has no bill.
These kinds of crankbaits are best used in open water or when you're fishing on the edge of some grassy cover since they're not as likely to snag. 
Why You Need a Cranking Rod for Bass Fishing
There are several reasons why you might want to consider investing in a crankbait rod for bass fishing – and it's not just marketing hype that has me saying that, either.
To be fair, the fishing industry has us hardwired to believe that we need a special rod for every kind of fish and each and every fishing technique.
If you're just the casual weekend angler (not a pro, that is), then that's probably not the case. You can get by with just a couple of multipurpose rods – perhaps just one if you only tend to go after one kind of fish.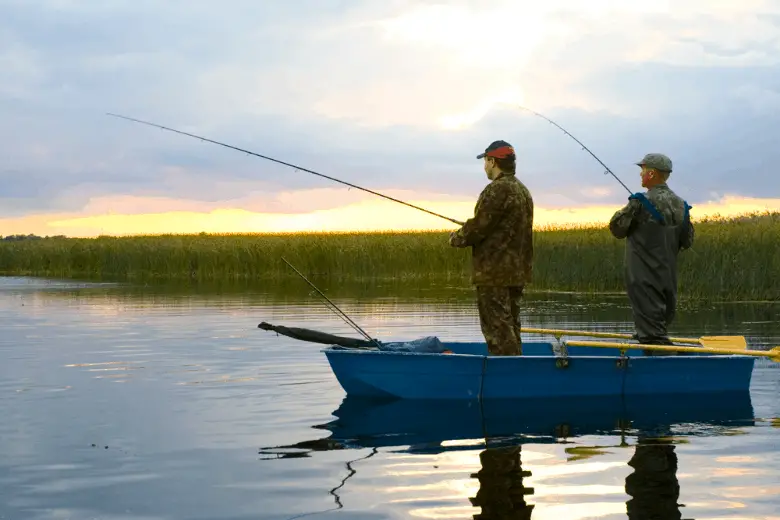 That said, there are certain fishing techniques where using a certain kind of specialized rod will prove to be an advantage even for a novice angler.
Some examples?
Drop shot fishing, frog fishing, and – you guessed it – fishing crankbaits.
Why crankbaits? There are a few reasons why I recommend investing in a special crankbait rod for bass fishing.
First and foremost, a rod that is designed specifically for fishing crankbaits will enable you to cast further and more effectively. 
These specialty rods are better at transferring energy from your rod to your lure, since they have a softer action with more flex, allowing you to put more energy in the rod blank.
As a result, your rod will have somewhat of a "slingshot" impact when you follow through with your cast. You'll be able to cast much further.
Another benefit of using a special crankbait rod is that you will have improved hooksets. Think about what happens when you feel a bite. 
More than likely, you set the hook – but if you're not fast enough, the hook can easily slip out of the fish's mouth. 
This often happens when you're using a quick hookset on a fast action rod.
Crankbait rods present a more desirable alternative because they are a bit softer – there's more of a delay so that the fish can latch on to the bait in their mouths before you set the hook. 
Not too much of a delay, or a delay that will cause you to lose your fish – just enough to make a major difference. Last but not least, a crankbait rod for bass fishing is simply more comfortable to use. 
You'll have fewer snags and disappointments when you use one of these rods – you'll also be able to have more sensitivity when it comes to feeling the bait working the bottom. 
Since the soft tip of your rod will provide the bait with plenty of time to deflect, rather than pull into objects, you'll have a better chance of landing that dream catch.
Fishing with a crankbait rod isn't necessarily something that will come naturally to you. However, with time and with practice, you'll find it a much more desirable way to fish for bass. 
10 Crankbait Rod Reviews 
Here are the top crankbait rods on the market today
St. Croix Bass X Graphite Casting Fishing Rod with Split-Grip Cork Handle 
First on my list of crankbait rods for you to consider is this option by St. Croix. It is made with premium SCII graphite construction that's perfect for anglers who like to have high-performing rods without a steep price tag.
Made out of premium materials, this rod is lightweight, durable, and exceptionally sensitive. It has a split-grip premium-grade cork handle to give you a firm grip during every cast. 
Plus, it has hard aluminum oxide guides and a Fuji ECS reel seat. These features don't just add to the rod's performance – they make it quite attractive, too! 
One of the best features of this rod by St. Croix is that it comes with a five-year warranty that's backed by some of the industry's best customer service and support. 
You won't have to worry about anything going wrong with your rod.
Pros:
Affordable and backed by a five-year warranty
Three models with moderate and moderate-fast tips
Lightweight and easy to use
Cons:
>>Check Latest Price on Amazon<<
St Croix Mojo Bass Series Glass Casting Rod
Another option by St. Croix is the Mojo. This glass casting rod is designed specifically for bass and made out of super-premium materials. 
It is stronger and lighter while also maintaining its sensitivity and strength. It has slim aluminum-oxide rings and black frames. 
The rod's select-grip cork handle is premium grade and comfortable to use, even in wet weather.
With a five-year warranty similar to that of the first product I reviewed, this rod is one to consider if you want an option that will last you for the long haul. 
Pros:
All glass construction makes it lightweight and easy to finesse
Affordable and customizable
Perfect for new and more experienced anglers alike 
Cons:
A bit heavier than some similarly priced models
>>Check Latest Price on Amazon<<
SHIMANO Curado Crankbait Casting Rods
The Shimano Curado is another one of the top crankbait casting rods for you to consider if you plan on going after bass. 
Available in two lengths – 7'2" and 7'4", this rod can be purchased in both medium and medium-heavy options. 
Either way, you'll benefit from a rod that is comfortable, responsive, and easy to use. It has Fuji components throughout, including soft-touch rubberized reel seats for extended comfort. 
The rod is reliable and high-performing with its Nano Resin blanks and many other premium features.
Pros:
Has five separate cranking models for a variety of settings
Equipped with Fuji guides
Ultra-light carbon glass blend blanks
Cons:
Larger models can be tough to find in stores
>>Check Latest Price on Amazon<<
St Croix Avid X Casting Rods
Yes, another option by St. Croix! This company just has so much to offer when it comes to the top cranking rods.
This casting rod is for serious anglers who want their rods to be of high value – and high-performing. It is a sensitive, lightweight rod with exceptional durability.
With its integrated poly curve tooling technology, you'll find that this rod gets rid of all transitional points for smooth action, better strength, and increased sensitivity.
It has slim-profile ferrules and gunsmoke frames. Its Fuji VSS reel seat also has a gunsmoke hood and a twist-lock foregrip for a sure cast every time.
Pros:
Made out of high-quality materials
Superior sensitivity
Curved action helps keep large bass hooked
Cons:
Only fast-action tips available 
>>Check Latest Price on Amazon<<
Abu Garcia Veritas Casting Fishing Rod
Abu Garcia makes a wide variety of superb casting rods that are ideal for bass, but the Veritas is a leader among the competition, in my opinion. 
This rod is 24% stronger than its competitors while also remaining balanced and lightweight. It has an ergonomic reel seat that will allow you to cast longer and father with lighter lures. 
Not only that, but it's equipped with titanium alloy guides and zirconium inserts for a more balanced feel. What's not to love?
Pros:
Lightweight and affordable product
Two separate models available
Well-balanced rod 
Cons:
>>Check Latest Price on Amazon<<
Falcon Rods Bucoo SR Bait Casting Rod
This baitcasting rod by Falcon Rods doesn't have a lot of bells and whistles – but you don't necessarily need or want them when you fish with this rod. It offers everything you need without all the fuss and frills.
Available in several sizes and actions, including 6'6" to 7'5", this rod is best known for its incorporation of low-profile, single-footed guides, something Falcon is famous for. 
This incorporation lends to greater casting performance.
Plus, the rod has genuine Fuji guides that are strategically placed for the ideal casting performance. 
The rod is sensitive and equipped with Fuji exposed blank reel seats. You'll love how lightweight, strong, and sensitive this rod is!
Pros:
Premium rod at a budget price
Comes with Fuji guides and reel seats
Can handle heavier plugs with ease 
Cons:
EVA foam handles aren't the most comfortable or attractive for all anglers
>>Check Latest Price on Amazon<<
Fenwick Elite Tech Bass Casting
Out of all the rods I've reviewed in this post, I have to say that I think the Fenwick Elite is one of the most comfortable to use.
It has a unique hidden handle design reel seat, allowing you to use your rod comfortably and effectively at the same time. You just won't find a rod that's as relaxing to use as this one!

Not only that, but the rod has titanium frame guides to make it more lightweight and easier to haul around. 
The rod has a cork handle so that it's easy to hold when wet and perforated actions that are perfect for both light and ultra-light crankbaits.
Pros:
Lightweight rod that offers all-purpose cranking
Rated for 10-20lb line
Perfect for use in poor, rainy conditions 
Cons:
>>Check Latest Price on Amazon<<
Lew's Fishing David Fritts Perfect Crankbait Speed Stick Series Rod
Lew's Fishing makes another one of the best crankbait rods on the market. Made out of 42 million modulus graphite/glass composite, this rod is strong and flexible with guides made out of tough stainless steel.
It's one of the only rods you'll find that has cushioned stainless steel hoods. This adds to the comfort and usability of the rod while also making it easier to cast continuously.
The rod has lightweight graphite reel seats and guides made out of tough stainless steel. It also has aluminum oxide inserts – you won't notice any snags or hiccups when you're trying to cast with this rod. 
Pros:
Cushioned stainless steel hood
Solid construction with graphite and glass
Extremely sensitive 
Cons:
Not as good for plastic worms and jigs
>>Check Latest Price on Amazon<<
Ugly Stik GX2 Casting Rod
This casting rod by Ugly Stik is perhaps one of the most commonly recommended rods (and not just for fishing bass with crankbaits, either). It's one of the most popular rods in general.
That's because it is incredibly versatile and easy to use. An affordable rod, it's available in several lengths and powers, from 5'6" to 7'6" and everything in between (along with medium, medium-heavy, medium-light, and heavy powers). 
Its EVA pistol grip handle makes it comfortable to use. Equipped with 12-20 lb test, this rod is designed for maximum sensitivity and strength.
Pros:
Lets you heave crankbaits quite a distance
Multiple lengths available
Strong and sensitive graphite/fiberglass composite 
Cons:
Not the most ideal construction for bass, though it still works well
>>Check Latest Price on Amazon<<
Abu Garcia IKE Signature Power Casting Fishing Rod
Last but not least is this exceptional rod by Abu Garcia, available in three separate lengths and weights. You can buy it as a 7'2", 7'6", or 8' rod with a medium-heavy or heavy construction.
It's a one-piece rod that has a lightweight, balanced design and maximum sensitivity so that you will feel even the slightest nibble. 
With actions designed by pro Mike Facinelli, you can rest assured that you'll get a dynamic, high-performing rod with this selection.
It has stainless steel guides and zirconium inserts along with a Fuji reel seat for added comfort. 
Made out of 36-ton graphite, it's durable enough to withstand the pressures of daily fishing yet lightweight enough for casting crankbaits far and wide, too.
Pros:
Lightweight with exceptional sensitivity 
Stainless steel guides
Fuji reel seats and attractive overall appearance 
Cons:
>>Check Latest Price on Amazon<<
What to Look For in a Good Crankbait Rod
It's pretty easy to find yourself confused by the difference between rod action and rod power when you're shopping around.
However, there's one way you can simplify the process. 
Think of it this way. Rod power is how much load it takes for your rod to bend, while the action is how quickly this power is engaged (also known as the "backbone"). 
When a rod is described as being extra fast, it will have the least amount of flex and reach the backbone more quickly. If it's a slow action rod, it will use most of its rod length to get stiff with the most amount of flex. 
When you're shopping for a crankbait rod, you'll usually find that most fall into the medium or medium-heavy category. 
They will likewise have action ratings of fast, moderate-fast, or moderate – which one you choose will be up to the kind of cranking you do the most often.
If you fish mostly crankbaits that are shallow or medium diving, you'll want to go with a medium power rod to help make casting lightweight plugs easier and more accurate.
If you'd prefer to fish around a lot of vegetation (like grass) then go for a medium-heavy rod. This will help you handle heavier, deep-diving crankbaits. 
Finally, if you have a moderate to moderate-fast action rod, you'll be best when fishing in areas of heavy structure like woody and rocky outcroppings. 
The slightly softer action will be a bit more forgiving, helping the bait bounce off these obstacles rather than getting caught. 
Type of Crankbait
You're also going to want to consider the type of crankbait you plan to use for your bass fishing rod. 
As mentioned earlier, there are three major types of crankbaits you can use – lipless, square bill, and round bill. 
Round bill crankbaits work best with longer rods, while square bill crankbaits are great with medium-heavy weights. Finally, a lipless crankbait will work well with a medium weight rod. 
Rod Length
What size line and lures do you intend to fish with? The answer to this question will determine your ideal rod length. 
A rod that is seven to eight feet will help you cast larger and medium-sized crankbaits, much better than a rod that's shorter (around six or six and a half feet) can. 
That's because a longer rod will be much better at loading energy into the rod, making longer casts a lot easier to make. 
However, if you plan to use a smaller crankbait, you may want to fish with a shorter rod. 
It can improve your casting accuracy, something that's important when you're trying to be super precise as to where you send your lures (particularly when fishing in any kind of structure or cover). 
Material
There used to be a time in which all bass rods were made out of fiberglass. Fortunately, those days are no more.
There's nothing inherently wrong with using a fiberglass rod, particularly when it comes to crankbait rods for bass fishing, but there's no reason why you have to rely on this sort of rod to get the job done. 
Graphite is another option, as is a graphite and fiberglass composite. The kind of rod material you choose doesn't matter so much as that you choose a rod that checks off all the other boxes for you. 
Also remember that you can definitely get a good crankbait rod for under $100 or under $200. However, it sometimes makes sense to pay a little extra if you want something long lasting. 
One Last Step in Choosing a Good Crankbait Rod for Bass Fishing
Picked out the top crankbait rod? Awesome! But wait – your job isn't quite done yet.
Now, you need to pair your crankbait rod with a good cranking reel. You'll need something with an impressive line capacity, as crankbait rods tend to make longer casts that require an exceptional amount of line. 
Look for a reel with line capacity in the 10-15 lb rest range. Also, make sure your reel is equipped with the proper gear ratio. 
In general, something with a gear ratio of 6.2:1 will fit the bill nicely – the lower the gear ratio, the easier it will be to get your bait where you want it to be.
Ultimately, choosing the best crankbait rod for bass fishing will come down to your unique preferences and goals. 
Consider the tips I gave you in this article to help find the perfect choice – you're sure to find something that will fit the bill nicely! 
Also Read: Should You Use Snaps For Fishing Crankbaits?