Back in the day, you would never purchase a baitcasting reel for under 100 bucks. A good baicaster was never ever under a hundred dollars when I started fishing.
One of the great benefits of advances in materials and manufacturing technology is that baitcaster reels have become very affordable.
There's now plenty of quality at this 100 dollar price point too.
The rise in baitcaster popularity over the last couple of decades coincides with the increase in lure fishing popularity.
It has caused baitcaster manufacturers to expand their product ranges, and it has driven them to compete even harder.
The result is a great selection of affordable quality baitcasters that suit many applications and all skill levels.
We're going to review 5 of the best baitcasting reels under 100.
Keep in mind that "best" is pretty subjective. I won't claim that these five reels are the best, but I will say, with confidence, that they're worthy of your hard-earned dollar and consideration.
Best Baitcasting Reels Under $100 – Reviewed For 2021
Before I identify the winning 5, there are a few important considerations to address first. Of all the reel types, the baitcaster is about feel and personal preference.
One angler will love a particular baitcaster, and another will hate it.
For the most part, the difference in opinion about a particular reel is not about specifications and features; it's more about ergonomics.
With a baitcaster, fit and feel can make all the difference.
The one that fits your technique, applications, and fishing idiosyncrasies will often be the deciding factor for a reel purchase.
More so than specifications. Keep this in mind. Because what I say is best, might not be best for you.
Let's get into it. Here's the list of 5 contenders. Follow the link for a price check.
1. Shimano SLX Baitcasting Reel – Good Workhorse With Great Performance
Small, palmable, and lightweight. The compact, low-profile SLX is a powerful little reel with a lightweight crank and smooth and durable brass gearing.
The Shimano Hagane body keeps things light yet strong and rigid. There are only 3 bearings, but the Japanese quality ensures they'll last, operating at peak for plenty of seasons.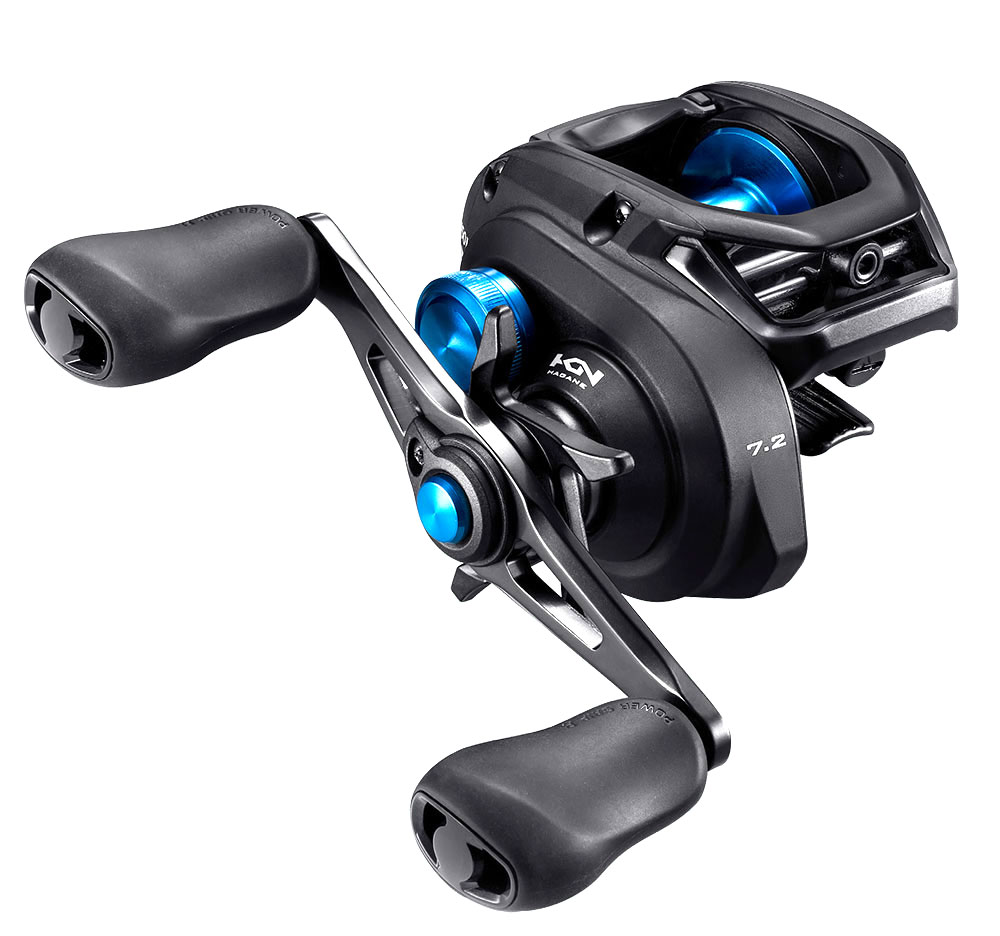 So long as you keep it dry.
Casting is long and straight, predictable, and repeatable. Anglers new to baicasters may struggle a little with the braking system.
While noiseless and effective – getting the settings right is a little tricky.
The side plate opens easily enough to access the brake mechanism, but it's a little fiddly and can be a cumbersome adjustment in wet and windy conditions or for large, cold, or fumbling fingers.
There are 3 models, both left and right.
Gearing is 6.3, 7.2, and 8.2. Many will appreciate the longer handle and ergonomic nobs. It's beautiful to crank, handling like a far more expensive reel.
The slower crank has a drag of 12 pounds, with all the others offering 11 pounds of drag. Underload the drag is very smooth, with the traditional star configuration easy enough to dial in finer settings.
I like it for mono or braid. It will hold 120 yards of 10-pound mono or 135 yards of 35 braid. This provides enough firepower to wrestle a larger class of bass.
It's actually a fine bass reel, although the crankers might prefer something a little slower.
At 6.3, gearing is at a pretty fast starting point. However, such is the ease of the crank; it shouldn't be a problem for anglers wanting a slower retrieve.
The SLX is excellent quality at this price point. Many baitcaster enthusiasts make direct comparisons to the famous and more expensive Curado.
To be honest, it would be pretty difficult to illustrate the performance differences.
The SLX is an excellent cast and retrieve. It's great for flipping and pitching. Working frogs on the surface might be a little trickier, but it shouldn't be a problem with a little adjustment.
Pros
Compact ergonomics
Powerful feel
Smooth gearing and a lightweight crank
Outstanding value for money
Cons
Advanced braking system not ideal for beginners
Side plate a place for water ingress. Keep it dry
A few more pounds of drag would be perfect
>>Check Price on Tackle Direct<<
Features List
S3D Spool
Hagane Body
Brass gears and Pinion
Super Free Spool
VBS Breaking System
Full specs
2. Quantum Accurist – Editor's Choice. Best Baitcaster for Beginners
This is a fantastic little reel in the 100 size that will punch well above its considerable light weight.
An impressively light crank is delivered by 8 (+1) bearings. The ceramic-carbon drag system is not only smooth and dependable but durable and strong as well.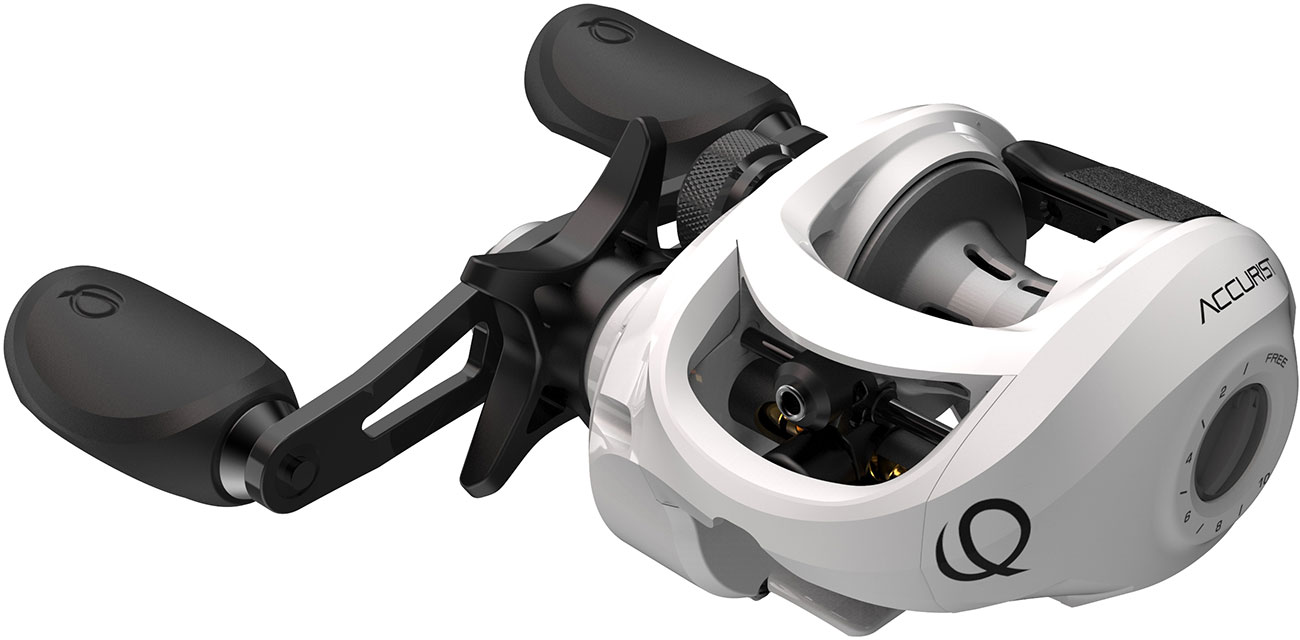 It is extremely light, extremely portable, and has intuitive ergonomics. Even those with larger hands will find it's a comfortable reel for rapid-fire casting and quick-fire fine-tuning.
Of course, like any baitcaster, there is a little bit of discovery required. Learning the braking mechanism for all casting distances and weather conditions may take some time, but it's certainly no burden.
The brake adjustment is very user-friendly, and it won't take long before you are dialing it in without the need to look.
I found the braking system to be pretty reliable and predictable. I could detect when a backlash was coming, particularly when I was going for maximum distance in the wind.
Fishing it with 10-pound mono was a pretty good test. While I got a few bird nests, I was pushing it to its (my) limits.
I like the Accurist for all skill levels. I also like it as an option for the baitcasting beginner. Quantum marketing calls it "foolproof." 
While there's some truth to this, you certainly can't be careless, or the laws of physics will deliver a very nasty mess on your spool.
Under load, it felt fantastic. The one-piece frame is very rigid alloy, and the alloy gears did the job.
In many ways, it felt effortless, with the 18-pound ceramic/carbon drag not even breaking a sweat.
The Accurist is a great option for saltwater. I could see myself working mangroves and banks on rivers and estuaries, even on rainy uncomfortable days.
The SaltGuard Protection seal appeared to be rock solid. However, this would need testing over time.
Regardless of the sealing system, the Accurist has some pretty strong corrosion credentials already.
I feel the saltwater kayak angler would appreciate the sealing and corrosion protection of the Accurist.
This is a saltwater and freshwater gem, which I would always bring with me.
There's a 5-year warranty on the Accurist. That's a pretty substantial vote of confidence. One would expect your Accurist to last.
Pros
Huge count of quality bearings
Carbon/Ceramic drag system
Corrosion resistance
Ease of use. Easy to master braking system.
Ergonomics
5-year warranty
Cons
It would be great to have more size options
A few gear options would be handy
The green model should never have been made. (sorry green fans)
>>Check Price on Tackle Direct<<
Features List
One-piece Aluminum Frame
Bayonet Side Cover
Zero Friction Design
Continuous Anti-Reverse clutch
PT Gear Design
8+1 PT Bearings (2PTS, 6BB, 1RB)
Ceramic Carbon Drag System
Micro-Adjust ACS 3.0
Flippin' Switch
Saltguard Protection
Hot Sauce Lubrication
5 Year Rock-Solid Warranty
Full specs
3. Daiwa Millionaire Classic UTD – Best Versatility & Swimbait Reel
There's a fair dash of old-school in the Millionaire. Regardless of the updated re-release, there's a bit of a step back in time to absolute basics.
This is the main reason I like the round-shaped Millionaire. Available in a 300 and 250, with both left and right options. The only real difference between the two is the spool capacity and weight.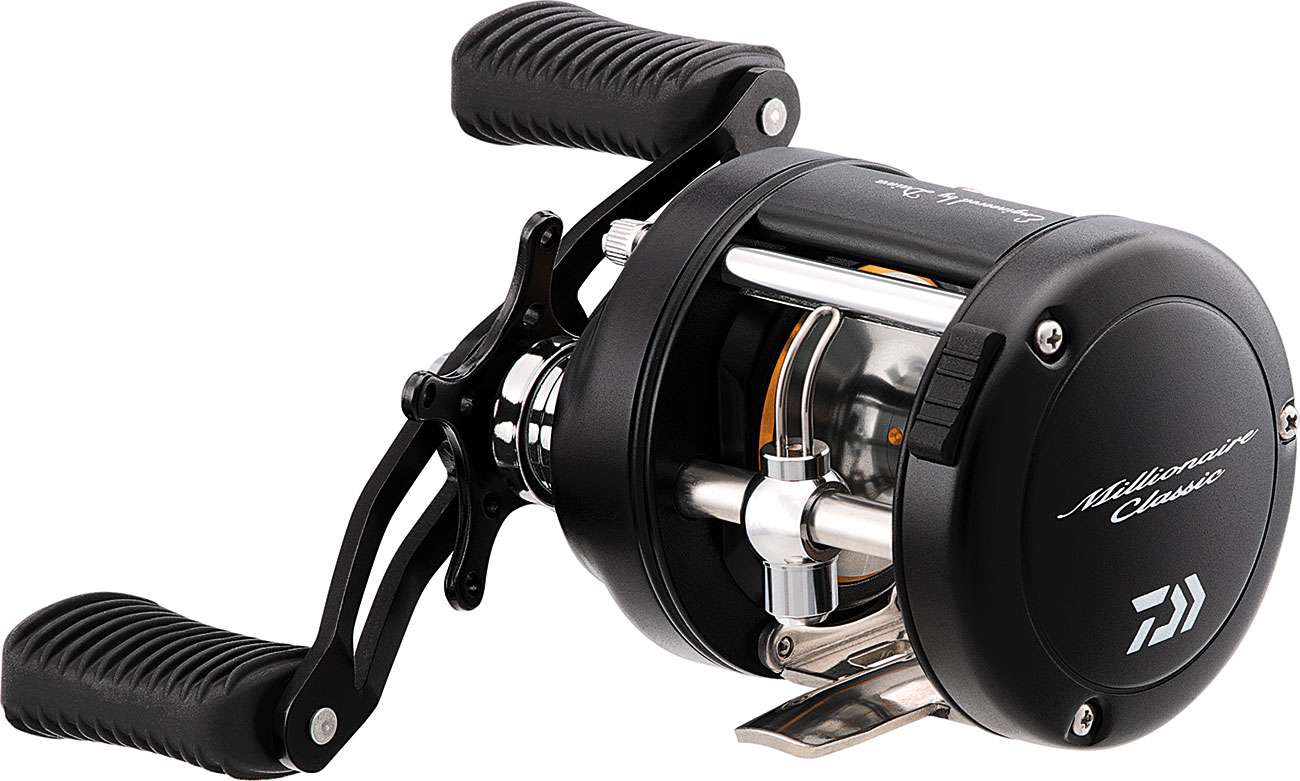 At 5.1 the gear ratio is pretty slow. This is great for working swimbaits, for which the Millionaire is great at.
You will also find plenty of enthusiasts who'll also cast big cranks with the Millionaire.
In that regard, this is a pretty versatile reel. You can chase a larger class of inshore fish, cast the surf and rocks, as well as bounce the bottom at nearshore reefs outside the heads.
With only 2 (+1) bearings and a modest 11 pounds of drag, the Millionaire is Spartan, to say the least. But it's not really about mind-blowing capacities and enormous feature lists.
The Millionaire is a solid workhorse with excellent casting manners. It's a great reel for learning how to cast larger baits long distances using a baitcaster.
While it is versatile, I'd be using it for some pretty specific applications. This is the sort of baitcaster I'd strap to a longish rod and cast at stripers, blues, and drum from the beach.
Should you hook up big, the reel is powerful enough despite the modest drag. It's a carbon washer drag, so it's smooth and dependable.
You also have plenty of line on that generous spool.
Ergonomics isn't anything to write home about. As I said, it's old school. However, the longer handle is very comfortable for cracking hard under load.
I also like it for casting natural baits and live baits. It's a round baitcaster, and the design is strong. You won't have any issues launching reasonably large baits to a distant hole mid-surf break.
Casting distance is pretty impressive in experienced hands.
With a little practice and experimentation, you'll find you can put serious effort into casting without risking the messy outcomes of overrun.
For those new to round baitcasters, this reel is an excellent way to learn how to get every bit of distance out of a larger baitcaster.
Given the makeover and re-release, I'm a little perplexed as to why they didn't add more drag power.
For my money, it feels that it should offer a minimum of 20 pounds. This would provide far greater confidence should a huge drum monster you modest minnow.
For me, it feels classier than its nearest rival, the famous ABU Garcia Ambassador. It has a touch of Daiwa refinement even though, for all intent and purpose, it's a basic workhorse.
Pros
Basic and easy to handle
UTD (drag) system is top class
Versatility
Ideal for casting swimbaits
Great for the surf
Cast length
Cons
A little too minimalist
Drag capacity should be higher
>>Check Price on Tackle Direct<<
Feature List
Carbon Ultimate Tournament Drag
Cut-Away 100mm Swept Paddle Handle
High Strength Alloy Gears
Machined Aluminum Spool
Infinite Anti-Reverse
3 Bearing System ( 2BB+1RB)
Soft Touch Oversized Handle Knob
Full specs
4. Abu Garcia Ambassadeur S Round – Best Budget Round Baitcaster
The S Round is all about versatility at a rock bottom price. With this one reel, you have access to several applications and fish species.
You can chase everything from muskies and cats to reds, blues, stripers, and more, from everywhere.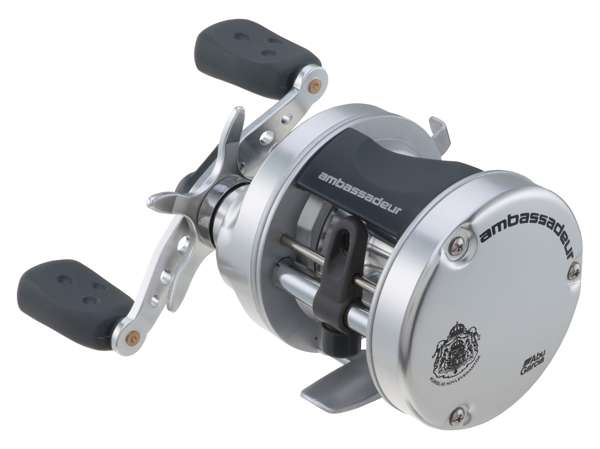 It's a very basic reel and the epitome of no-frills. But that has always been the Ambassador.
These days, ABU has added a touch of styling that makes it a little more appealing on the shelf.
There are only 2 ball bearings, and cranking feels pretty rudimentary. While there's an absence of wow factor, the crank is nonetheless solid and reliable.
The best feature of the S Round is the casting manners. The synchronized level wind system delivers an even, uniform line lay regardless of the weight at the hook end. 
This leaves the spool in a cast-ready state following each retrieve.
The 4 pin braking system is pretty easy to use. This, coupled with an orderly spool allows for pretty decent casting distances making it a good reel for chasing surf species.
While the bearings are stainless and the drag washers carbon, there's good reason to keep the saltwater out and take care when cleaning to avoid water ingress.
Corrosion resistance isn't great, and sealing is non-existent. However, you're paying well under one hundred dollars. You can't expect all of the bells and whistles.
There are two sizes from which to choose: both left and right hand options. The only difference between the two is the overall weight and spool capacities.
The drag capacity is a little on the light side. With low profile reels often twice the capacity, I fail to see why the drags on these round models can't be lifted even a little.
While spool capacity can take up the slack in an imbalanced fight, I prefer that I can turn its head early and remove a little of the strain from the fish where possible.
At 5.1, the reel is pretty slow. This won't be a problem for those casting swimbaits or larger cranks.
For those wanting a little speed in the retrieve, the very comfortable handle will assist in generating more speed.
The S Round is a good option for those on a really tight budget. The simplicity, effectiveness, and tenacity make it ideal for casts and battles.
Pros
Easy to use and cast
Versatility
Good in the fresh and saltwater
Access to a broad range of fish targets
Good for beginners
Cons
Drag capacity should be higher
Questionable durability
>>Check Price on Tackle Direct<<
Feature List
2 stainless steel ball bearings
Multi-disc drag system
Compact bent handle and star
4 pin centrifugal brake
Synchronized level wind system
Full specs
5. Abu Garcia Revo X – Best Baitcasting Reel for Flipping & Pitching
The Revo X is a high-performance, low profile baitcaster available in 3 gear ratios.
There's a 5.4 for the crankers, a 7.3 for the drifting flippers, and 6.6 for those who prefer to hedge their bets.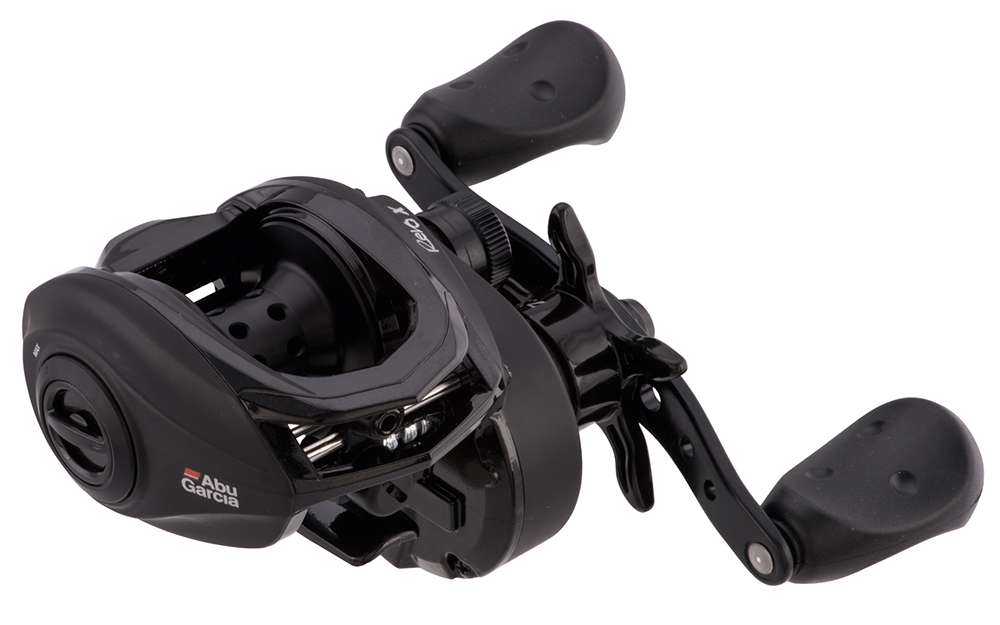 The Revo has a classy feel right from the get-go. It's compact, lightweight, and has the very slick looks you expect from a low-profile baitcaster.
While there's nothing stand-out and jaw-dropping, a few casts and a few retrieves will have you feeling like you've got a bargain at the 100 dollar mark.
7 stainless bearings deliver a very light crank. Spooled with a 20-pound braid, I was casting it like I'd owned it forever.
Admittedly, it's much easier with a heavier line and lure, but I felt that a lighter rig would work just as well.
The magnetic brake was easy to adjust, but I did spend a little time experimenting. It cast forever with the brakes off. However, a little overconfidence saw a nasty bird's nest twice.
That's not a criticism.
That was me working it out. I was across it quickly, and should conditions allow or demand, I think I'd use it without brakes often when fishing heavier.
Ergonomics suited me nicely. I found it easy to make adjustments quickly after a little practice. It's a palmable reel but feels a little larger than others, such as the SLX I listed above.
I didn't have them together to compare, but the Revo felt larger. It may not be. It could just be a shape thing or my imagination.
The drag is smooth – like noticeably smooth. It's a hybrid and felt as good as any I've felt.
I like how there is 18 pound of drag power available. Many will argue it's unnecessary. Yep. Fair cop.
But I love tacking a larger fish with a small reel, and I prefer to play a fish out quickly using drag over long runs.
The light alloy frame certainly supports battles with a larger class of fish.
The reel is pretty well-credentialed for saltwater adventures with stainless bearings, brass gears, and an alloy frame. 
I'd be more than happy to cast at banks, oyster leases, and sand flats from my kayak with the Revo.
At 7.9 ounces, you will find lighter reels. Such are the ergonomics; it feels lighter than it is. I don't split hairs over an ounce anyway.
For baitcasting reels under 100 dollars, this is a fine offering from Abu Garcia. I have read about the side plate issues, where it comes off when cast.
I haven't had this experience.
I'd be happy to wander the banks casting all day. I'd also be glad to drift past likely lurks flipping and pitching at pace.
Pros
High performance for the price
Ease of adjustment
Smooth gears, Light crank
Smooth, powerful drag
Great feel
Cons
Concern about side plate. Needs to be addressed by AG
Beginners might need a little practice.
>>Check Price on Tackle Direct<<
Feature List
7 stainless steel ball bearings + 1 roller bearing
X2-Cräftic™ alloy frame
Carbon Matrix™ hybrid drag system
Duragear™ brass gear
D2 Gear Design™
DuraClutch™ design
MagTrax™ brake system
Compact bent handle and star
Lube port
Full specs
What Should I Look for When Buying a Baitcaster?
Once you've read reviews, gauged quality, know your application and budget, you have to hold your baitcaster.
You want a baitcaster that feels good in your hand. There are plenty of fancy, top-shelf reels I've declined because they just didn't feel right.
Look for a baitcaster that fits you. I know that might sound a little intangible, but once you physically check a few, you'll know what I'm talking about.
What is the Best Baitcasting Reel for Beginners?
This is a frequently asked question and difficult to answer. It is a little tricky to advise because some people adapt to required techniques easier than others.
Of the reels listed above, I'd expect all of them would be good for beginners, except for the SLX due to its more complex braking.
My advice for beginners is to fish any new baitcaster as heavy as specs permit. The heavier a rig, the easier it is to hone the feel.
Expect mess and tangle. I've fished for 40 plus years and managed a bird's nest on all the low-profile reels in this article.
When testing the limits of a baitcaster, overrun and the resulting tangles are par for the course.
Frequently Asked Questions
Are Cheap Baitcasting Reels Any Good?
Yes. The modern budget baitcaster can be a great reel. For example, all the reels listed above are entry-level and good-quality reels.
What is the Easiest Baitcaster to Use?
The easiest baitcaster to use are round baicasters. That little bit of extra space for thumbing and spool management allows you to be a little less precise.
Are Expensive Baitcasters Worth It?
Expensive is relative. For many, 500 dollars is nothing. For others, it's a year's worth of saving.

This is a surprisingly common question I find difficult to answer. 

The literal answer is yes. Some expensive baitcasters are definitely worth it for the feel alone. Others, no.
Is Braid or Mono Better for Baitcasters?
There is no "better" in this case, it's just personal preference. If you want more line on your spool, go braid. If you want a more forgiving line, go for mono. 

Sorting bird's nests is a lot easier with mono.
Best Baitcasting Reels Under 100 – Verdict
For me, it's very difficult not to pick the Quantum. But the SLX is such a slick reel with Shimano pedigree.
I like the Millionaire over the Ambassador because I believe Daiwa has maintained a quality standard much higher than the ABU Garcia at this price point.
I find the Revo compelling because it ticks all boxes. But the Quantum will flip and pitch every bit as well as the Revo.
For my money, Quantum is the winner. If nothing else, a five-year warranty says a heck of a lot about the manufacturer's 5-year confidence in the quality of their gear.